What are the best ways to travel from Bangkok to Pattaya? It's possible to get to Pattaya, Thailand by train, bus, van and taxi, and I'll cover all these options below. You'll also learn how to get there from both of Bangkok's main airports.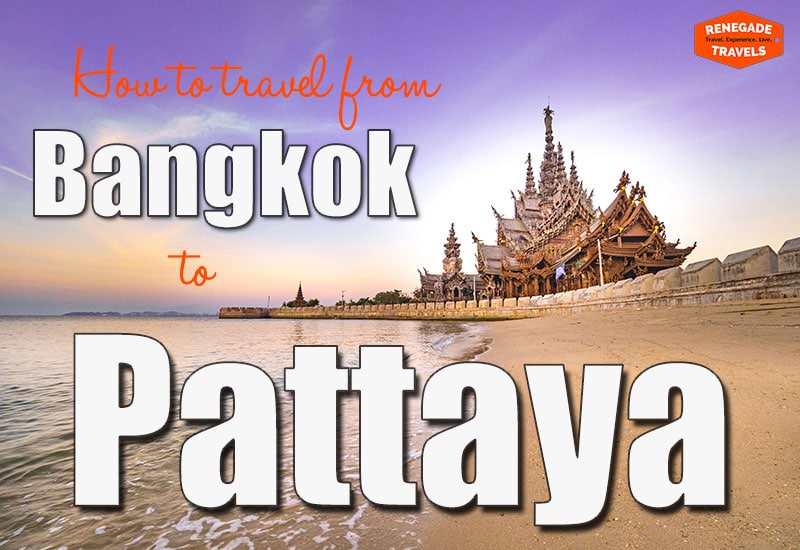 Pattaya is one of Thailand's most popular destinations, particularly because of its close proximity to Bangkok. At only 150kms from Thailand's capital, it's usually just a short couple of hours by transport.
RELATED: Traveling to Pattaya, Thailand? Check out my Insider's Pattaya travel page!
One of the questions I get asked most often is what's the easiest way to travel from Bangkok to Pattaya. I'm going to quickly run through your options below and give my rating (opinion) on which is cheapest/easiest/most convenient.
How to Travel Bangkok To Pattaya By Train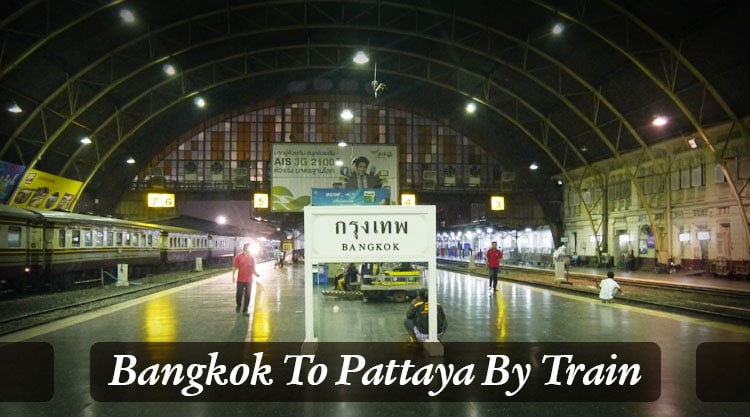 Let me say this up front – by far my favorite form of transport in Thailand is the train. It's not the fastest mode of transport around the country, but it's cheap and lots of fun.
The good news is that you can get a train from Bangkok to Pattaya, but the bad news is that there are only two trains per day, both of which leave early in the morning. When I say early, I mean before 7am in the morning!
The trains leave Bangkok's Hua Lamphong train station at 6:45 and 6:55, arriving in Pattaya around 10pm. You'll need to get a songthaew, tuk-tuk or taxi from there into the city center. Tickets cost 140 baht for first class, 72 baht for second class and 31 baht for third class. The only train from Pattaya to Bangkok leaves at 14:21 and arrives at 18:15.
I haven't found a good way to purchase these train tickets online, unfortunately. I do recommend you check the train timetables on the official Thailand train website. You'll be fine to buy the tickets at the train station or you can work with your hotel/hostel to book the train tickets for you.
How to Travel Bangkok To Pattaya By Bus
Taking a train in Thailand may be my favorite mode of transport, but the most popular way to travel between Pattaya and Bangkok is by bus.
There are buses running all day from early morning until late at night. Most buses depart from the Eastern Bus Terminal, which is right next to Ekkamai BTS (skytrain) station on Sukhumvit Soi 63. Buses run every 30 minutes or so from around 05:00 until around 23:00. Tickets cost around 120 baht and the journey takes around 2 hours.
Similarly priced buses also leave every 30 minutes from the Northern Bus Terminal at Mochit.
From the Southern Bus Terminal at Sai Tai Mai there are buses every 2 hours from 05:30 to 19:30.
Travel Bangkok To Pattaya By Van (Minibus)
Getting a van (minibus) is a faster option than both the bus and the train. The only downside is that it costs a bit more.
The vans leave from outside Victory Monument BTS station. You'll see a huge amount of vans in this area so you just need to ask around to see which ones are going to Pattaya. Price is usually negotiated before departure and can vary. It should cost around 150-200 baht (US$4.50 to $6)
If you would rather book your minibus prior to arrival, you can check online booking for Bangkok-Pattaya minibuses.
How to Travel Bangkok To Pattaya By Taxi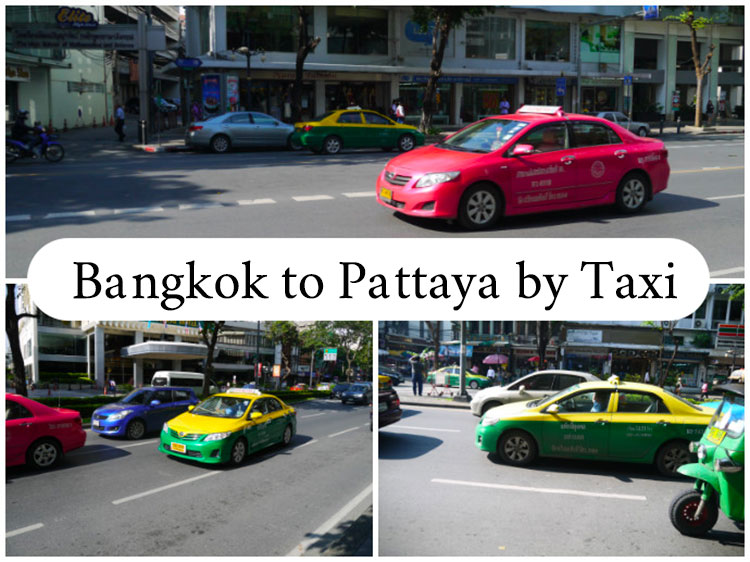 A private taxi from Bangkok to Pattaya should cost around 1,200-2,000 baht (US$36 – $60). Of course, these are the prices you should be able to negotiate with a taxi on the street using either the meter or negotiating a fixed fare in advance.
Don't forget to ask if the fixed fare includes motorway tolls. If using the meter, you'll need to pay for the tolls yourself.
If you'd like to order a taxi in advance or prefer a nicer, more comfortable vehicle, you can check taxi rates from Bangkok to Pattaya here.
How To Get From Suvarnabhumi Airport, Bangkok To Pattaya
The easiest way to get to Pattaya from Suvarnabhumi Airport is by taxi or bus.
Buses depart from Level 1 and cost around 250-300 baht. The bus takes around 2 hours.
Taxis from Suvarnabhumi Airport to Pattaya cost around 1,200 to 1,500 baht.
How To Get From Dom Mueang Airport, Bangkok To Pattaya
Getting from Don Mueang Airport to Pattaya is easiest by taxi and will cost around 1,200-2,000 baht. You could also get a taxi from the airport to one of the bus stations or to Victory Monument, from where you could get a van. See details above.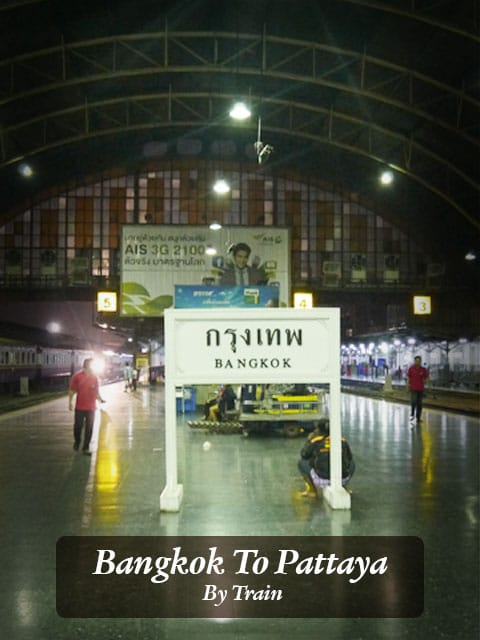 Recommended Hotels in Pattaya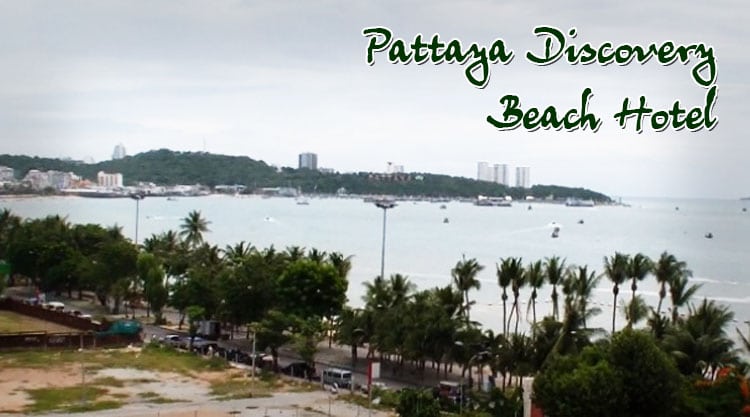 I've stayed at the excellent Pattaya Discovery Beach Hotel the last time we visited Pattaya. We can highly recommend this hotel and would definitely stay there again. Click here to check pricing at Pattaya Discovery Beach Hotel. Pattaya has a huge selection of hotels to suit all budgets.
Final Thoughts | Getting from Bangkok to Pattaya
As you can see, there are a number of different ways to travel between Bangkok and Pattaya. The cheapest (and slowest) mode is by train. The fastest (and most expensive) is a private taxi.
If you want to get a good middle ground, the buses and minivans are a great alternative.
Either way, you should expect a couple hours to get to this beautiful Thailand beach town of Pattaya. If you're hoping to find a good hotel, take a look at Agoda Pattaya for a selection of over 1,400 hotels.
---