While we usually prefer traveling by train in Thailand, when traveling between Bangkok and Surin, the Nakhonchai Air bus is so comfortable that we often get that instead. That is also what we got today for our trip to Surin, a small town in Thailand's Isaan region, and we're happy to share exactly how we traveled Bangkok to Surin by bus so you can as well. Check out our Bangkok and Surin Travel guides.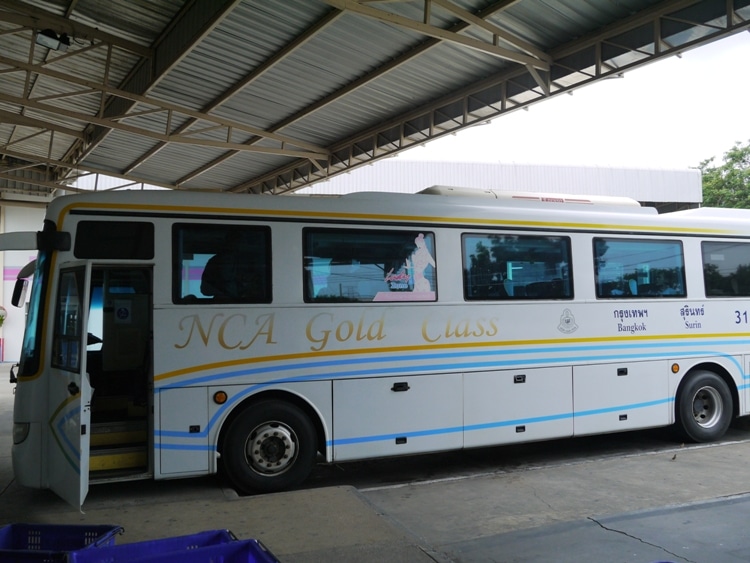 In many cases, the bus you'll take from Bangkok to Surin is a modern air-conditioned bus. There are a number of different companies that run these buses between a wide range of towns and although some are better than others, they're all quite comfortable.
The bus has two TV screens at the front of the bus and there was a film showing for most of the journey. Before and after the film they also showed some information about the bus.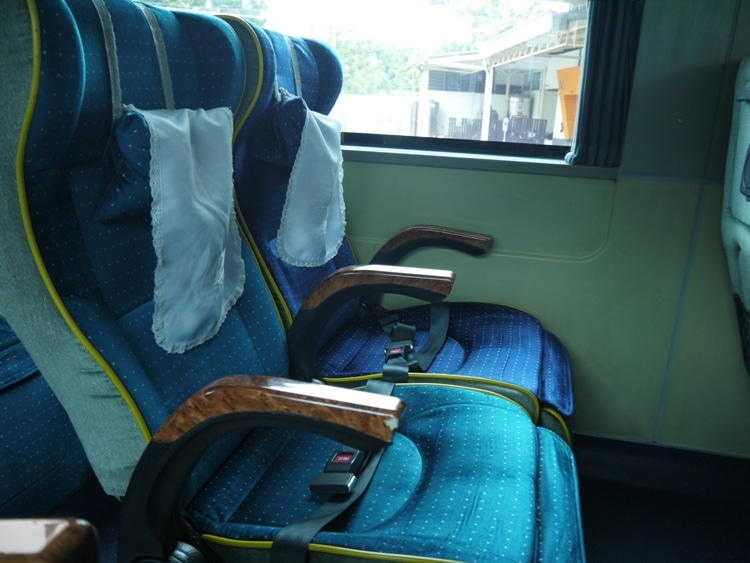 The seats of the bus were super-comfortable. The seats recline and there is also an adjustable leg rest, so the seats feel a little like a bed with seat fully reclined and the leg rest fully up. There is a hostess on the bus that welcomes you aboard and shows you to your seat.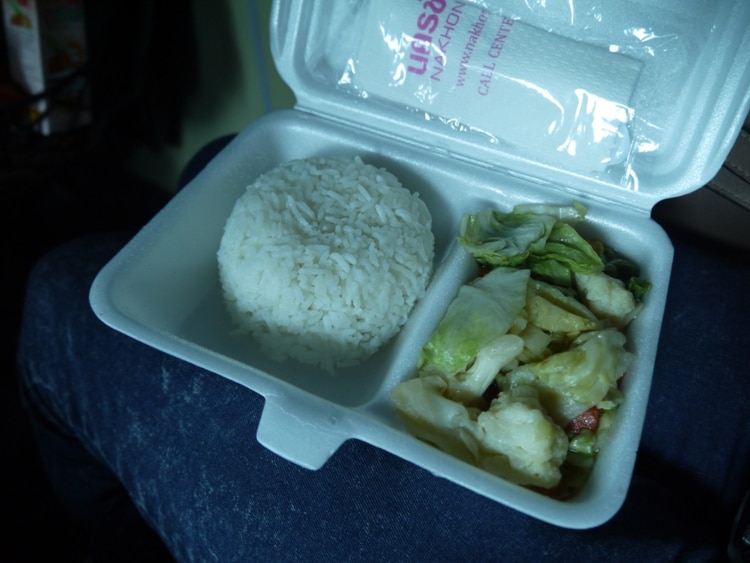 The price of the tickets includes lunch and snacks. Soon after the bus leaves, fruit juice, water and a packet of snacks were served. Lunch was served a little later, and you can also select a vegetarian option, although I think you need to mention this when you book the tickets. Soy milk is served near the end of the journey.
The bus stopped around half way in order to change drivers. This has always happened when we've used Nakhonchai Air buses, and helps us feel safe. The drivers on this bus, as well as all the others, drove at a moderate speed and seemed to take safety very seriously.
The buses depart from the Nakhonchai Air bus station in Mo Chit and also call at the main bus station in Mo Chit. In Surin it stops at the main bus station first and then at the Nakhonchai Air bus station. The main bus station is the most convenient, as it's in the city center and there will be lots of taxi and tuk tuks around that area.
See Surin to Bangkok for a review of the journey we took in the opposite direction
How To Buy Bangkok to Surin  Bus Tickets
You can buy Bangkok to Surin bus tickets online now, which is ultra convenient. Obviously, it's also possible to purchase at the bus station or over the phone. Our tickets cost 350 baht ($11) each.
Bangkok To Surin Bus Times
Depart 08:15, Arrive 14:20
Depart 11:15, Arrive 17:20
Depart 20:30, Arrive 02:30
Depart 21:15, Arrive 03:05
Depart 23:30, Arrive 05:30
Hotels In Surin
While in Surin we stayed at Maneerote Hotel, which is a great hotel that we've stayed at many times. You can book this hotel via Agoda at Maneerote Hotel Agoda. It costs around $15 per night for a standard room. They also have VIP rooms, but these only have twin beds. Click here for other great hotels in Surin.