There is plenty to see and do in Berlin, so here are some ideas of what you can see if you're visiting for a couple of days. Get up early and it's possible that you could get around all of these in a day. It depends how much time you spend at each place, but many are very close to each other.
The Weltzeituhr (World Clock)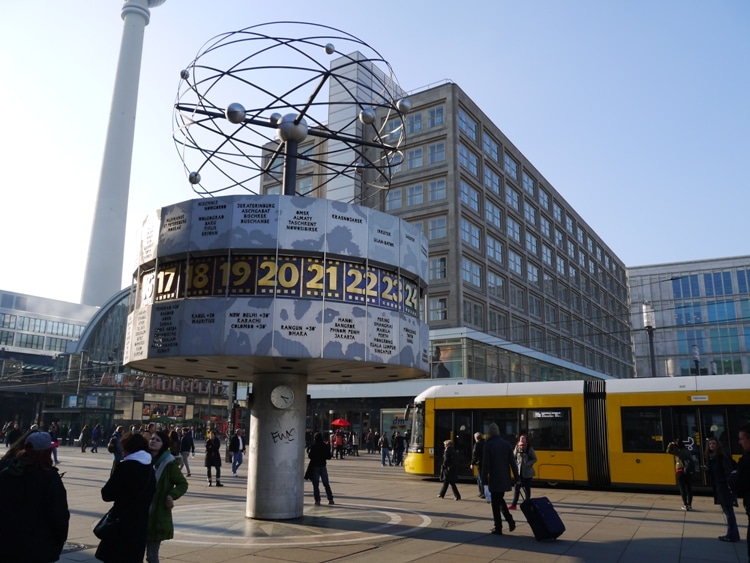 Alexanderplatz is a great place to start your day, as there are quite a few attractions in this area. Above is the famous World Clock. This tells the time for all cities around the world.
Fernsehturm (TV Tower)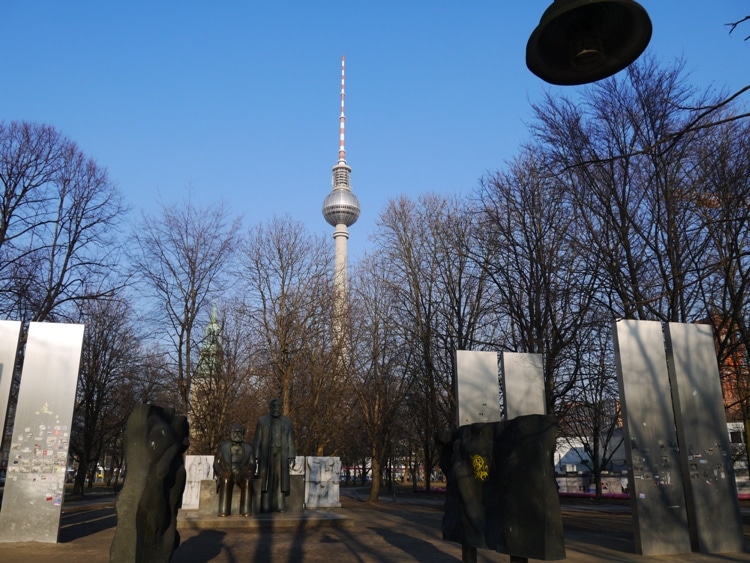 The TV Tower is the tallest structure in Germany and has a restaurant at the top that rotates on its own axis. Take the state of the art lift up to the top of the 360-meter structure for some awesome views of Berlin. Cost is EUR10 ($11).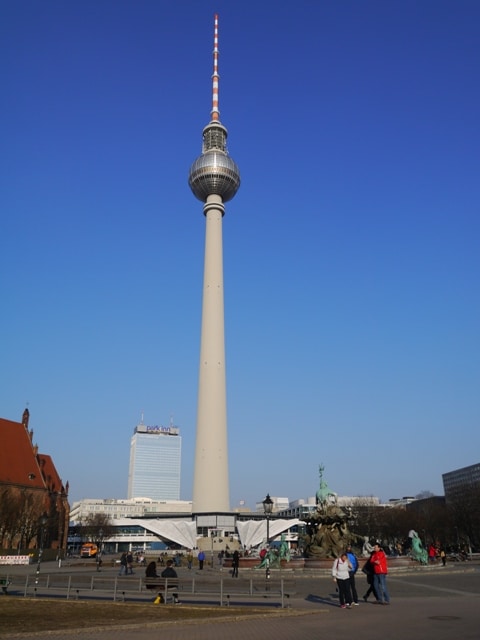 If you ever get lost in Berlin, just look for the TV Tower. It's a great way to get your bearings.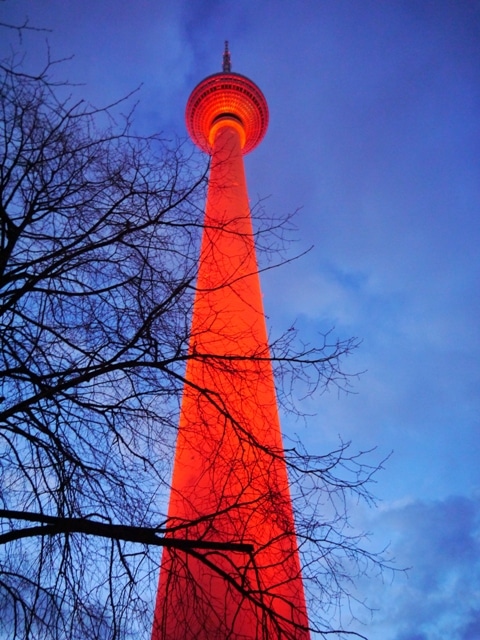 The TV Tower looks particularly good at night. Here it is lit up red.
St Mary's Church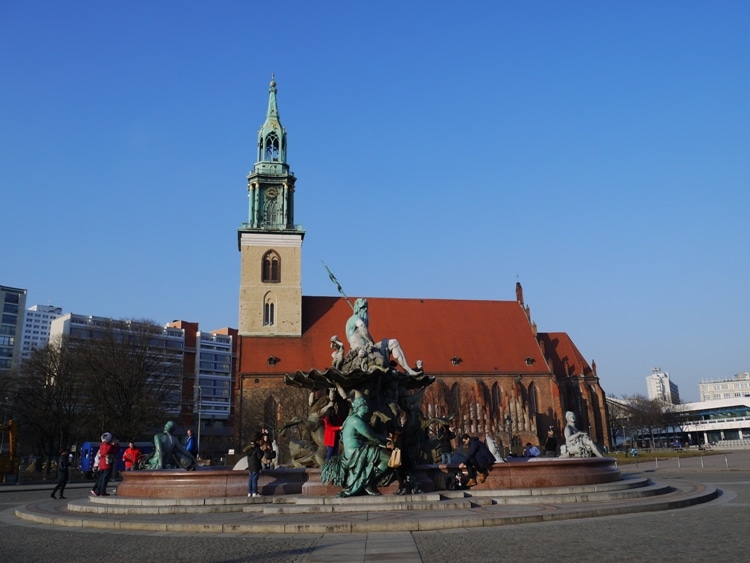 St Mary's Church is thought to date from early in the 13th century. It's known as Marienkirche in German. There is a statue of Martin Luther outside the church.
Rotes Rathaus (Red City Hall)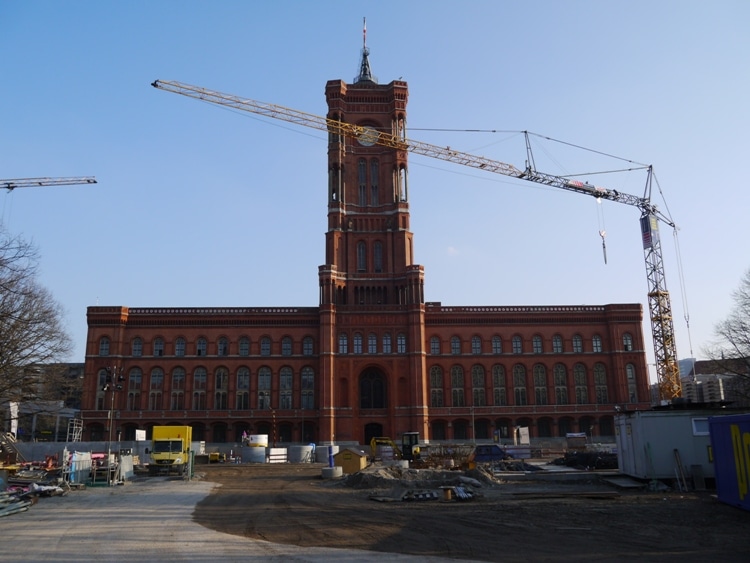 Rotes Rathaus, named after the color of the bricks, is the town hall of Berlin.
Berlin Cathedral (Berliner Dom)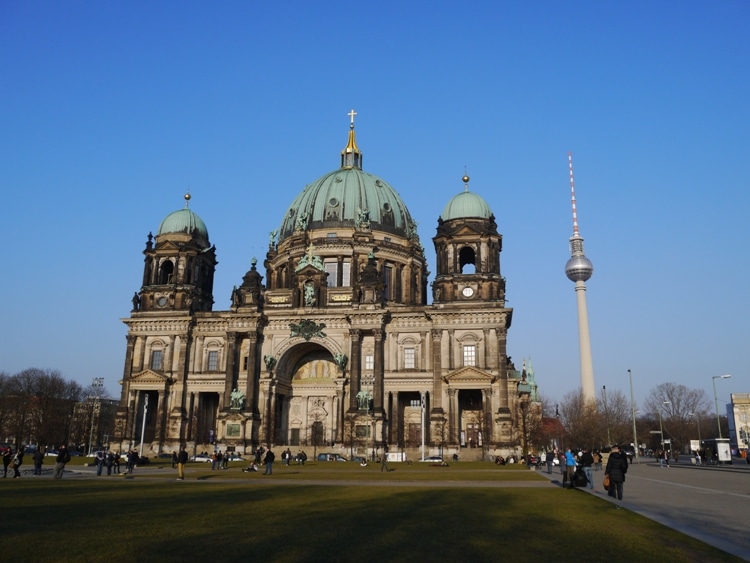 Berlin Cathedral is located on Museum Island and only a short walk from Alexanderplatz. It's a magnificent building.
Altes Museum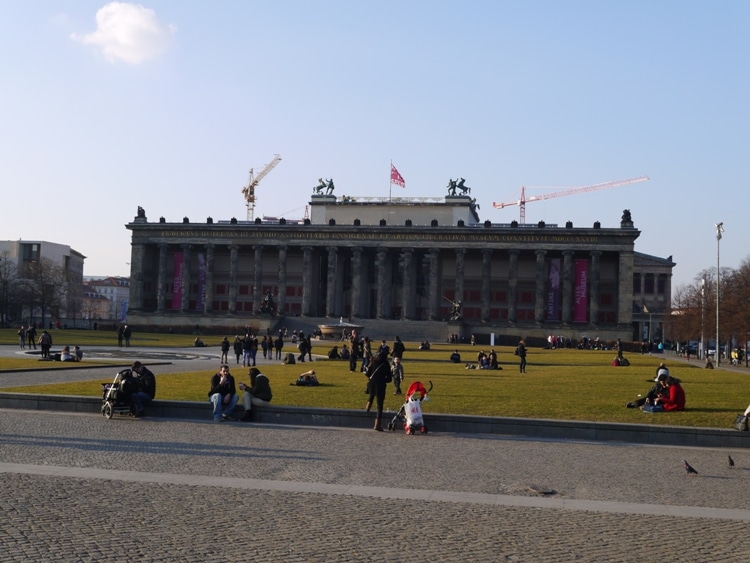 Altes Museum is right next to Berlin Cathedral on Museum Island. Museum Island is a UNESCO-inscribed site currently undergoing development that's due to last until 2025. Once finished it will act as a spectacular museum and cultural quarter.
Brandenburg Gate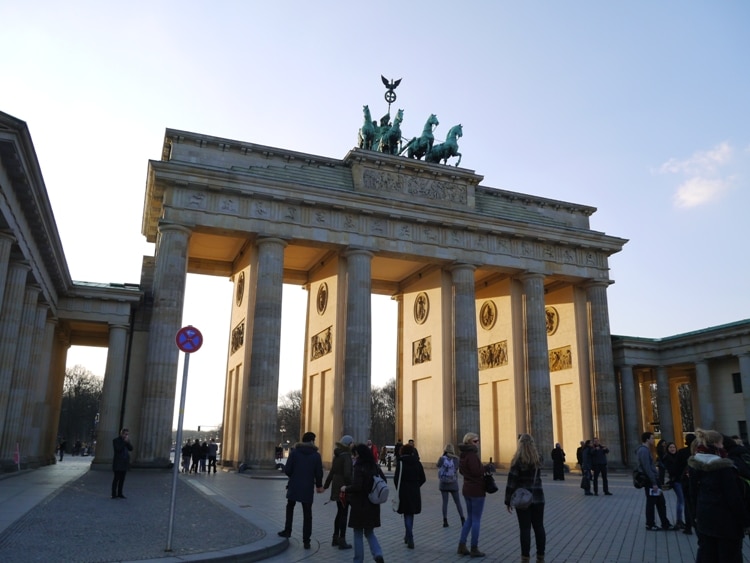 From Museum Island, keep walking along Unter den Linden and you'll come to Brandenburg Gate (Brandenburger Tor). This is the city's most famous landmark and is a symbol of German Unity. Before the fall of the Berlin Wall, it was marooned in no man's land between east and west Berlin.
Reichstag
Walk through Brandenburg Gate and you'll see the Reighstag on your right. You can take tours of this building, including walking to the top of the dome. You need to book these in advance though. You can do that at visite.bundestag.de.
Memorial To The Murdered Jews Of Europe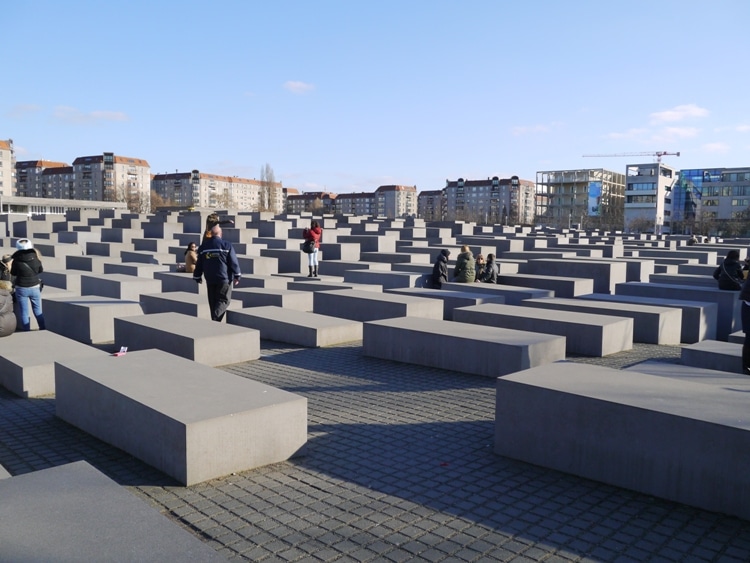 After leaving the Reichstag, walk back passed Brandenburg Gate. Around 200 meters further along you'll come to the Memorial to the Murdered Jews of Europe, where you can walk among the field of stelae.
Berlin Wall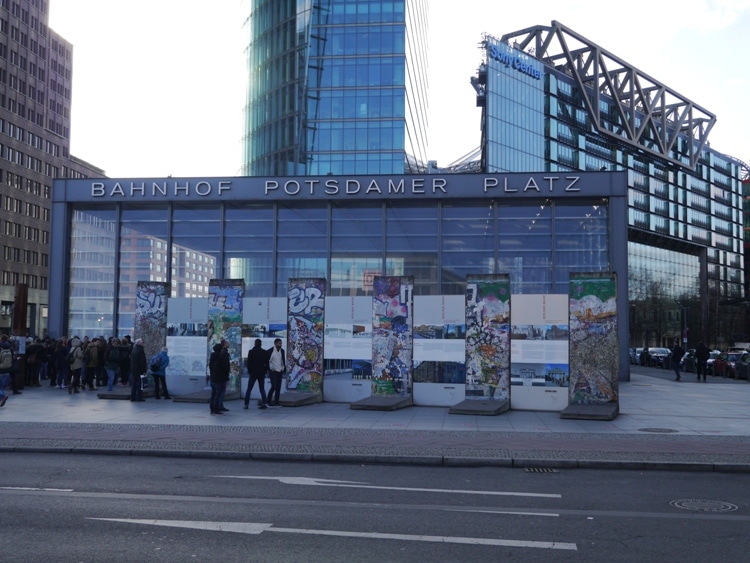 Keep walking in the same direction and you'll come to the above sections of the Berlin Wall. No visit to Berlin would be complete without seeing these remains. These sections are outside Potsdamer Platz station, as well as lots of information about the wall.
Potsdamer Platz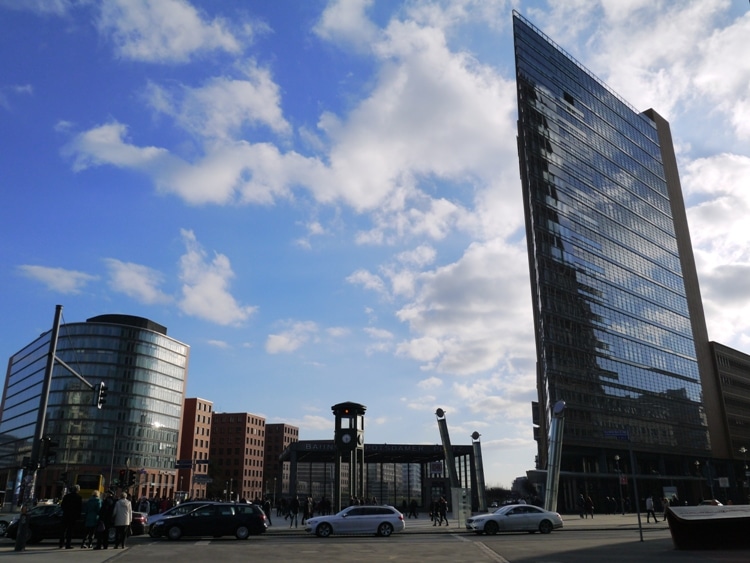 You'll now be in Potsdamer Platz. This was in no-man's land during the days of the wall, but is now an ultra-modern part of the city.
Checkpoint Charlie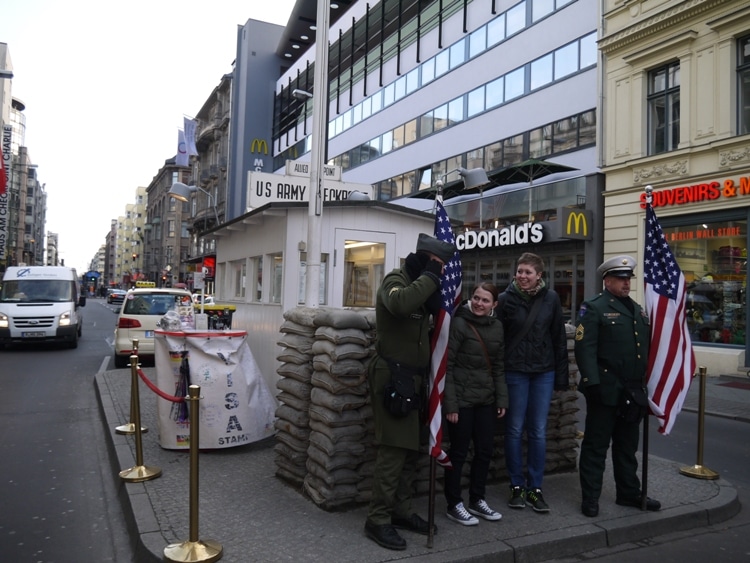 Keep walking and you'll come to Checkpoint Charlie. This seems like a real tourist trap. Tourists are charged EUR2 or $3 to have their photos taken.
East Side Gallery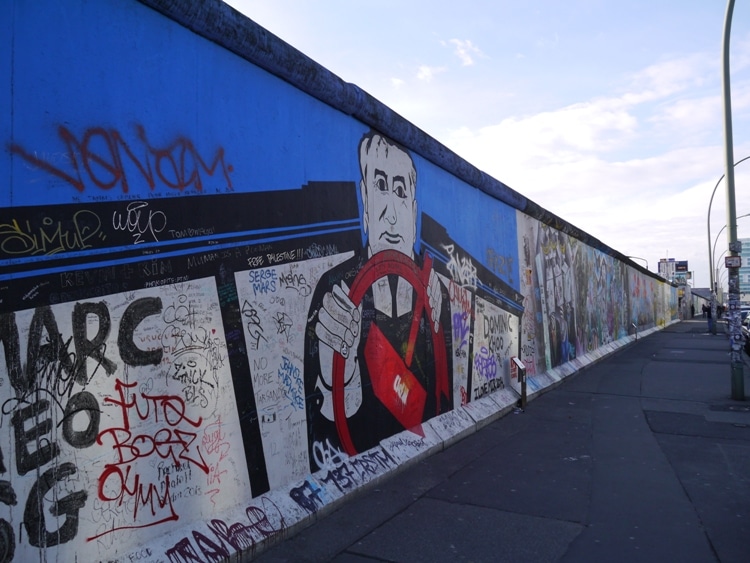 Walk a few more kilometers and you'll come to the East Side Gallery, which is the longest stretch of the Berlin Wall. It's around 1.3 km long. This is the best place to get a feel for what it must have been like with when the city was separated.
Of course, the above is only a small part of what's available in Berlin. Use this as a starting point, but take your time to discover other attractions of this vibrant city.
Hotels In Berlin
While in Berlin we stayed at Park Inn by Radisson on Alexanderplatz. It's a great hotel in a perfect location. You'll be spoiled for choice in Berlin, as there's an extensive range of hotels and the prices are much more affordable than in cities like London and Paris. Check out Agoda Berlin to see what else is on offer.