If you love coffee, and loving hanging out at cafes, then Chiang Mai is a great city to visit. It has a real cafe culture, and has many more cafes than Bangkok seems to have. There are probably hundreds of great cafes, so I can't include them all here. These are just a small selection of our favorites that we visit on a regular basis (every day!). Click here to book a great hotel in Chiang Mai.
Coffee Lovers
This is one of my favorites. The coffee here is great and very reasonably priced. It has seating inside and out, and there is lots of it. They have a huge fan outside, and it's on a quiet stretch or road, so quite a relaxing place to sit and read for an hour or two. They also have very friendly staff. If you're visiting Chiang Mai, then be sure to try this one out.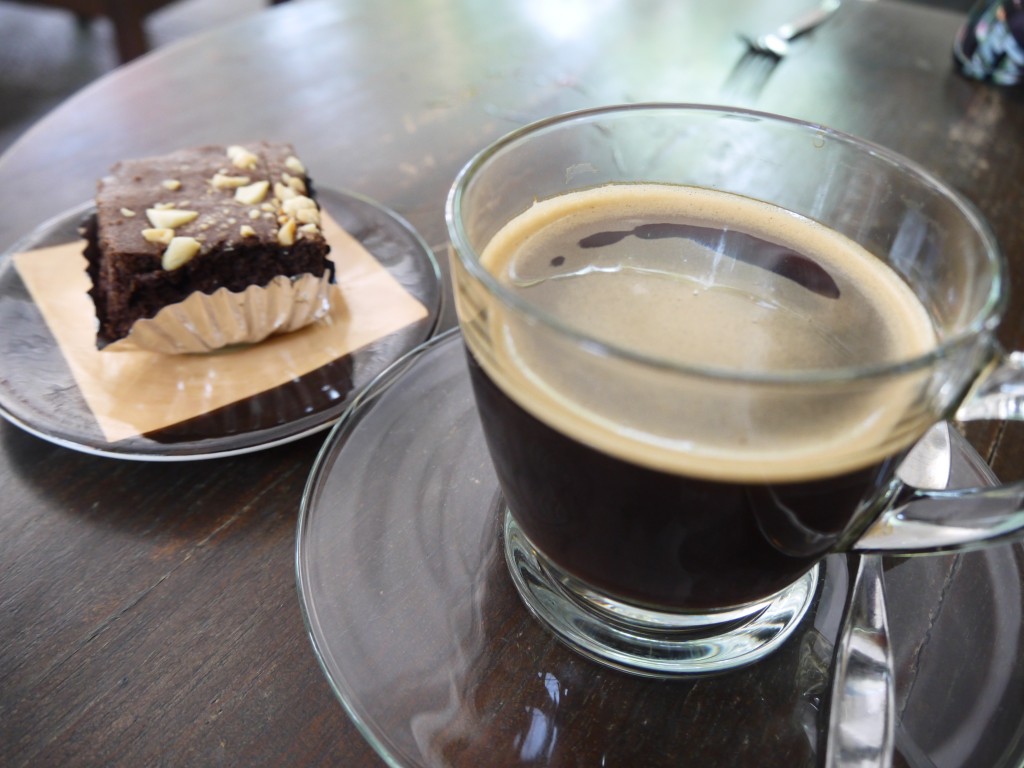 The coffee and cake above cost 55 baht – that's less than $2. Bargain.
Location: Ratchamanka Road, opposite BP Hotel
Cost of Americano: 35 baht
Good Morning Chiang Mai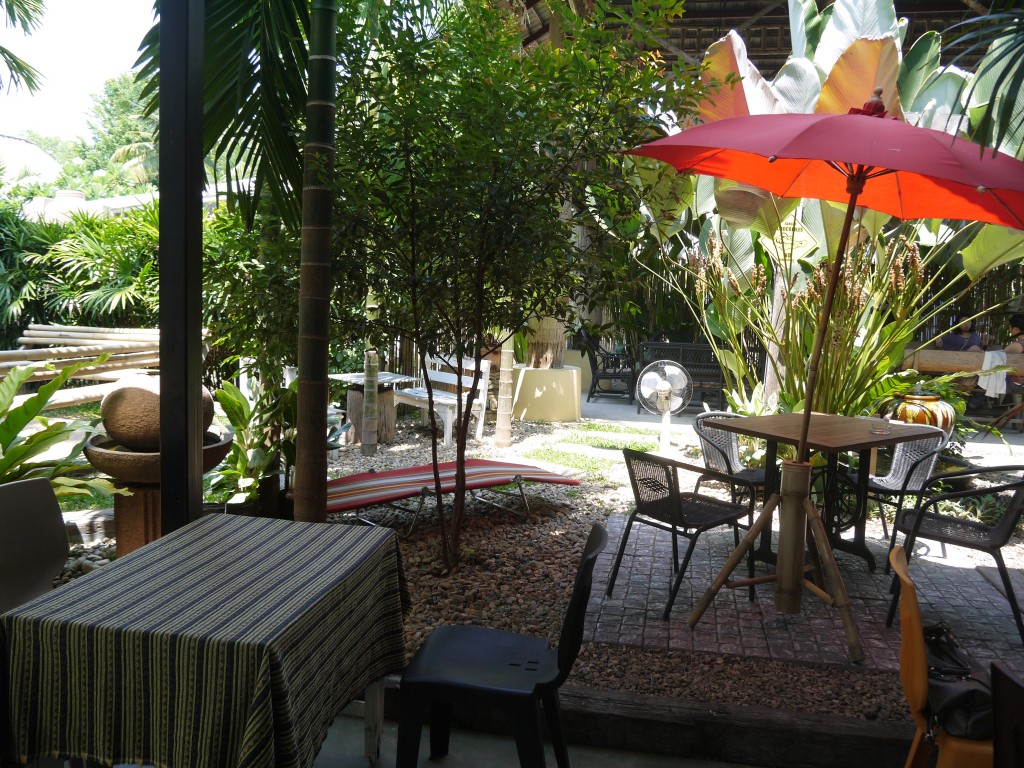 This is another great cafe that also has some great food choices. It's next door to Gord Hotel on Ratchamanka Soi 6. We can often be found lounging around this cafe in the mornings. They serve a very tasty Crunchy Granola with Soy Milk – an ideal start to the day. This is an American owned cafe, and has lots of American food choices. Great seating inside and out, including a very peaceful upstairs seating area.
Location: Ratchamanka Road Soi 6, next to Gord Hotel
Cost of Americano: 50 baht
Ka-Fae Nang-Muan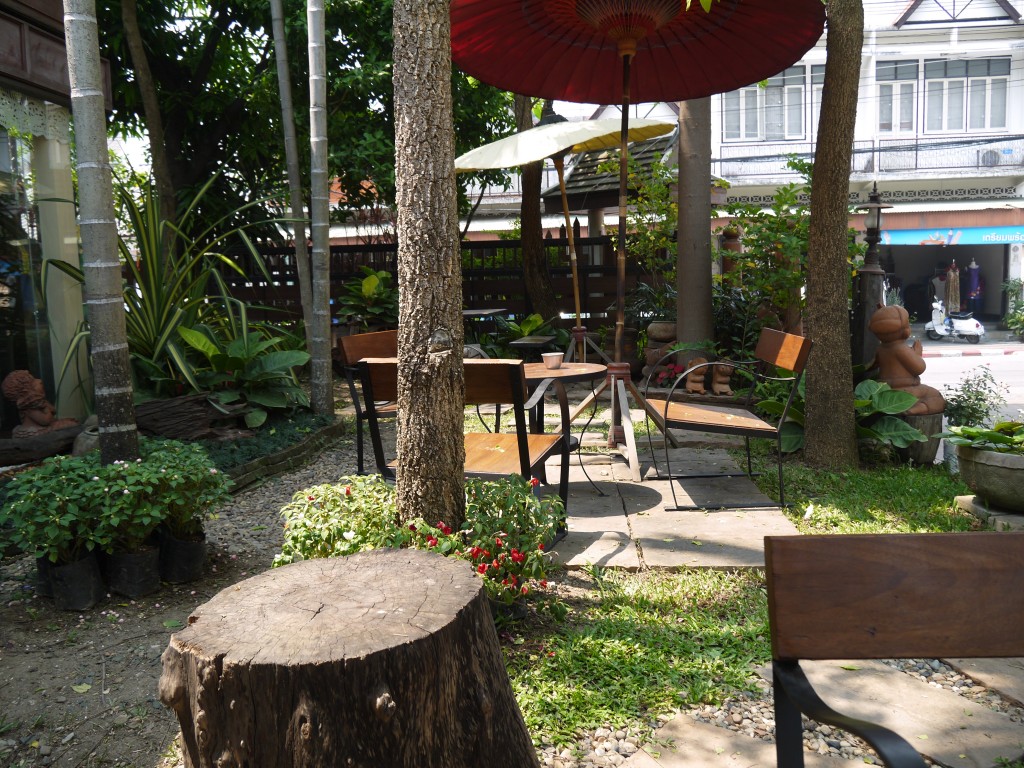 This is another cafe with peaceful outdoor seating. They also have a resident cat that will be happy to come and play with you.  This is one of the closet cafes to our hotel, so you'll often find us here. This cafe is part of Pha Thai House – a small boutique hotel.
Location: Ratpakinai Road (southern end) near Phra Pok Klao 3, within grounds of Pha Tai House
Cost of Americano: 50 baht
Move On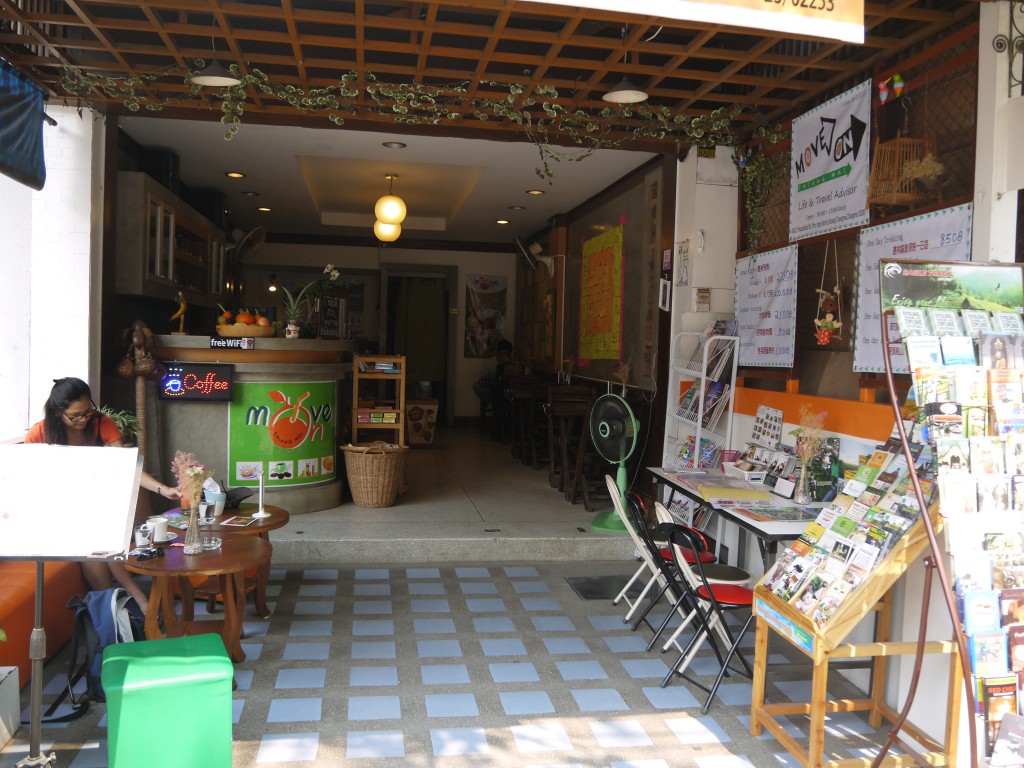 This is a great cafe run by a friendly Taiwanese couple and Thai staff. There is also a friendly cat at this cafe. It's a great location in central Chiang Mai, right opposite Wat Jed Lin. They also do a range of tours around Chiang Mai.
Location: Prapokklao Road, opposite Wat Jed Lin
Cost of Americano: 40 baht
Pangkhon Coffee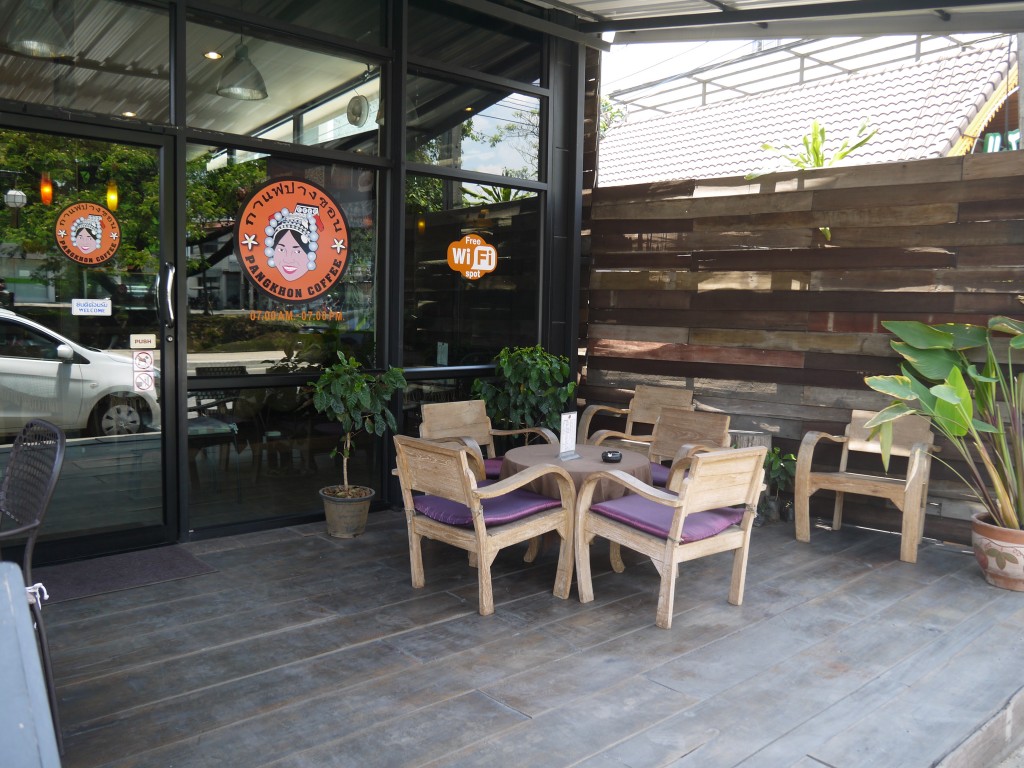 This one's along the south moat, so easy to miss unless you happen to go past on a songthaew, which is how we found it. But's it's only a few minutes walk from the South Gate, and well worth a visit. Friendly and cheerful staff, and great coffee.
Location: Chang Lor Road, 2-3 minutes' walk west of South Gate, just past Bangkok Bank
Cost of Americano: 40 baht
iBerry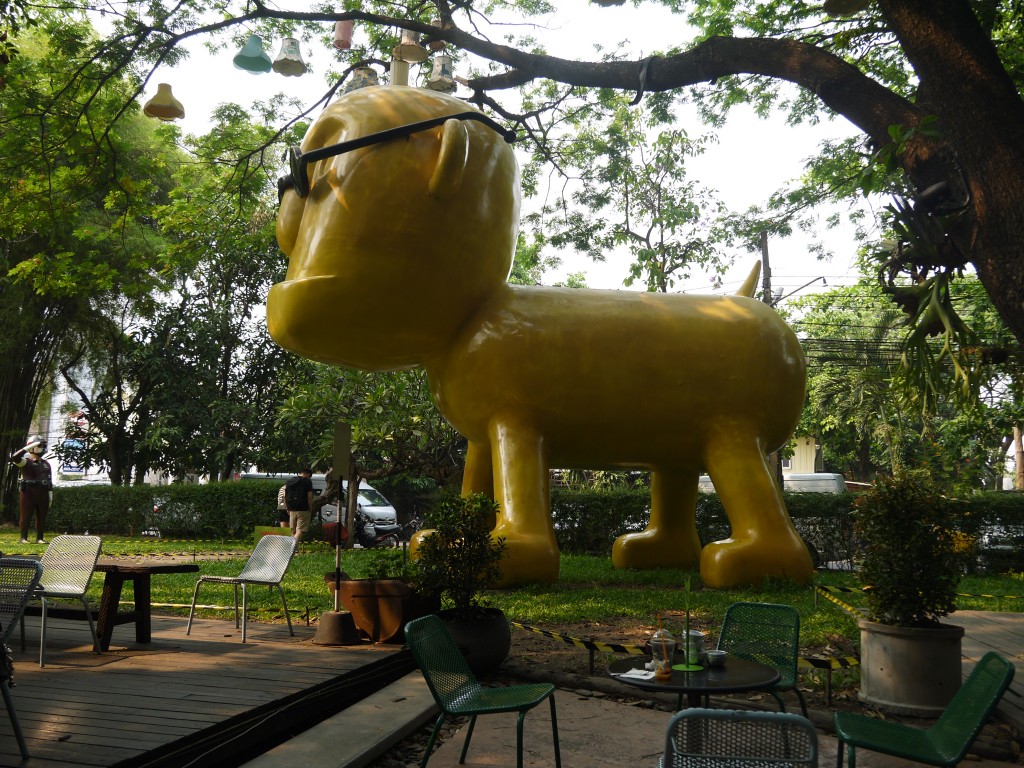 This is mostly an ice-cream  place, but it does sell coffee. Worth a visit at least once. Very large garden, with very small tables and chairs. It's a bit of a Chiang Mai institution. Also very close to Khun Churn vegetarian restaurant, where you can get an awesome buffet lunch.
Location: Nimmanhaemin Road Soi 17
Cost of Americano: 40 baht
Apologies to all the other great cafes that I didn't include. There are just so many of them, that you could have a whole website dedicated to them. If you love coffee, come to Chiang Mai. Additionally if you need to work and have things to get done online here are some of the places where you can get fast wifi in Chiang Mai.
Hotels In Chiang Mai