Today's journey from Budapest to Ljubljana was very long and involved getting four trains and visiting four countries. We went from Budapest (Hungary) to Bratislava (Slovakia) to Vienna (Austria) to Villach (Austria) to Ljubljana (Slovenia). Total journey time was 11 hours 15 minutes. I'm actually writing this post using the free wifi on the excellent Railjet train on the way to Villach. As well as free wifi, this train has food menu that includes vegetarian and vegan meals. And as they say in those corny infomercials… but wait, there's more. We saw our first snow of the winter. See below for images and video. So, all in all, this was a great journey. This is why we love traveling by train.
Budapest To Bratislava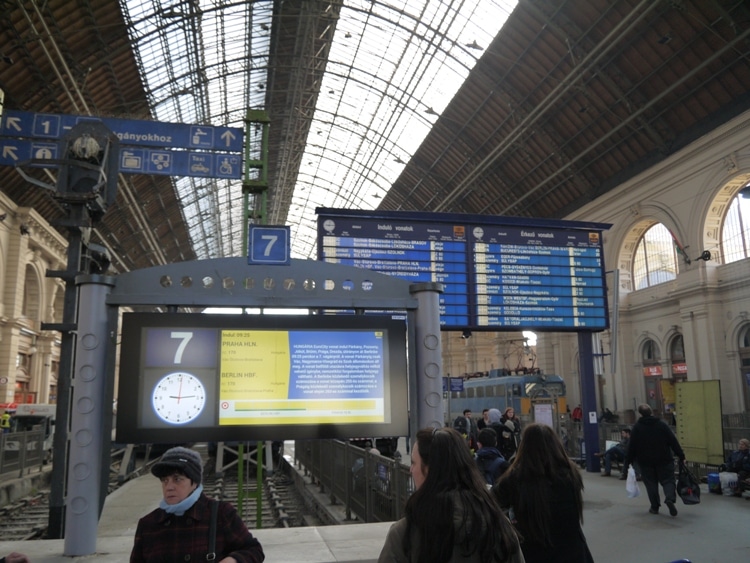 The first two legs of our journey were the reverse of getting to Budapest from Vienna. The first leg from Budapest to Bratislava was a few minutes late leaving and over 20 minutes late arriving in Bratislava. Luckily we had enough time to get our connection to Vienna.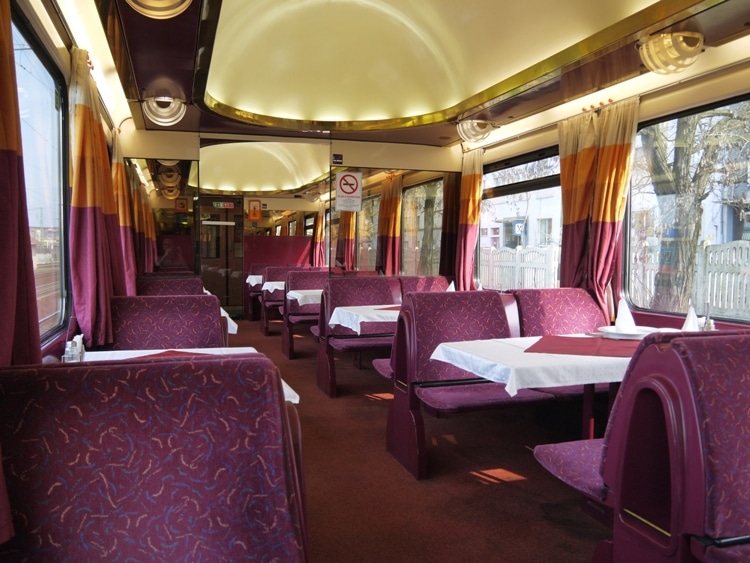 The train had a great restaurant car, although we only had a coffee there.
The train was due to leave at 09:25 and arrive at 12:07, giving a journey time of 2 hours 42 minutes. But, as mentioned above it was over 20 minutes late arriving in Bratislava.
Bratislava To Vienna HBF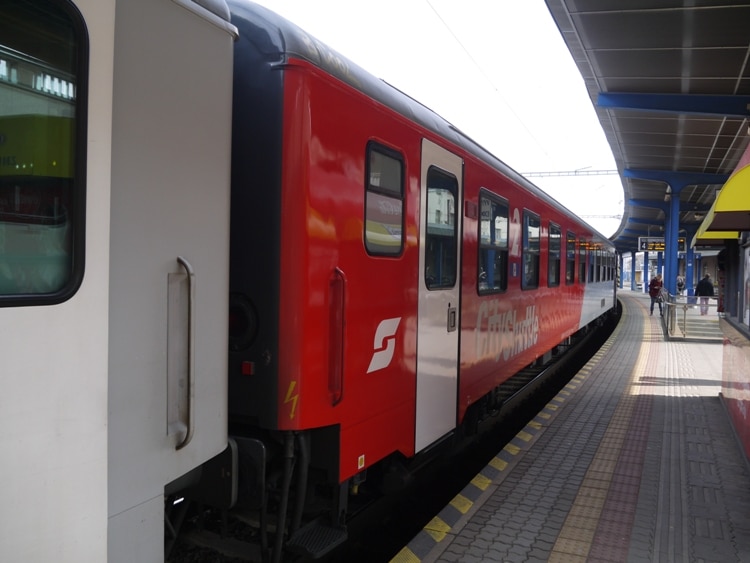 This train only had 2nd class seating. It left at 12:43 and arrived in Vienna at 14:48, for a journey time of 1 hour 5 minutes. This was a very uneventful journey. All toilets on this train were locked and unusable.
Vienna HBF to Villach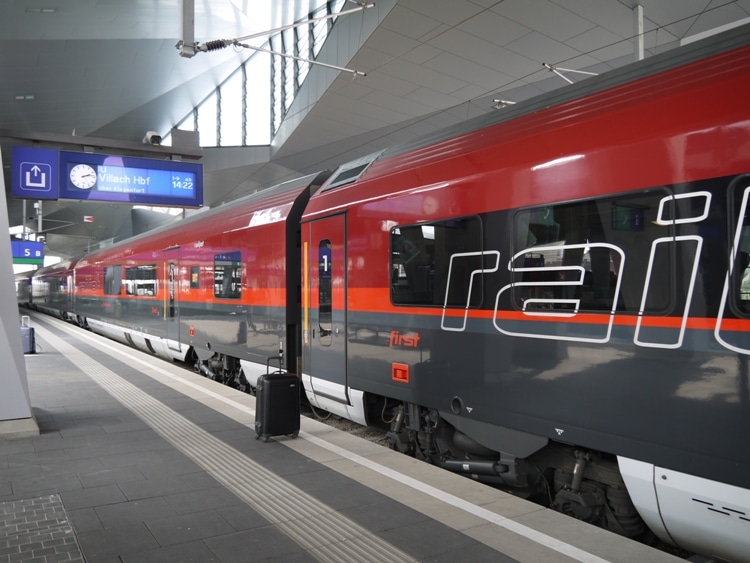 This is the second time we've traveled on Railjet and it's the best train we've traveled on in Europe. As mentioned above, I'm writing this while connected to the free wifi in the carriage.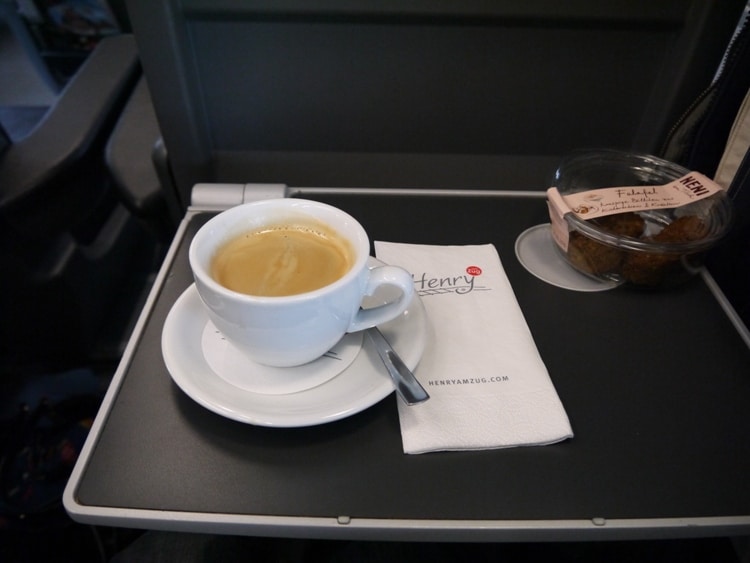 As soon as we got on the train, the steward came around to ask if we wanted any drinks or food. I had an Americano, which cost EUR2.80 ($3).
We were pleasantly surprised to find out that they had a menu that included vegetarian, vegan, gluten-free and lactose-free food. It's not often you get that on a train.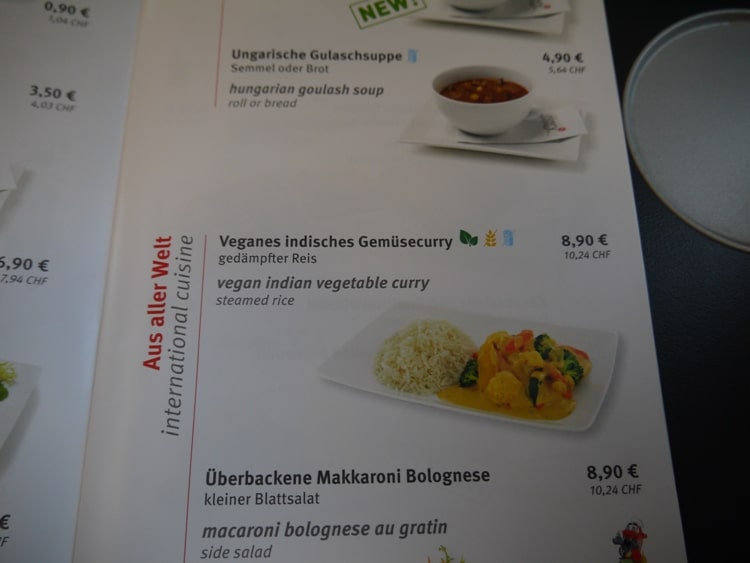 The vegan Indian Curry cost EUR8.90 ($9.50).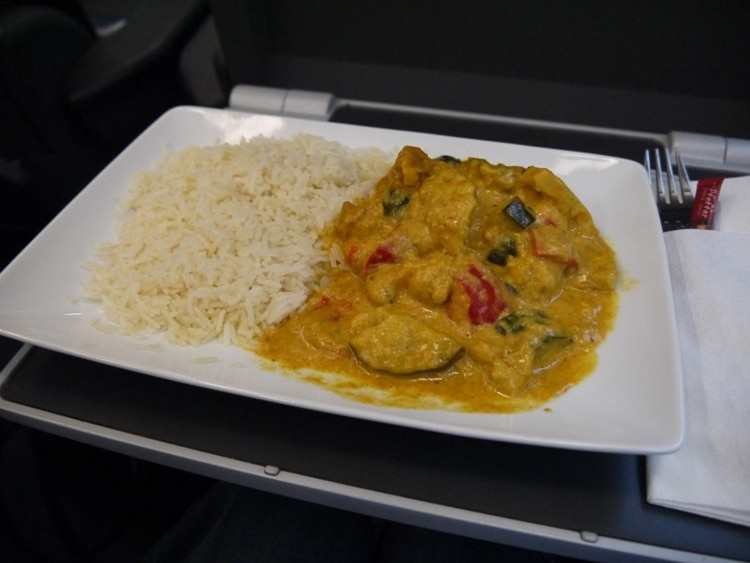 And here's the tasty curry, although it looks like it has a face that's sticking its tongue out.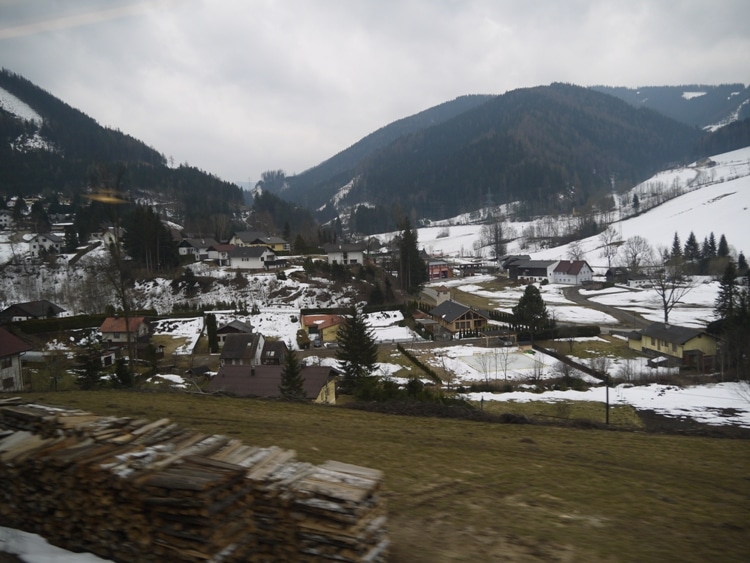 Today was the first time that we'd seen snow since we came to Europe almost two months ago. This was also the best scenery from our train journeys so far.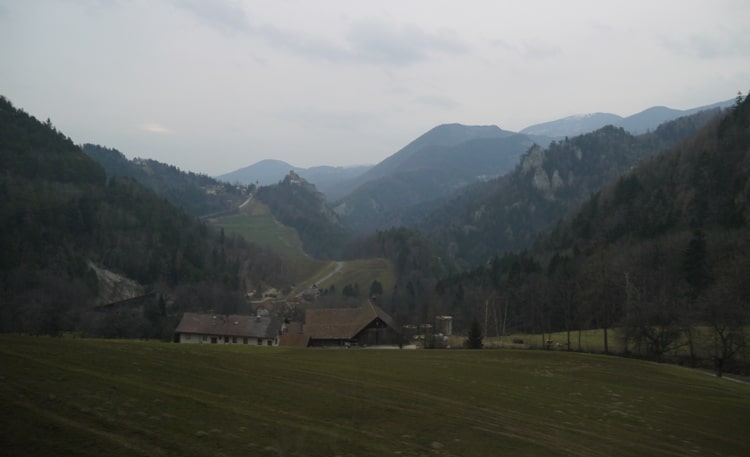 Perfect mountain scenery.
Above is a video I shot a few minutes ago. It's great being able to upload the video while you're still on the train.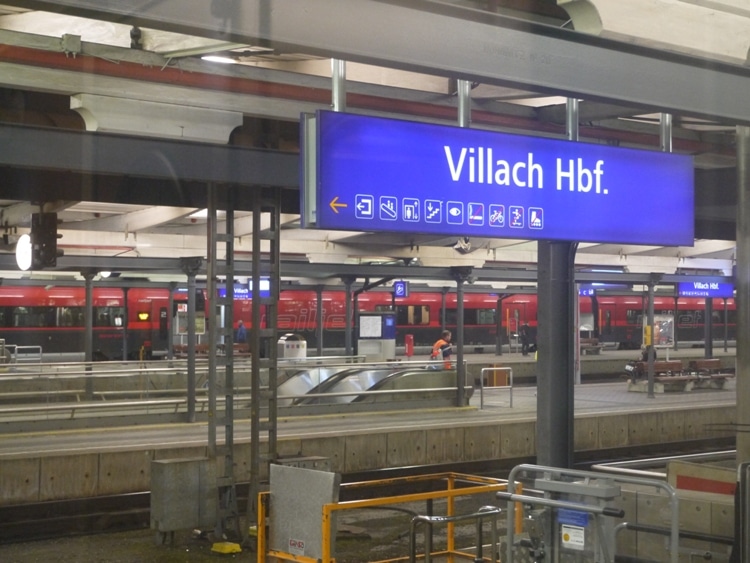 This train left at 14:22 and arrived in Villach at 18:46, giving a journey time of 4 hours 24 minutes.
Villach To Ljubljana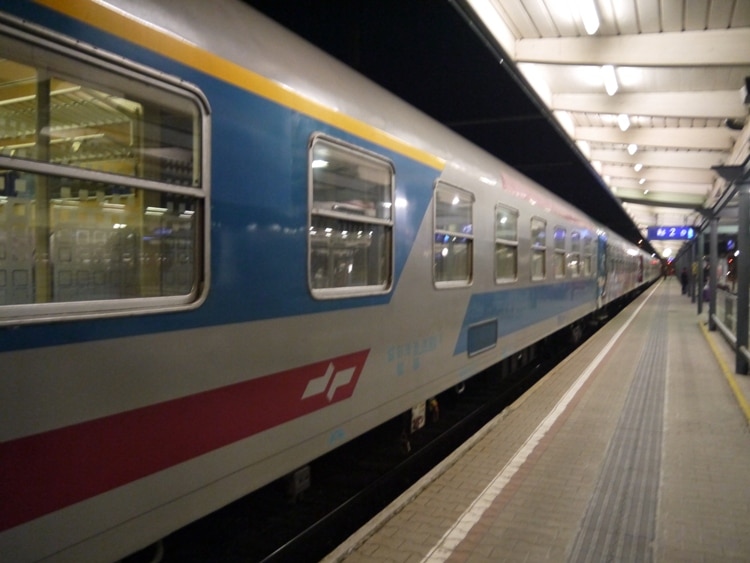 We only had seven minutes between the last train arriving an this one leaving, but it turned out to be enough time. This train had a First Class carriage, although it was more like a 2nd class carriage, We were the only people in teh whole carriage.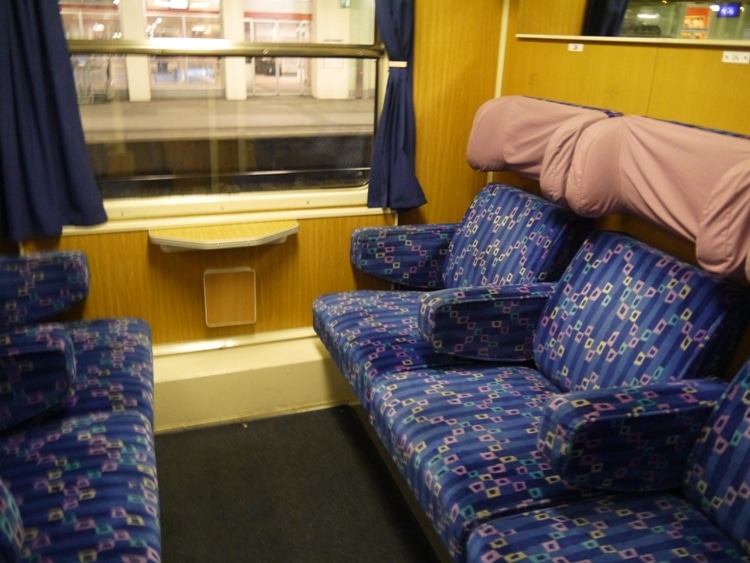 It was dark by the time we got this train, so there wasn't much to see and it was a quite boring journey, especially as we were getting tired by this point.
The train left Villach at 18:53 and arrived in Ljubljana on time at 20:40. This leg of the journey took 1 hour 47 minutes.
Train Planner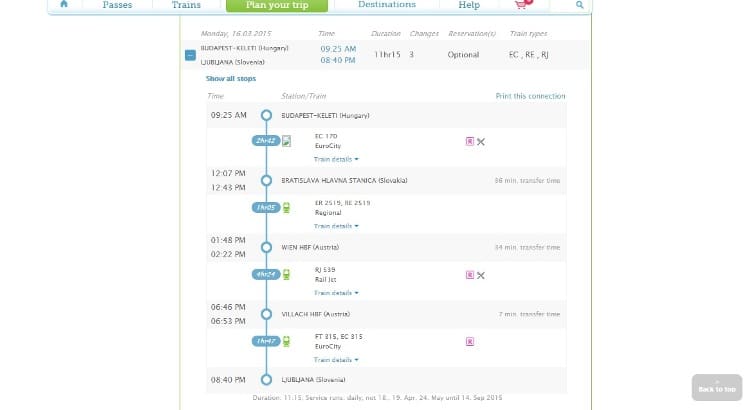 This is from the Interrail 'Plan Your Trip' section of the site.
Cost Of Journey
When I checked the cost of this journey it showed as $115 for Economy Class and $154 for First Class. We didn't need to buy tickets though, as we used our Eurail and InterRail passes.
Where To Buy Your Global Pass
You can buy a Eurail global pass at the Eurail website, and an InterRail global pass at the InterRail website. If you're heading to Europe I highly recommend getting one.
Hotels In Ljubljana
While in Ljubljana we stayed at Galeria Rooms, which was a great hotel only a 5-minute walk from the city center and a similar distance from the train station. For other great hotels in Ljubljana, check out Agoda Ljubljana Hotels.