Croatia is one of our favorite countries in Europe, which is why we've already stayed a month and plan to stay even longer. At the moment we're in Split, which is a great place from which to take day trips by ferry. Today we visited the beautiful island of Hvar to check out the UNESCO World Heritage Site of Stari Grad. We've included an overview of our trip plus full details of ferry times and prices for 2015. Click here to choose your hotel via Agoda.com.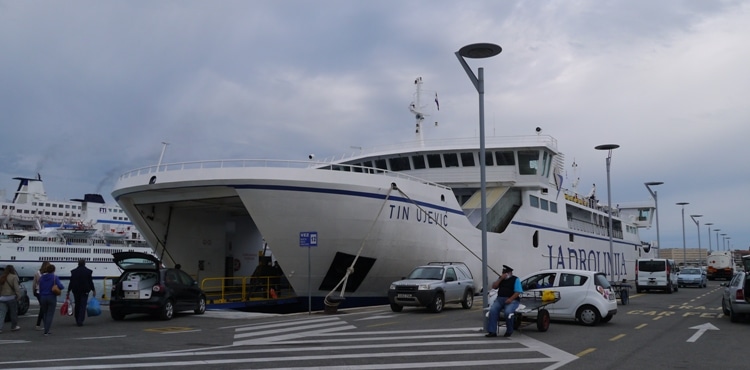 Split habor is only a few minutes walk from the city center, with the ferries to Stari Grad leaving from one of the nearest docks. Above is the 08:30 ferry to Stari Grad.
Split To Stari Grad Ferry Timetable
The ferries travel from the ferry port in Split to the small town of Stari Grad on the north-western side of Hvar. The ferries are operated by Jadrolinija, with their fleet being very modern. There is a summer and winter timetable, with times as follows:
Summer Timetable (29 May to 27 Sep 2015)
Split to Stari Grad: 05:00, 08:30, 11:00, 14:30, 17:00, 20:30
Stari Grad to Split: 05:30, 07:45, 11:30, 14:00, 17:30, 20:00
Winter Timetable (1 Jan to 28 May 2015 and 28 Sep to 31 Dec 2015)
Split to Stari Grad: 08:30*, 14:30, 20:30
Stari Grad to Split: 05:30*, 11:30, 17:30
* = Does not sail on 25 & 26 December 2015
The crossing takes around 2 hours. There is a cafe on board that serves drinks and snacks.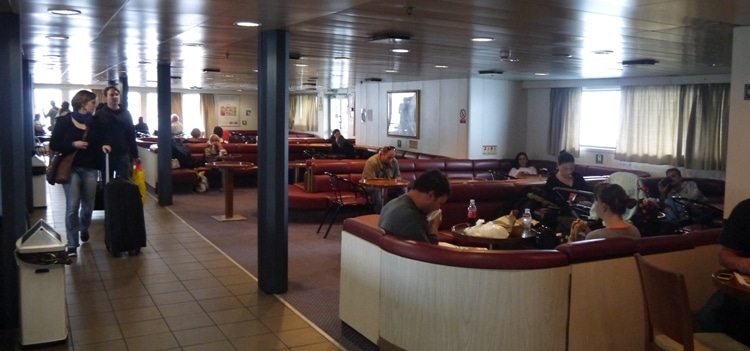 The ferry is quite modern with the inside deck being a non-smoking area. The ferry was pretty full when we got it. The above photo was taken about 30 minutes before it left.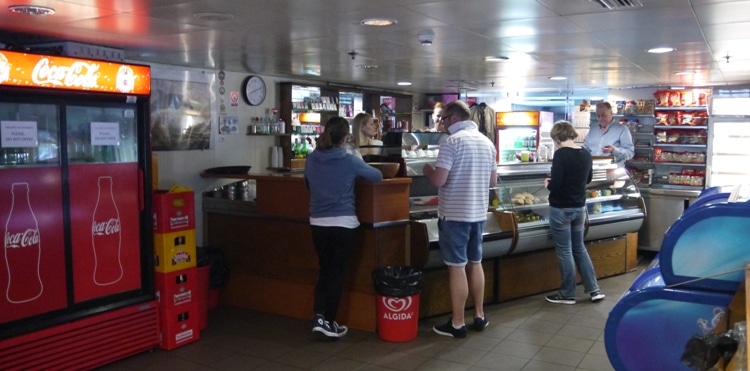 The ferry has a cafe that sells hot and cold drinks, including alcohol, and a variety of snacks. Prices are very reasonable.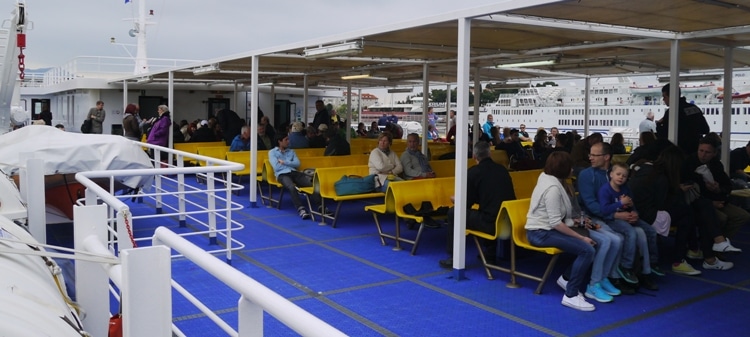 The outside deck is very popular when the weather is good, so arrive early to get a good seat.
Split To Stari Grad Ferry Prices
Low – High Season
Foot passenger: 39 kn ($5.80) – 47 kn ($7)
Child (3-12): 19.50 kn ($2.90) – 23.50 kn ($3.50)
Small car: 265 kn ($40) – 318 kn ($47)
Large car: 490 kn ($73) – 588 kn ($87)
Motorbike: 65 kn ($9.70) – 78 kn ($11.60)
Bicycle: 38 kn ($5.70) – 45 kn ($6.70)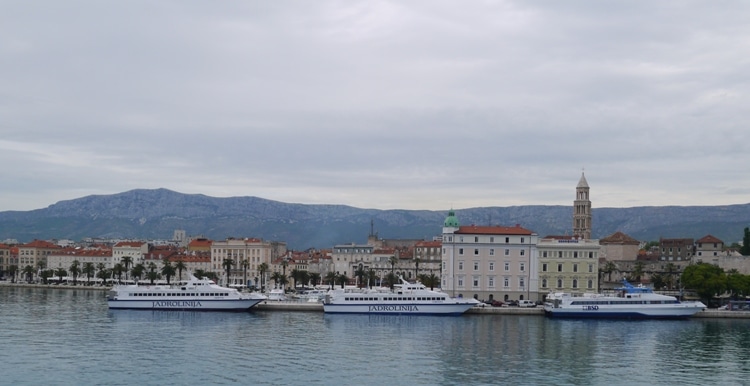 As with all ferries that leave Split, you get a great view of the old town as the ferry leaves the dock. The sailing is very smooth in summer, but can get a little rough in winter. If the weather gets too bad the ferries will be cancelled.

About half way between Split and Stari Grad the ferry passes between the islands of Brac and Solta. When traveling from Split to Stari Grad, Brac will be on your left and Solta on your right.
The ferry port of Stari Grad is 2 km from the town center, but you can walk along the shore path quite easily. There will also be buses waiting for the ferry to arrive so you can get one of those if you prefer. It costs 13 kn ($2) from the ferry port to the town. The buses also go to Vrboska (8 km), Jelsa (9 km), Hvar (15 km) and Sucuraj (62 km). There will also be a few taxis around.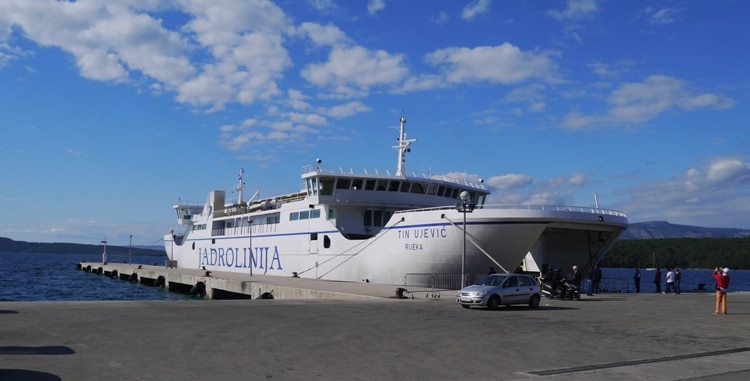 If you want a great view of the old town and Stari Grad Plain, take a walk to the top of Glavica hill. You'll be able to see the cross at the top of the hill from the harbor area.
Video Of Stari Grad From Glavica Hill
Where To Stay In Stari Grad
We only visited Stari Grad on a day trip, but you might want to check out Apartments Oxa Dreamland if you're planning to stay overnight. For other apartments and guesthouses, we recommend Agoda Stari Grad.
If you prefer to stay in Split and just take a day trip to Stari Grad, two great studio apartments that we stayed in ourselves are Divota Apartment Hotel and Dosud Apartments. We can personally recommend both of these. For over 1,000 other apartments and hotels in Split, visit Agoda Split.