For our first two days in Siem Reap, we stayed at Friendly Villa hotel near the night market. This hotel gets some of the best reviews of all the hotels in Siem Reap, and we thought it deserved them. Click here to book this hotel via Agoda. UPDATE: We booked three nights via Agoda, but on the 3rd day we were asked to leave because the hotel was overbooked. They offered a stay at a hotel that was a very long way away, but we didn't want to take that because it was out of the center. They refused to book us into a nearby hotel, so refunded our money and let us look for our own hotel. This was not an ideal situation on our last day. For these reasons, I would not recommend this hotel. As you can see from the rest of the review, this is a nice hotel, but do you want to risk being kicked out? We moved to the Cheathata Angkor Hotel for our last night in Siem Reap.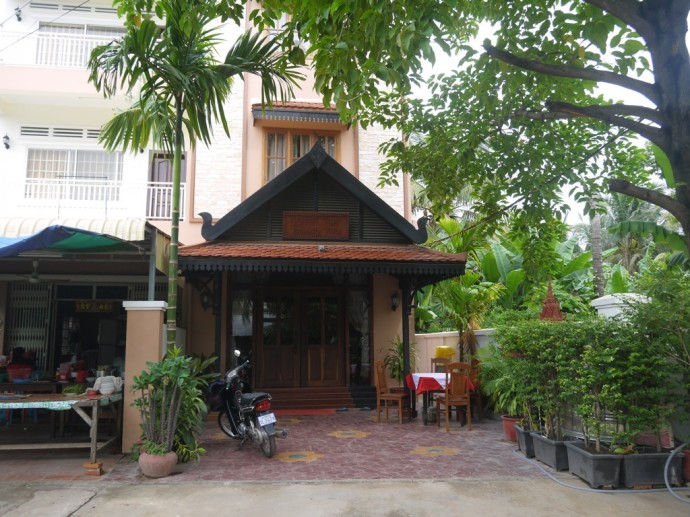 When we first arrived, we were given cold towels and a welcome drink, which you don't get at many hotels. It makes for a pleasant start to your stay.
The hotel is newly renovated to a very high standard, and the rooms have everything you need to enjoy your stay. This includes fridge, kettle, free tea & coffee, free water, good range of bathroom products, satellite TV, same day laundry service, and lots more. Wifi is free throughout the hotel, and there are two PCs in the lobby area that you can also use for free.
Breakfast is served in the lobby area from 7-10 am. You select what you want from the menu, and they then cook it to order.
We loved the location, as it's only a few minutes from the Old Market area, but in a quiet street. So no need to get a tuk tuk if you want to visit the market or a restaurant. There are more than enough restaurants in the area, including a good selection of restaurants that serve vegetarian food.
Another great feature of this hotel is that they provide free transport to/from the airport or bus station.
Video Of Friendly Villa
Hotels In Siem Reap
Click here to book this hotel via Agoda, or click the link below to book a different hotel In Siem Reap.