One of the first things we do when we arrive in a new town is check out where the cafes are. Hua Hin has numerous cafes, but many of them require transport to get to. These are the ones we visited regularly, but we've probably missed out some great ones. All the cafes listed here have free wifi. Check out Hua Hin Insider Travel Guide for more information on your visit.
Blue Moon Cafe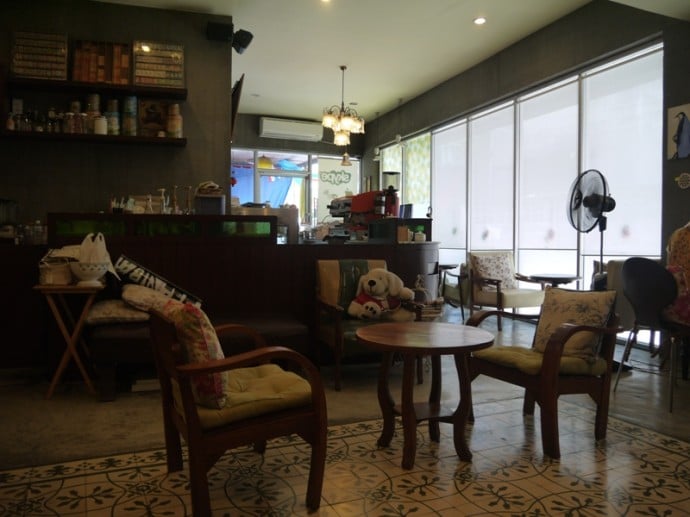 This was one of our favorite cafes, and we visited very often while we were in Hua Hin. They have lots of seating inside and two tables outside. Inside the cafe there are four computer terminals and a printer. This cafe is popular with both locals and tourists.
Bluemoon Cafe Details
Address: Sa Song Road (near junction with Dechanuchit Road – walk away from the market towards the train station – it will be on your left)
Opening Hours: Mon-Sat 08:30-18:00; Sun Closed; Sometimes closed on Sat if owner is away.
Americano: 45 baht ($1.50)
Together Bakery & Cafe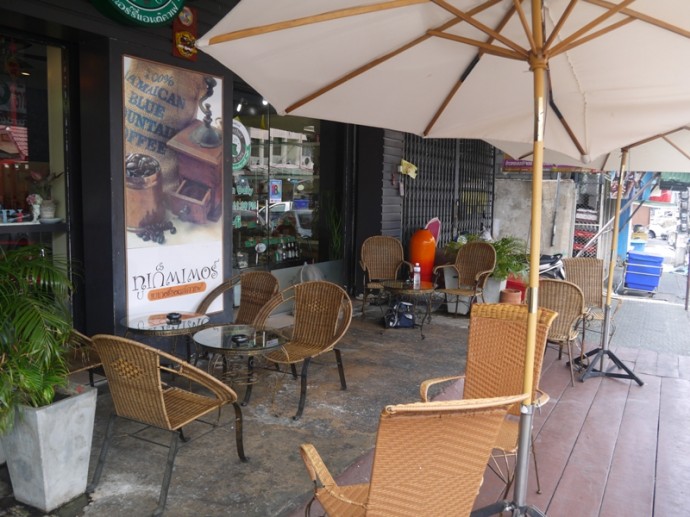 This cafe also has a very popular bakery, with a wide range of cakes and desserts. It's on the same road as the night market and open until 11 pm, so you can get your caffeine fix even late at night. It has seating both inside and out, with a fan available for the outside seating. It's a great place to sit and relax after visiting the market.
Together Cafe Details
Address: 72/3 Dechanuchit Road (between Sa Song Road and Prapokklao Road)
Opening Hours: Sun-Sat 08:30-23:00
Americano: 60 baht ($2)
Hot Cappuccino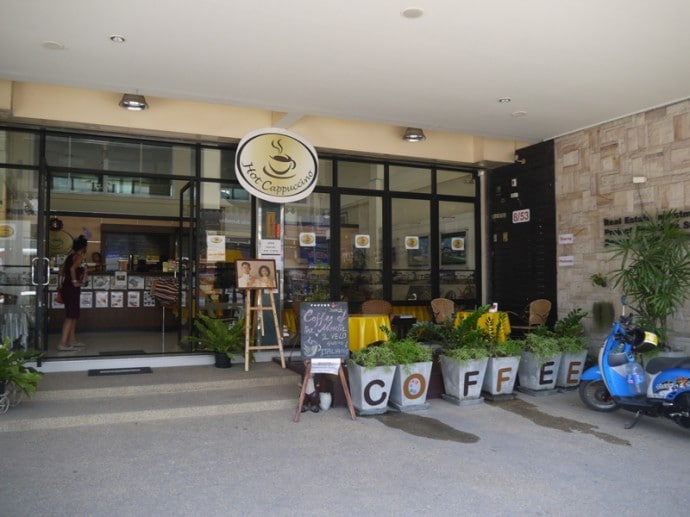 This cafe is slightly out of the city center, on Phetkasem Road, which is the main road north out of the city. A motorbike taxi from the city center to here costs around 30 baht ($1). This place also serves food, but there is a nice area to sit outside that also has a fan. It's on the main road, so the views aren't great. But the coffee is good. They have a Coffee of the Month that's advertised on the sign outside.
Hot Cappuccino Details
Address: 8/53 Phetkasem Road (a few shops passed Soi Hua Hin 58 – on left when traveling from city center)
Opening Hours: Mon-Sat 08:00-17:00; Sun Closed
Americano: 40 baht ($1.35)
Hua Hin Coffee Station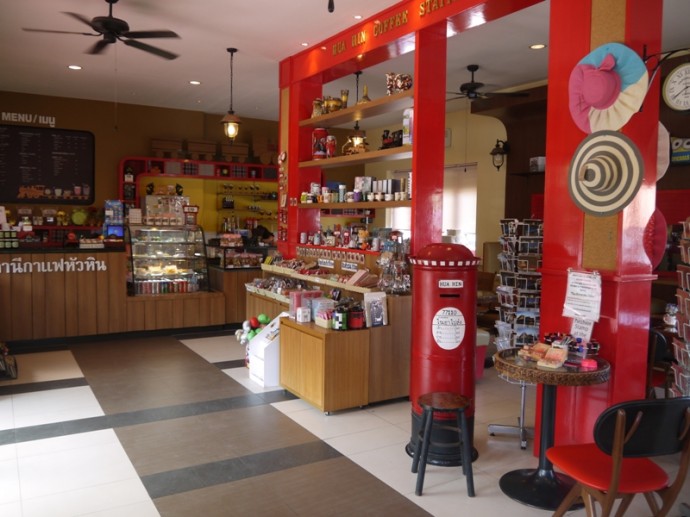 This cafe is right next to Hua Hin train station, with access from both the road and the platform. It has aircon, so it's a great place to wait for you train. It's not a typical train station, but quite a modern place that's been designed to compliment the train station. There are lots of souvenirs on sale and it's quite a colorful place.
Hua Hin Coffee Station Details
Address: Hua Hin train station – it's at the end of the platform
Opening Hours: Don't know
Americano: 50 baht ($1.70)
Good Coffee Club
This cafe has a great choice of cakes and is run by very friendly staff. It's about a 2-minute walk from the popular night market. Just head north along Phetkasem Road and you'll see it on your right. It's next to a large vintage furniture store and home electronics store. It's open a little later than many of the others, so is a good choice if you need some coffee later in the day.
Good Coffee Club Details
Address: Pure Plaza – opposite Phetkasem Road Soi 68/1
Opening Hours: Sun-Sat 08:00-20:00
Americano: 45 baht ($1.50)
Hotels In Hua Hin
For our first few nights in Hua Hin, we stayed at Thor HuaHin57 Hotel. The location is very central, with the night market being about 2 minutes' walk away. To book this or any other hotel in Hua Hin, check out Agoda Hua Hin.