For our first night back in Bangkok after over six months of traveling we opted to stay at iCheck Inn in the Silom area of Bangkok. This is very close to where we used to live and we love this area. The hotel is down a small dead-end soi (road), and the location was just perfect for us. There are plenty of vegetarian restaurants within a few minutes walk, and also a good choice of cafes, including the newly renovated Starbucks. Click here to book a room at iCheck Inn via Agoda.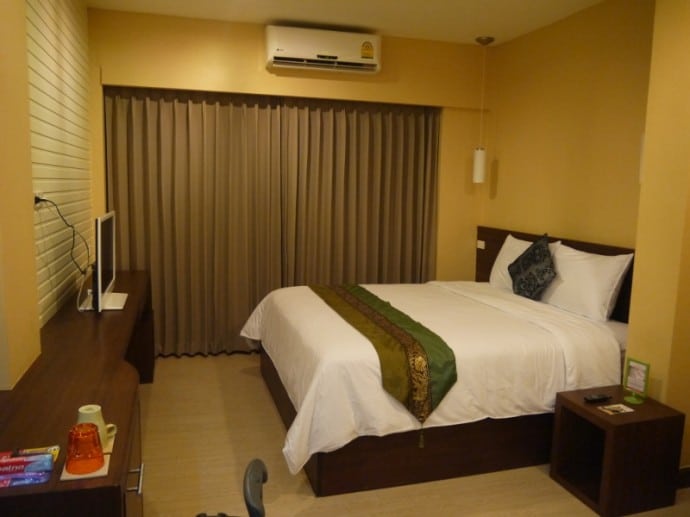 We stayed in a superior room and we were happy with our choice. The room was fairly large and well equipped, including a safety deposit box, which we haven't had in most hotels we've stayed at in SE Asia. There was a also a small fridge, a TV and a few sockets around the room.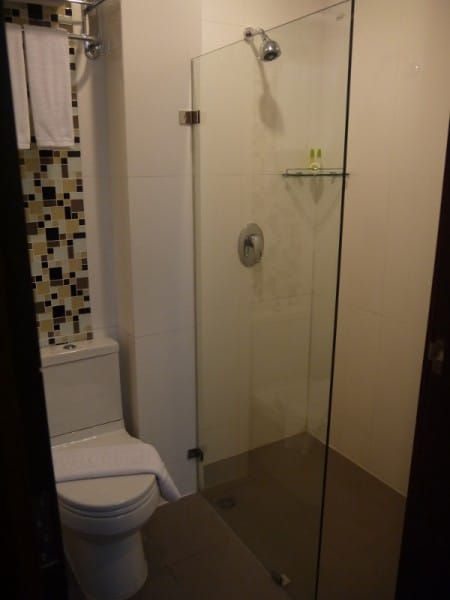 The bathroom was small but very good quality, as was the whole hotel which seemed like it's been recently renovated.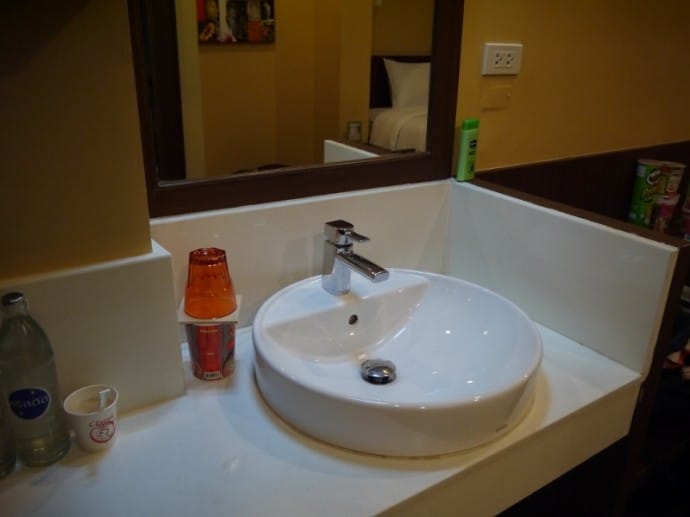 One odd thing was that the sink was outside the bathroom, although this didn't cause a problem, as it was right opposite the bathroom door. They could have made the bathroom a little bigger, but that would have made the room a little smaller, so they seem to have opted for a larger room. Probably a good decision.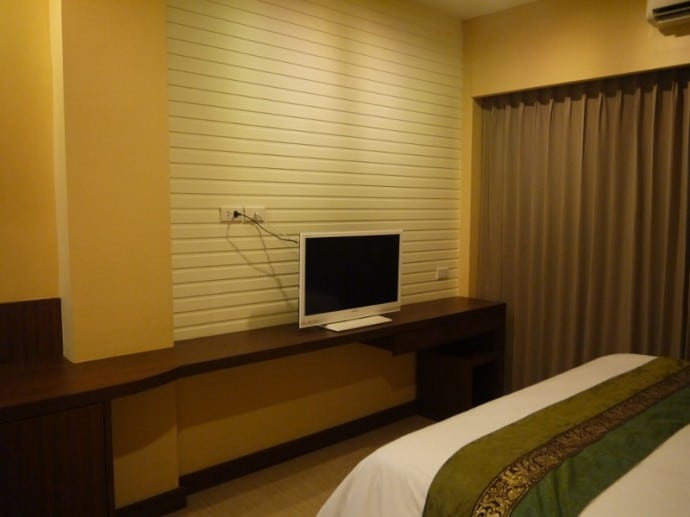 The room had plenty of storage and shelf space, so we were able to store our luggage out of the way.
One of the best things about the hotel was the fast wifi. We've had very slow wifi in most of SE Asia, so it's a real pleasure to be back in Bangkok where fast wifi is available almost everywhere. I didn't test the speed, but I'd guess it was around 10-15 Mbps.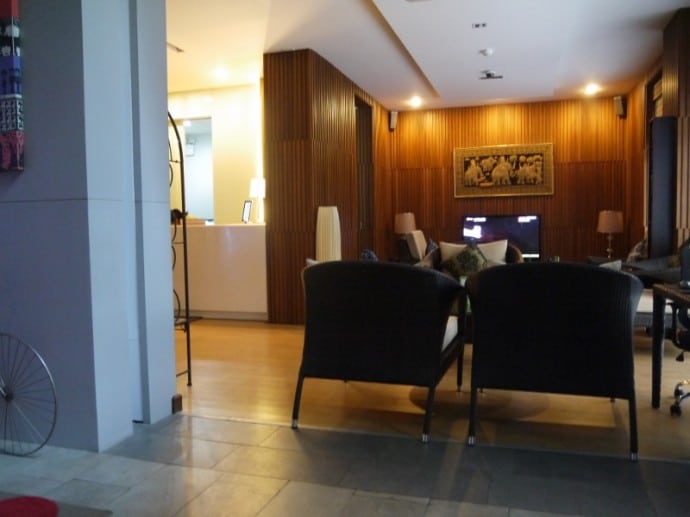 The hotel had a beautiful lobby area where you could sit and relax. Free tea and coffee was also available in this area. The staff were friendly and helpful and spoke good English. We'd stay here again, and would recommend it to anyone that wanted to stay in the Silom area.
Location
The hotel is about two minutes walk from Sri Maha Mariamman Temple that's located at the corner of Silom Road and Pan Road. Pan Road is has four vegetarian restaurants and also a very nice cafe, Bistro 95. The Myanmar Embassy is at the top of Pan Road, so this hotel is a great place to stay if you need to get a visa for Myanmar. Pan Road also have a few places where you can get visas for Vietnam and China. There is a very large and newly renovated Starbucks on the other side of Silom Road from the hotel, so only 1-2 minutes' walk way. For more to see and do in this area, see Things To See & Do In Silom.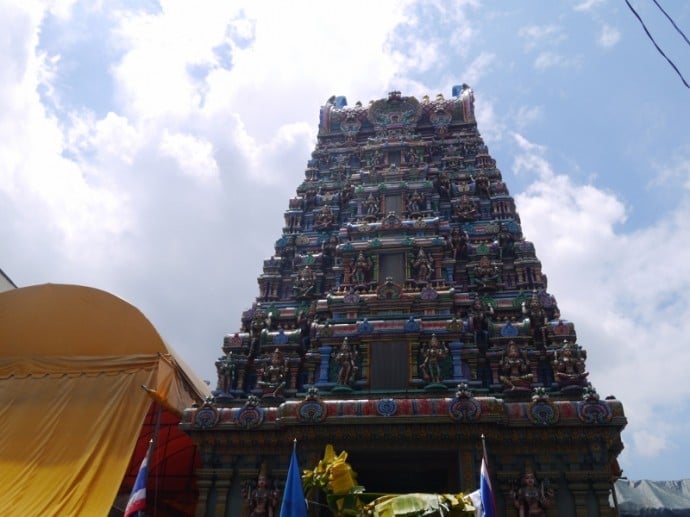 Opposite Pan Road is Soi 20, a popular road for street food, fruit and vegetables. It's very lively most times of day.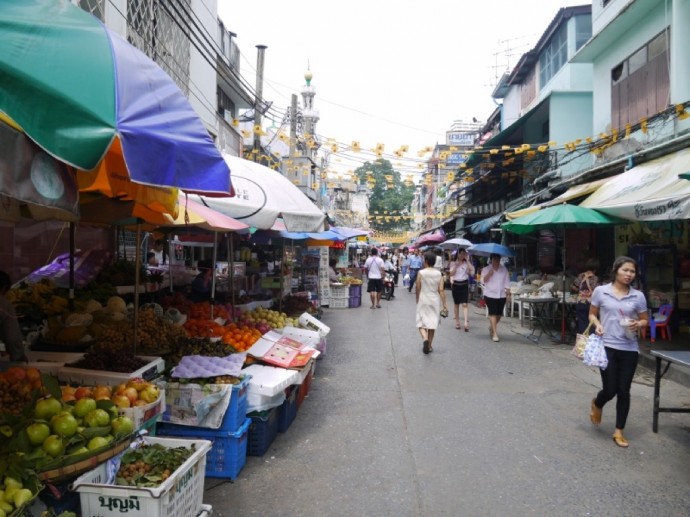 Surasak BTS is about 6-8 minutes' walk from the hotel.
Videos Of iCheck Inn
Superior Room At iCheck Inn
Hindu Temple & Street Market Near iCheck Inn
Hotels In Silom Bangkok
Click here to book a room at iCheck Inn via Agoda.