King Rama IX Park is the largest public park in Bangkok and was constructed for HM the King's 60th birthday in 1987. It's quite a distance from the city center, so you'll need to take the BTS to Udom Suk and then get a taxi for another 10 km.
The taxi will cost around 70 baht. You'll have to mention the Thai name of the park to the taxi driver, which is Suan Luang Rama IX. Despite the challenge to get here, I highly recommend a visit as it's one of the best public parks in Bangkok.
One of my favorite things in the park are the giant water lily pads. They are truly huge.
The park is split up into various zones, such as Rammani Garden, Japanese Garden, Chinese Garden, Rockwall Garden, Swamp, the Reservoir, Put-Chan Pavilion, and many more.
As with all parks in Bangkok, the best times to visit are mornings and evenings, as the sun is too hot at other times of the day. The exception to this is during winter when a few days are cool enough to visit in the daytime.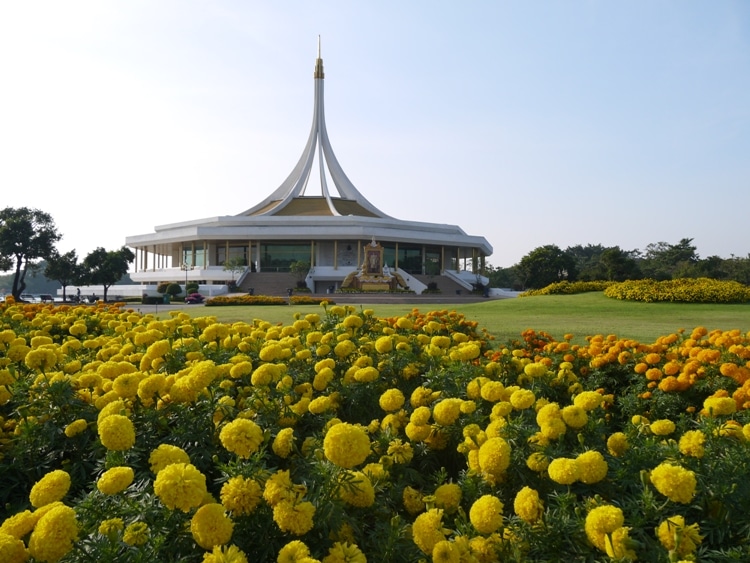 As well as a large reservoir, the park also has lots of ponds and other waterways.
You could easily spend a few hours walking around this park, so it's best to come as early as possible. The park opens at 5 am, so get there at opening time and you could see all the park before it gets too hot.
I'll leave you with a couple of extra photos of my favorite feature – the giant water lily pads.
King Rama IX Park Details
Make sure you budget enough time to travel to and around the King Rama IX Park in Bangkok. Here are the important details you need to know.
Opening Hours: 05:00-19:00 every day
Location: Sukhumvit Soi 103
Nearest BTS: Udom Suk – you'll need to take a taxi from there. Cost is around 70 baht.
Hotels In Bangkok
If you're planning to come to Bangkok, be sure to check out the great range of hotels at Agoda.