If you're planning to live in Thailand long-term it's a good idea to learn Thai, as it's pretty essential if you want to get to know Thai people at more than a superficial level. You can get by with just English, but that means that you won't be able to talk with the vast majority of Thai people. This is even more the case for Thai people outside the main tourist areas. But where's a good place to learn Thai in Bangkok? I checked out a few places and discussed with many others that had started to learn the language, and the two that seem to stand out are Language Express and Walen. These are both pretty well know and also have branches in other towns around Thailand.
Language Express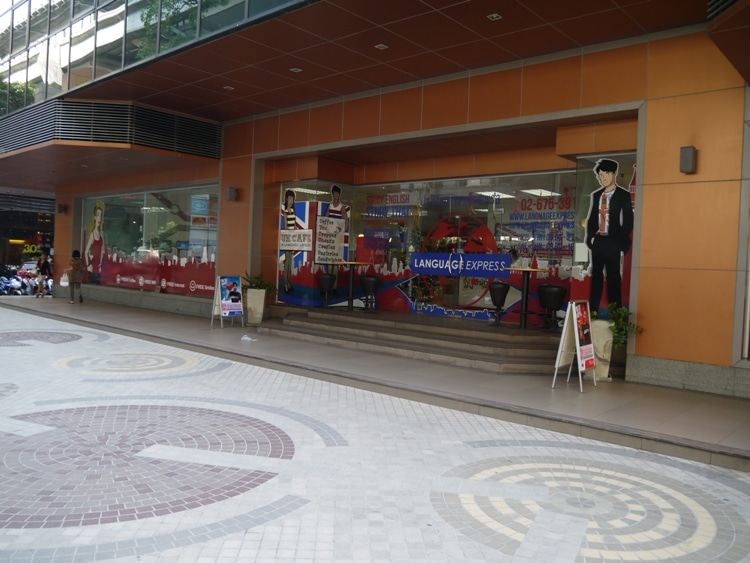 Language Express is one of the leading Thai language schools in Bangkok and is conveniently located right next to Phloenchit BTS station. All class are taught by qualified native-speakers and conducted in a fun and comfortable setting. Their lessons encourage speaking Thai from your first day, as this is the best way to get to know the language.
The Thai language classes here are split into four levels as follows:
Level 1 (Gateway) – Learn to speak in a survival situation and also learn to read and write.
Level 2 (Departure) – Learn to speak, read and write more fluently.
Level 3 (Interchange) – Learn to speak and answer questions, and also to read and write to a very good standard.
Level 4 (Arrival) – This is the top level and after this you'll know plenty of Thai words, including slang and the correct grammar for reading and writing.
The course is structured in way that means you can join at any time. For example, today they may teach speaking about travel and tomorrow they may teach about shopping, so each set of lessons is standalone and you don't need to do the lessons in any particular order.
At the end of each 16 lessons (around a month), you'll have a one-on-one with one of the teachers to check your progress.
If you already know some Thai before starting the course you can have a placement check to find out which is the best level for you to start at.
Language Express can also help you with getting an Education Visa and sort out all the paperwork for you. But you will need to buy a 200-lesson course in order to qualify for an Education visa.
Language Express Details
Location: Next to Phloenchit BTS
Opening Hours: 09:00-21:00 every day
Website: languageexpress.co.th
Cost: Group lessons are 260 baht ($9) each, with discounts available for longer courses. A 200-lesson course costs 28,600 baht ($950) and is equivalent to 6 months of lessons. This will qualify you for a 6-month Education visa. A 400-lesson course costs 39,520 baht ($1,300) and is equivalent to 12 months of lessons. This will qualify you for a 12-month Education visa. Private lessons cost 1,035-1,300 baht ($35-45) per hour, with a minimum of 20 lessons.
Walen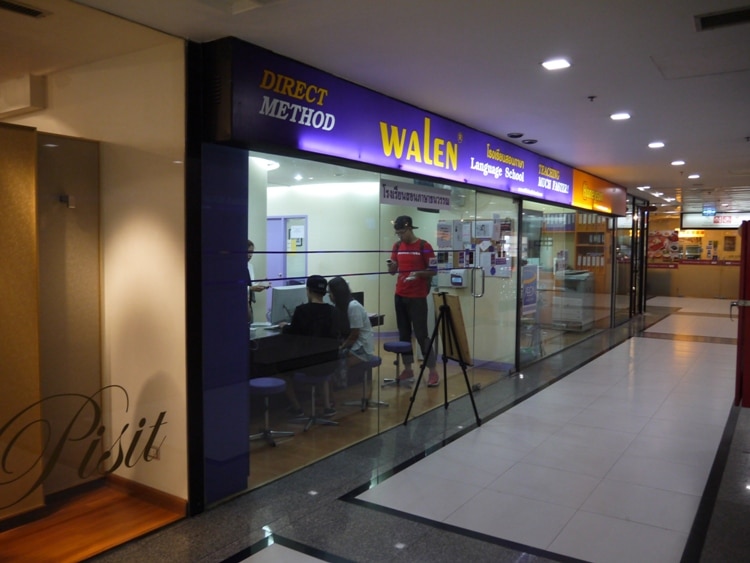 Walen is a very popular Thai language school that also allows online learning. This might suit you if you want to learn some Thai before coming to Thailand. Walen also have branches in Pattaya, Phuket, Chiang Mai and many other towns around Thailand.
The method Walen use for teaching Thai is to teach you new words every day, while helping you to pronounce them properly and be able to answer simple questions using those words. They also teach reading Thai right from the start. The method is also based on repetition, as it's practicing over and over that gets results. The method is described as learning the language in the same way a child does. First he hears a word, then repeats it. Later he sees the word when reading and eventually writes it himself.
Walen offer a free lesson so that you can see for yourself what it's like before you hand over your cash.
Walen has two locations in Bangkok – Sukhumvit and Ladprao.
Walen can also help with applying for an Education visa.
Walen Details
Location: Times Square Building, near exit 5 of Asoke BTS & Elephant Building near Phahonyothin MRT station
Website: thaiwalen.com
Cost: 50 lessons are 9,955 baht ($329); 100 lessons are 16,622 baht ($554); 200 lessons are 24,960 baht ($840); 400 lessons are 39,970 baht ($1,290); 800 lessons are 96,200 baht ($3,170). Private lessons start at 22,500 baht ($750) for 30 lessons. Other special offers are also available.
You can check out our in depth Bangkok travel guide that can help you in your travel.
Hotels In Bangkok
If you're planning to come to Bangkok, be sure to check out the great range of hotels at Agoda.