Lumphini Park (also spelled Lumpini Park) is our favorite park in Bangkok and also the favorite among most Bangkokians. The park covers and area of 142 acres and has something for everyone.
When the park was first created by King Rama VI in the 1920s it was located in the city outskirts, but today it is in a very central location and what many would consider the heart of the city. This is widely considered to be one of the best public parks in Bangkok, Thailand.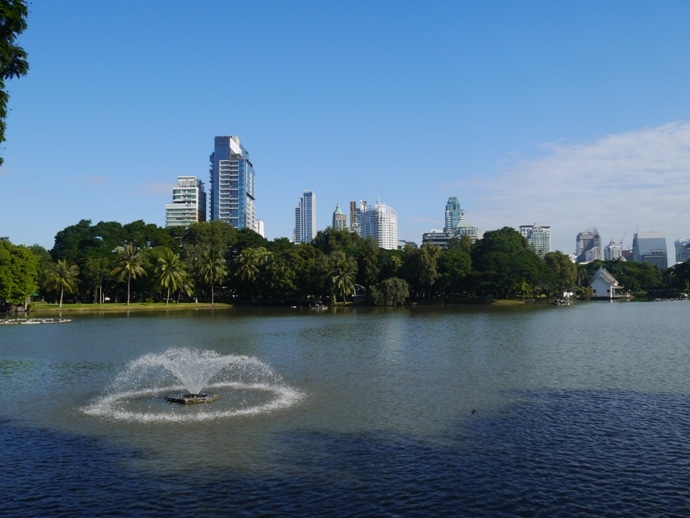 This is a very peaceful park in the daytime, although there are a fair amount of people using it. But early morning, and especially evenings, it really comes to life.
The park is bounded by Rama IV Road, Ratchadamri Road, Sarasin Alley and Wireless Road, with various entrances dotted around the park. The nearest BTS is Sala Daeng, which is only a few minutes' walk away. The nearest MRT station is Silom, with exit 1 coming out right at the entrance to the park.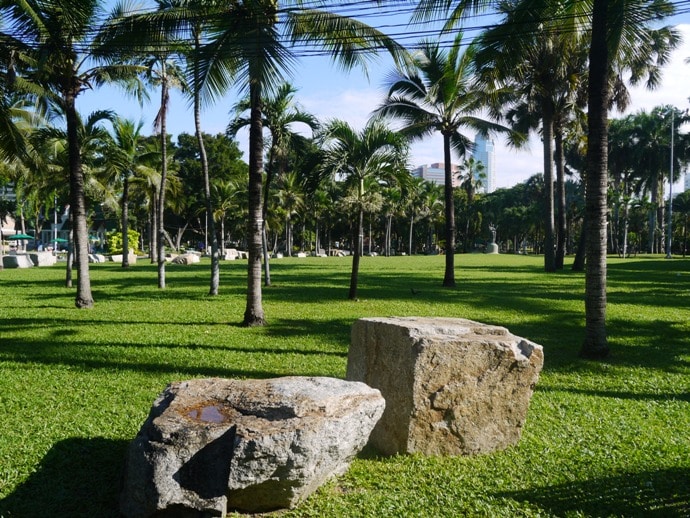 Sculptures in Lumphini Park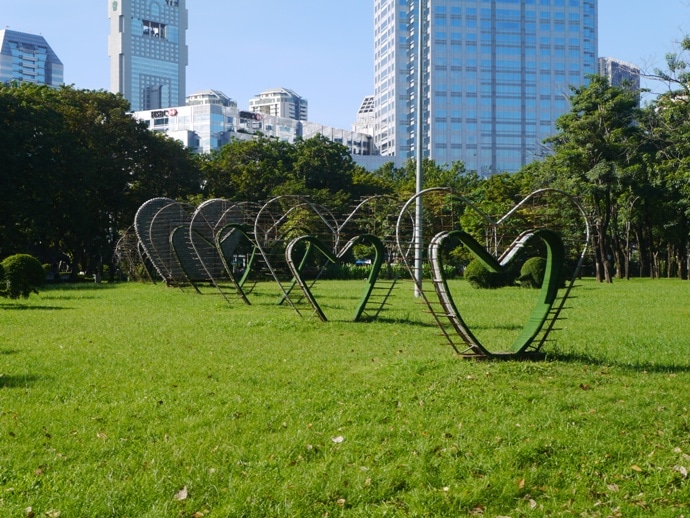 The park contains a few interesting sculptures that you'll see dotted around. The one above is a series of heart sculptures. There is also a beautiful sculpture entitled Sagittarius, which was commission in celebration of HM the King's 80th birthday and the 120th anniversary of Japan-Thailand diplomatic relations.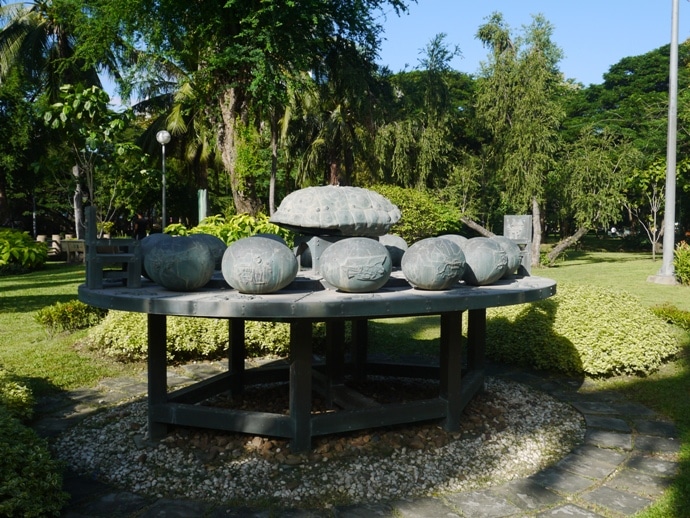 Ornate Buildings in Lumphini Park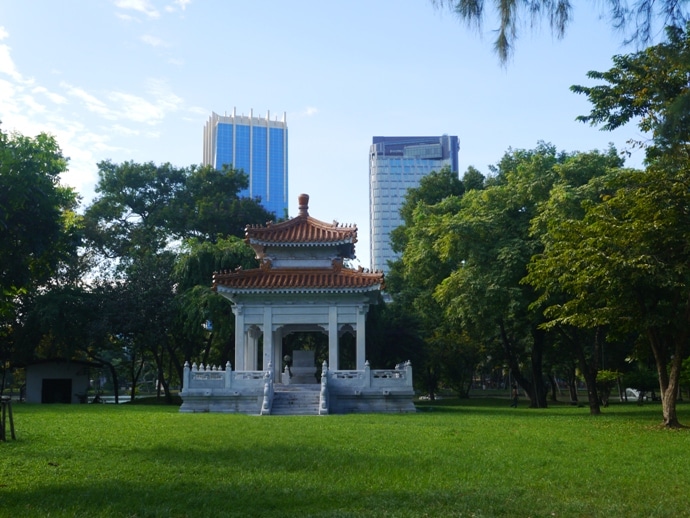 Lumphini Park has quite a few ornate buildings that look particularly good when contrasted with the more modern buildings that surround the park. These older buildings help give the park a feeling of calmness.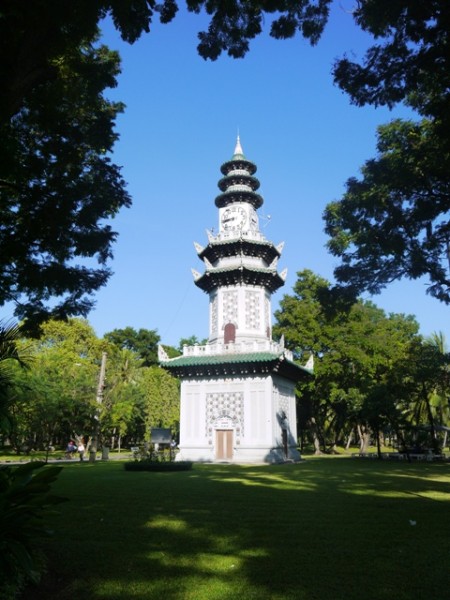 I particularly like the magnificent clock tower shown in the image above, especially the detail around the door.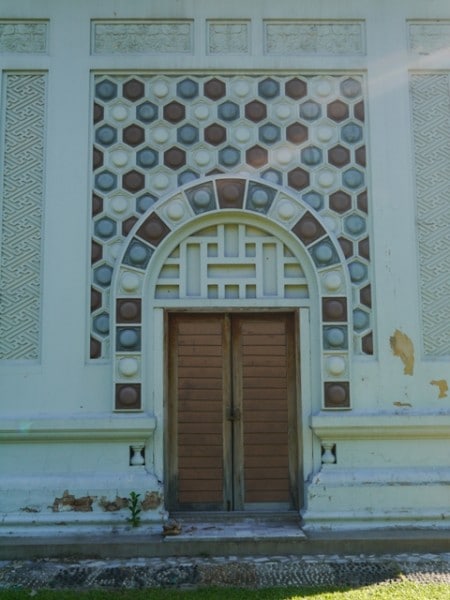 Giant Lizards
The first time I ever visited Lumphini Park over four years ago, I was very surprised when I came across giant monitor lizards wandering around the park. They were something I definitely wasn't expecting to see. I saw these two while I was there today.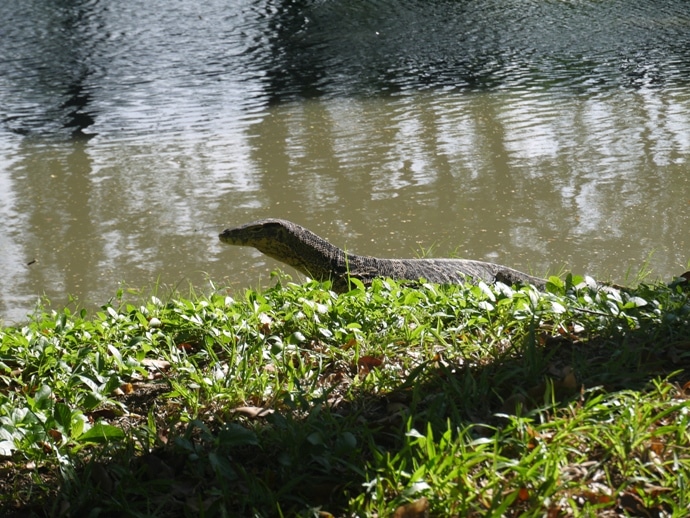 You'll usually see them around the water's edge, but the sometimes they wander around other areas of the park as well.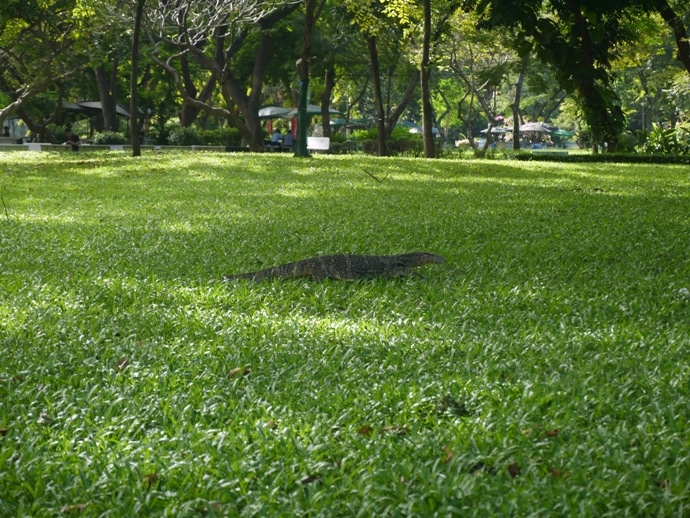 And here's a video of a few of them that I took a few years ago.
Keeping Fit In The Park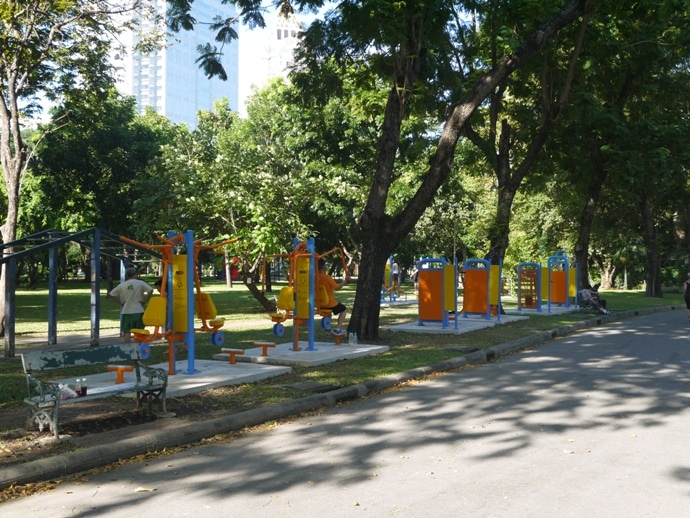 Lumphini Park attracts lots of fitness enthusiasts, especially early morning and evenings. Come around 6 pm and you'll see hundreds of people doing aerobics, and this when the park is at it's most vibrant. You'll also see runners, people doing yoga and tai chi, and people using exercise equipment that's located around the park.
The video above was filmed on a Saturday morning. Even though the park is very busy you still get a sense of how peaceful it is. On the video you'll see the lake, giant lizards, runners, people doing tai chi, people exercising and lots more. It gives you a good idea of what the park's really like.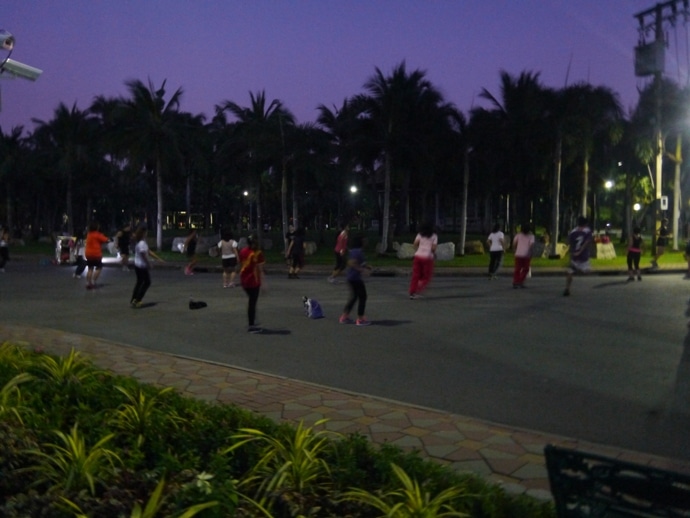 The park really comes to life in the evenings. Above you can see Saturday evening aerobics. There's also a video of it below.
Boating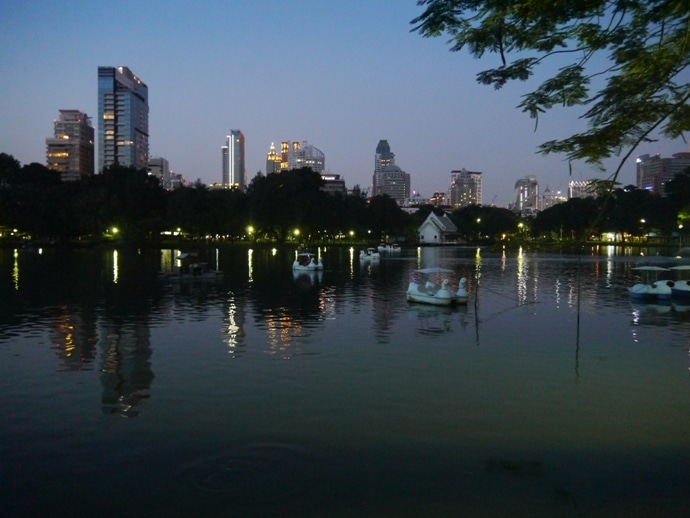 You can also hire boats to take out on the lake. This is most popular in early evening, as shown above.
Lumphini Park Information
Opening Hours: 04:30-21:00 every day
Location: Silom – park is bounded by Rama IV Road, Ratchadamri Road, Sarasin Alley and Wireless Road.
Nearest BTS: Sala Daeng – just follow the signs Silom MRT, then use the MRT subway to get to exit 1.
Nearest MRT: Silom – take exit 1 and you come out right next to the park entrance.
Hotels Near Lumphini Park
There are a number of good hotels in this area, with two very good ones being the Dusit Thani Hotel and the Crowne Plaza Hotel. For other great hotels near Lumphini Park, see Lumphini Park Hotels.