For the next leg of our 5-month travels around Europe we left Milan and headed for Nice in the south of France. This involved getting three trains and a total journey time of just over 6 hours. The total distance is around 350 km (220 miles). We traveled from Milan to Genoa to Ventimiglia to Nice.
Milan To Genoa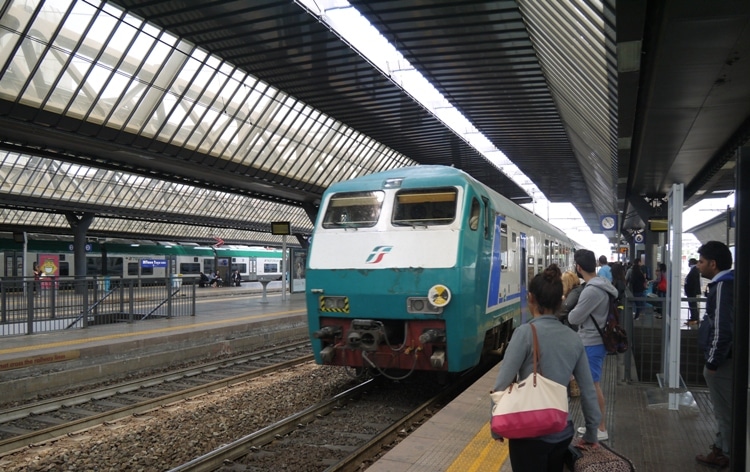 Our train left Milano Rogoredo station at 12:39 and arrived at Genova Piazza Principe at 14:14, a journey of 1 hour and 35 minutes. Milano Rogoredo station is near the end of line 3 on the Metro system so is easy to get to. The train had both 1st and 2nd class carriages, but the 1st class carriages were very similar to 2nd class carriages on other trains in Europe.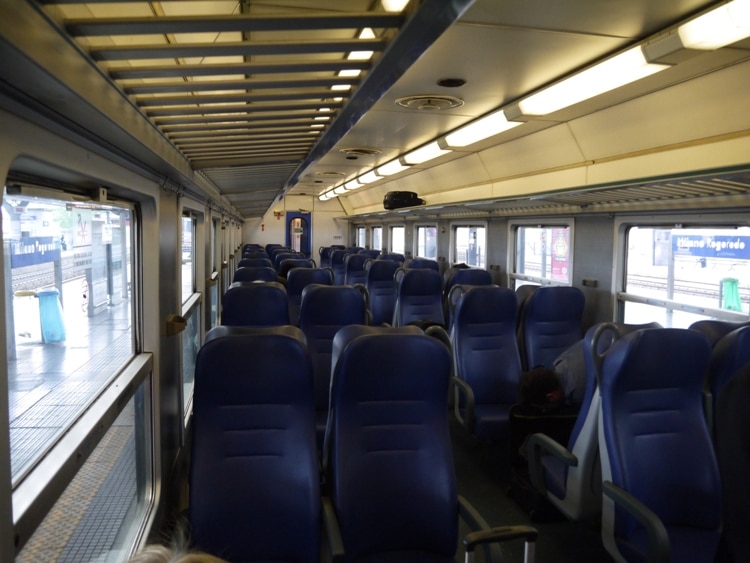 Neither of the toilets in 1st class worked, and this seemed to be a general problem with Italian trains. The journey was quite comfortable though and the train was on time.
Genoa To Ventimiglia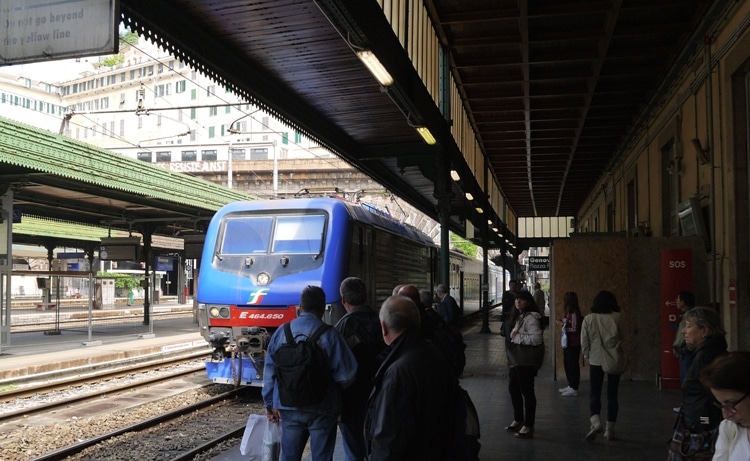 Our train left Genova Piazza Principe station at 14:53 and arrived at Ventimiglia at 17:31, a journey of 2 hours and 38 minutes. There were only 2nd class carriages on this train, and the train was pretty packed. This is another train where many of the toilets didn't work. The nearest toilet that we could use was five carriages away. I'm not sure why Italian trains have this problem with the toilets.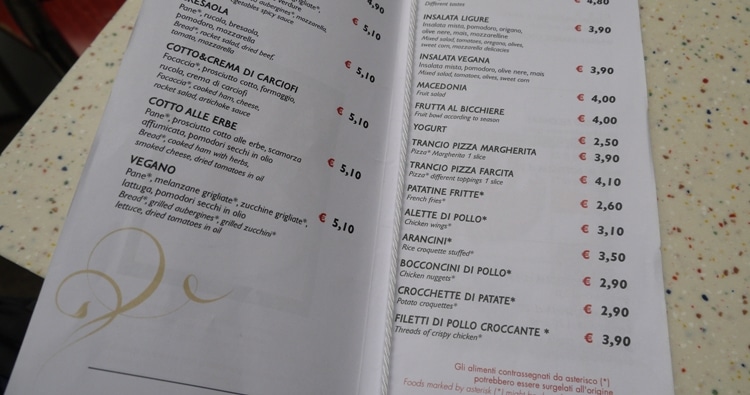 We had coffee at the cafe next to platform 11 while waiting for our train and noticed that the menu had two vegan dishes – a sandwich and a salad. Both reasonably priced as well.
Ventimiglia To Nice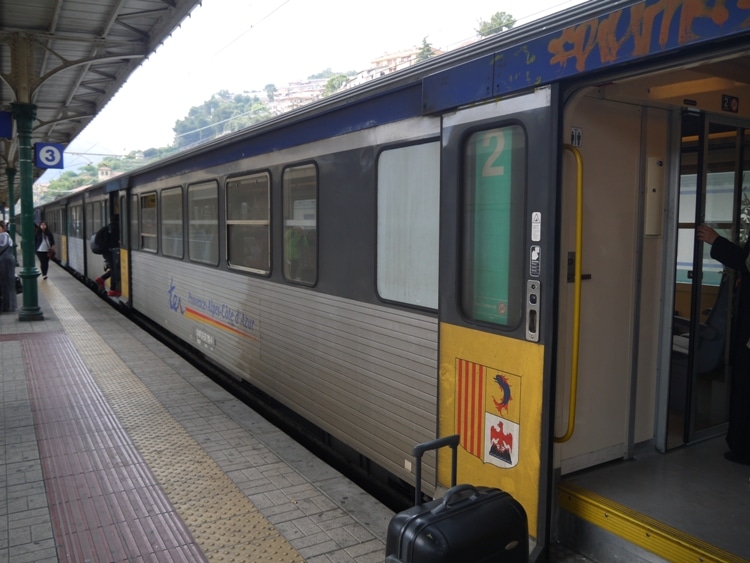 Our train left Ventimiglia station at 17:52 and arrived at Nice Ville at 18:41, a journey of 49 minutes. Like the previous train, this only had 2nd class carriages, but they were quite comfortable. The train was fairly full, and got completely packed when people got on at Monte Carlo. It seems we arrived at rush hour.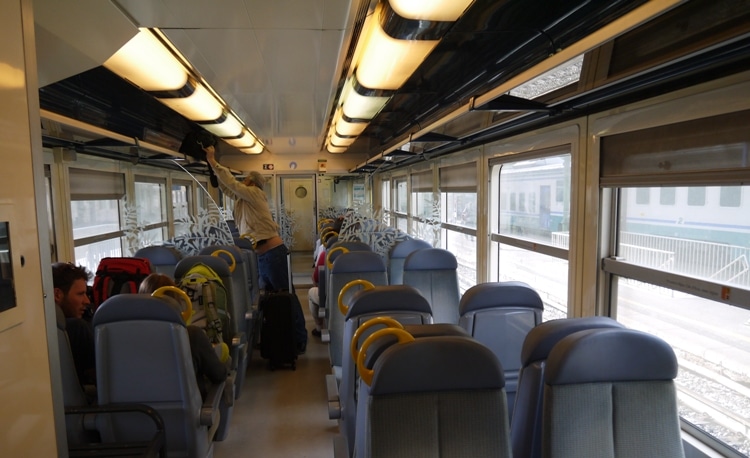 This journey was along the seafront so we had some good views of the sea, although we didn't manage to get many good photos because the windows were fairly dirty and there were lots of other passengers.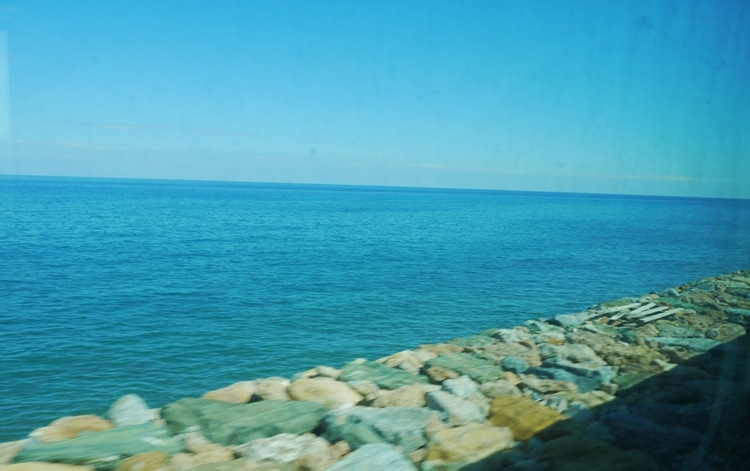 This train was a few minutes late leaving and arriving, but it wasn't a major problem.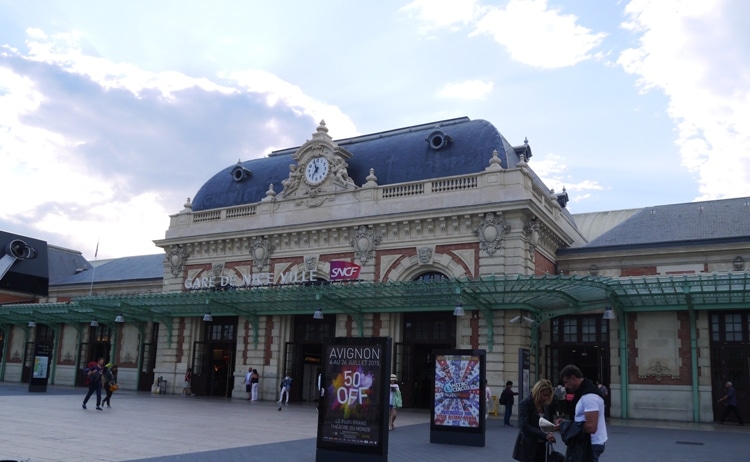 We finally arrived in Nice. This is our first visit and after a few hours here we're quite impressed by what we've seen.
Train Planner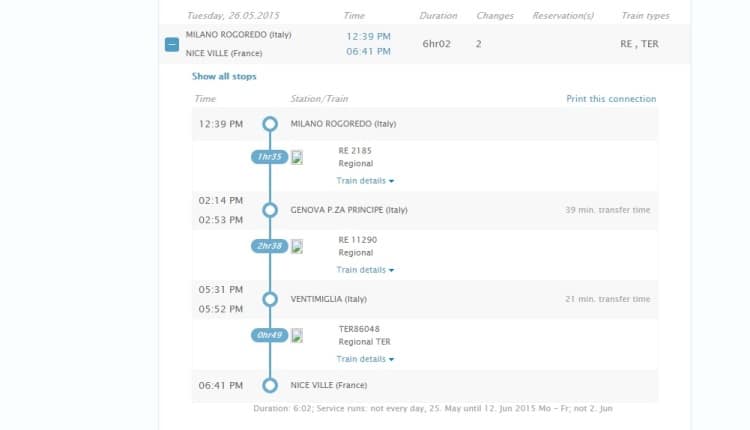 This is from the Interrail 'Plan Your Trip' section of the site.
Map Of Journey
The above map shows the journey by car, as Google Maps isn't able to show the train route. The routes should be pretty similar though.
Cost Of Journey
When I checked the cost of this journey it showed as $53 for Second Class and $71 for First Class. We didn't need to buy tickets though, as we used our Eurail and InterRail passes.
Also note that there is a direct train on this route that takes 4 hours and 41 minutes. We didn't get that one because we needed to reserve seats for it, but didn't have enough time to do so.
Where To Buy Your Global Pass
You can buy a Eurail global pass at the Eurail website, and an InterRail global pass at the InterRail website. If you're heading to Europe I highly recommend getting one.
Where To Stay In Nice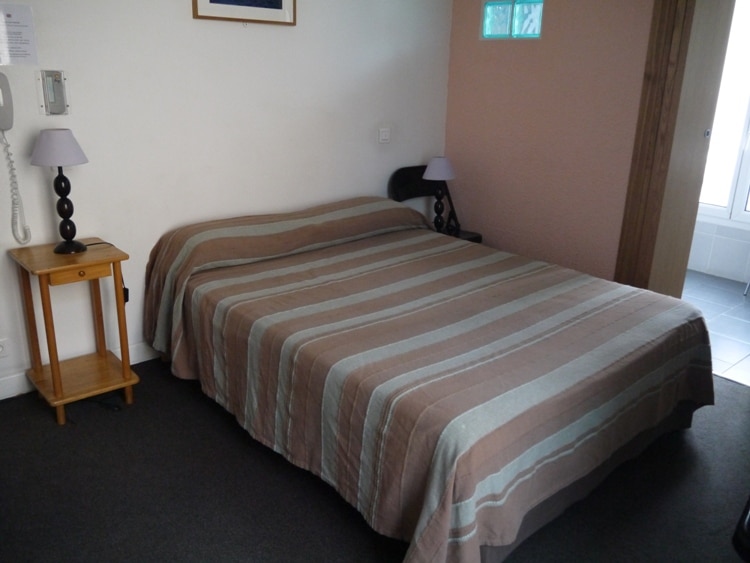 For our first few nights in Nice we stayed at Hotel Star, which is a located in the city center and only around 800 meters from the train station. The room was newly renovated and we had nice views from both the bedroom and bathroom windows. For other great hotels in Nice, check out Agoda Nice.