On's Thai Isaan Vegetarian & Vegan Restaurant is rated by Trip Advisor as No.1 out of 145 restaurants in Kanchanaburi, and I think it thoroughly deserves this accolade. Almost everyone that eats there raves about the food and wants to come back for more. It's also the first place we headed for when we arrived in Kanchanaburi. If you're headed to Kanchanaburi, make sure you eat here, even if you're not a vegetarian. Click here to book a great hotel in Kanchanaburi.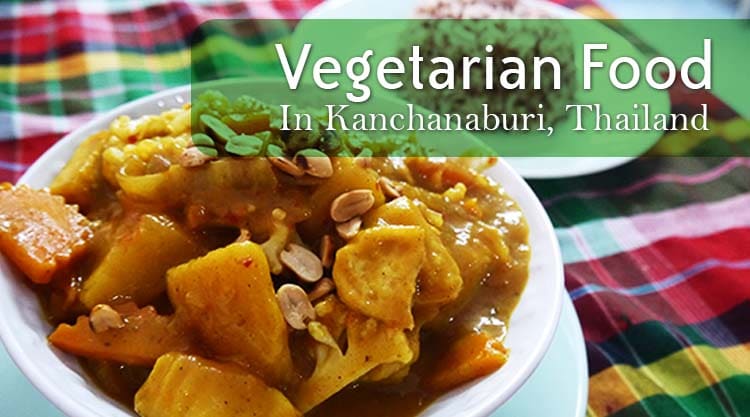 About 3 or 4 years ago we did a Vegetarian Thai Cookery Course in Bangkok at May Kaidee's restaurant near Khaosan Road. While May was the owner of that restaurant, it was On that actually taught us the cooking. A year later we went to Kanchanaburi and discovered that On had moved there and started running her own restaurant and own cookery classes, so it was obviously the place we wanted to eat.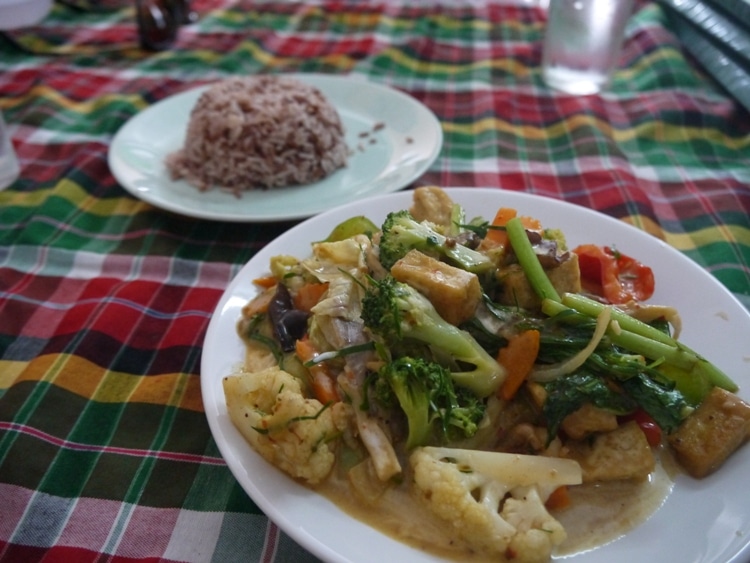 On cooks authentic Thai Isaan food, as that is the area of the country that she's from. And Isaan food is known as being some of the best in Thailand. But it's On's curries that I like best, and that is what I usually choose to eat. Both the Massaman Curry and Panang Curry are awesome, and I had both during our recent stay in Kanchanaburi.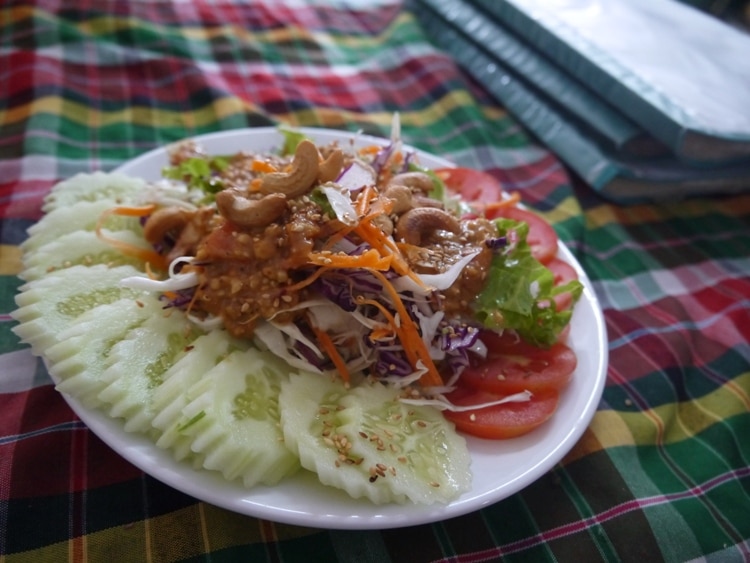 Even something as simple as a salad turns into a mouthwatering meal at On's restaurant. The Salad with Spicy Satay Sauce is well worth trying.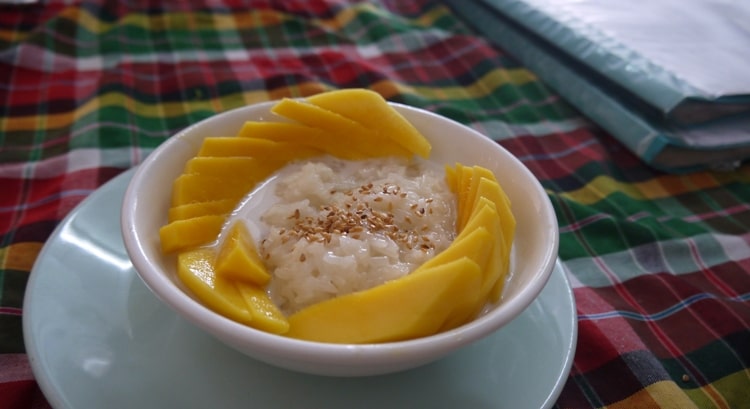 One of the most popular desserts in Thailand is Fresh Mango with Sticky Rice, and On's version is just perfect.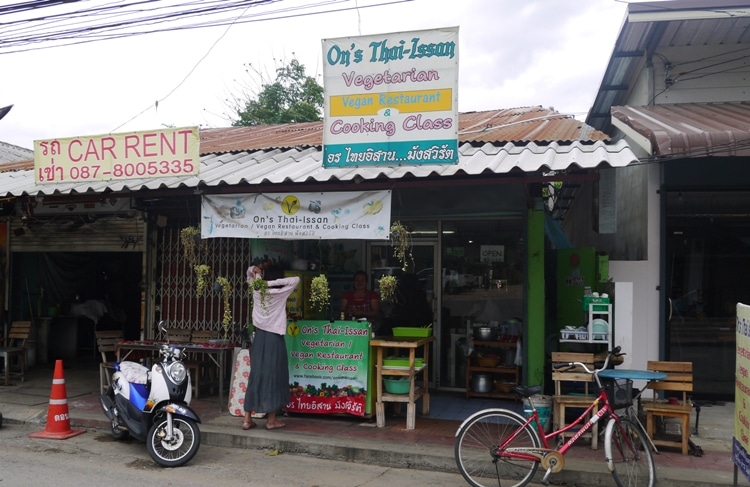 Food at the restaurant is very reasonably priced, with soups, salads, curries, noodles and desserts costing just 50 baht. Smoothies are 30 baht and brown rice is 10 baht.
Cookery Classes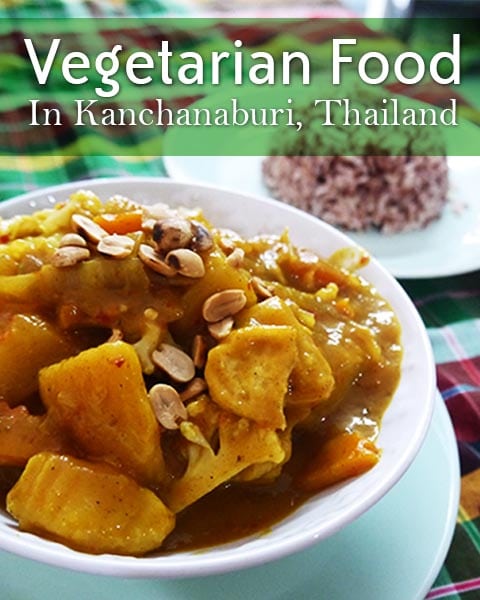 Help us spread the word by pinning the above image to pinterest. Just hover over the image and click on he pin logo in upper left. Thanks.
We haven't taken a cookery class at On's restaurant in Kanchanaburi, as she had already taught us in Bangkok. But in the three years since the restaurant's been open, over 700 people have taken cookery classes there. The classes cost a very reasonable 600 baht ($17). For that you get to make any three dishes of your choice from the menu, as well as a dessert. I'd highly recommend the cookery class, as learning to make you own Thai veggie food is a great skill to have. You can book a cookery class in advance. See her website for details – link is below.
On's Thai Isaan Vegetarian Restaurant Details
Address: 36 Maenam Kwai Road (opposite Tesco Lotus on main street)
Opening Hours: Sun-Sat 10:00-22:00
Website: onsthaiissan.com
Where To Stay In Kanchanaburi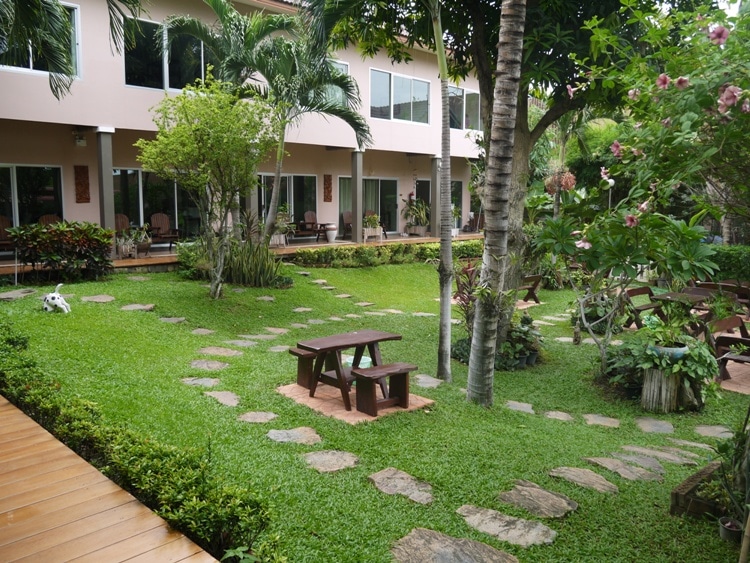 For our two days in Kanchanaburi we stayed at the excellent Sabai @ Kan Resort. We stayed there on our previous visit and had such a great time that we decided to stay there again. Click here for other great hotels in Kanchanaburi.