Holidays and Goa. These are two words that go together well, as Goa has come to be known as one of the most beautiful and captivating regions in all of India. For any traveler out there heading to India, here are the top 5 places to visit while you're in Goa.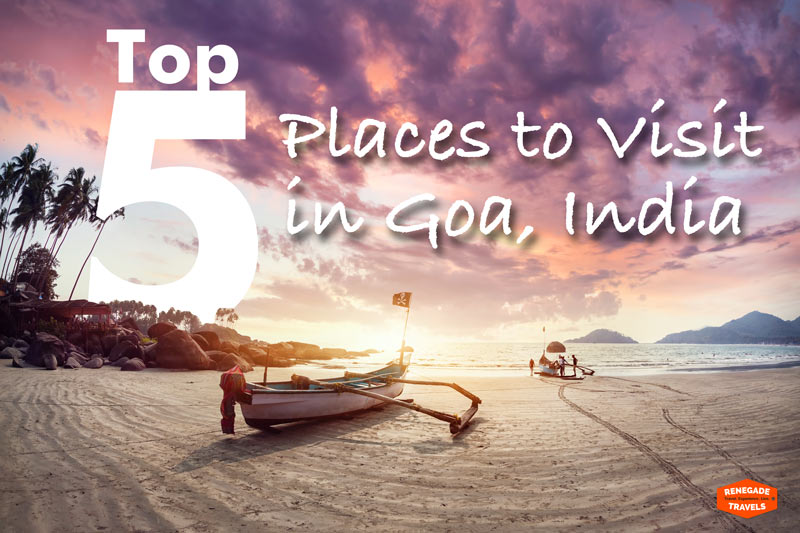 Goa, an Indian state that covers only 5,400 km2 (2,100 mi2), is a popular place to travel not only because of its history, but also because of its unbelievably beautiful beaches. Whether you wish to get soaked in attractive beauty or tending towards adventure, this place is a never-ending surprise! There are a large number of tourist attractions that you can select from when you are planning your visit to Goa.
If you are planning your holiday in India, here are the top 5 places to see in Goa!
#1 Goa's Beautiful Beaches
When it comes to gorgeous beaches, Goa is by far the best place to visit in all of India. From the popular stretches at Baga and Palolem to the less-touristy beaches around Agonda, Goa never fails to disappoint with its sand and ocean. It's here at these beaches where you can engage in various adventure sports, get romantic, take a walk or enjoy magnificent parties.
There are far too many beaches in Goa to name them all, but a few of the more popular ones are:
Cavelossim
Varca
Baga
Palolem
Anjuna
Benaulim
Agonda
Arambol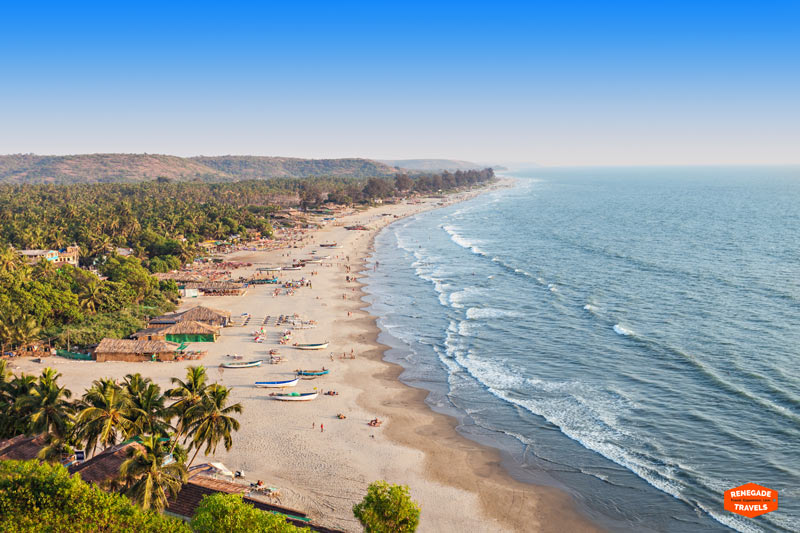 A bird's eye view of Arambol Beach in Goa
3. Goa's Lamgao Buddhist Caves
If you love adventure, a visit to Gao's Lamgao Buddhist Caves is a must. The story behind Goa's caves and others like it, which include both the mysterious caves and underground tunnels, is fascinating! The Lamgao Caves, which are located in the Lamgao village about 33 kilometers from Panjim, has caves cut out of a sheer rock face, the work of Buddhist lamas who landed in Gao to preach.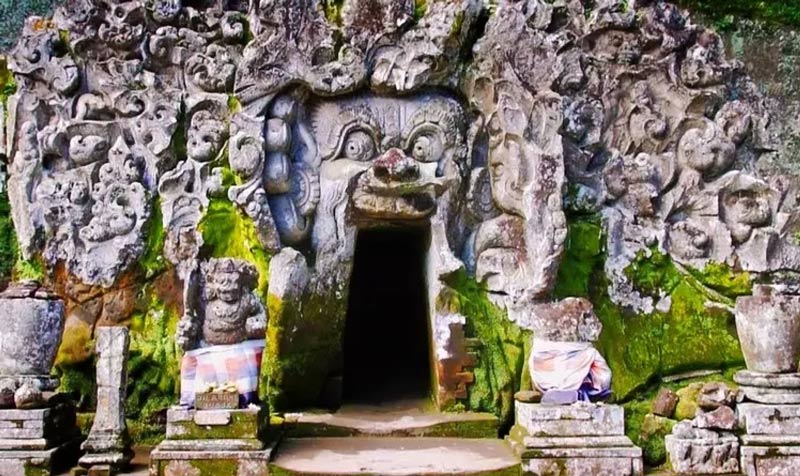 The Lamgao Caves in Gao, India (image credit: unknown)
4. Old Goa
When planning your holiday to Goa, make sure you don't miss out on the beauty and attraction of what is known as "Old Goa". Once the capital of Portuguese India, it was later abandoned due to a plague. There are plenty of great places to explore around Old Goa, but my favorite is the Basilica of Bom Jesus, a famous building throughout the Roman Catholic world and a UNESCO World Heritage Site.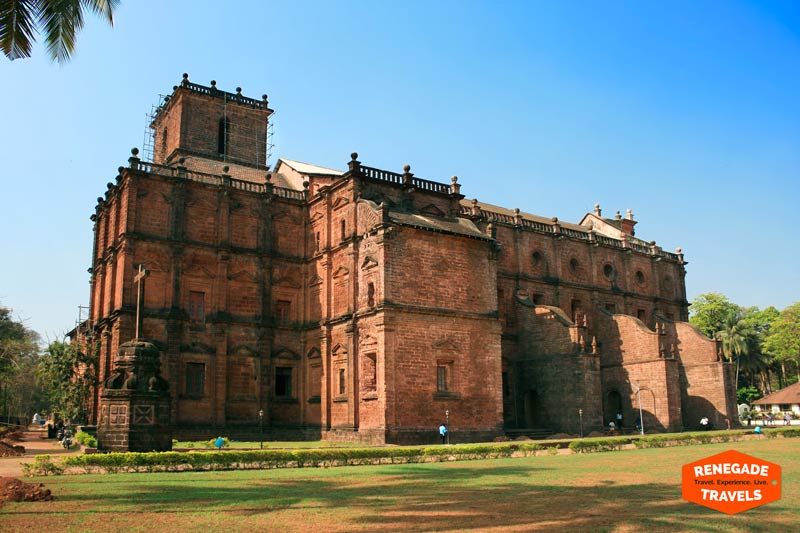 6. Goa's Mangeshi Temple
Thanks to Portugal, Gao has a long and storied history of well-known churches that have been constructed and are still in use. Interestingly, and a bit less known, is that Goa is also home to a number of beautiful temples (very different from the quirky temples you'll find in Thailand!).
Goa's Shri Mangesh temple is almost 450 years old and is located about 21 kilometers from the Goa capital of Panaji. It has a 7 story lamp tower, water tank and a Nandi bull inside the temple all situated on a small hill. Moreover, this Shri Mangesh temple is the largest temple in Goa.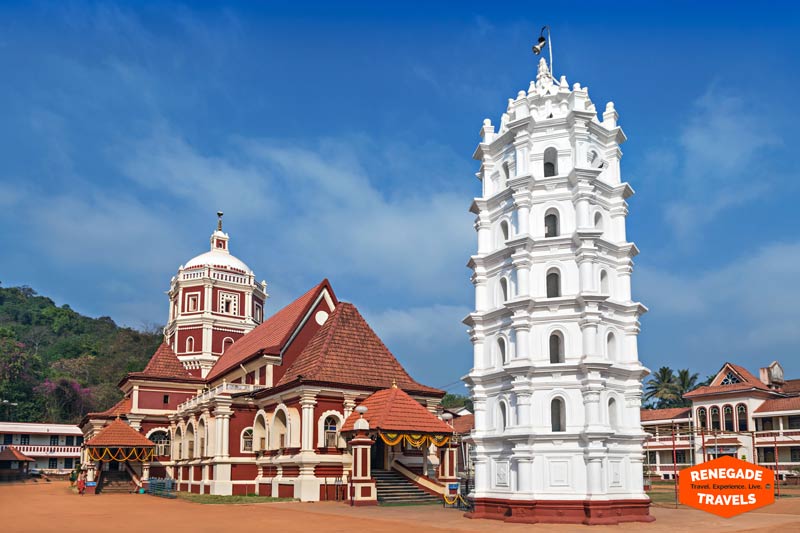 5. Goa's Restaurants and Bars
So enough with the history and scenery! You'll be missing out if you don't take some time to enjoy the local night life, great food, and excellent parties that are a staple of Goa. If you are fond of seafood, this is the place for you. Along with it, the local drink called the Goa 'Fenny' is worth trying.
BONUS: Carnival in Goa!
Along with the beautiful beaches and fascinating history of Goa, February is a great time to participate in the festival Carnival! With the arrival of Carnival, Goa becomes more energetic and bright as the festival is celebrated with zeal for three full days. You can enjoy music, dance, feast and parade during carnival in Goa.
Conclusion | Places to See in Goa, India
Goa is a tourist favorite not only for the locals in India, but especially for international visitors. Beautiful beaches mean that many people come to spend their honeymoon in Goa, while the history and architecture attract the more serious traveler.
Whatever your reason, a visit to Goa is definitely worth the time and effort while you're in India. You won't regret it.
Have you been to Goa before? What was your favorite place to visit? Comment below!
---