Most people would probably agree that Thailand temples ate the most stunning ones compared to anywhere in the world. And for millions of visitors every year seeing these temple is most definitely on their 'must do' list. But not many people know that Thailand also has a world class collection of weird temples that seem to defy imagination.
These are the temples that I most love to visit, as it shows the playful side of Thai life. Here are my top 7 quirky temples in Thailand.
1. The White Temple, Chiang Rai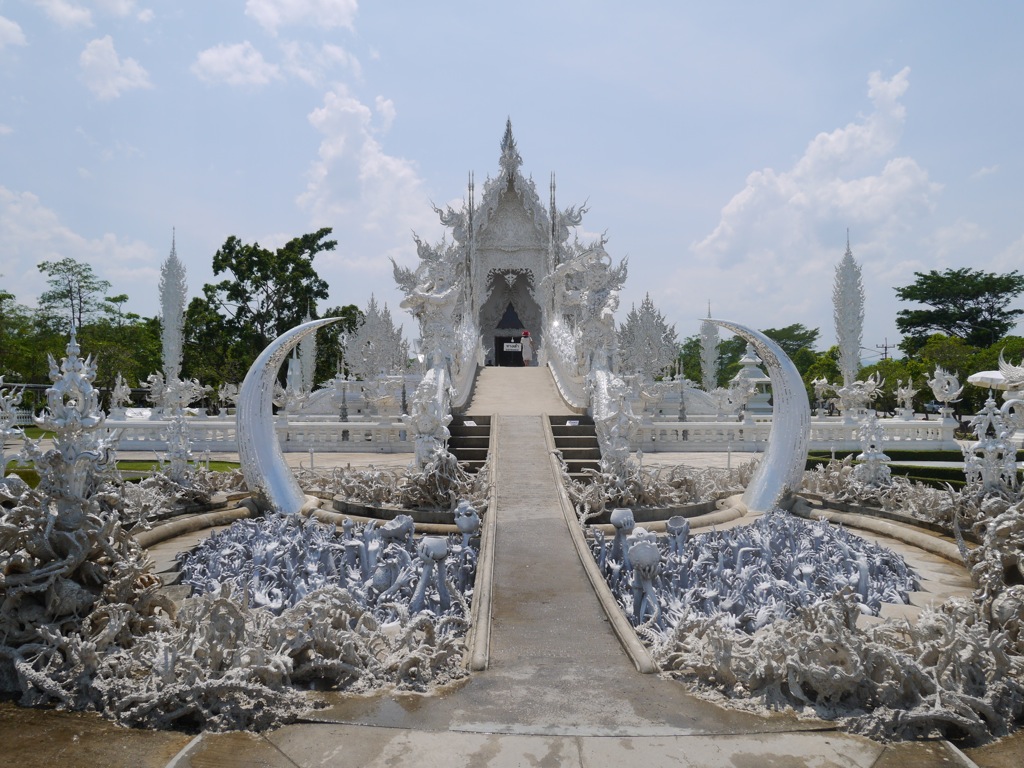 While this temple could be called odd, quirky and a little weird, it's also a stunningly beautiful temple. But at the same time it's totally different from any other temple you'll see in Thailand. Many visitors to Thailand spend at least a few days in Chiang Mai, but not many of those make the trip further north to Chiang Rai.
I would definitely suggest you make the effort, as this temple will blow you away. It was recently damaged by an earthquake, but it's still open to visitors. See The White Temple, Chiang Rai for more images and details of how to get there.
2. The Beer Bottle Temple, Khun Han, Sisaket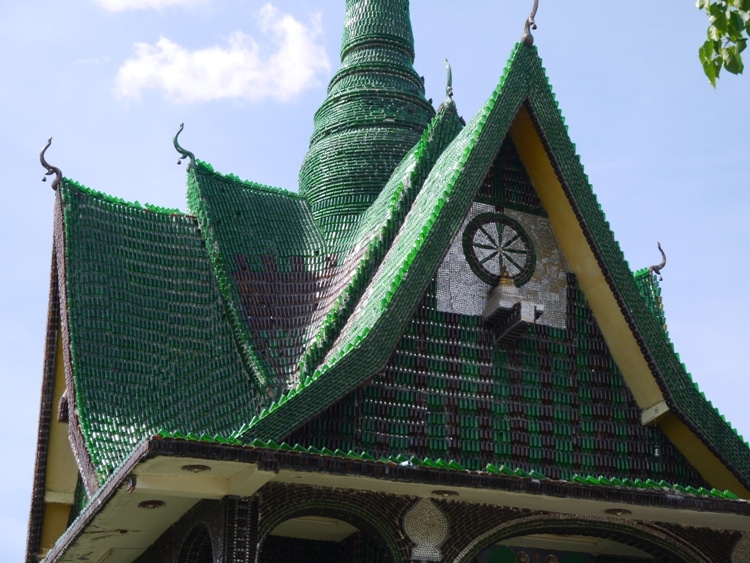 This may be one of the most unbelievable temples on the list. Look at the image above and at first you might not notice anything unusual, but look closely and you'll notice that the roof is made out of bottles. In fact, the temple and surrounding buildings are made from over one million empty bottles, mostly beer and energy drink bottles.
This takes recycling to a whole new level. And this temple isn't just for show; it's a real working temple at which people come to pray every day. It's also known as the One Million Bottle Temple.
3. The Chicken & Monkey Temple, Ayutthaya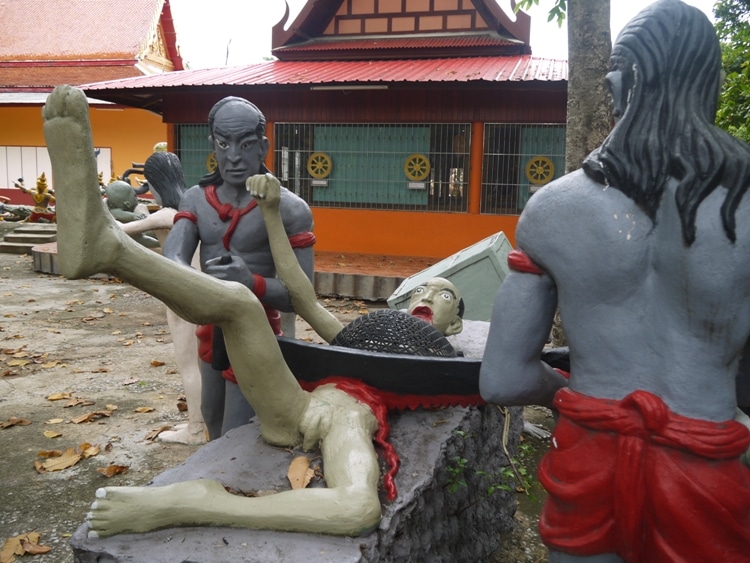 This temple is officially called Wat Gai (Chicken Temple) in memory of the many chickens that died there many years ago. But you won't see any chickens there these days. The two main attractions are the Hell Sculpture Garden and the hundreds of monkeys that live next to the temple.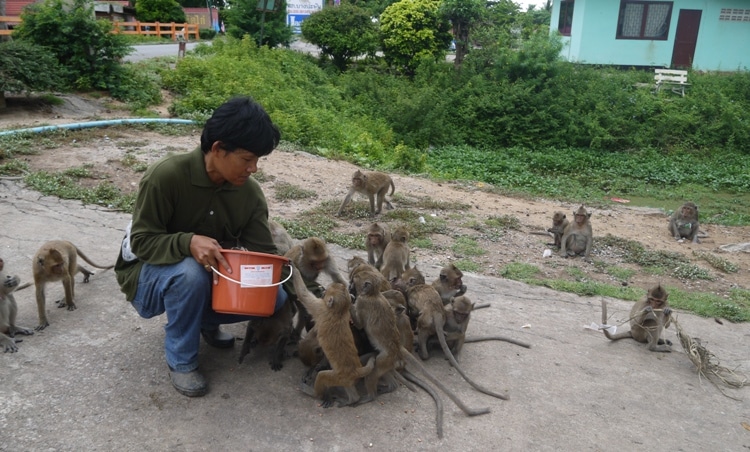 If you visit this temple, make sure you buy some fruit for the monkeys. They are very friendly and you'll love feeding them. See Hell Temple, Ayutthaya for more details, including getting there from Bangkok.
4. David Beckham Temple, Bangkok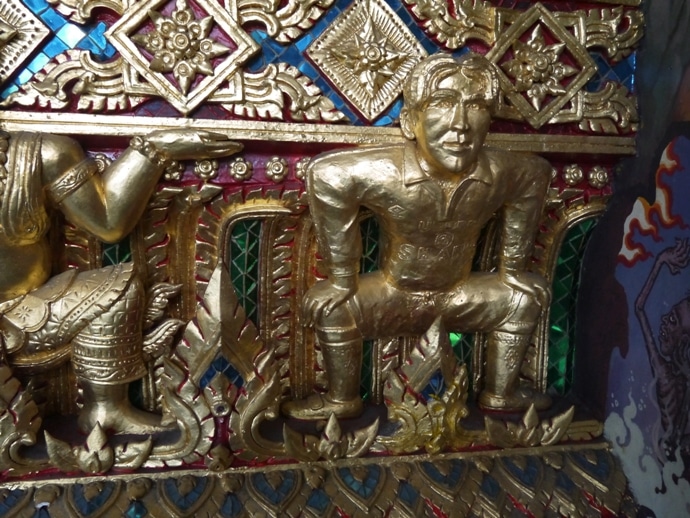 The head monk at this temple is a Manchester United fan, and back in the days when David Beckham played for them, he decided to incorporate an image of Beckham into the base of a shrine at the temple.
The temple is only open on special occasions, but if you ask around at the temple you should be able to find someone to let you in. It's accessible by public transport, so head over to my guide to the David Beckham Temple for details of how to get these.
5. Donald Duck Temple, Bangkok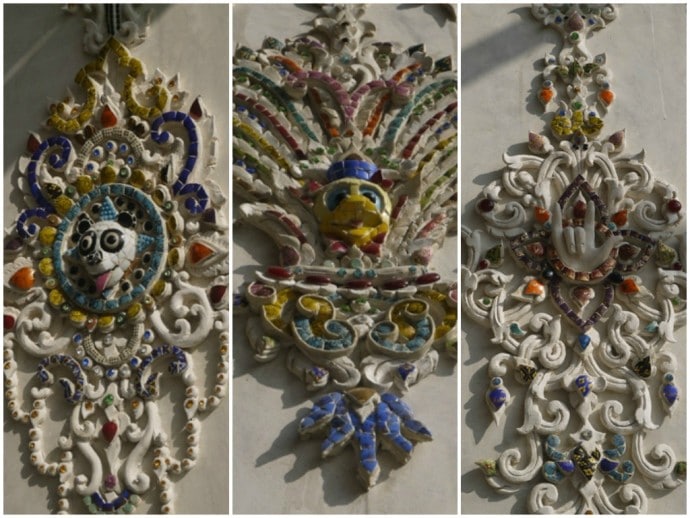 This temple is a new addition to Wat Pariwat, which is where you'll find the David Beckham Temple, mentioned above. The temple is still under construction and won't be finished for many years, but you can still take a look around and see the interesting images that have already been added, including Donald Duck. See Wat Pariwat, Bangkok for further details.
6. The Boat Temple, Bangkok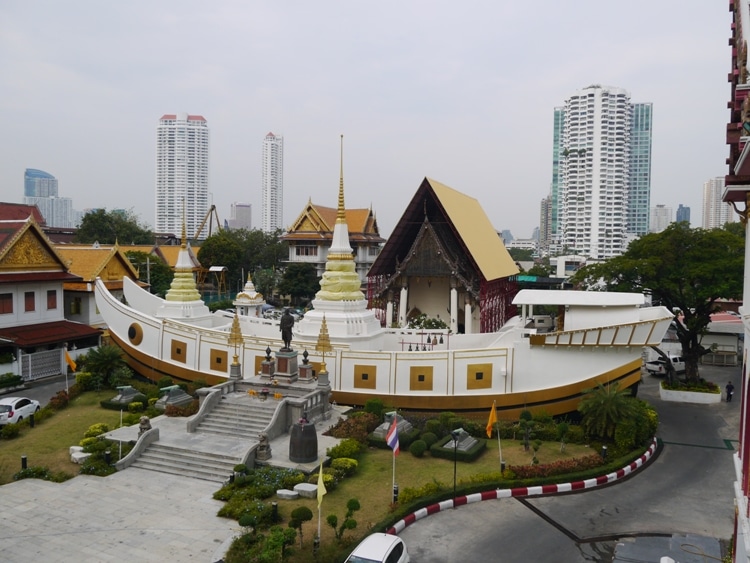 This boat shaped building is part of Wat Yannawa, a popular temple near Saphan Taksin BTS station and next to the Chao Phraya River. This temple is packed with locals during the annual Loy Krathong Festival, when they come to float their krathongs on the river.
As this temple is near the river, why not take a boat along the Chao Phraya afterwards. Some of Bangkok's most popular attractions are along the Chao Phraya River.
7. The Coffin Temple, Bangkok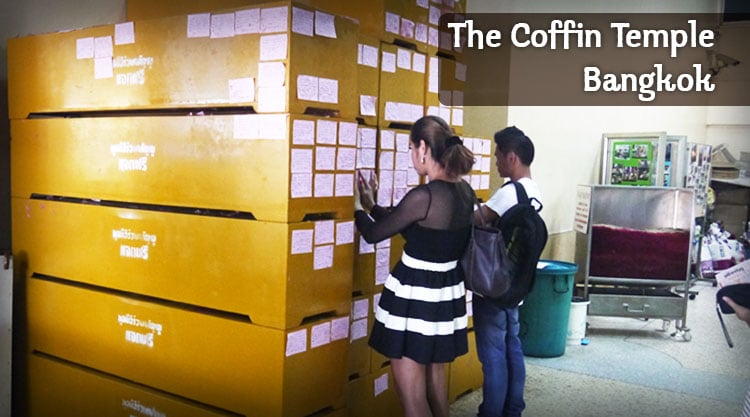 Thai people love to visit temples and make merit and there are many ways to do this. But at this particular temple they usually make merit by donating money to buy coffins for people that have died but don't have any relatives that can afford to buy them one.
The temple is called Wat Hua Lamphong and is very popular with Thai people, but no so much with foreigners. You can also feed cattle at the temple. See Wat Hua Lamphong for details.
Conclusion: Crazy Thailand Temples
No visit to this country is complete without experiencing a few different Thailand temples. No doubt you'll see some of the ancient temples or flashy tourist temples, but making time to visit one of Thailand's weird temples is a memory you won't soon forget.
And if you're in the mood for odd sites, why not take a look at some of the other weird things you can see in Bangkok? There's plenty here to keep you entertained! You can also check out our in depth Bangkok travel guide that can help you in your travel.