The second day of our two-day slow boat to Luang Prabang was another interesting day. We had an early breakfast at 6.30 am, and then set sail at 7 am. It rained for the first hour or two, which meant that it was pretty cool – a bonus for me after three hot years in Thailand. But the rain stopped, the sun came out, and it was hot again. Click here to book a hotel in Luang Prabang.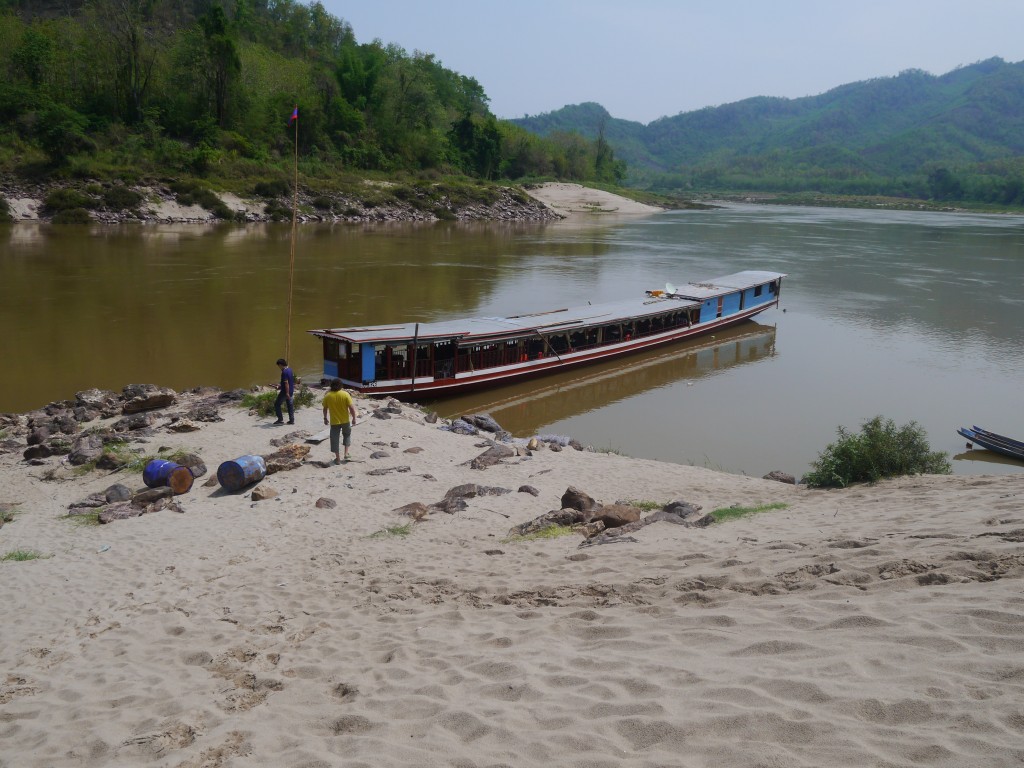 Quite soon into our journey we saw a few elephants on the bank alongside the river.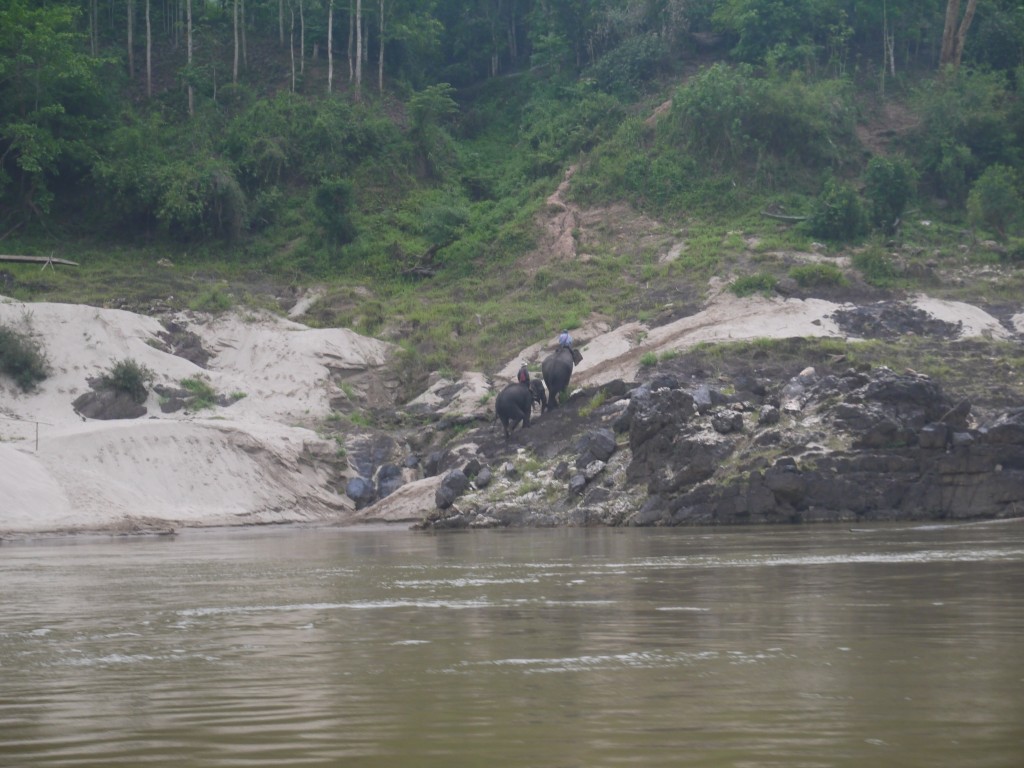 Like yesterday, the scenery was stunning, with mile after mile of hills and mountains.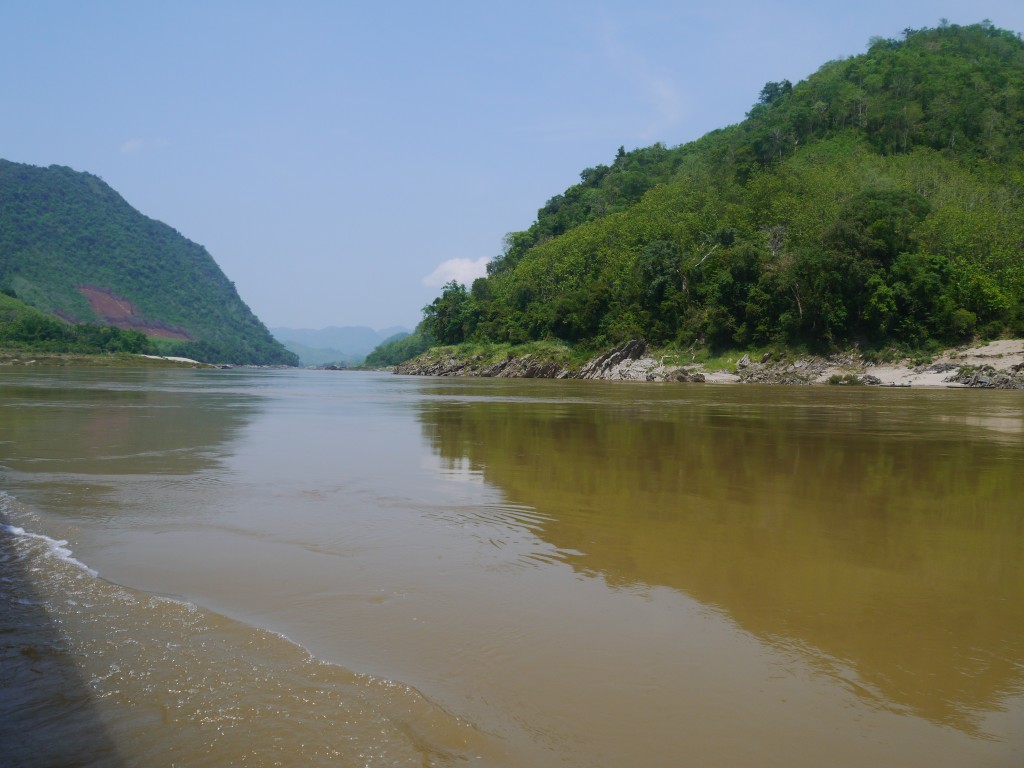 Just like the first day, our first stop was to visit a hill tribe village. This village wasn't connected to the electricity grid though, although it had a generator that was switched on once a day from 6-10 pm. A few houses had a small solar panel that supplied a small amount of electricity.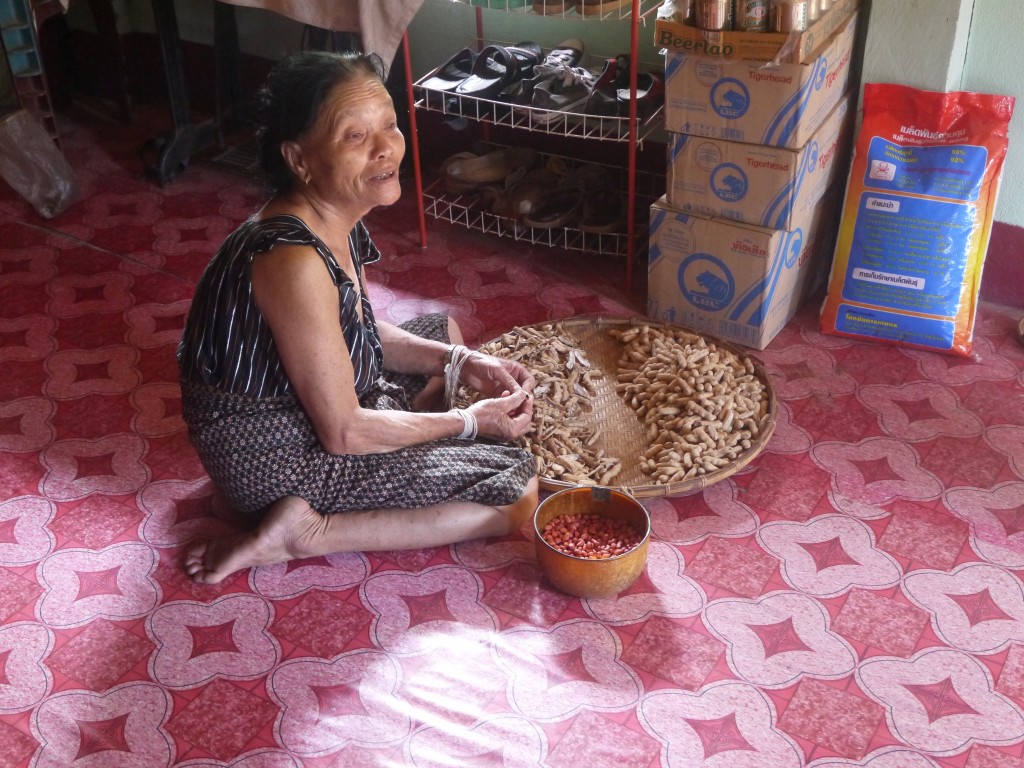 The people in this village are Buddhist, so there is a temple in the village. Next to the temple there is a large drum that is used to wake the village up at 4 am. The people then cook food which they give to the monks at 6 am.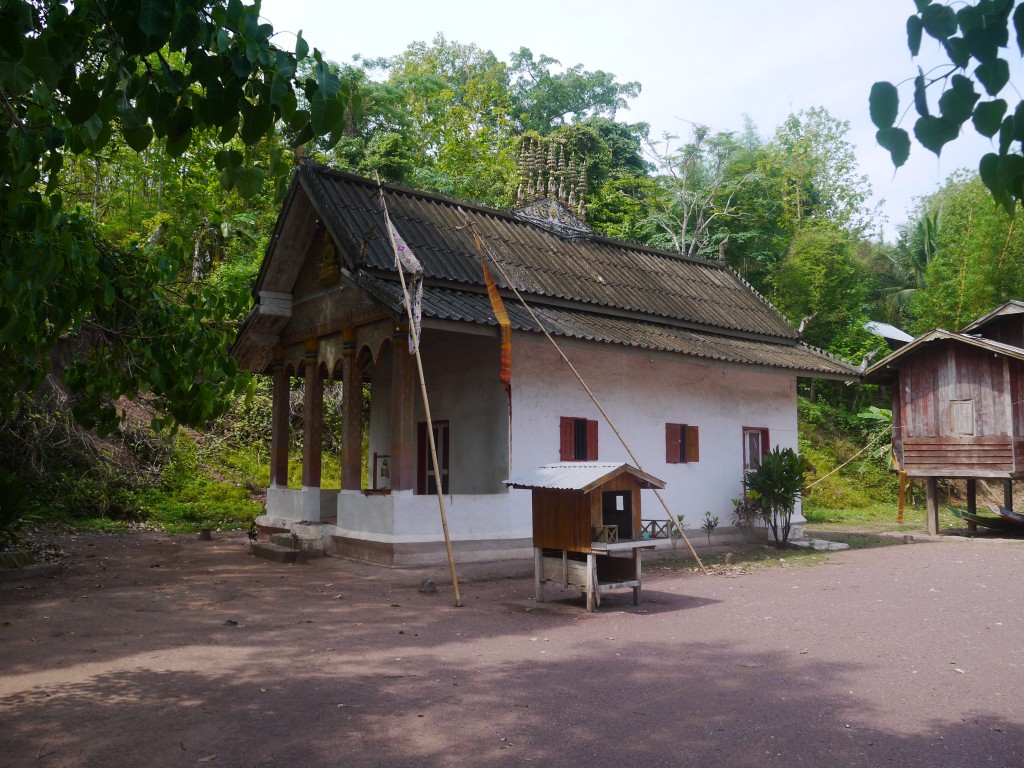 This village also has a school with 4 classrooms. Even though the people of the village are very poor, all the children were immaculately dressed for school.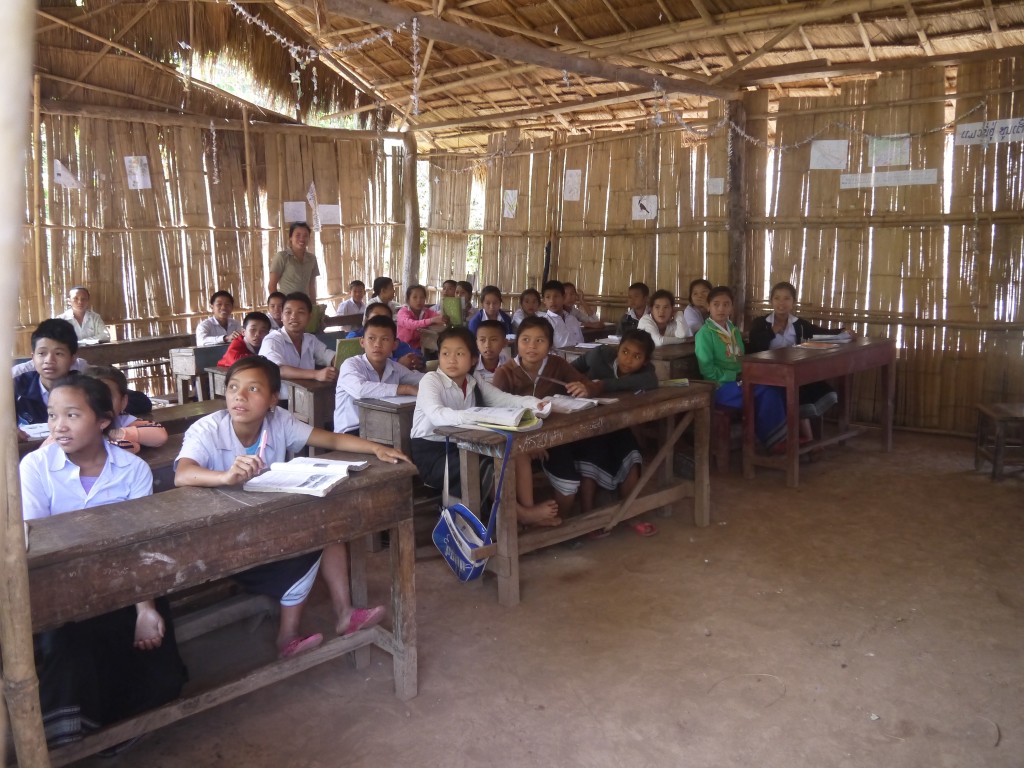 As you can see in the images above and below, the classrooms are very basic indeed – just a bamboo structure on a dirt floor.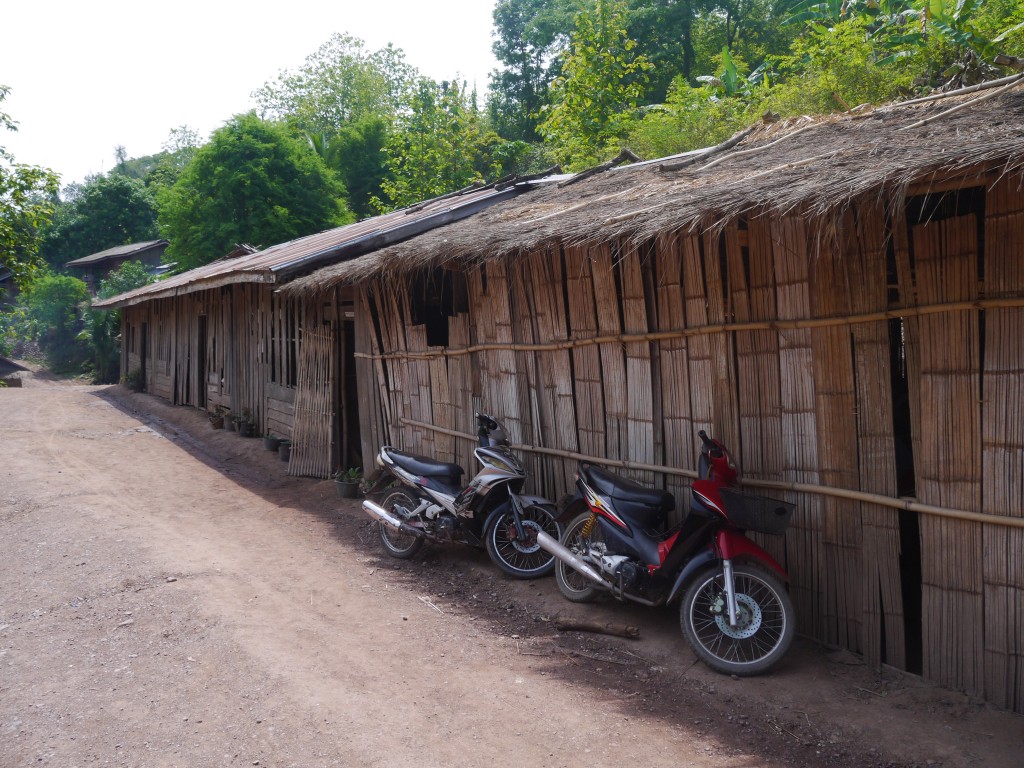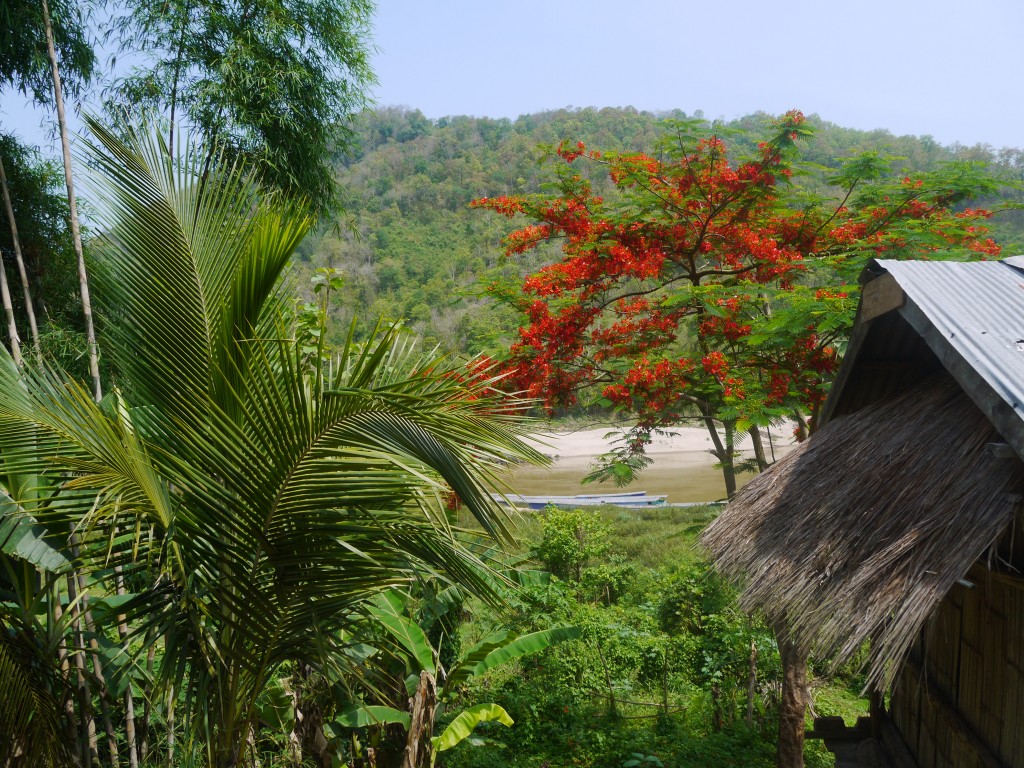 After stopping at the hill tribe village, we continued our journey until we stopped at the Pak Ou Caves, about 90 minutes from Luang Prabang.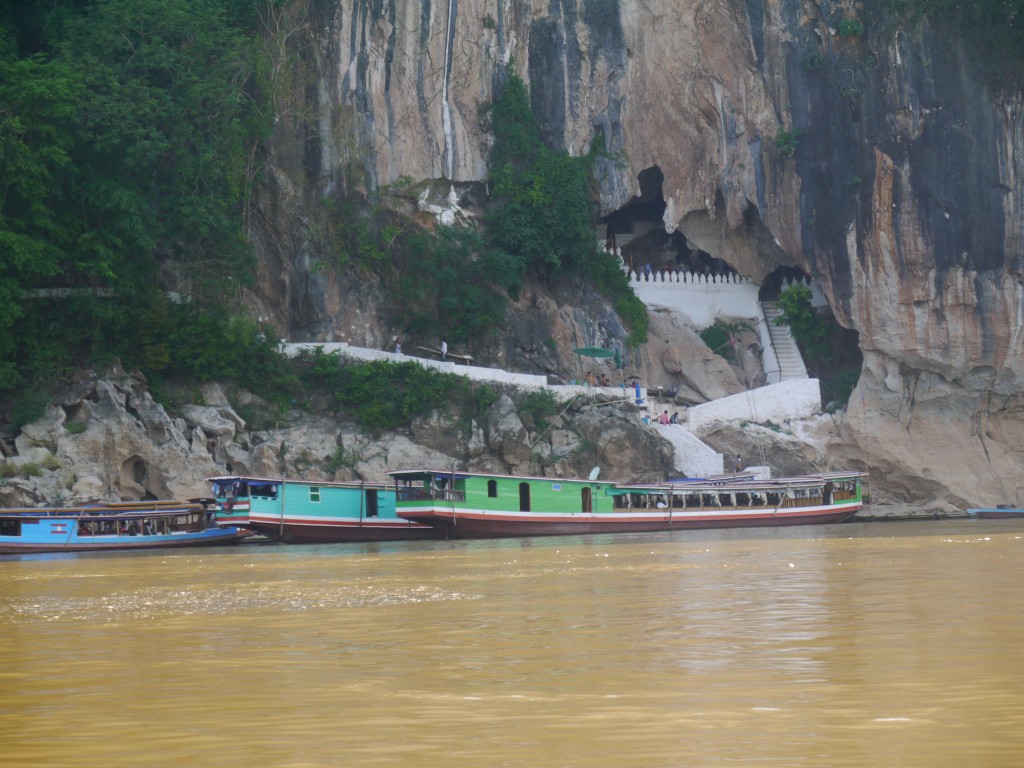 There are two caves at this location – one just a few steps up from the river, and the second up a flight of 254 steps. Here's the entrance to the top cave.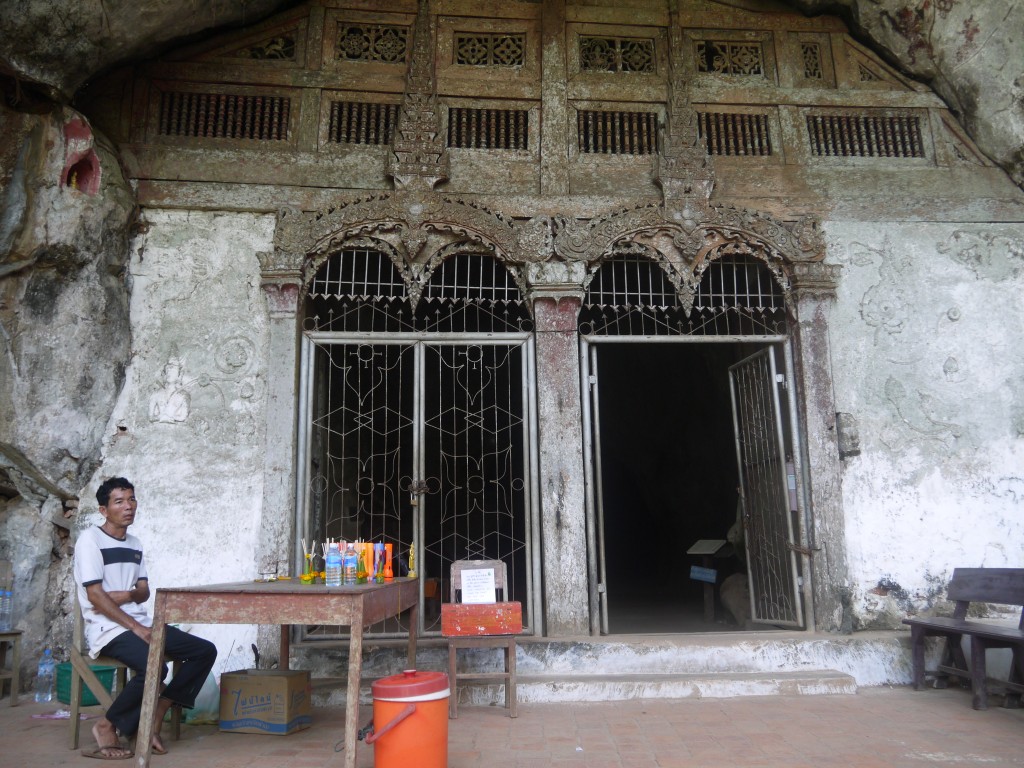 This cave is quite dark inside, so you'll need to grab a torch from the table. Don't forget to leave a small donation as well, as this helps with the upkeep of the caves.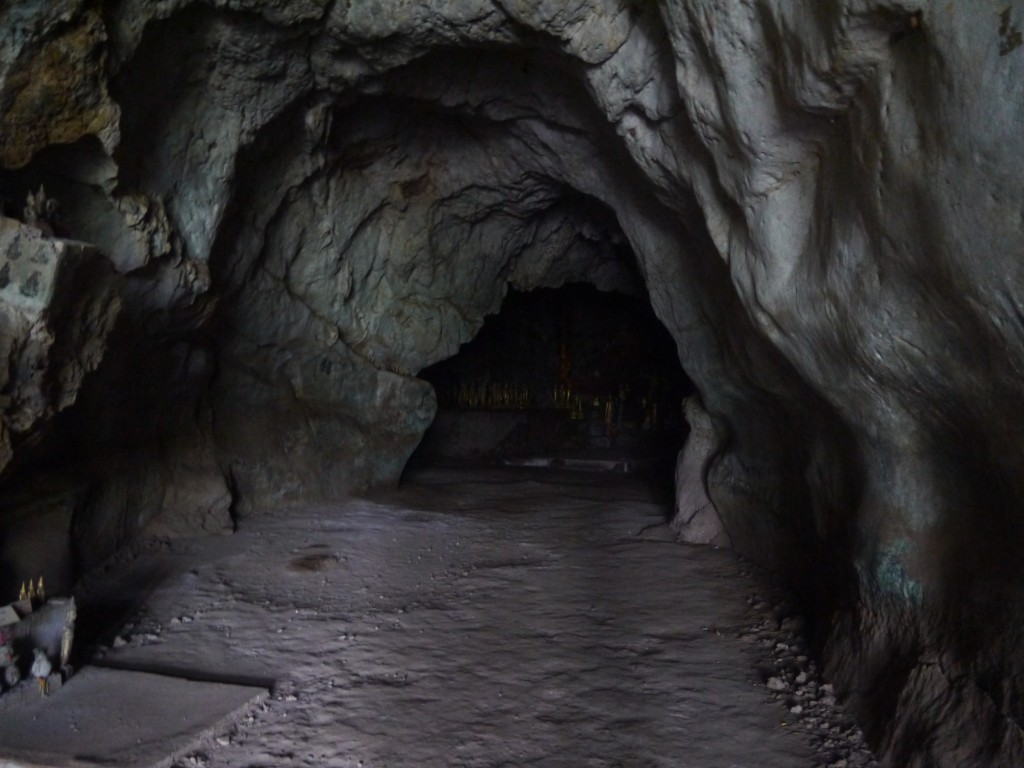 I was expecting to see a really big Buddha image inside the cave, but what they have is quite small. It's the lower cave that's the most visited, so has the most Buddha images. I suppose not many people want to walk all the way to the top cave.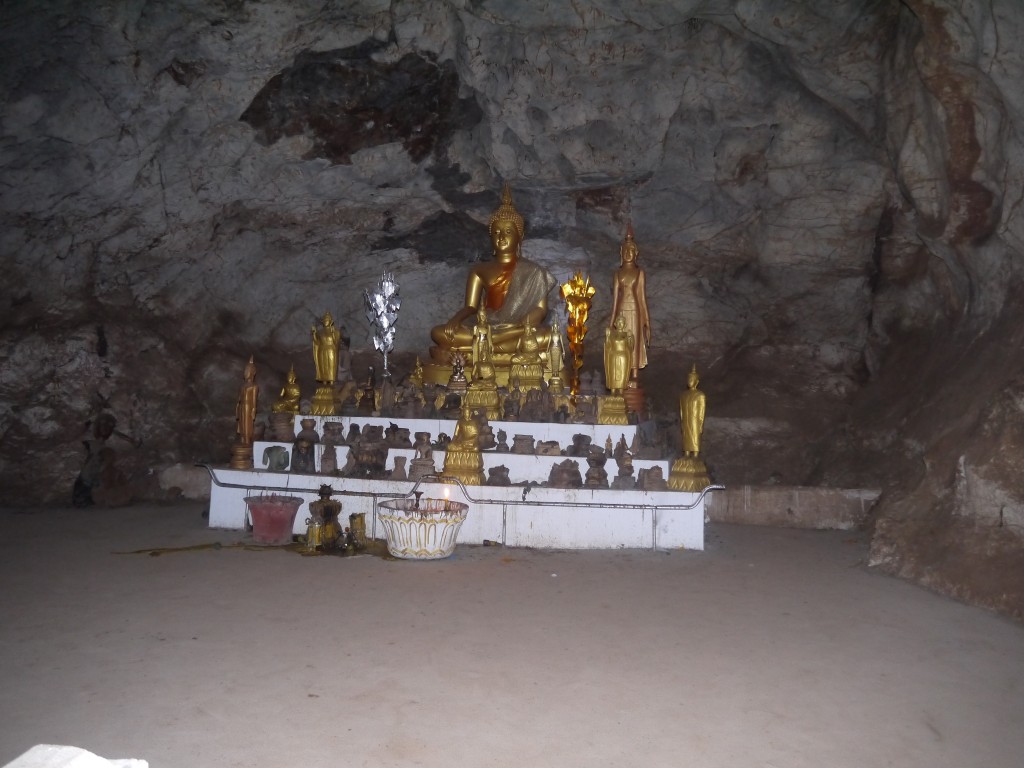 Next we visited the bottom cave, which is only a few steps up from the river. This cave has over 4,000 Buddha images.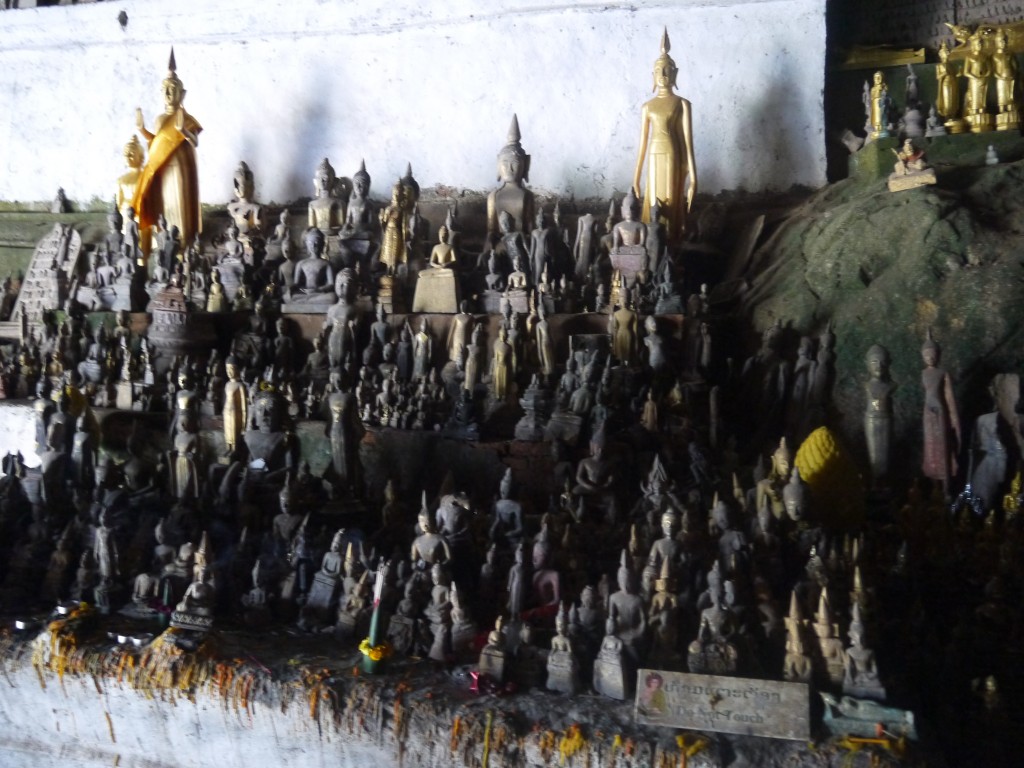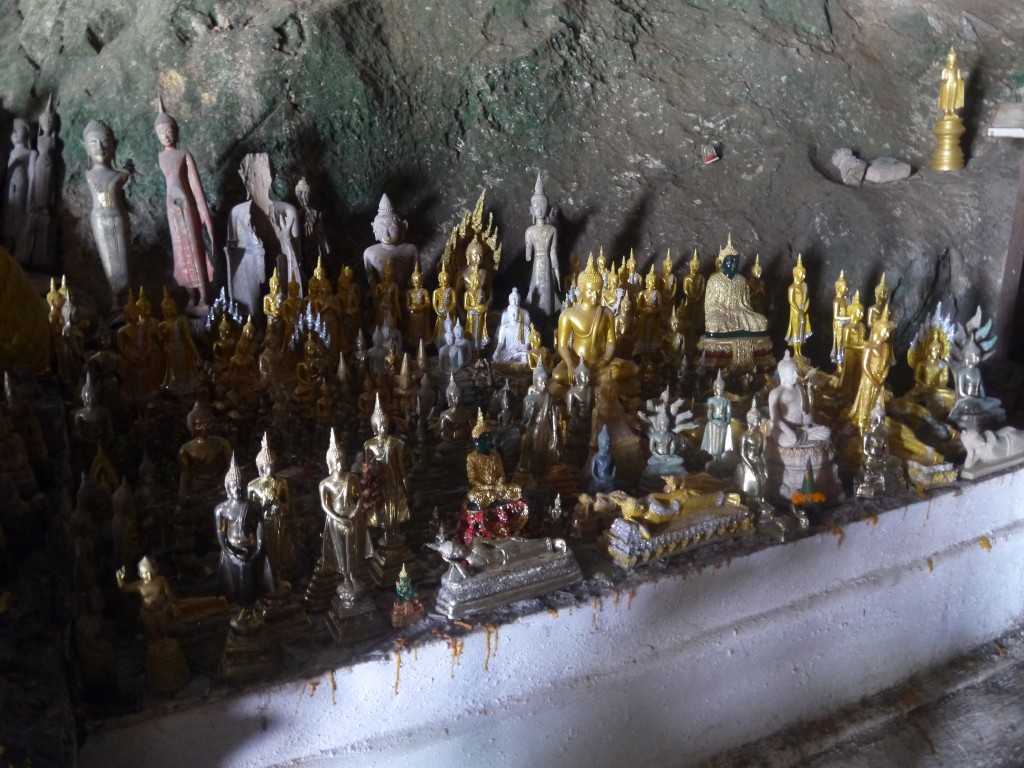 After visiting the caves, we had another 90 minutes before we got to Luang Prabang. It had been a long journey, but a very enjoyable one. It is so relaxing traveling slowly along the Mekong. And so interesting being able to visit hill tribe villages and Buddha caves. And then there's the magnificent scenery to see, the buffalo, the elephants, the fishermen, and life on the river.
And finally we arrived at Luang Prabang. There is a new pier that's 7 km from the town center, so we had to get a tuk-tuk from there. Cost was 20,000 Laos kip ($2.70, £1.80) each.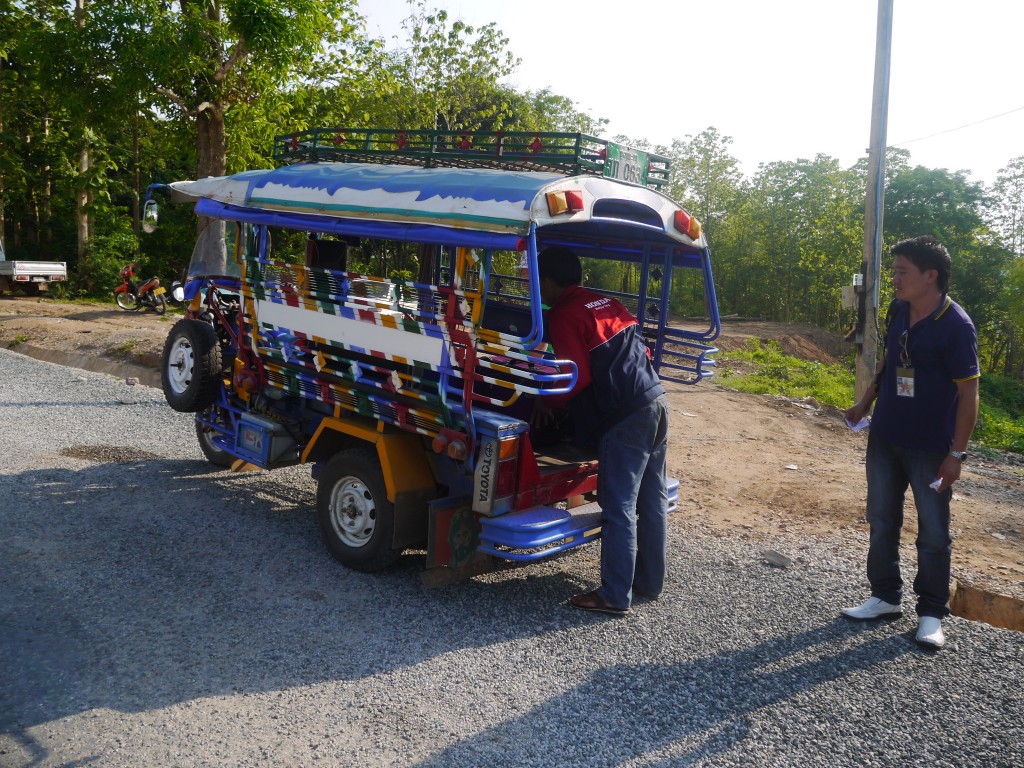 And finally, a very big thank you to Kae for taking such good care of us over the two days. He picked us up from our hotel in Huay Xai, looked after us on the boat, too us out for an evening meal in Pakbeng, and escorted us to our hotel in Luang Prabang. He was full of interesting facts and Laos and its people, and we feel we are much more knowledgeable about Laos now.
If you'd like to book this two-day boat trip, then get in touch with Nagi of Mekong. We had lots of fun, and I'm sure you will too.
For the first day, see Slow Boat To Luang Prabang – Day 1.
In Pakbeng, we stayed at Mekong Riverside Lodge.
In Luang Prabang, we stayed at We stayed at Philaylack Villa.
Hotels In Pakbeng
Hotels In Luang Prabang