We're back in Surin for a week visiting Miu's parents, so this was a chance to have have some really fresh food taken straight from the garden. We'd already had lunch in town but were feeling a little peckish when I spotted the papaya tree next to the house.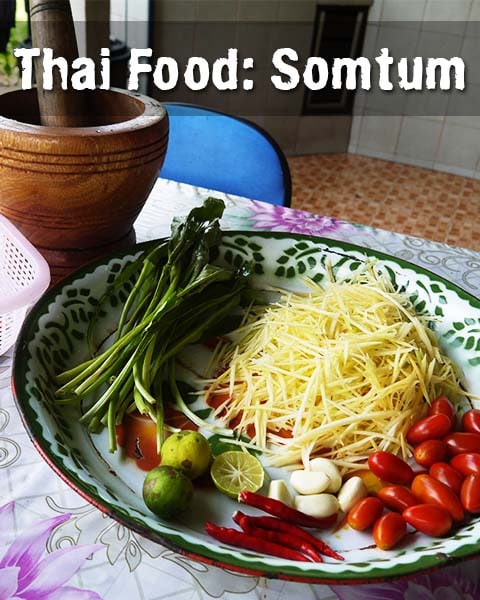 As Som Tum (Green Papaya Salad) is one of my favorite Thai foods, I decided to pick a papaya and make some.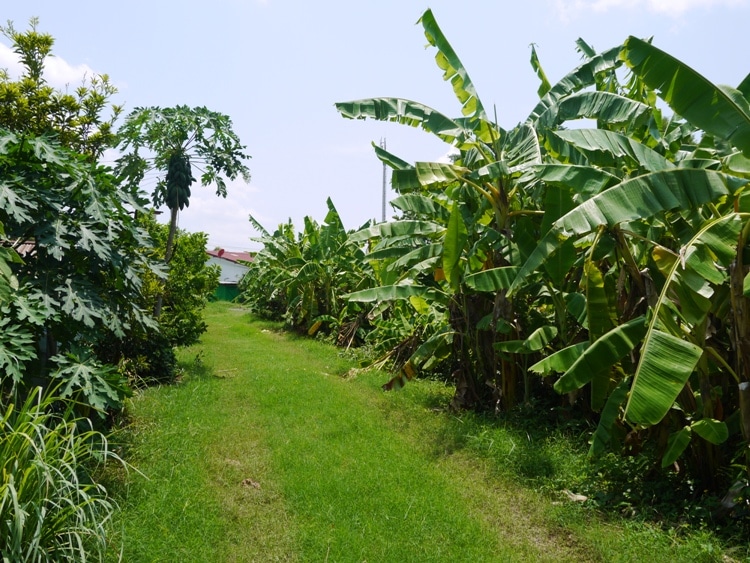 The last time I saw this papaya tree it was quite small, but it seems to have had a sudden spurt of growth while we've been away.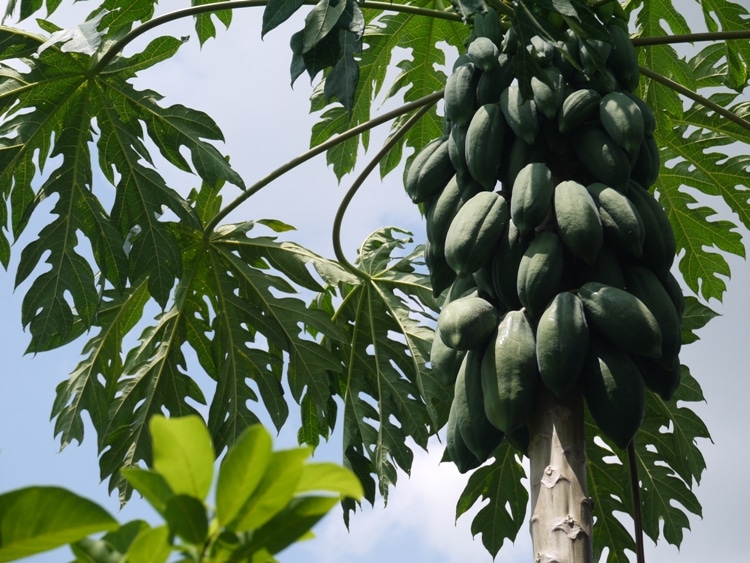 Papaya is very abundant in Thailand's northeast region, which is known as Isaan. As you can see above, papaya grows in clusters of around 50 or more fruit.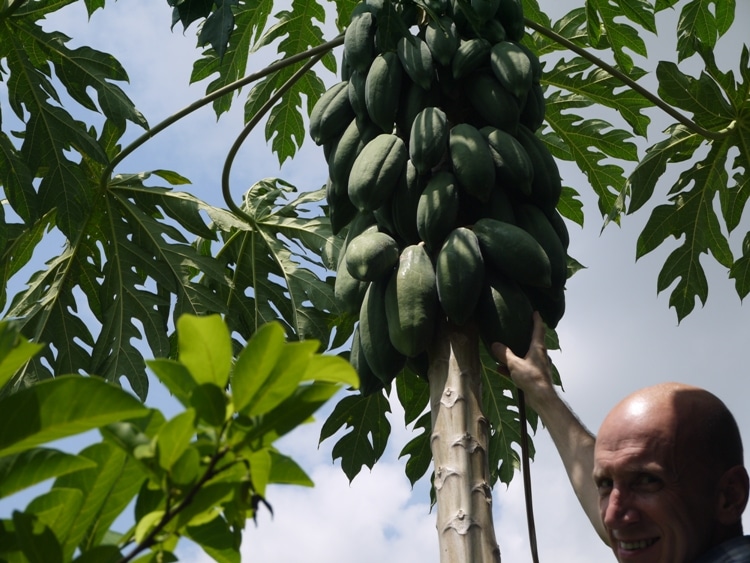 My first job was to pick a papaya. Luckily there was a fence next to the tree, so I was able to stand on that and reach one.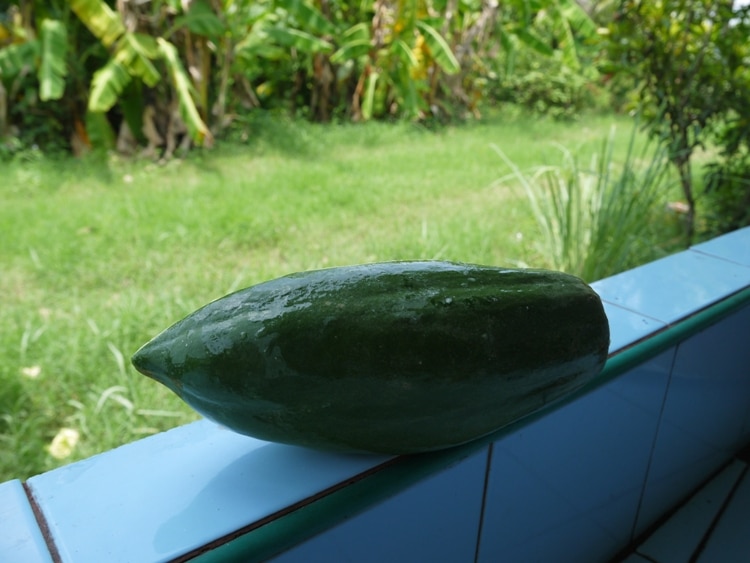 For Som Tum the papaya needs to be unripe. Once the papaya is ripe it turns an orange/yellow color and is eaten as a fruit.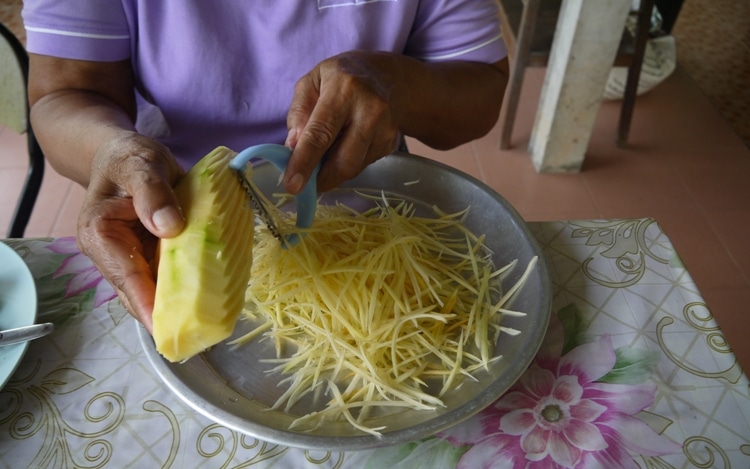 Next I had to enlist the help of Miu's mother to cut the papaya into strips. She did an excellent job, no doubt from years of experience.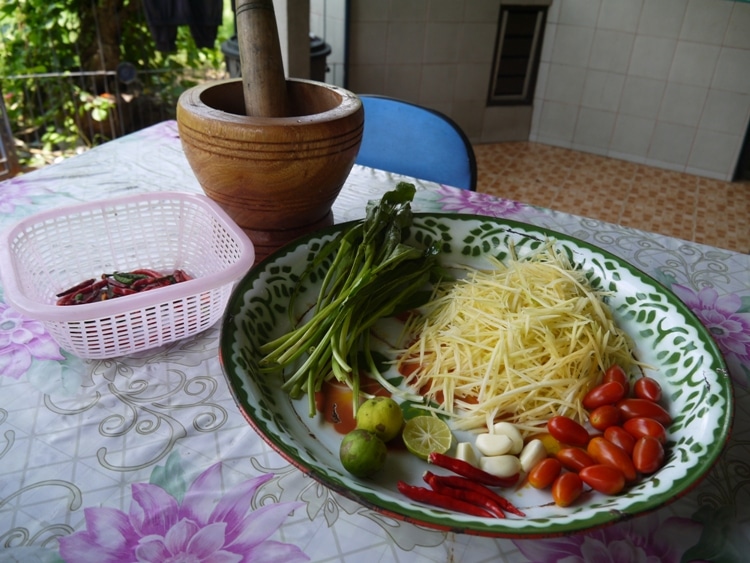 With the papaya sliced, we next gathered up all the other ingredients – red chillies, garlic, lime, tomatoes and a green vegetable that I don't know the name of. You'd usually use long green beans, but we didn't have any handy. Som Tum is very adaptable though and the exact recipe  can be changed to suit your taste. We also used soy sauce.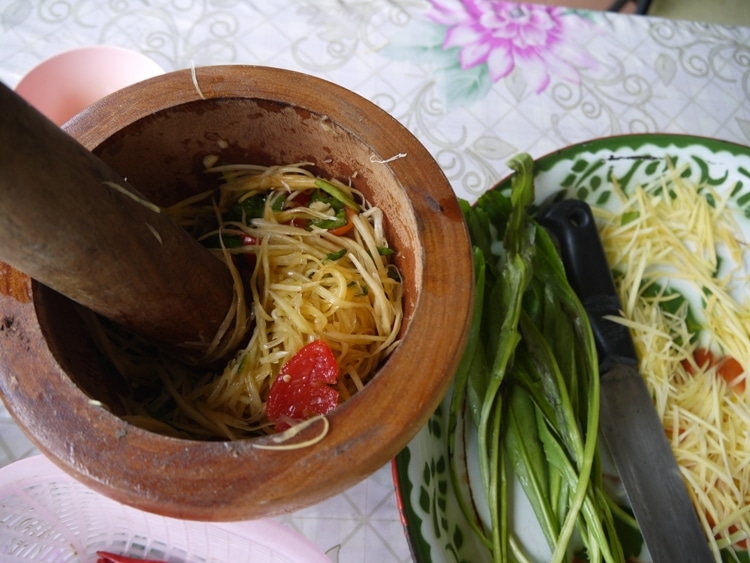 To make the Som Tum, you first crush the chillies and garlic in a pestle and mortar. How many of each you use depends on how hot you like your Som Tum. I usually use 3-4 cloves of garlic and 2-3 chillies. Many Thais from Isaan will use 10 or more chillies, as they like their food very spicy.
Next you add the tomatoes and lime juice and crush these along with the chillies and garlic. Then add some soy sauce, the papaya strips and the green vegetables. Mix them all together and it's done.
All that remains to do is to eat it. It was delicious.
Note that the above is a vegetarian and vegan version. Som Tum is usually made with fish sauce and also includes palm sugar and tamarind juice. I don't like my food sweet, so left out the sugar.
Hotels In Surin
If you're planning to visit Thailand I'd highly recommend spending some time in the Isaan region, as you'll get to discover more of the real Thailand instead of the usual tourist places. See Things To See And Do In Isaan to give you an idea of what it's like there.
While in Surin we stayed at Maneerote Hotel, which is a great hotel that we've stayed at many times. You can book this hotel via Agoda at Maneerote Hotel Agoda. It costs around $15 per night for a standard room. They also have VIP rooms, but these only have twin beds. Click here for other great hotels in Surin.