The northeastern area of Thailand, known as Isaan, is not often visited by tourists, but it's a great place to spend a few weeks, especially if you have access to your own transport. There are some amazing places to visit, with the highlight for me being Wat Phu Tok in Bueng Kan province. I hope the following list will encourage you to visit this area of Thailand. For each attraction I've included the name of the province in brackets so that you can quickly see where each one is located. The attractions are also arranged in alphabetical order of province. We almost always use Agoda for our hotel bookings in Thailand, as they are one of the main operators there. Register with them to get points towards free stays. Click here to book a hotel in Thailand via Agoda.
Wat Phu Tok (Bueng Kan)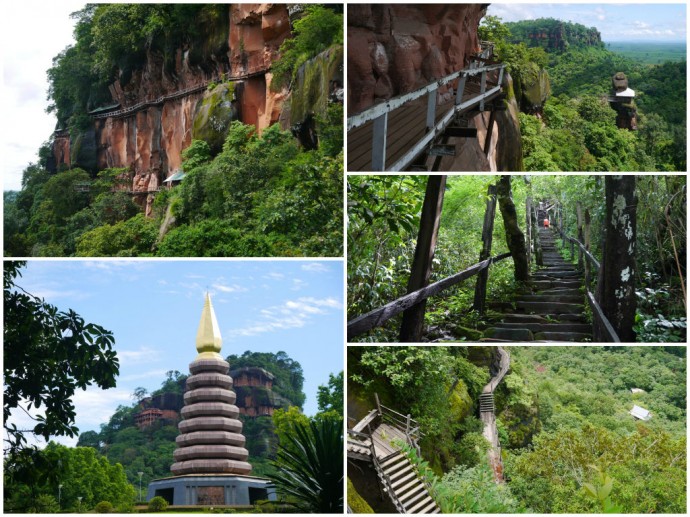 This is my personal favorite of all the places we visited in Isaan, and quite possibly my favorite in the whole of Thailand. This should be top of your list of things to see in Thailand. When we visited early one morning, we only saw three other visitors in two hours. It's a really magical place. See Wat Phu Tok for more images, videos and details of how to get there. You can also make a day trip here from Nong Khai.
Phanom Rung Historical Park and Muang Tam (Buriram)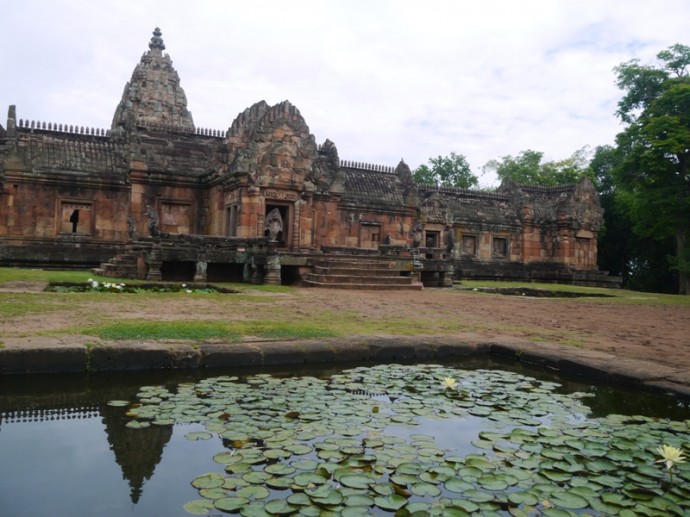 Phanom Rung Historical Park and Muang Tam are two Khmer temple complexes that are well worth a visit. They're situated in Buriram province in Thailand's northeast, also know as Isaan. Phanom Rung has been beautifully restored and sits atop an extinct volcano. Muang Tam lies on the plains around 8 km away. See Phanom Rung Historical Park & Muang Tam.
King Cobra Village (Khon Kaen)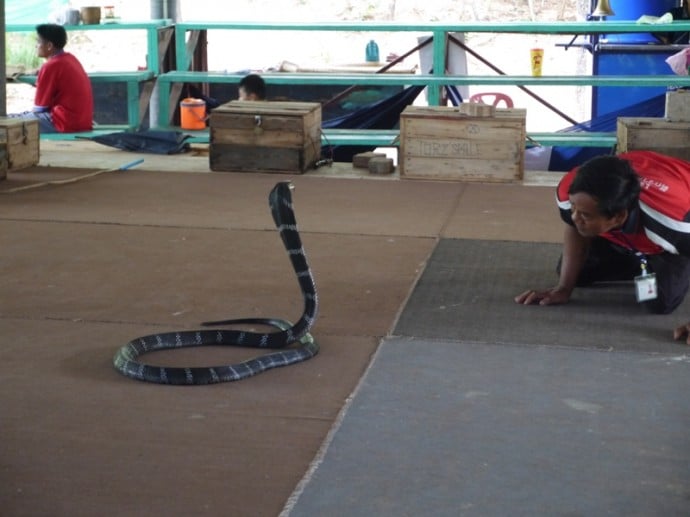 I was looking forward to visiting the King Cobra Village, but was disappointed by what I saw. The cobra shows were interesting, although very short. But the worst aspect for me was seeing so many snakes and other animals locked up in tiny cages. See King Cobra Village, Thailand.
Sala Kaew Ku Sculpture Garden (Nong Khai)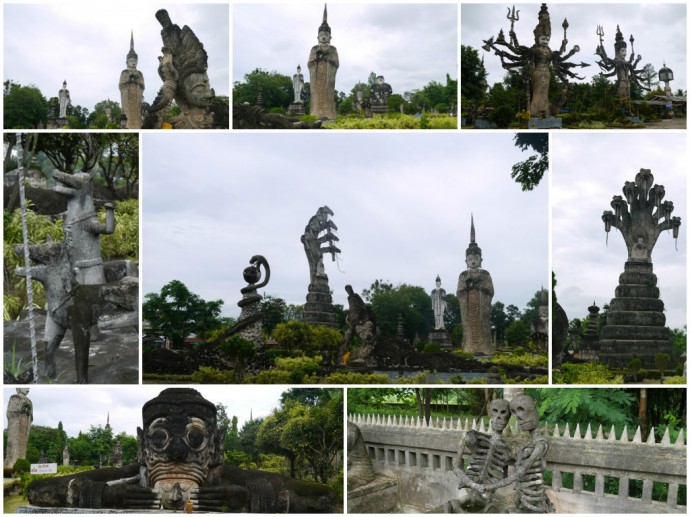 This is the main attraction in Nong Khai, and many people visit it the town just to see the fantastic and weird concrete sculptures here. The sculptures are inspired by Buddhism and Hinduism, with some being up to 25 meters tall. See Sala Kaew Ku Sculpture Garden for more images and videos.
Other Things To Do (Nong Khai)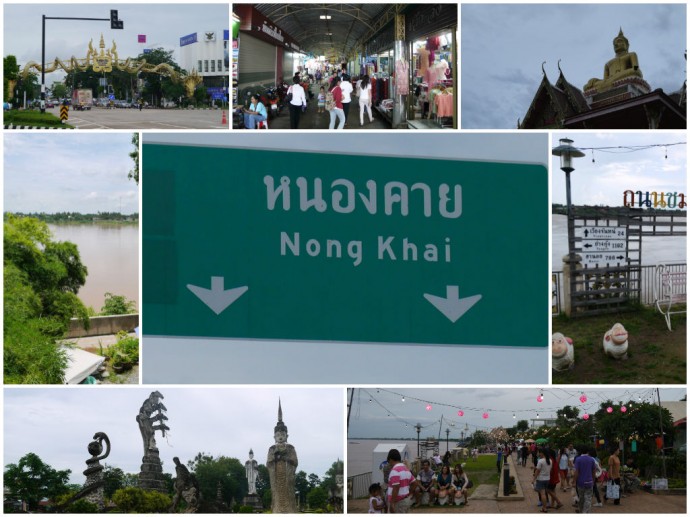 Nong Khai has a few other attractions to keep you busy for a few days. See Things To Do In Nong Khai, Thailand.
Beer Bottle Temple (Sisaket)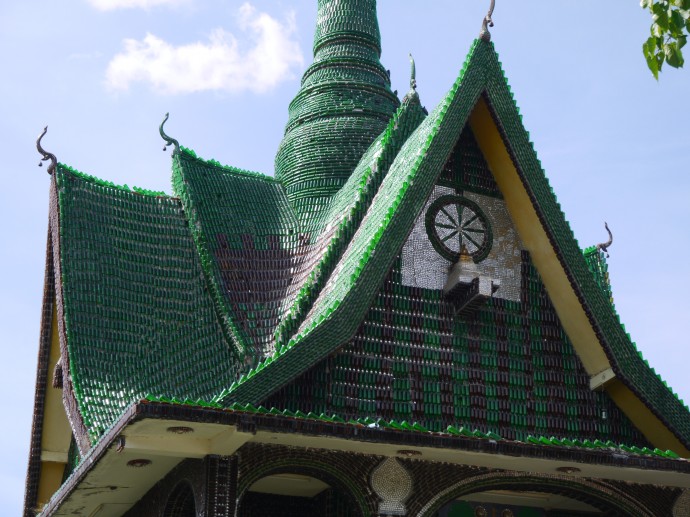 Believe it or not, but Thailand has a temple built from beer bottles. This awesome temple in Khun Han in Sisaket province is one of the weirdest temple you're likely to see. It's built from over 1 million bottles – recycling at its most creative. See Beer Bottle Temple for more details.
Chong Chom Border Market (Surin)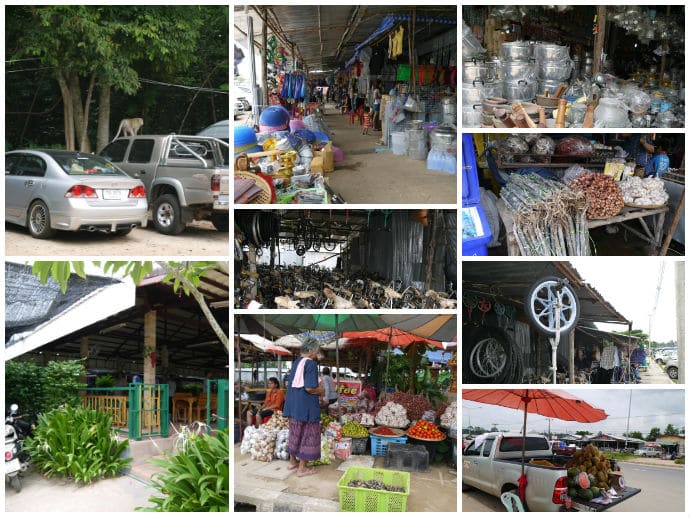 Chong Chom Market is around 70 km from Surin, and is located around 2 km from the border with Cambodia. It sells a range of goods, including clothes, kitchen equipment, tools, electronic and electrical goods, food, secondhand bikes, DVDs, handbags and lots more.
Phanom Sawai Forest Park (Surin)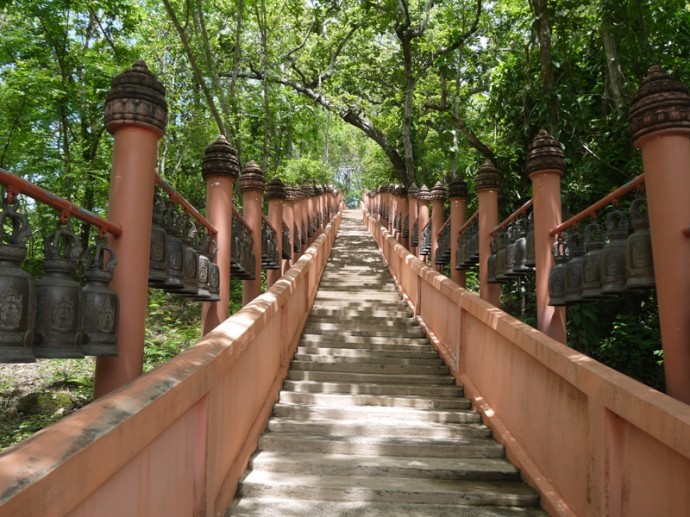 Phanom Sawai Forest Park is located in Thailand's northeastern province of Surin, and is around 20 km from the city center. The park is noted for its three peaks, Buddha statues and views of the surrounding countryside. The three peaks are Phanom Srei, Phanom Preah and Phanom Krol. See Phanom Sawai Forest Park.
Elephant Graveyard At Ban Ta Klang Elephant Village (Surin)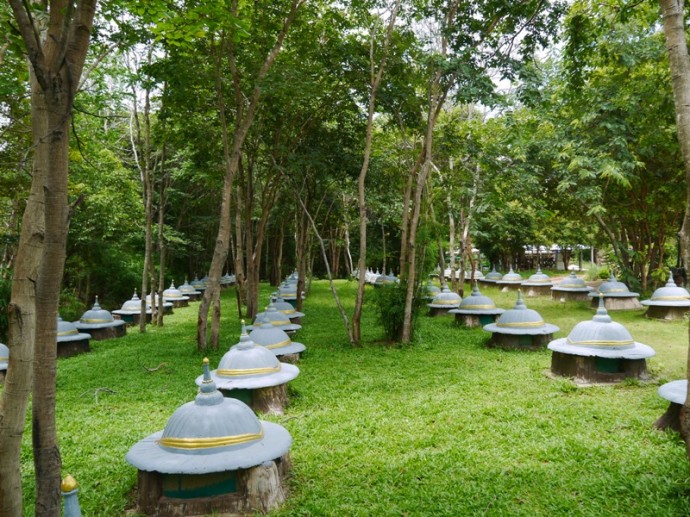 Thailand's national symbol is the elephant, so it seems very fitting that these animals should have a final resting place that fits in with their exalted status. This resting place is the Elephant Graveyard at Wat Pa Arjiang in Ban Ta Klang elephant village in Surin province.
Surin Elephant Festival (Surin)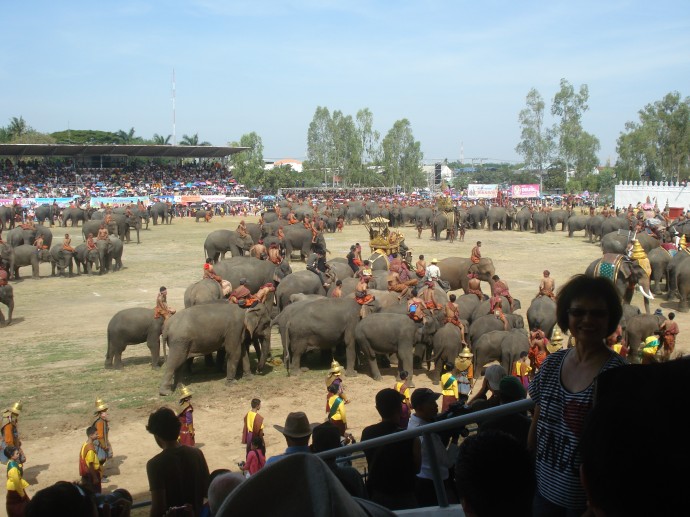 The Surin Elephant Festival is a 3-day event that takes places in November every year, and it's a truly awesome sight seeing hundreds of elephants all gathered together. See Surin Elephant Festival.
Other Things To Do (Surin)
Surin has a few more attractions that are covered in Things To Do In Surin.
Candle Festival (Ubon Ratchathani)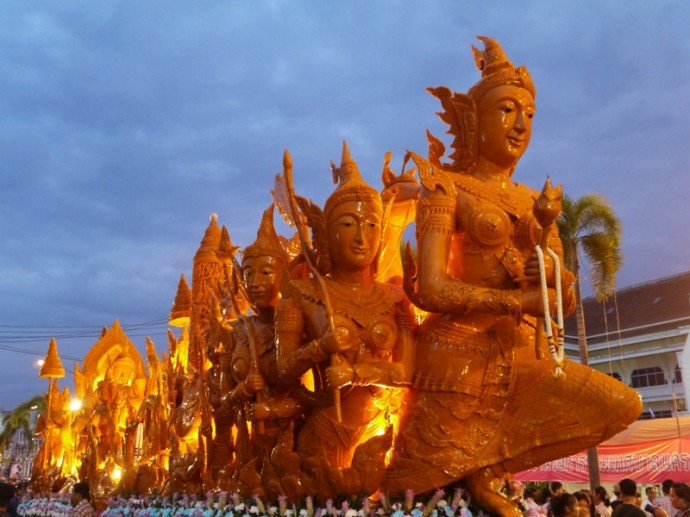 Many towns in Thailand have an annual Candle Festival, but the one in Ubon Ratchathani is the biggest and most well known. We visited the festival for the first time this year and were truly amazed by how elaborate the candles were. See Ubon Ratchathani Candle Festival 2014.
Getting Around Thailand
While you can't get to all these places by train, it's a great way to travel around Thailand. See our comprehensive Thailand by Train guide.
Hotels In Thailand
We almost always use Agoda for our hotel bookings in Thailand, as they are one of the main operators there. Register with them to get points towards free stays. Click here to book a hotel in Thailand via Agoda.