When I first arrived in Bangkok over four years ago I was a little overwhelmed, as I didn't even know where to buy the basics that I needed for my day to day living. But over time I've explored Bangkok extensively and gotten to know the ins and out of everything that an expat needs to know. There are many supermarket chains in Bangkok, with each being slightly different in what they offer. Some cater to a more local market, while others have their focus more on the expat community. So here's a round-up of what's available. Click here for a superb range of hotels in Bangkok. You can also check out our in depth Bangkok travel guide that can help you in your travel.
Gourmet Market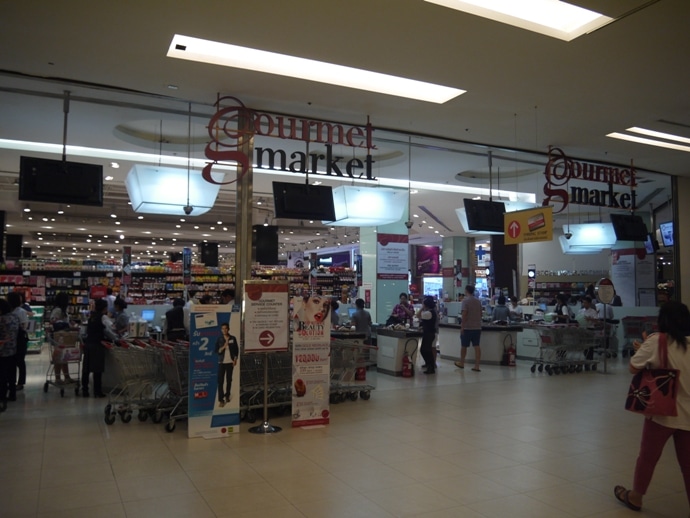 For me this is Bangkok's best supermarket and is better than most supermarkets in Western countries. As the name suggests, this is a market that sells gourmet food. If you're a foodie and you have money, then this is the place for you. The food you'll find here is exceptional quality and very fresh. Some of the produce they sell includes fresh fruit and vegetables, imported meats, gourmet cheeses, seafood, gourmet Thai food, world-class wines, high-quality imported food from around the world and a great organic food selection. They have four branches in Thailand, all in the Sukhumvit area of Bangkok.
Locations: Siam Paragon, Emporium, K Village, Terminal 21
Website: gourmetmarketthailand.com
Villa Market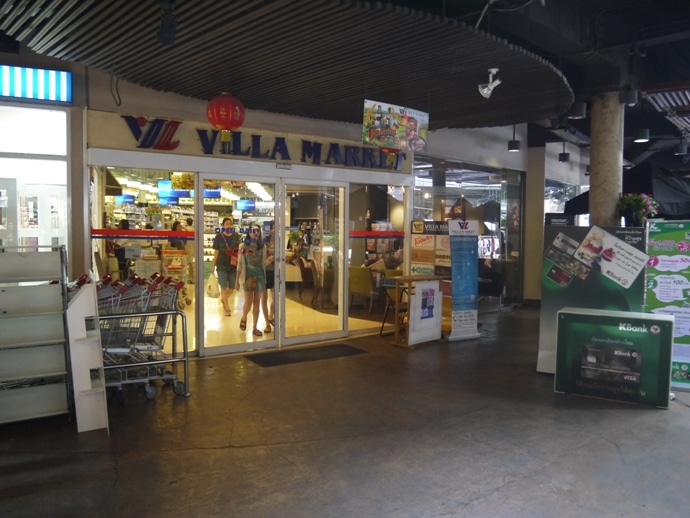 We shop at Villa Market at least once a week, mainly because they sell Western produce that our local Tops Market doesn't have. This is another high-quality supermarket that sells a wide range of imported goods. Many expats shop here for this reason, although it's also popular with Thai people. It's a little more expense than places like Tesco Lotus, Tops Market and Big C, so we only shop here for the goods that we can't get elsewhere. They have around 20 stores in Bangkok, with most being centrally located, so there is likely to be one not too far from you if you live in a central area of the city.
Locations: Various – around 20 stores in Bangkok
Website: villamarket.com
Foodland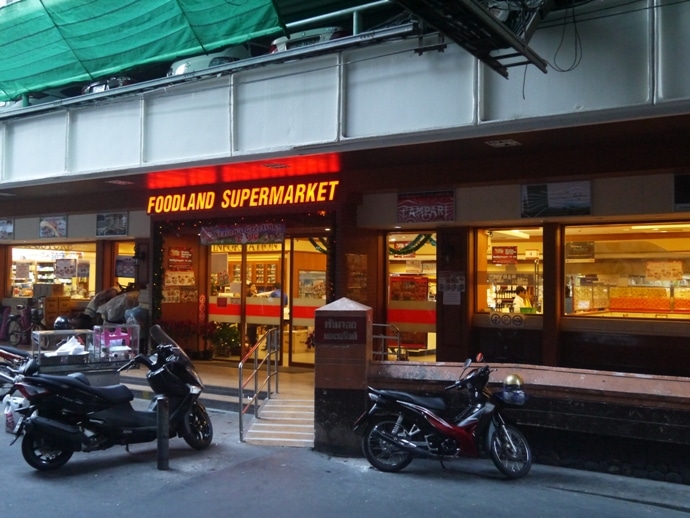 We don't usually shop at Foodland simply because there isn't a store near us. But we have shopped there a few times in the past and I'd say it's comparable in quality to Villa Market, with the customer base being middle and upper-income Thais and expats. It has a great range of imported produce and high-quality local produce. They have around 10 stores in Bangkok, so check out their website to find the store nearest to you.
Locations: Various – around 10 stores in Bangkok
Website: foodland.co.th
Tesco Lotus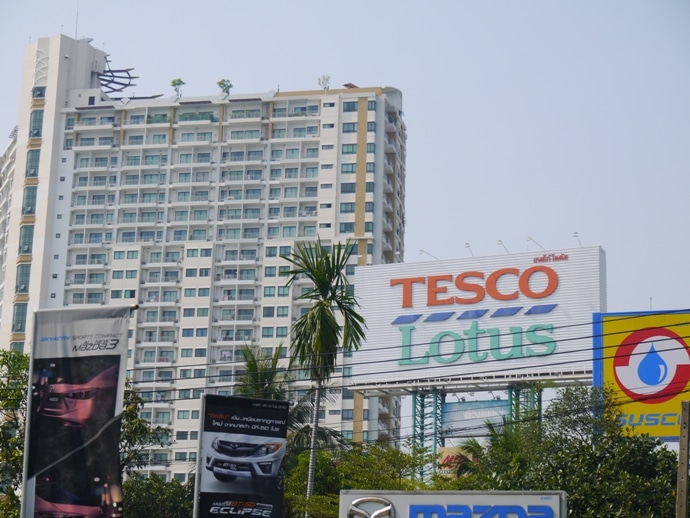 If you're from the UK, you'll recognize this name, as Tesco is one of the biggest UK supermarkets. In Thailand it's a partnership between Tesco and Lotus, hence the name. The stores are very similar to the UK stores with a great range of produce and other goods at reasonable prices. They also have many smaller express stores that sell a smaller range of convenience goods. They have numerous stores around Bangkok, but most are located in the suburbs and not in central Bangkok.
Locations: Various – mostly located in the suburbs
Website: tescolotus.com
Tops Market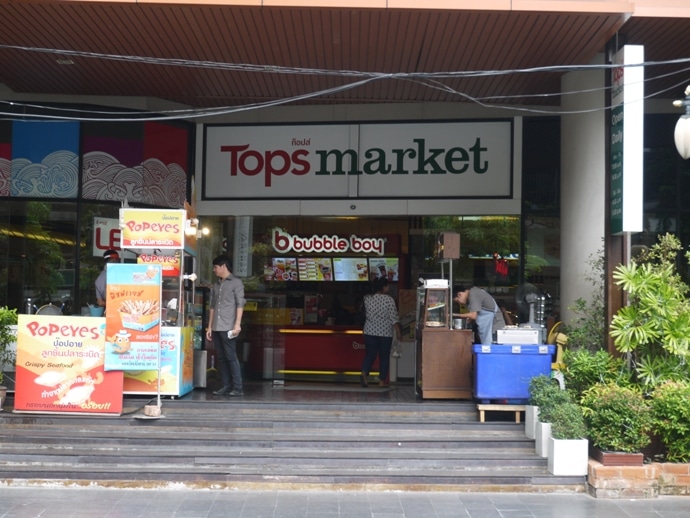 This is where we do most of our supermarket shopping. Tops Market is part of the Central group of companies and you'll find their supermarkets all over Bangkok. This is the largest supermarket chain in Thailand with 147 stores nationwide, with 92 of them being in Bangkok. Tops caters to mostly the middle-class segment of the market and mostly sells Thai food, although they also sell a good range of Western food, especially in their larger stores. Prices are very reasonable at Tops Market.
Locations: Various – 92 in Bangkok
Website: tops.co.th
Big C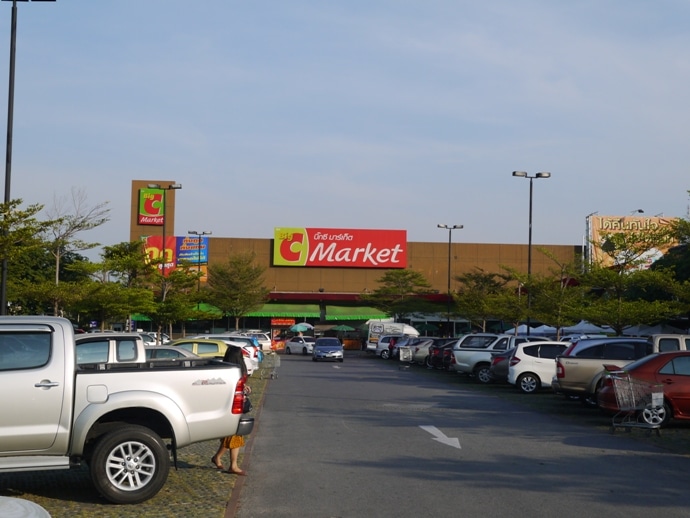 Big C operates as a hypermarket, with all it's stores being pretty big – hence the name Big C. It has 121 stores in Thailand, with 49 of these being located in Bangkok. Unless you live very close to a store you're most likely to need a car if you want to shop here. We've only been to Big C a few times, as there aren't any in the area that we live. They stock just about everything you could need though, and prices are reasonable.
Locations: Various – 49 in Bangkok
Website: bigc.co.th
Makro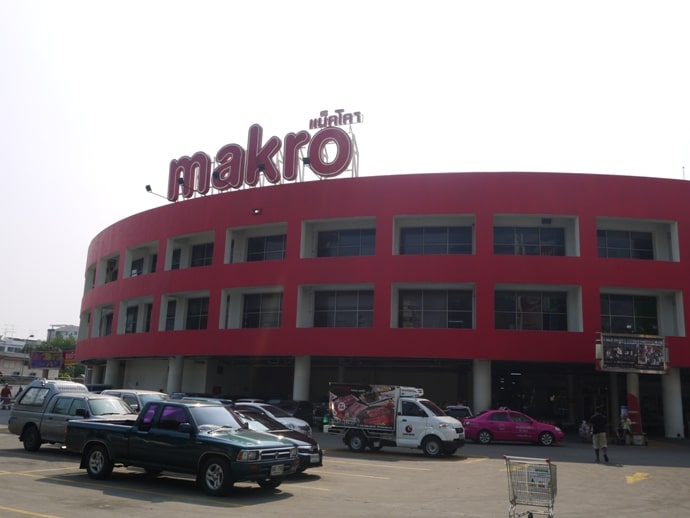 Makro is different to all the other supermarkets because it operates on a wholesale basis. It has 48 stores in Thailand, with 9 located in the greater Bangkok area. We've never shopped at Makro but have heard that prices are very good, as you'd expect. But this is mostly about buying in quantity and stocking up on non-perishable goods. If there's one near you it's worth checking out. We know many expats that shop at Makro.
Locations: Various – 9 in Bangkok
Website: siammakro.co.th
Maxvalu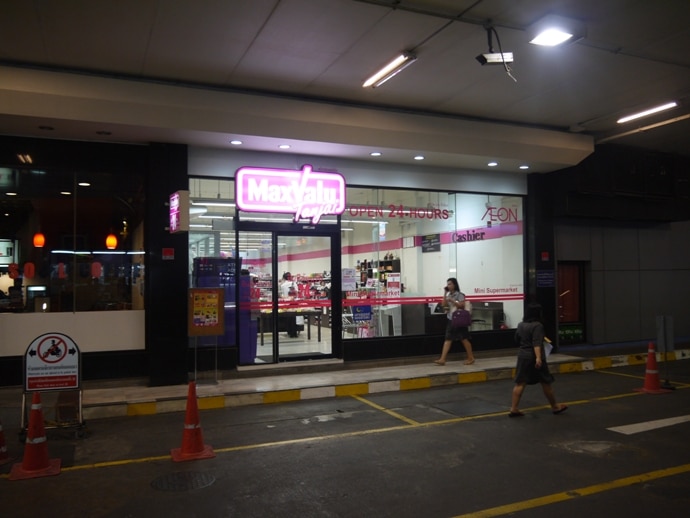 Maxvalu is a Japanese supermarket that opened it's first store in Bangkok in 2007. At the time of writing it has 17 stores in the Bangkok area. Their aim is to offer many of life's daily necessities while ensuring the best quality and best pricing. The stores we've seen have been larger than convenience stores such as 7-Eleven and Family Mart, but smaller than most regular supermarkets. So they seem like larger convenience stores and so have a much wider choice of goods, especially fresh fruit and vegetables.
Locations: Various – 17 in Bangkok
Website: aeonthailand.co.th
7-Eleven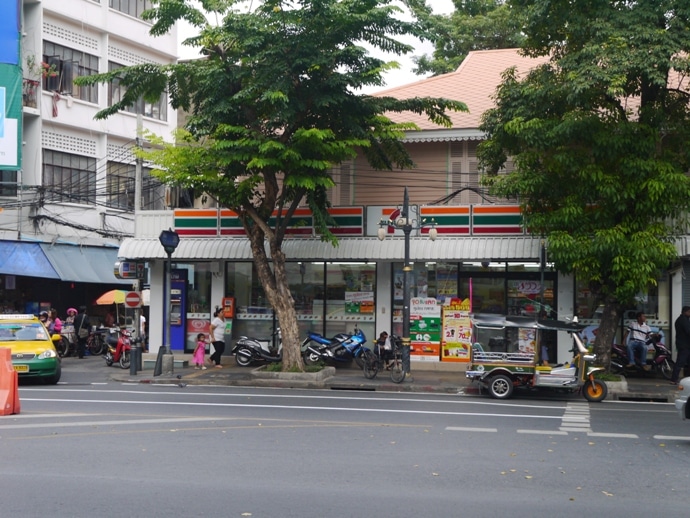 7-Eleven is a chain of convenience stores, not supermarkets, but I mention them here simply because they are probably one of Thailand's favorite stores. There are open 24/7 every day of the year. Just walk around for a few minutes and you'll probably see a few 7-Eleven stores. Often there are multiple stores located within a few meters of each other. The three stores nearest to our condo are all located within 100 meters of each other. There are over 50,000 7-Eleven stores worldwide, with almost 8,000 in Thailand. About 4,000 of these are located in Bangkok. 7-Eleven is well-known for offering cheap food such as rice dishes that are heated in a microwave in the shop. This is also where most people pay their electricity, water and internet bills, and also the place to get your mobile phone top-ups. You can even pay for bus tickets and Air Asia flights at some stores. Thai people love 7-Eleven.
Locations: Everywhere – around 4,000 stores in Bangkok
Website: 7eleven.co.th
Family Mart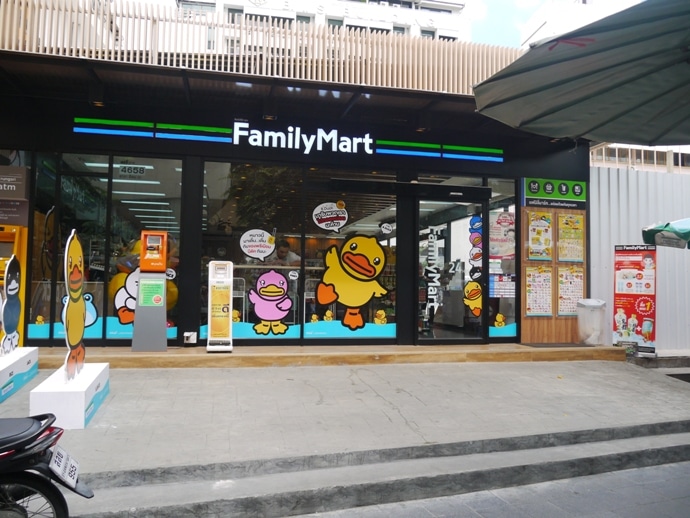 Family Mart is pretty similar to 7-Eleven  in many ways. It's a convenience store that also sells hot food and is also a place that you can pay your electricity, water and internet bills. It has around 1,000 stores in Thailand, but I don't know how many of these are in Bangkok. You'll see them around the city, but they're nowhere near as numerous as 7-Eleven stores. But, just like 7-Eleven, they are open 24/7 every day.
Locations: Various – around 1,000 stores in Thailand
Website: familymart.co.th
Hotels In Bangkok
If you're planning to come to Bangkok, be sure to check out the great range of hotels at Agoda.