This is one of the best vegetarian restaurants that I've eaten at in SE Asia, so be sure to pay a visit if you're ever in Hoi An. It's directly opposite the Hoi An Lantern Hotel that we stayed at. Click here to book a hotel in Hoi An.
This restaurant was so good that we ate here for lunch and dinner every day. The quality of the food was superb. The menu is fairly extensive, including Vietnamese (Pho, Soups, Spicy Vegetables), Indian (Roti, Curry, Dahl, Veg Thali), Western (Burgers, Fries, Sandwiches), and a range of drinks that include tea, coffee, smoothies and juices. The food is 100% vegan.
The staff at the restaurant speak fairly good English, and are very helpful and friendly. As all the food is cooked to order, they can change the dishes slightly to suit your taste. In fact, they went out and bought a papaya to add to the dish below.
You can also take cooking classes at the restaurant.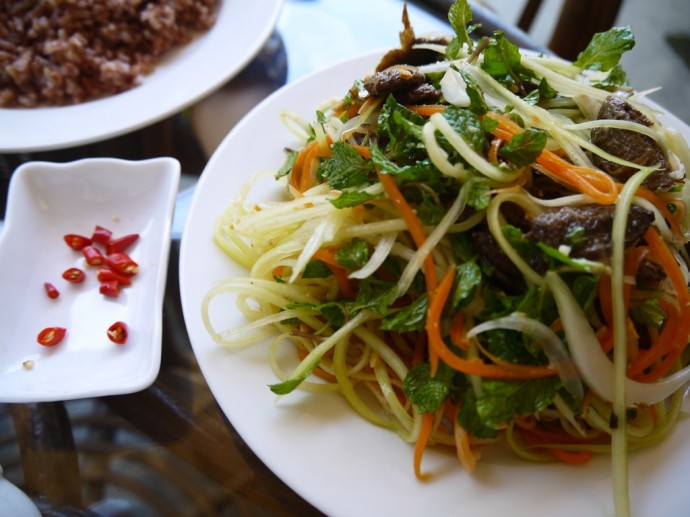 The restaurant is owned by a company that also runs eco tours, and you can find details of these at the restaurant or at their website.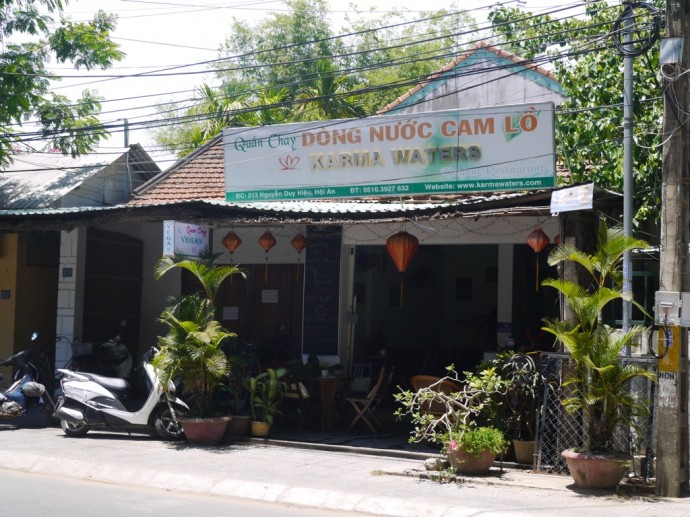 The restaurant is very clean, and the cooking is done in an open area, so you can see your food being cooked. They don't use MSG or sugar, and serve brown rice – a real bonus in Vietnam. They don't serve alcohol, and no smoking is allowed in the restaurant – another bonus in Vietnam.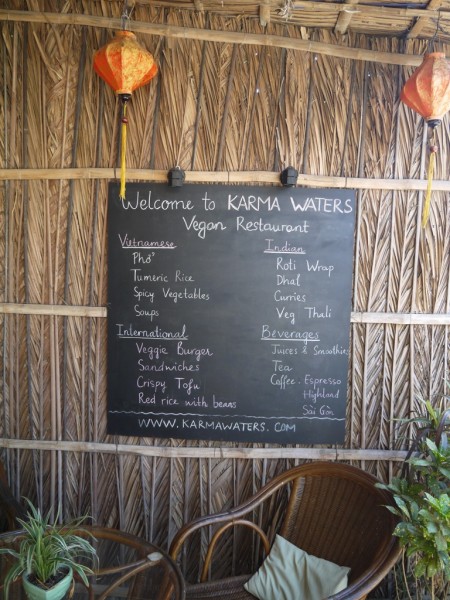 The menu is more extensive that the above image suggests. We really loved this place, so highly recommend that you visit it if you're ever in Hoi An.
Karma Waters Details
Address: 213 Nguyen Duy Hieu Street, Hoi An (opposite Hoi An Lantern Hotel)
Opening Hours: 10:00-20:30 every day
Website: www.karmawaters.com
Hotels In Hoi An
If you want to book a hotel in Hoi An, then click on the Agoda link below for some great hotels at great prices.