I've been on the London Eye quite a few times in the past, as it's somewhere that visiting friends always wanted to go. And as this is Miu's first ever visit to London, this was one of the top places on our must-see list. But even having been there many times before it was still great fun.
The London Eye is located on the South Bank of the River Thames and has a few London Underground stations within walking distance. The four closest stations as Westminster, Waterloo, Charing Cross and Embankment. You can also get there by bus –  No. 211, 77 and 381 go right passed it. The Original Bus Tour also goes passed.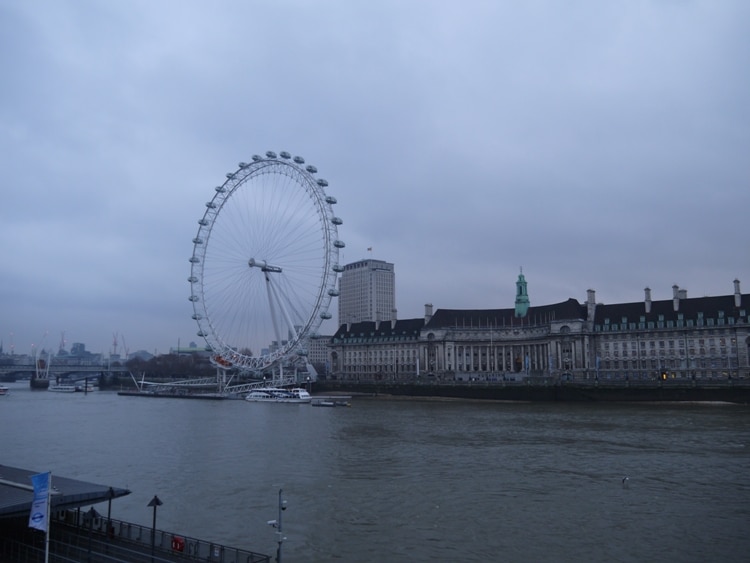 We arrived by London Underground at Westminster station. As you leave the station you can see the London Eye on the opposite side of the river.
It's best to buy your tickets in advance, especially if visiting at busy times. The busiest times are from 11:00 to 15:00, so arrive earlier or later for the shortest queues. The months of July and August are the busiest months, and school and bank holidays can also get busy.
There are many ticket types available. Standard Tickets will give you a 30-minute time slot and you are advised to join the queue 30 minutes before that. A great way to avoid most of the queues is to buy a Fast Track Ticket. This is what we chose. It was very cold when we went so we didn't want to hang around in the cold queuing.
If you don't want to book a ticket for a half-hour time slot, you can get a Flexi Ticket, which means you can turn up any time during the day. There are also Fully Flexi Tickets that allow you to turn up any time during the week. There are also other tickets available for special occasions, such as New Year's Eve celebrations.
The London Eye is usually open from 10:00 until 20:30, although it opens later in the summer and may close early on certain days.
The London Eye capsules have interactive maps with all landmarks clearly shown, so you'll be able to know what you're looking at. As you can see from the above images it was quite an overcast day when we were there. The views were still pretty good, but not as good as during the summer months. One of the advantages of visiting in winter though is that there are less people. In our pod there were just us and another two couples. This made taking photos easier than when the pod is full.
Before going on The London Eye, be sure to check out the 4D Experience. You get to watch a short 3D film about The London Eye that also has in-theatre effects. So for example, when it snows in the film, small white foam droplets are used so that you can feel as well as see the snow. We were quite impressed.
If you're heading to London I think this is one of the must-see attractions.
You can but tickets online at the official London Eye website.
Hotels In London
London is one of the world's greatest cities and has some amazing hotels. We usually book our hotels with Agoda, as they have a fantastic selection and also a price match guarantee. Check out Agoda London to see what's on offer.
For our first three nights in London we stayed at 73 Suites, which is an aparthotel in Bayswater. You can see our review at 73 Suites Aparthotel, London.