Renon is a mainly residential area of Denpasar, but we decided to stay there because we needed to go to the Royal Thai Consulate, which is located there. We found one vegetarian restaurant in the area, and another really great place that had a small choice of vegetarian dishes on the menu.
Happy Laksmi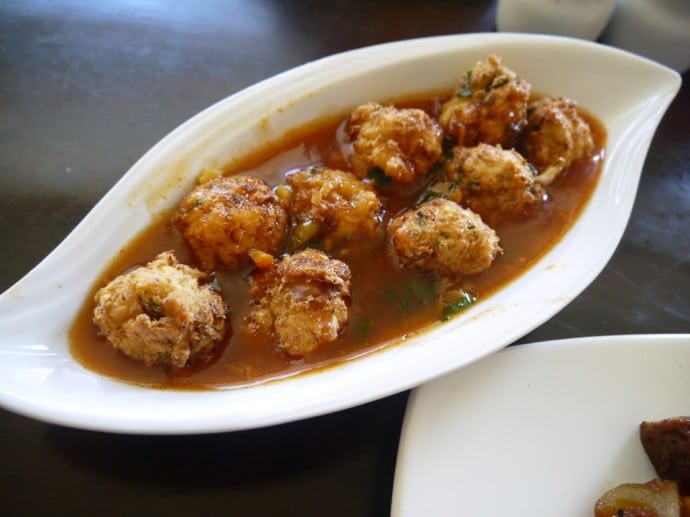 This is a Hare Krishna restaurant that sells both vegetarian and vegan food, although it does use a lot of milk, cheese and yogurt. It's very clean, and the staff are friendly and helpful. We ate there three times and the food was good every time.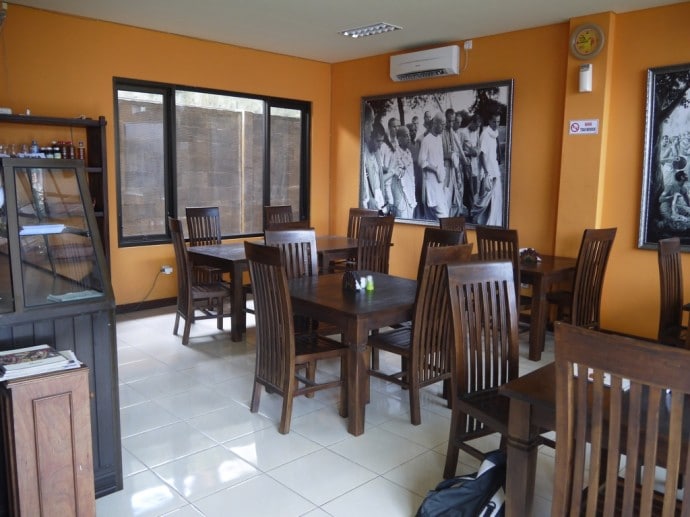 They have a set buffet every day, and also an a la carte menu. The prices are very reasonable – four dishes and two drinks from the a la carte menu cost us 74,000 IDR ($6.40).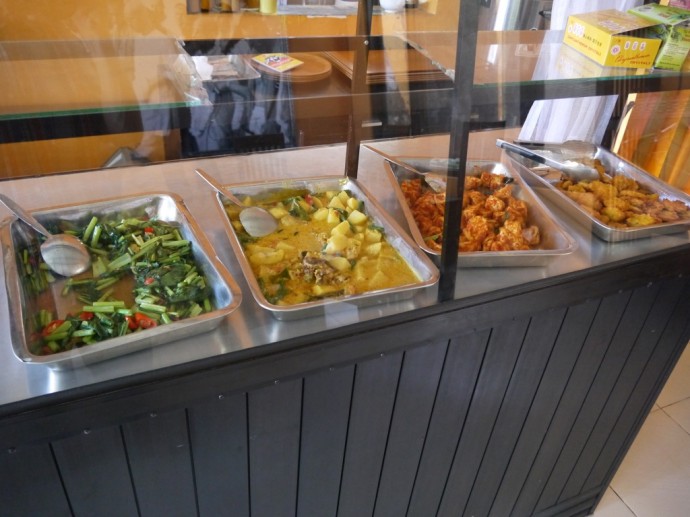 If you choose the buffet option, you get a little of each dish, served with rice.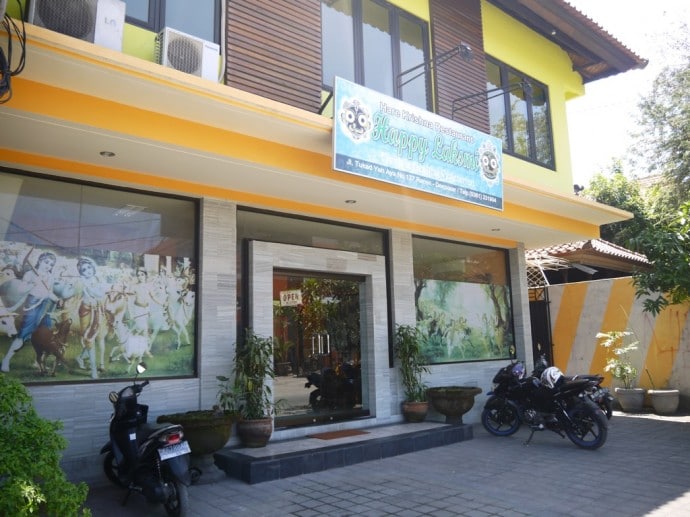 The restaurant is very easy to find, as there aren't many shops on this road.
Address: 137 Jalan Yukad Yeh Aya
Opening Hours: 11:00-21:30 every day
Warung Ciung Wanara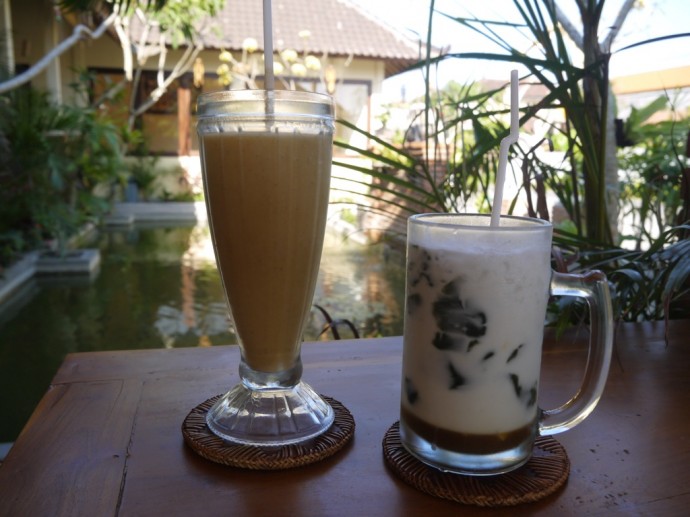 The choice of vegetarian dishes here wasn't great, but the food was freshly prepared and the service was excellent. But they did have some great drinks, including the vegan Avocado & Mango Smoothie shown above. Miu had an Ice Daluman, which is made by squeezing daluman leaves until their form into a jelly, then mixing with coconut milk, jackfruit, brown sugar and ice. This is a traditional Balinese drink. The staff here were very friendly and attentive, and spoke good English.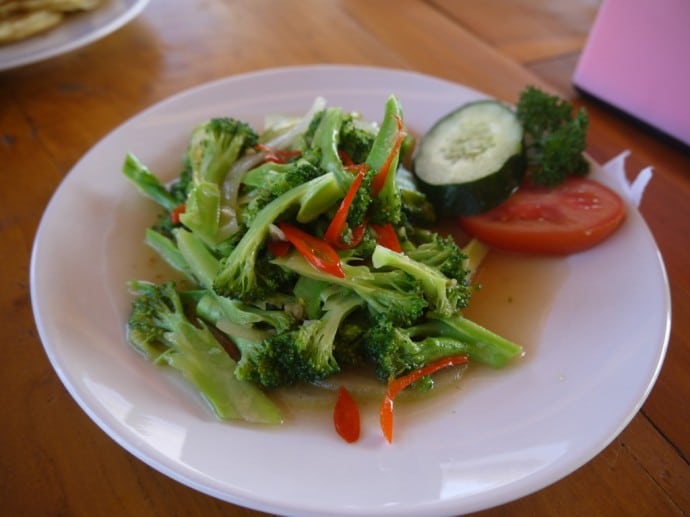 The seating is set around a small pool containing fish. The sound of the water and the Balinese music in the background makes the place very relaxing. Most of the seating is outside, so there is usually a nice breeze to keep you cool.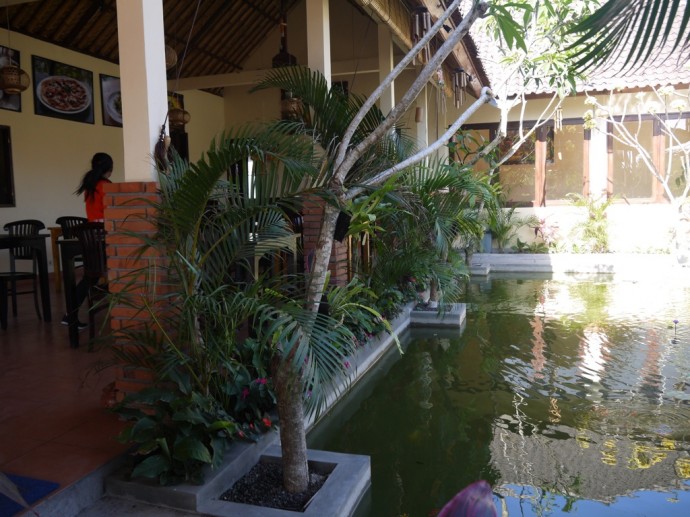 The food here was pretty cheap. The stir-fried broccoli cost 28,000 IDR ($2.45), a smoothie 10,000 IDR ($0.90) and a coffee 8,000 IDR ($0.70).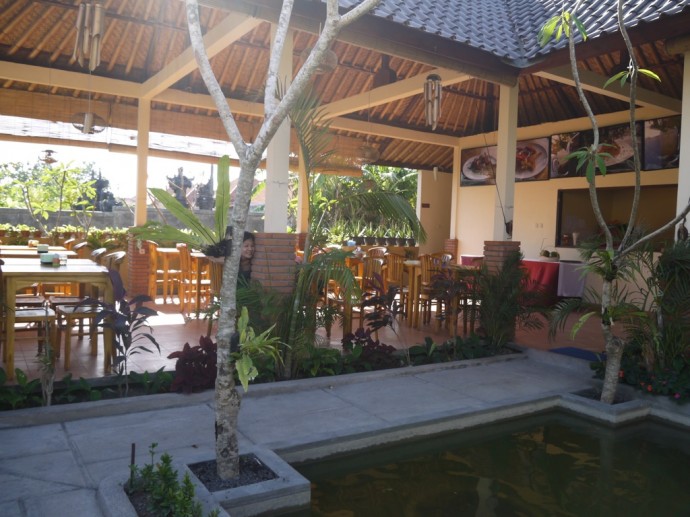 We ate here a few times, and would recommend it if you're in the area.
Address: 9B Jalan Ciung Wanara VI
Opening Hours: 07:00-21:00 every day
Hotels In Renon, Denpasar, Bali
We stayed at the Cityzen Renon Hotel while we were here. Click here to book a room at Cityzen Renon Hotel via Agoda.