Hong Kong Island is a great place to visit if you're a vegetarian as there are numerous vegetarian restaurants there. We spent 8 days in Hong Kong recently and saw many such places, although we didn't eat at all of them. Here are a list of our favorite veggie places on Hong Kong Island and also one that we saw but didn't eat at. Click here for great Hong Kong hotel deals.
Mana! Fast Slow Food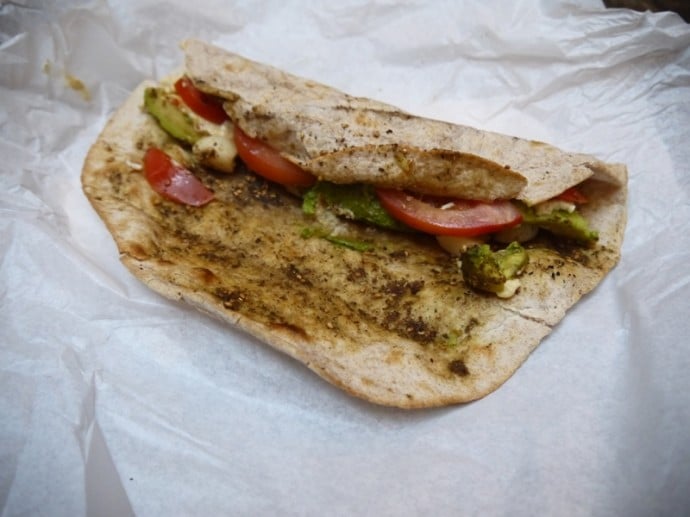 Mana! is an extremely popular vegetarian restaurant and take-away that specializes in organic, oven-baked flatbreads with a choice of 25 fillings. For example, we had the MANA! Me 5, which comes with a choice of 5 fillings. I chose avocado, hummus, grilled tofu, tomato and roasted garlic. Absolutely delicious. Cost was 85 HKD ($11).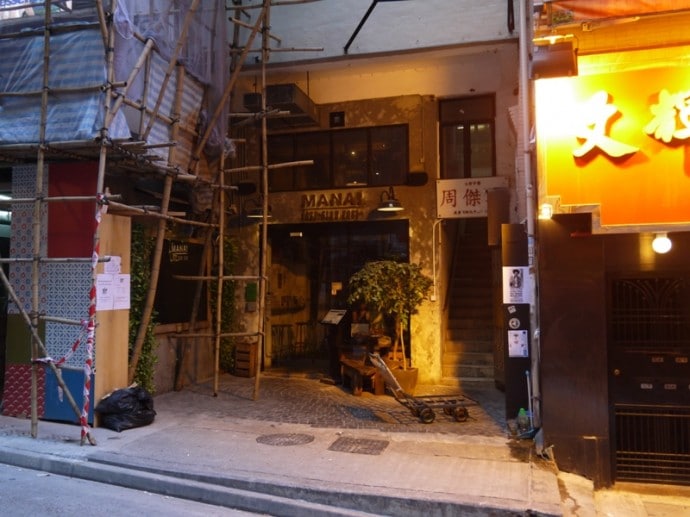 The restaurant is fairly narrow, as you can see from the image above, so can get very crowed at lunchtimes. So maybe it's best to come a little before or after the main lunchtime rush.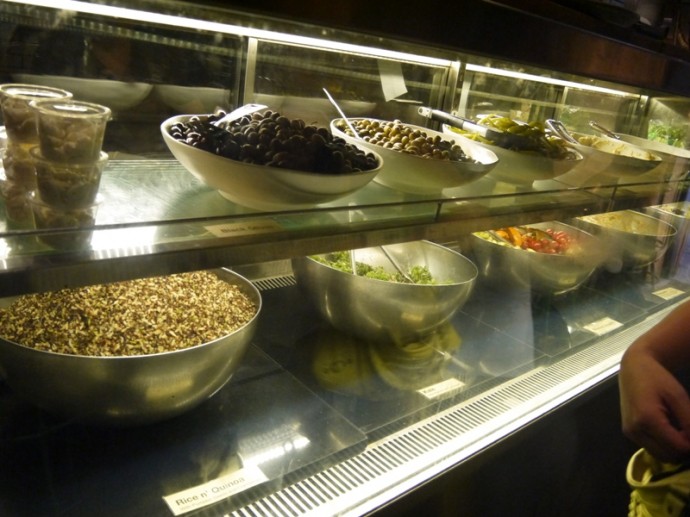 As well as flatbreads, this restaurant also sells salads, soups, juices, shakes, tea, coffee, desserts, beer and wine. Most of the food is vegan, and they also have raw and gluten-free food. You can even have gluten-free flatbread.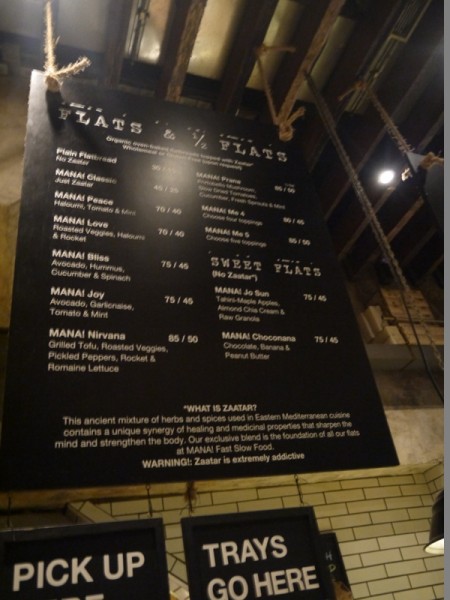 When you enter the restaurant you need to go straight to the till,  place your order and pay. You'll then be given a small plastic square box (I'm sure it has a proper name) that will beep and flash when your order is ready. You then go to the pick-up point to collect your food. You do this whether you eating there or taking away.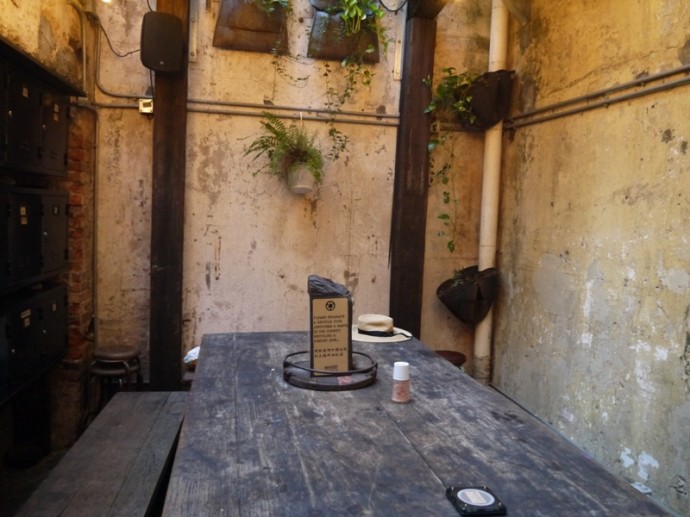 There is limited seating both inside and out, although we managed to have the outside seating to ourselves on a Sunday afternoon. Most people seem to buy to take away.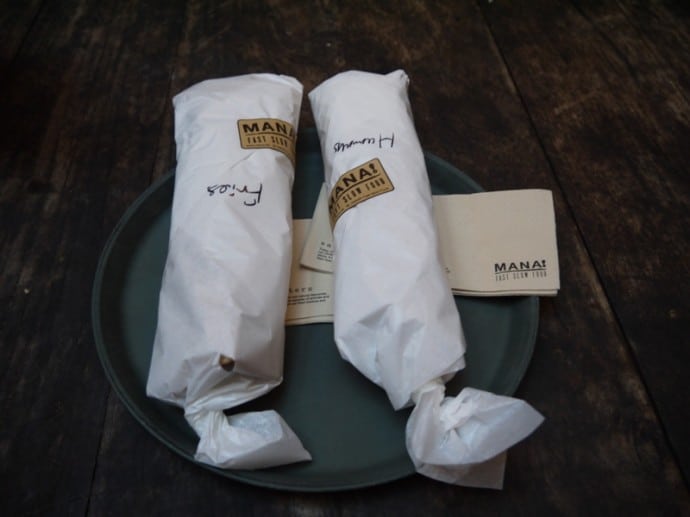 After you've eaten your food, you need to dispose of your trash in the recycling bins. This is a very eco-friendly place.
Mana! Fast Slow Food Details
Address: 92 Wellington Street, Central, Hong Kong Island
Nearest MTR: Central
Telephone: 2851-1611
Opening Hours: Sun-Sat 10:00-22:00
Website: mana.hk
Harvester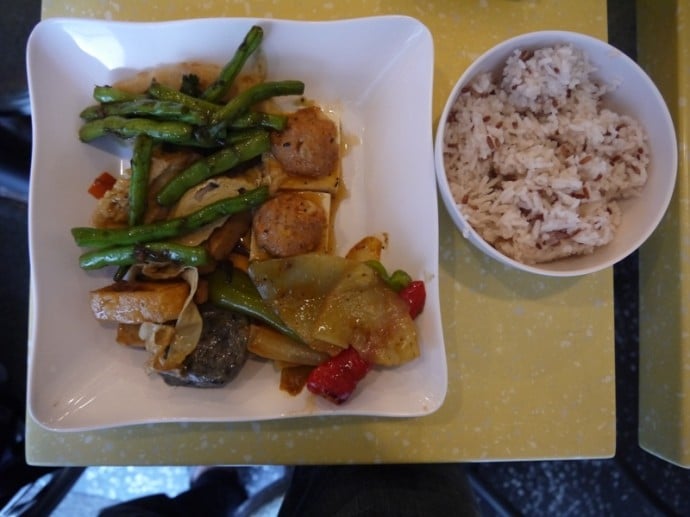 This is mainly a buffet restaurant, although they serve set meals between 15:00 and 18:00. We ate here a few times, as it was quite close to our apartment. This restaurant is hugely popular and it's almost impossible to get a seat at lunchtime. I'd suggest arriving by noon or after 1:30 on weekdays. You shouldn't have any problems getting a seat on weekends.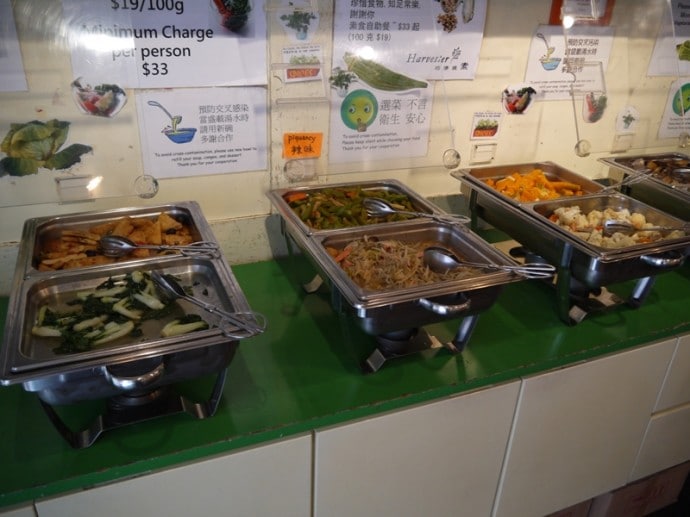 During the buffet there is a choice of 10 hot Chinese-style dishes. You take what you want and then get your plate weighed. The food costs 19 HKD/100 grams ($2.50/100 grams), and there is a minimum charge of 33 HKD ($4.25) per person. The meal in the image at the top cost around 80 HKD ($10.35). Rice, congee (rice porridge) and tea are free and you can help yourself to as much of those as you want.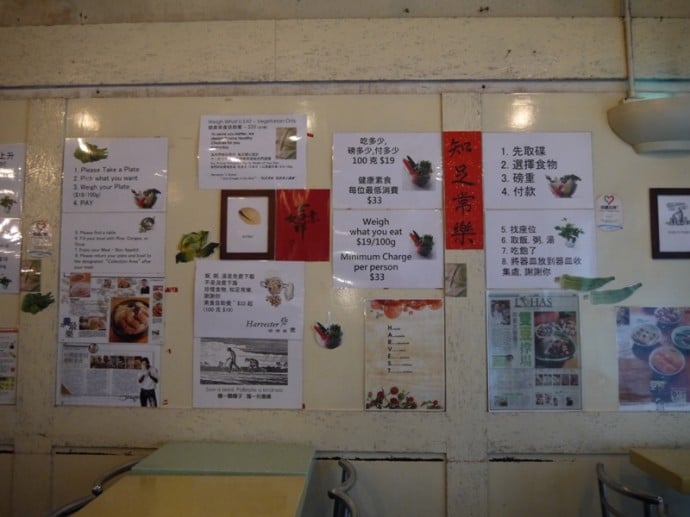 The walls are covered with press clippings, fixed meal prices and other information. It's a very colorful space.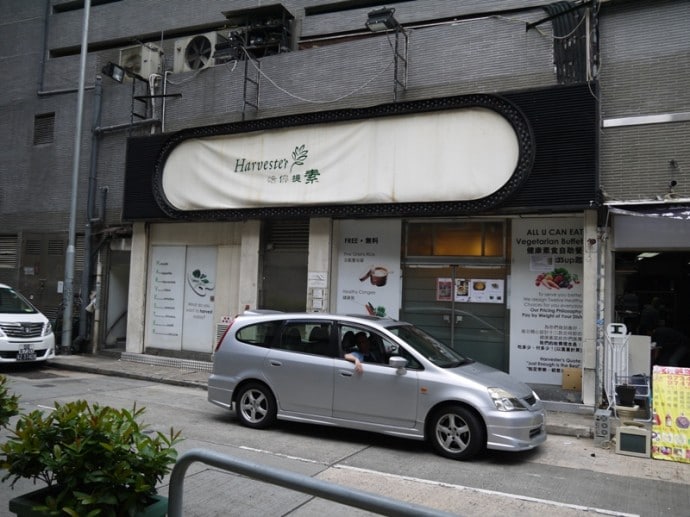 Don't be put off by the unexciting exterior of the restaurant. Inside is a very clean and inviting space. The food here is very good and reasonably priced.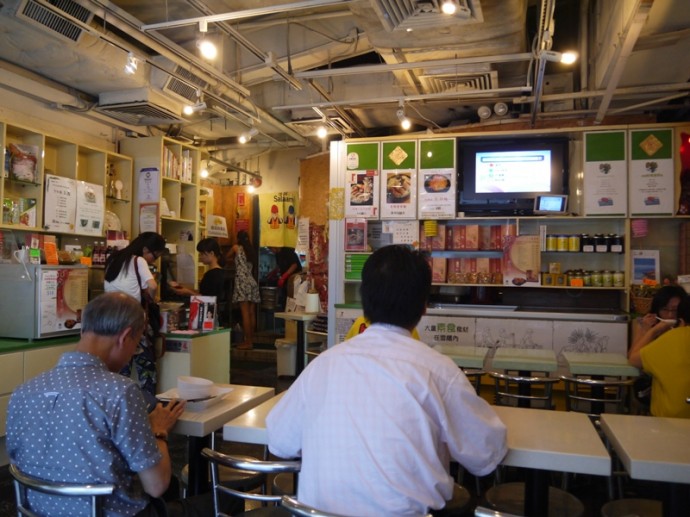 As well as the seating shown in the image above, there is lots more seating around the corner.
Harvester Details
Address: Shop A & B, Ground Floor, Yardley Commercial Building, New Market Street, Sheung Wan, Hong Kong Island
Nearest MTR: Sheung Wan
Telephone: 2542-4788
Opening Hours: Sun-Sat 12:00-21:00 (buffet is 12:00-15:00 & 18:00-21:00)
Lock Cha Tea House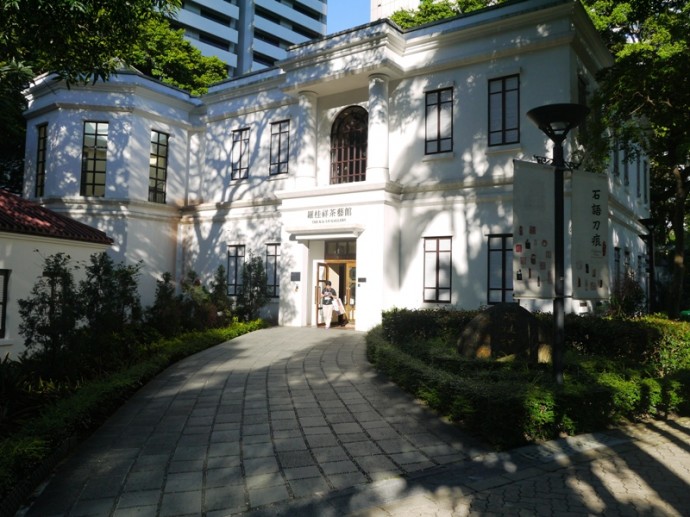 Lock Cha Tea House is on the ground floor of KS Lo Gallery in Hong Kong Park. It serves a range of Chinese tea and also vegan Chinese dim sum. It gets rave reviews and we planned to eat there. But there was a Chinese music show about to start when we arrived so they weren't serving dim sum. We'll try again next time we're in Hong Kong.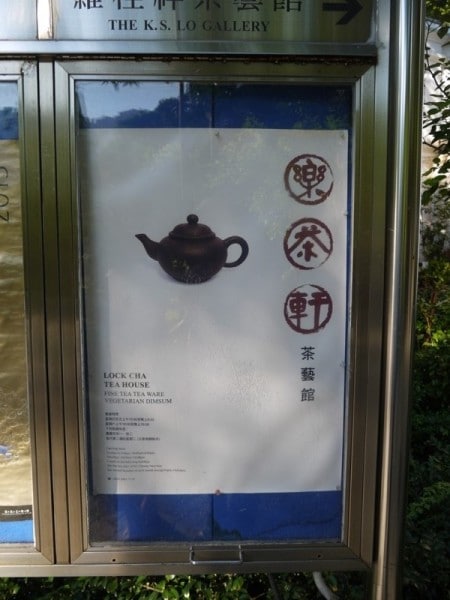 Every Saturday from 18:30-20:30 they have a Cantonese Music Tea Concert.
Every Sunday from 17:00-19:00 they have a Chinese Music Tea Concert.
During these times you pay a fixed price of 130 HKD ($17) per person for tea and music.
Lock Cha Tea House Details
Address: Ground Floor, KS lo Gallery, Hong Kong Park, Hong Kong Island
Nearest MTR: Admiralty
Telephone: 2801-7177
Opening Hours: Mon-Fri 10:00-20:00; Sat-Sun 10:00-21:00 (closed every 2nd Tuesday of the month)
Website: lockcha.com
Life Cafe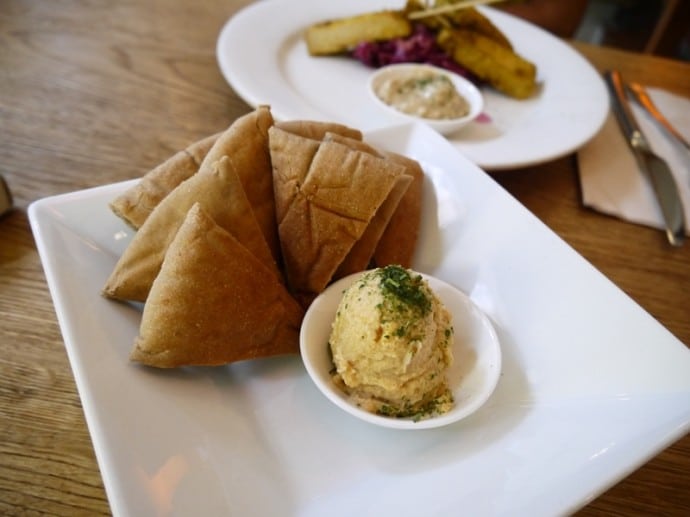 Life Cafe is a mainly organic cafe that also has a small shop area. It gets very busy on weekday lunchtimes, so arrive just before or after lunch to be sure of a seat. The main seating is upstairs and there's also a communal table on the ground floor, which is where we ate. All food is cooked from scratch using mainly local and organic whole foods. Dishes include dhals, soups, sandwiches, salads, baked dishes, desserts and cakes.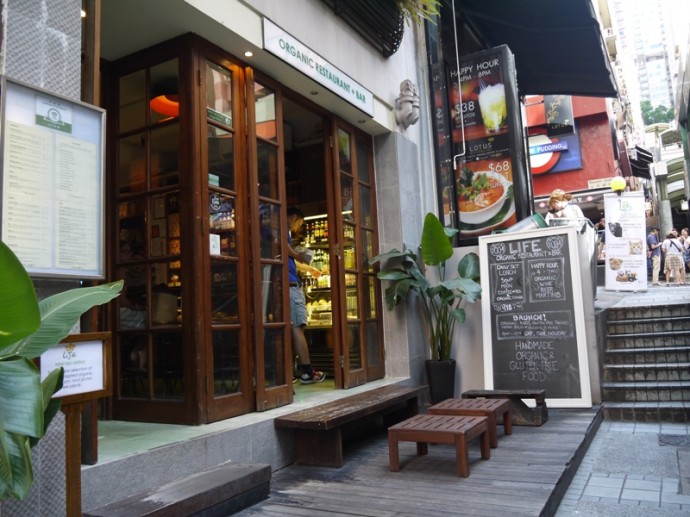 They also serve juices, smoothies, beers, wines, tea and coffee. The cafe is right next to the Central Mid-Levels Escalators near the junction with Caine Road.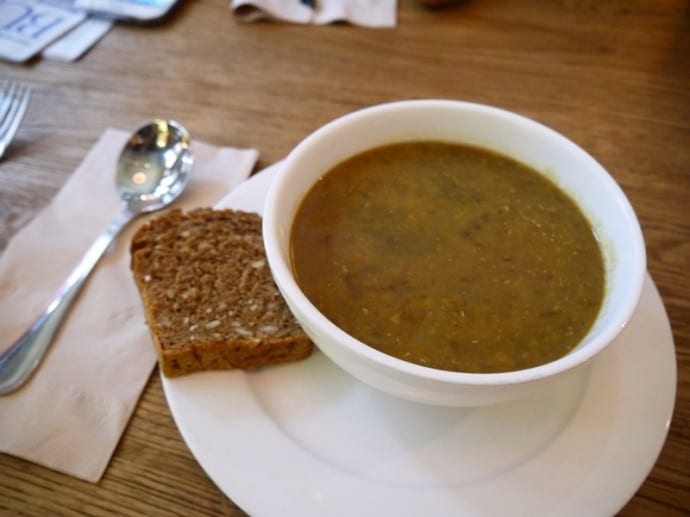 The restaurant is vegan-friendly, and the vegan dishes are clearly marked on the menu. We had the Organic Hummus with Warm Pita Bread, Marinated Tofu Skewers with Thai Cashew Sauce and Organic Dhal with Sunflower Seed Bread. All were delicious. Total cost was 215 HKD ($28).
As well as the Shelley Street cafe that we ate at, they have another two locations – a takeaway in Wanchai and a cafe in Discovery Bay. See their website (link below) for details.
Life Cafe Details
Address: 10 Shelley Street, Soho, Hong Kong Island (next to Central Mid-Levels Elevator)
Nearest MTR: Central
Telephone: 2810-9777
Opening Hours: Mon-Fri 12:00-22:00
Website: lifecafe.com.hk
Where To Stay In Hong Kong
We stayed in two places while we were in Hong Hong. The first five nights were spent in an apartment that we booked via Airbnb, and the final three nights at the excellent Bishop Lei International Hotel, which we booked via Agoda.
Click here for more great Hong Kong hotel deals.