The popular Insadong district of Seoul is a great place for vegetarian food, and is home to four vegetarian restaurants. We ate at two of them during our week long stay and they were both awesome. Insadong is a great place to stay if you want great shopping and great veggie food.
Oh Se Gae Hyang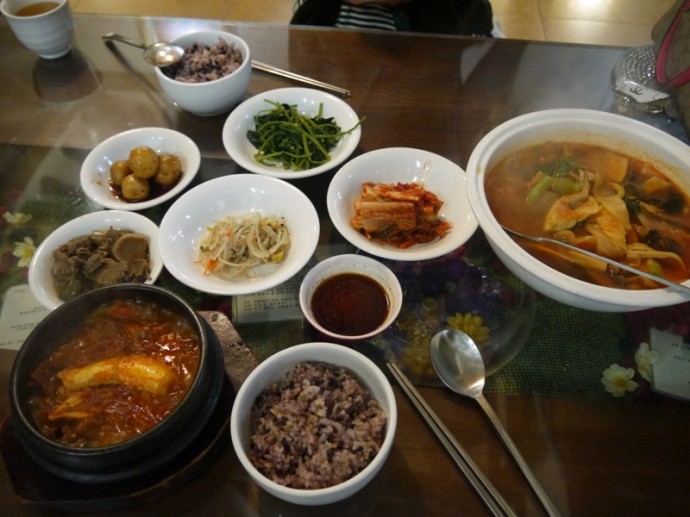 Oh Se Gae Hyang is a vegetarian and vegan restaurant in Seoul's ultra-popular Insadong district. This restaurant is always full, so you may have to wait for a table.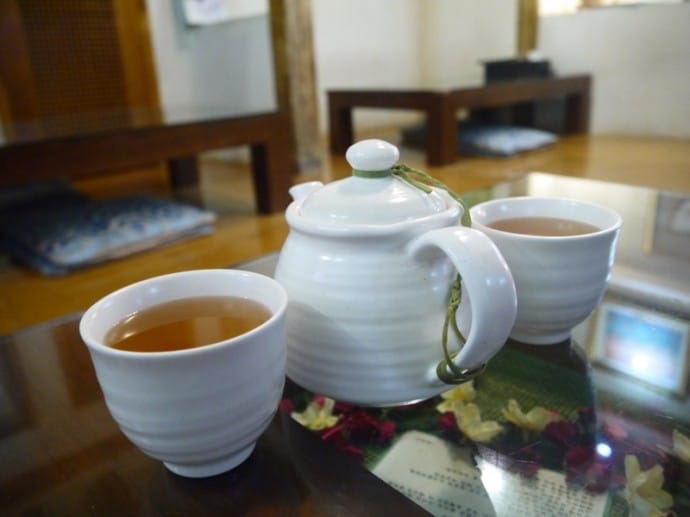 When you first arrive you're served a free pot of tea and free refills are available. The tables are traditional Korean style, so you have to sit cross-legged on a cushion on the floor. This is a very relaxing way to sit and eat.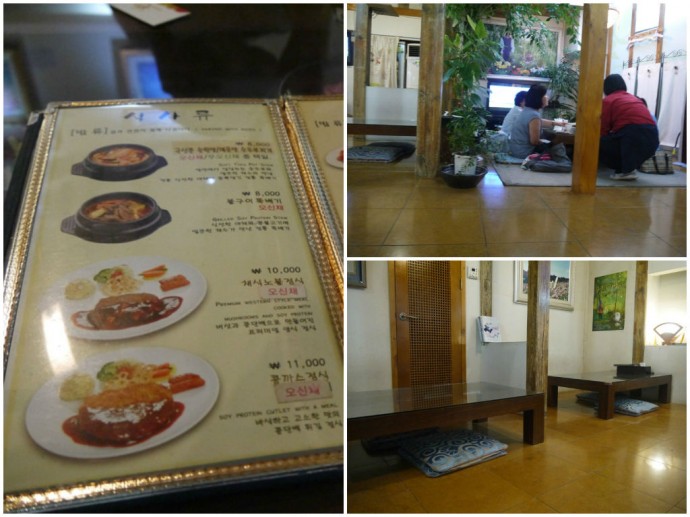 This place mainly attracts Korean people and they usually come in groups and share whatever food they order. It's a very lively restaurant. The menu is in both Korean and English and there are photos of all the dishes, so it's easy to choose what you want.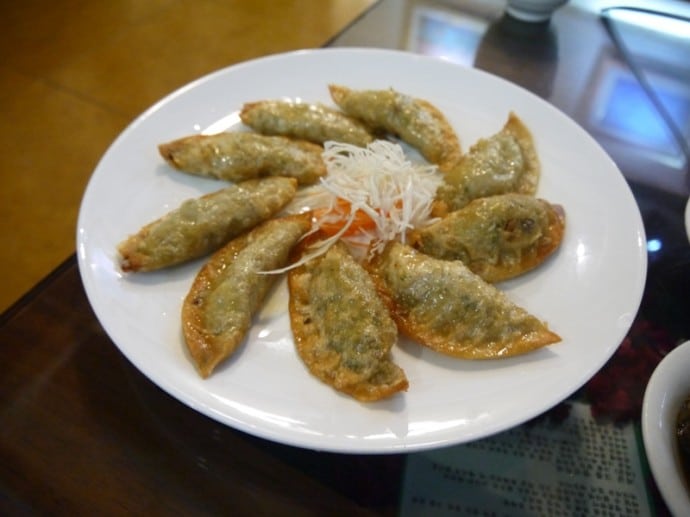 The food here is absolutely delicious and very reasonable priced for such a beautiful restaurant. We had Grilled Soy Protein Stew, Chinese Style Hot Noodle Soup and Fried Dumplings. Total cost was around 25,000 KRW ($25). Even though we ordered a small noodle soup, the dish was still huge and enough for two or more people.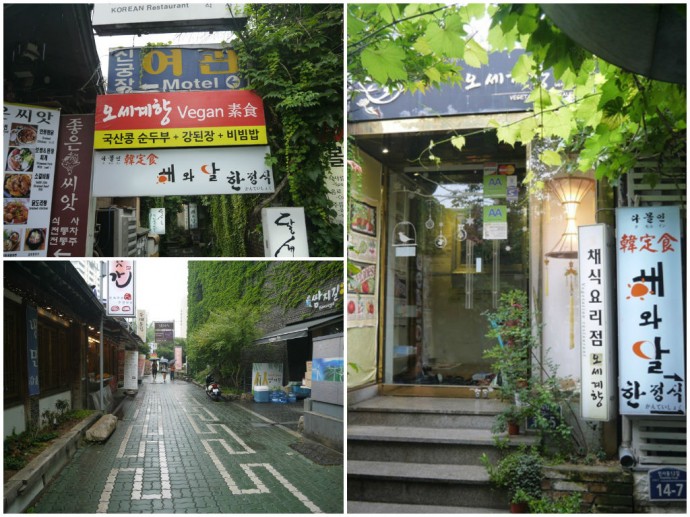 We read that some people had difficulty finding this place, but it's actually quite easy to find. Just turn into Insadong 12-gil from Insadong Road and walk right to the end. You'll see a large red vegan sign. Just walk under that and the restaurant will be right in front of you. The image above shows the directions.
You should definitely eat here, even if you're not vegetarian.
Oh Se Gae Hyang Details
Address: 14-5 Insadong 12-gil (Turn off Insadong Road into Insadong 12-gil, walk to the end, and you'll see the restaurant.)
Opening Hours: Sun-Sat early-late (closed 15:30-16:30 weekdays)
Telephone: 02-735-7171
Website: go5.co.kr
Han Gwa Chae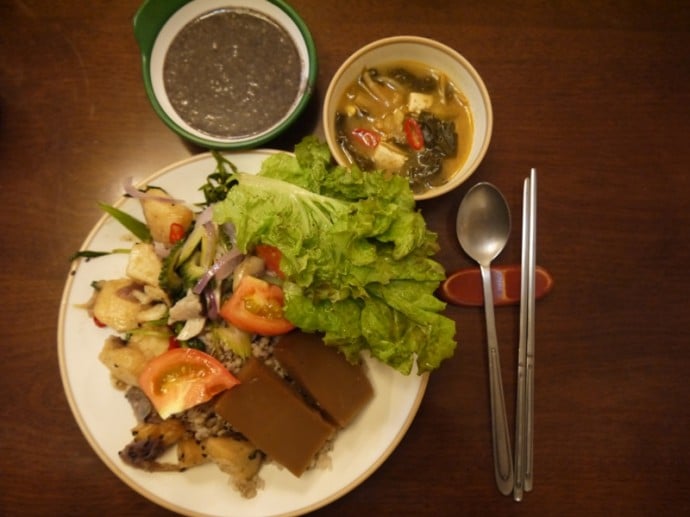 This is an old favorite of mine, as I ate here many times a few years ago. It's a vegetarian buffet, that has food that is simply awesome. You take a plate and choose what you want from the buffet and the owner also brings you two other dishes – usually soup and porridge.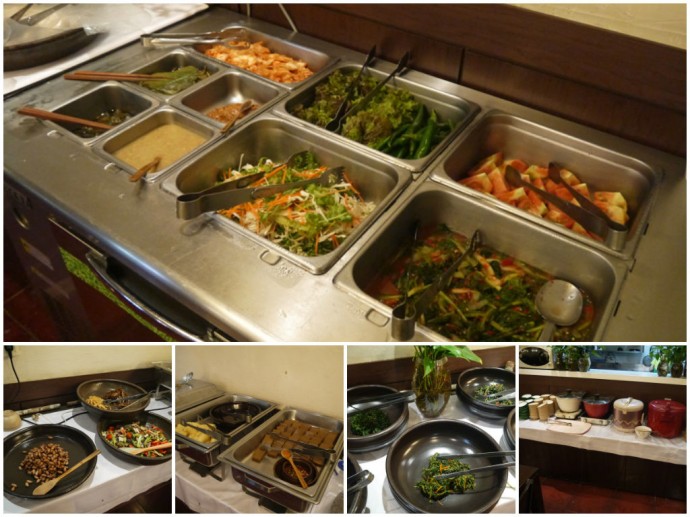 The buffet is also 100% vegan. There is plenty of seating, and even though it gets busy we've always had a seat right away.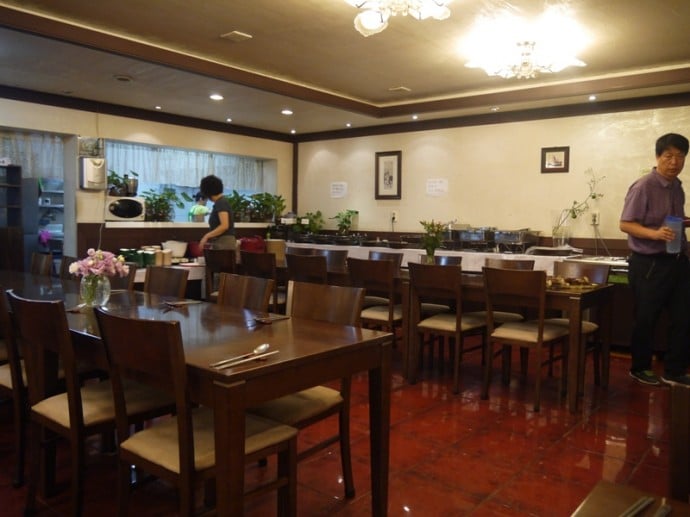 I would highly recommend that you try this place next time you're in Seoul.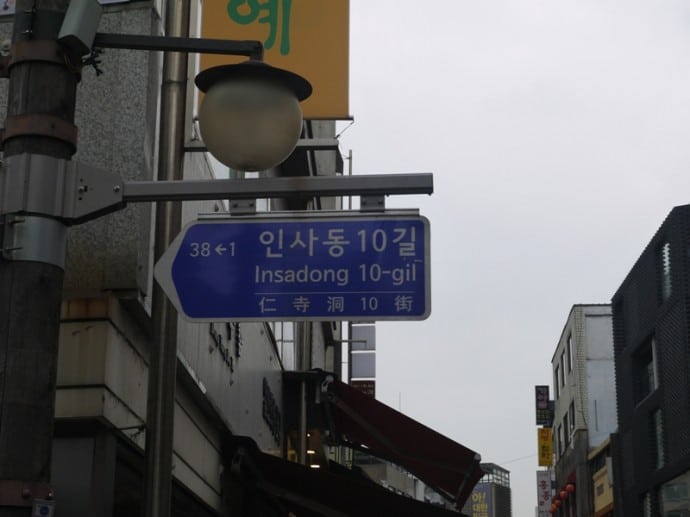 Han Gwa Chae, is off Insadong Road and is easy to find if you follow these instructions. First look for the sign that say Insadong gil-10 and turn into this street. Then walk ahead for around 50-100 meters and you'll see the restaurant on your left. It has a sign outside saying Vegetarian Food, but the restaurant is in the basement.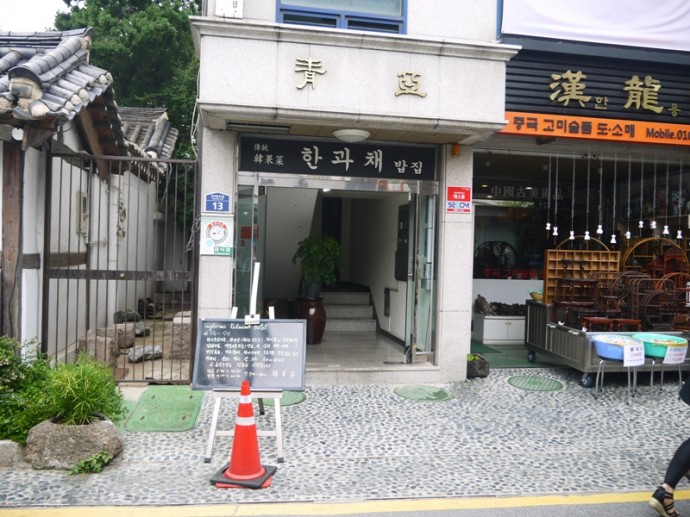 Walk into the building in the image above and then walk down the stairs to the basement. The vegetarian buffet here is 13,000 KRW ($13). It's a bargain compared to other restaurants in this area. There is huge choice of hot and cold dishes to choose from and usually two types of grain. Today for example they had brown rice and barley. The food here is excellent quality. We ate here most days while in Seoul.
Han Gwa Chae Details
Address: Insadong 10-gil (Turn off Insadong Road into Insadong 10-gil. The restaurant is around 50 meters along he street on the left hand side. See the image above – the restaurant is in the basement.)
Opening Hours: Mon-Sat 11:30-15:00 and 17:00-20:30; Sun Closed
Baru
This is one of the places we didn't eat at but will give it a try next time. The food here is described as Korean Temple Cuisine, and they have two restaurants. One is a simple buffet on the second floor and the other is a more upmarket restaurant on the 5th floor. You may need to make a reservation for the 5th floor restaurant.
Baru Details
Address: 110-170 5th Floor, Jongno-gu Temple Stay, 71 Gyeonjidong (Turn off Insadong Road into Insadong 11-gil, walk to the end, and you'll see the restaurant.)
Opening Hours: Sun-Sat 07:30-10:00 (breakfast); 11:30-21:00 (lunch and dinner)
Telephone: 02-2031-2081
Website: baru.or.kr
Hotels In Insadong, Seoul
For our 7-day stay in Seoul we stayed at two places. First we spent three days in a traditional Korean ondol room at All J Hanok Guesthouse, and then spend the next four days at an apartment that we booked via Airbnb.
For other hotels is Seoul, check out Agoda Hotels Seoul.