We were only in Zagreb for two whole days so didn't get a chance to check out many vegetarian restaurants. The ones we did check out were really good and we'll definitely be eating there again next time we're in Zagreb.
Nishta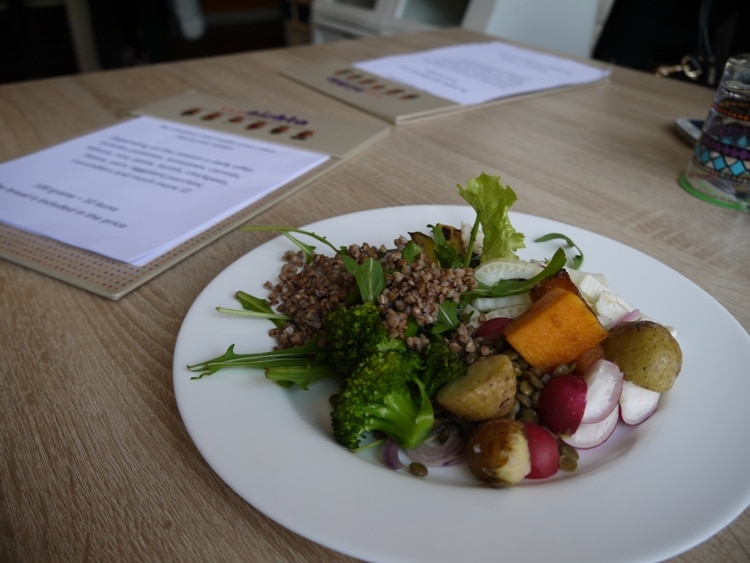 Nishta is a great place to eat if you want delicious and healthy vegetarian food. They have an extensive menu and also a large salad bar, where the food is sold by weight.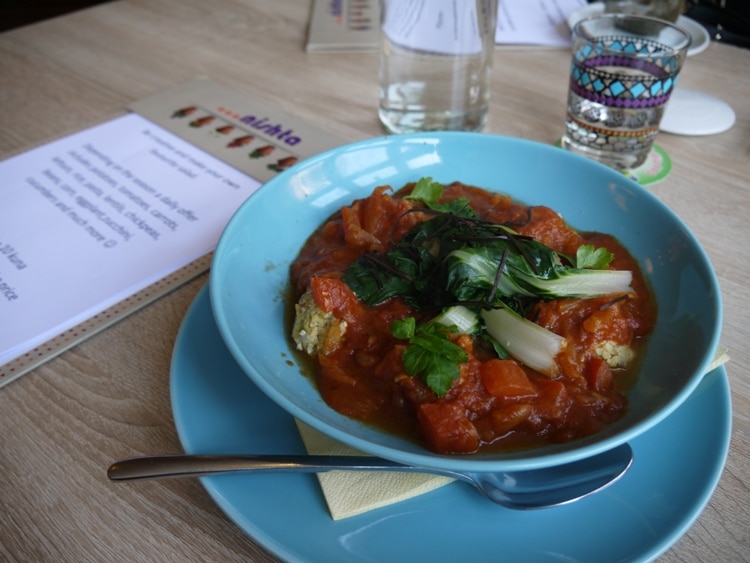 For the main meal I had Brudetto, which was a stew made of seaweed, tomato sauce and vegetables, which was poured over dumplings made from tempeh, millet, sunflower seeds and parsley. This was served with Swiss chard.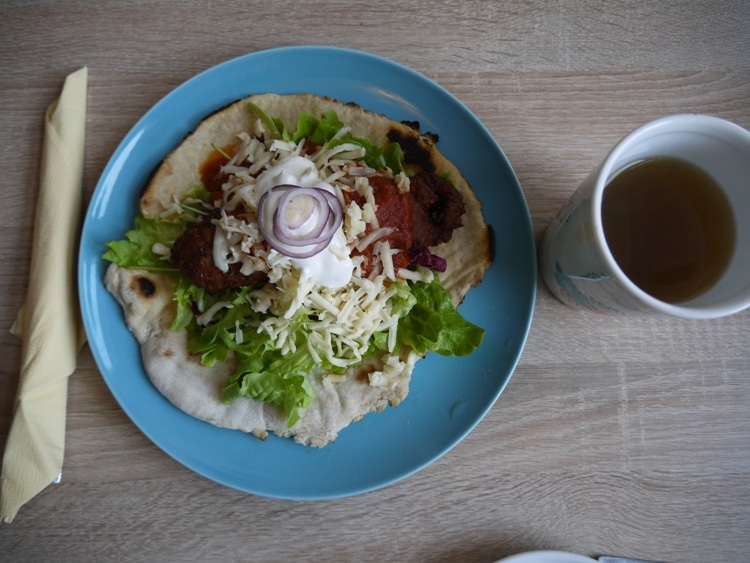 Miu chose the Vegetarian Sausage which was served with salad and cheese on a pita bread base. Both main meals were very good.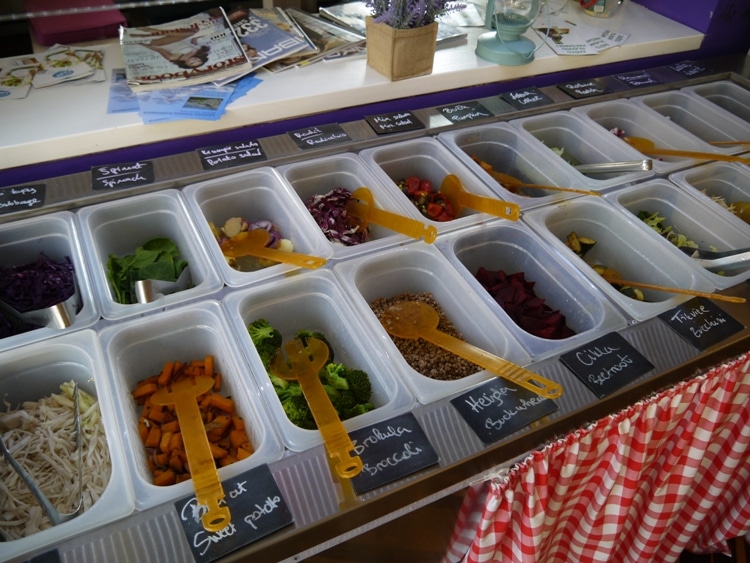 The salad bar had about 20 choices. Just take a plate, add the salads you want, then weigh it on the scales. It prints off a receipt for you.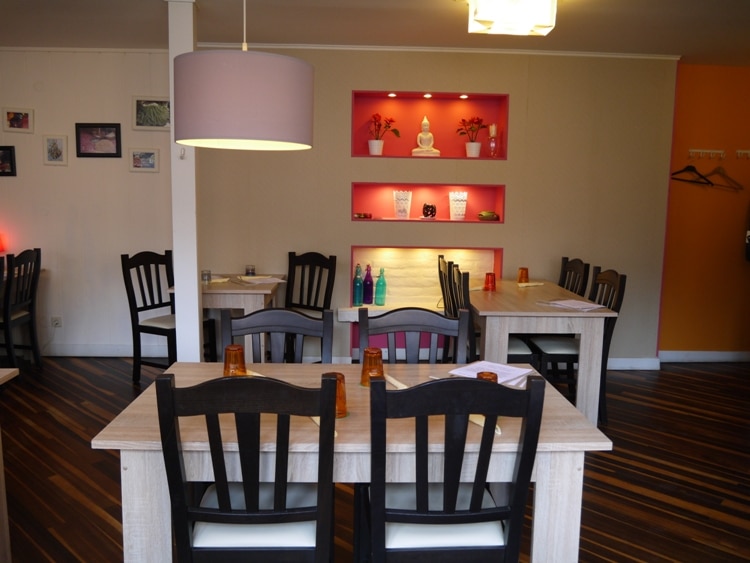 The restaurant, which is on the first floor, has been beautifully renovated and has plenty of seating.
Most of the menus are in Croatian, but English menus are also available, so just ask if you don't have one at your table. The staff speak good English, so you can ask them about any dishes if you're unsure what to order.
This restaurant is in the city center and easy to find. Just walk down Masarykova until you come to number 11, walk through the archway, and you'll see the entrance on your right. The restaurant is on the first floor.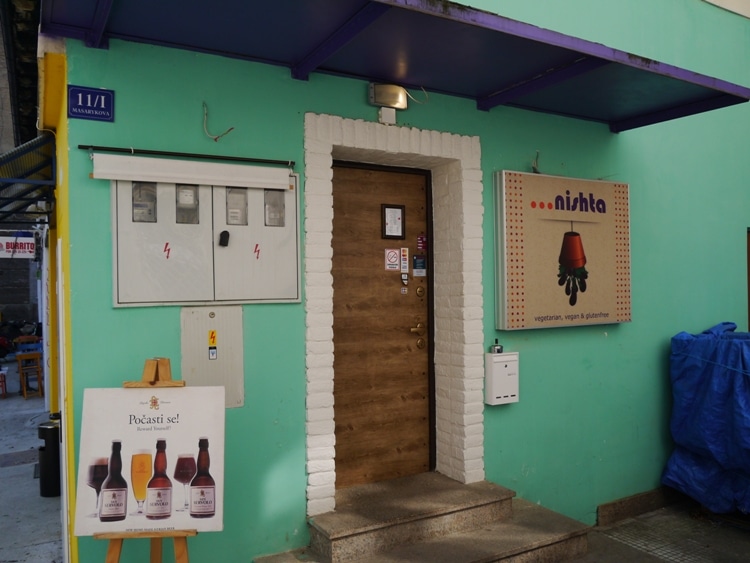 You should definitely eat here if you're in Zagreb. For two main meals, a salad, tea and coffee, we paid around 140 kuna ($20).
Nishta Details
Address: Masarykova 11/1, Zagreb
Opening Hours: Mon-Sat 12:00-23:00; Sun Closed
Website: nishtarestaurant.com
Sumski Kuhar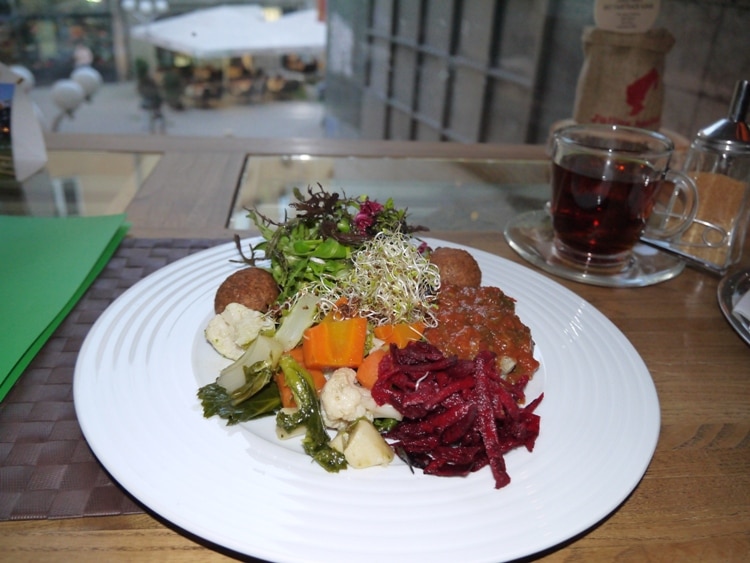 Sumski Kuhar is Croatian for Forest Chef. This restaurant has a separate raw food menu, and I can definitely recommend the raw dessert. But for the main meal I had the Forest Platter, which consisted of hemp pasta with wild red sauce, steamed vegetables with spices and cabbage, smoked tofu with hemp, buckwheat croquettes and wild plants, and leaf salad with beetroot and dandelions. Cost was 55 kuna ($8).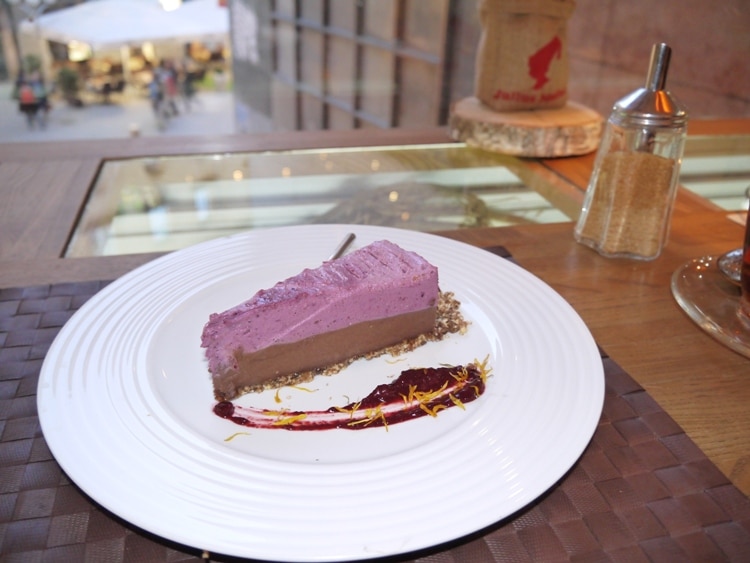 For dessert I had the Raw Chocolate & Berries Cake. This was so delicious that I got another portion to go. This raw dessert cost 29 kuna ($4).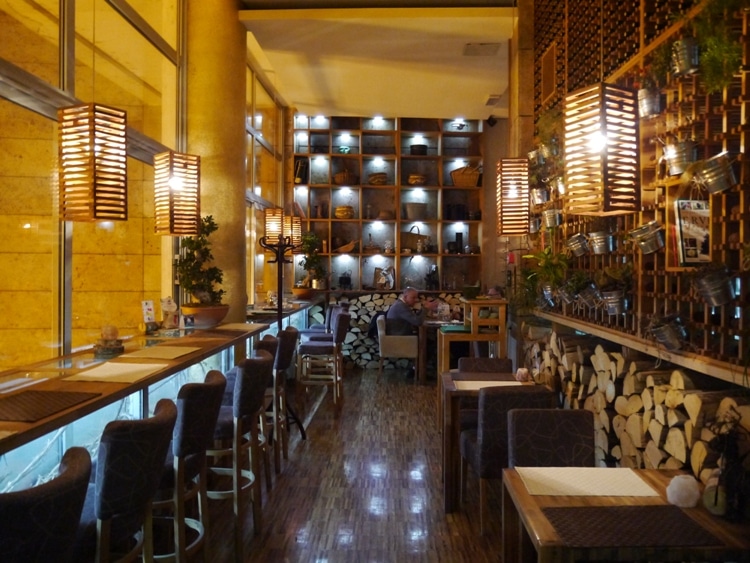 As you can see from the image above, this is a truly beautiful restaurant and well worth a visit, for both the food and the ambiance.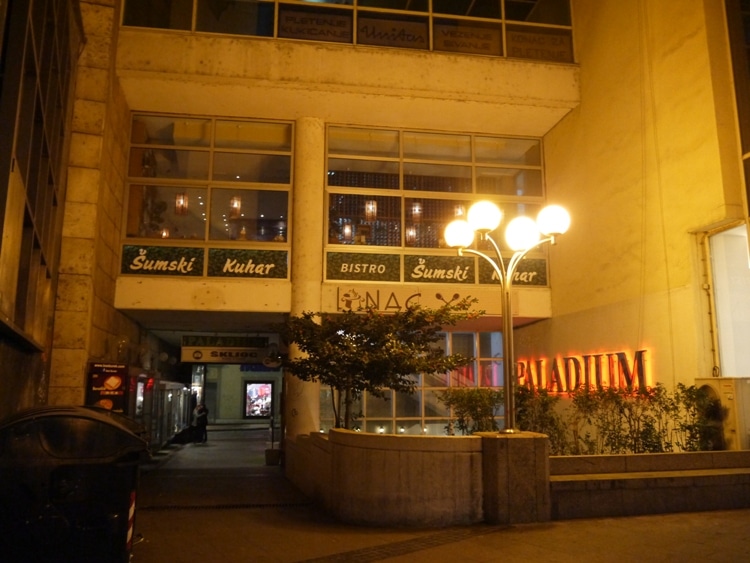 Sumski Kuhar is just off the main square, Ban Jelacic Square. Just walk along Tkalciceva and you'll see the restaurant on your left – see image above. But to get into the restaurant you'll need to walk passed it and then go up the set of steps and into the back of the building. Just look for the green leaf signs on the floor that point the way.
Sumski Kuhar Details
Address: Tkalciceva 7, Zagreb
Opening Hours: Mon-Sat 12:00-23:00; Sun Closed
Website: sumskikuhar.com
Hotels In Zagreb
While in Zagreb we stayed for one night at Zagreb Center Apartments and for two nights at Main Square Apartments. Both were a 5-10 minute walk to the train station and both were in the city center. For other great hotels in Zagreb, check out Agoda Zagreb Hotels.