As you may already know, we love tracking down quirky and weird attractions when we travel. London didn't let us down, as we found 11 weird things that most tourists just don't know about.
In no particular order, here are the 11 weird attractions that we found in London.
And hey, while we're at it, why not visit all of these attractions while in your own VW campervan from Goboony? 🙂
1. Not Number 10 Downing Street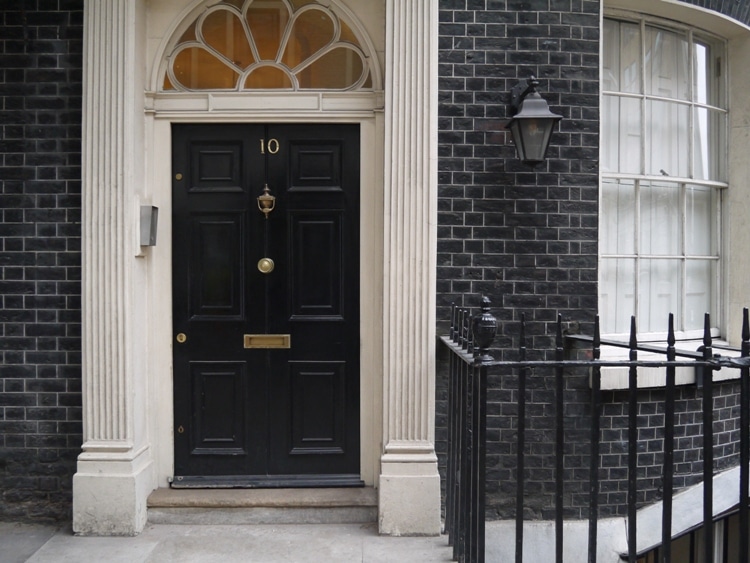 Many people would like to be photographed outside the Prime Minister's house at No. 10 Downing Street, but the street is closed to tourists. But not to worry, there is an alternative. No. 10 Adam Street, just off The Strand, is almost identical to the Prime Minister's house, so take your photo there instead.
2. Fake Houses At Leinster Terrace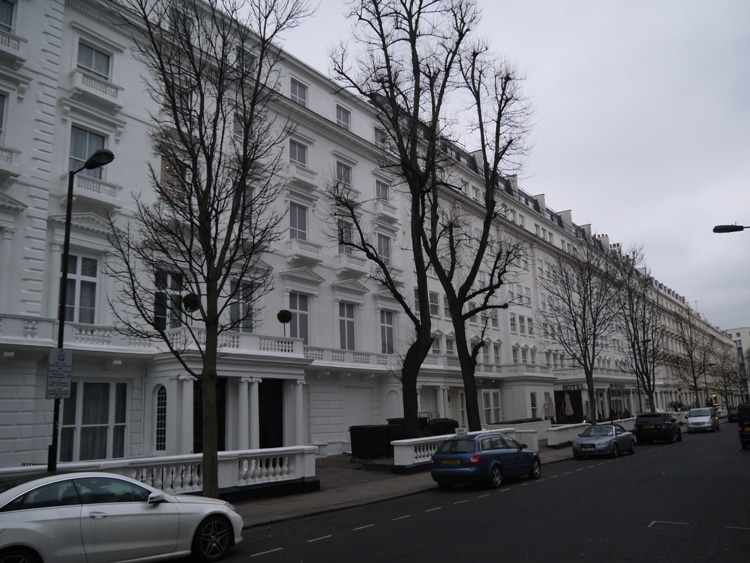 Staying with the theme of fake, we came across a pair of what seemed like houses but were in fact nothing but a facade. When the Metropolitan Railway was built in 1863, two houses on Leinster Gardens had to be knocked down in order to build the tunnel for the Paddington to Bayswater stretch of line. These were numbers 23 and 24. After the tunnel was completed the gap had to be left open to allow the trains to vent (disperse the fumes), so it was decided to build a facade to match the houses on either side. You can tell the houses by their blacked out windows. See Fake Houses In Central London.
3. Covent Garden Water Clock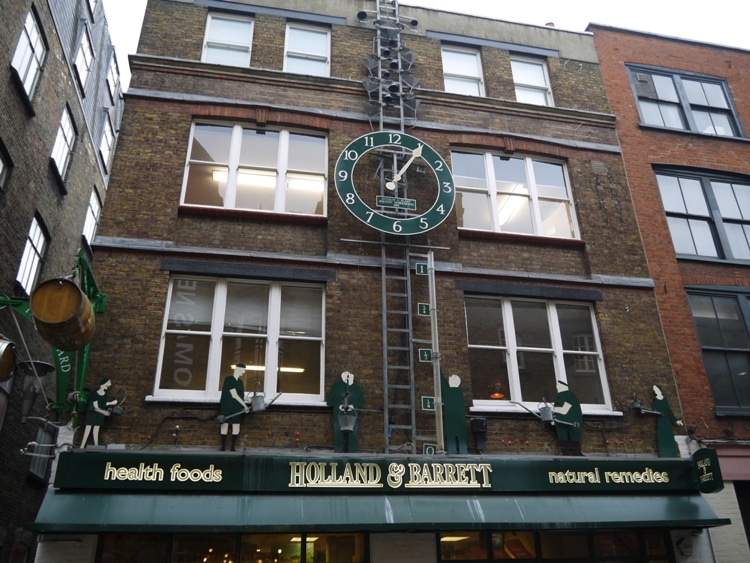 This amazing water clock was designed and built by Tim Hunkin and Andy Plant. It's above the Holland & Barrett health store in Covent Garden. Unfortunately the clock no longer works, but when it was first built it used to cascade water down the wall every hour and fill a trough where plastic plants used to rise up. And as you can see in the video below, it also used to spill some water onto pedestrians below the clock.
4. Lion Sculptures With Paws Of A Domestic Cat & Tongue Of A Dog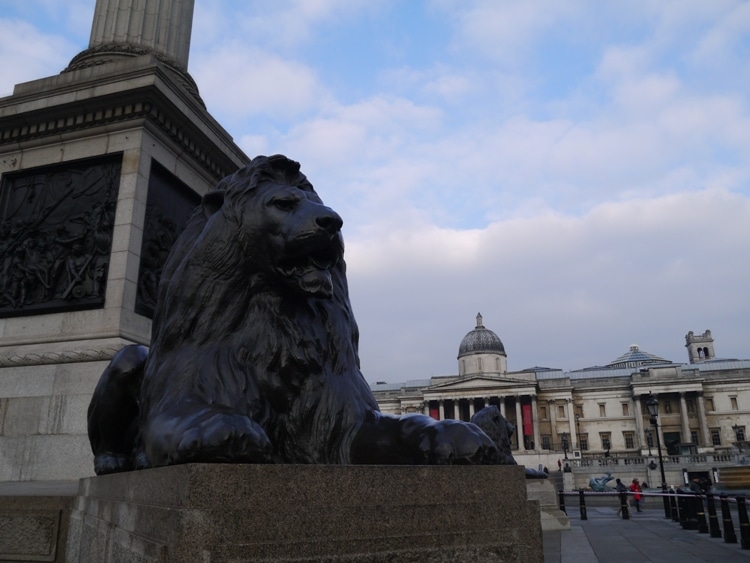 Nearly every visitor to London will pass through Trafalgar Square and see the bronze lions at the foot of Nelson's Column. But what most people don't know is that the lions have the paws of a domestic cat and the tongue of a dog. The sculptor, Sir Edwin Landseer, used a dead lion as a model for the sculptures, but took so long to finish them that the lion had decomposed. He then decided to use a domestic cat to get the details of the paws and a dog for the tongue, perhaps not knowing that they are different to that of lions.
5. London's Thinnest House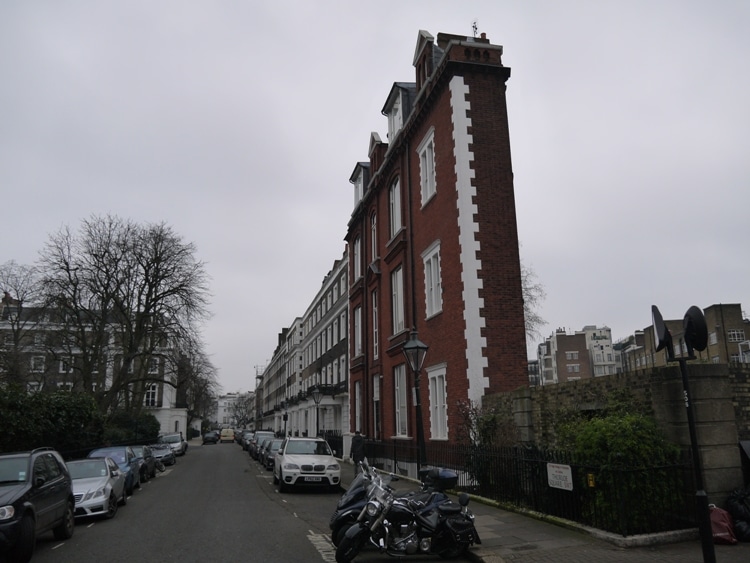 This house is thought to be London's thinnest, measuring just seven feet at its narrowest point. The house is on the corner of South Terrace and Thurloe Square in Knightsbridge, Britain's most expensive district.
6. Samuel Johnson's Cat Statue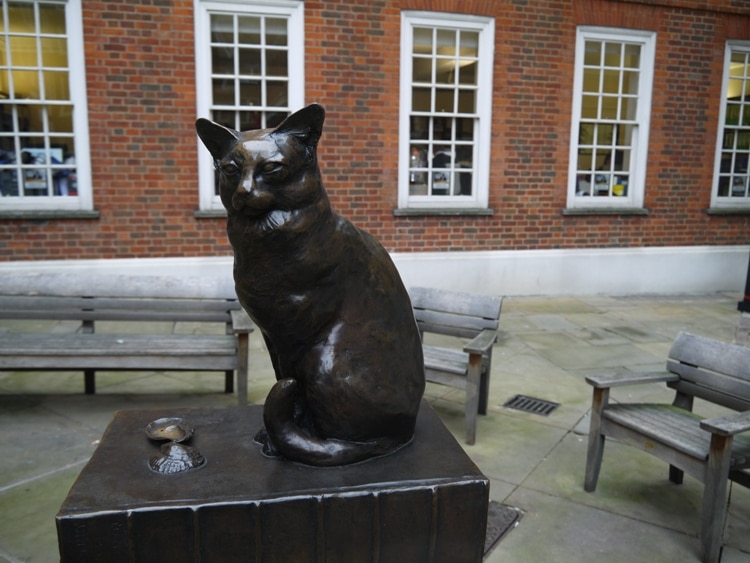 Cats are our favorite animal, so it's perhaps not surprising that we spotted this cat statue. Most London statues seem quite boring to me, so it's great to have a statue of someone's pet cat. The cat in question is Hodge, one of Samuel Johnson's pets. The statue of Hodge is in Gough Square.
7. Ear On A Wall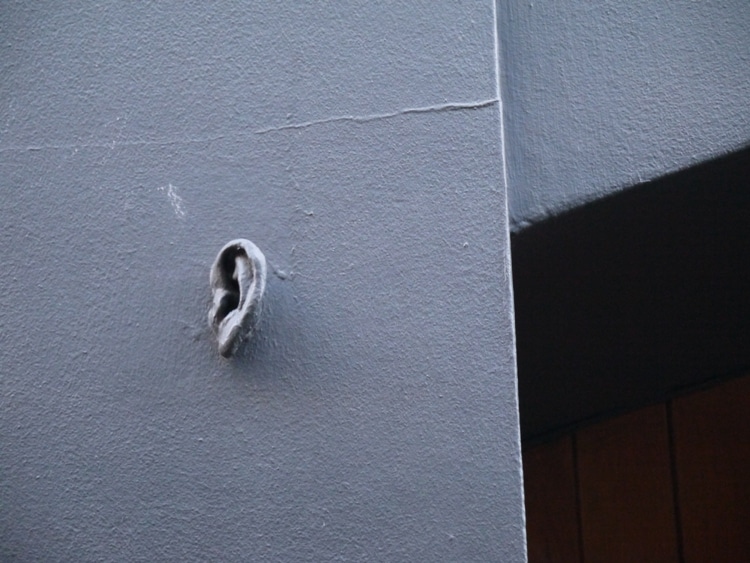 We spotted this ear on Floral Street, near Leicester Square. It turns out that the ear is by London based designer Tim Fishlock. There are other ears around London but we didn't spot them.
8. Nose On A Wall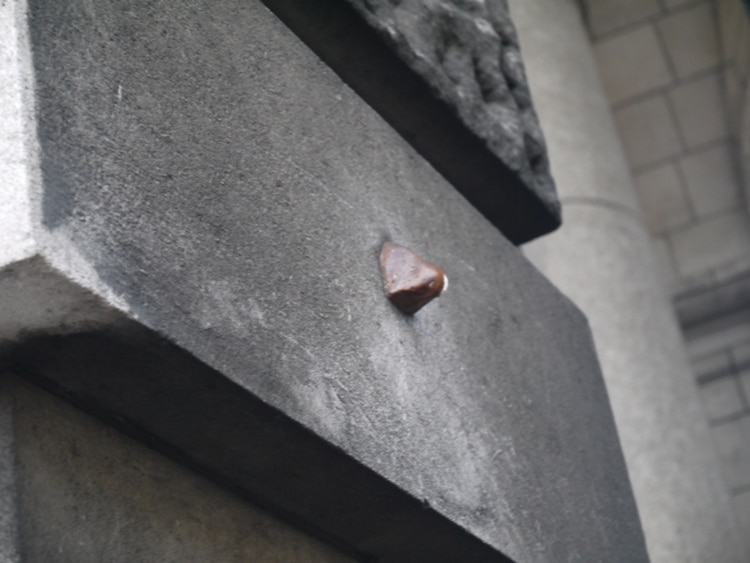 Following on from an ear on wall, we also found a nose on a wall. This is on a wall at Admiralty Arch North, which is near Trafalgar Square. It was placed there by artist Rick Buckley in 1997 as part of a campaign against Big Brother society.
9. World War II Air Raid Shelter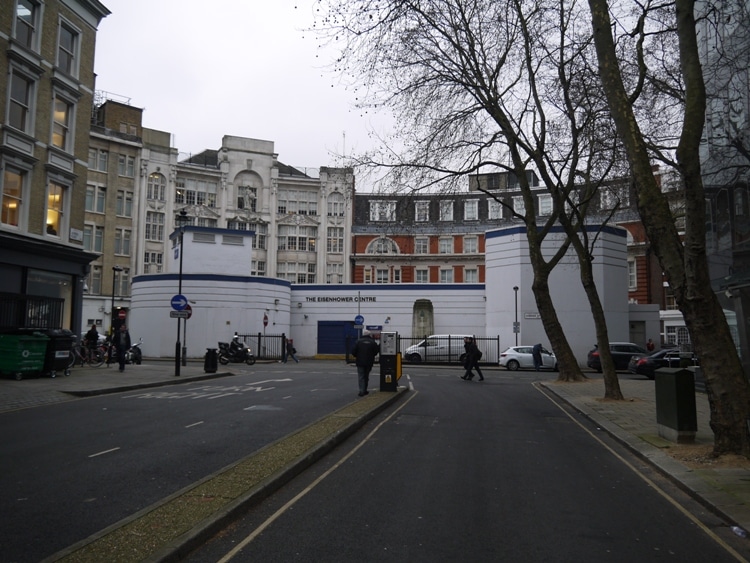 It's 70 years since the end of World War II, so we were surprised to find an air raid shelter in central London. I'd seen this building many times when I lived in London but only recently found out what it was. There are many similar air raid shelters around London. See Deep Level Shelters London.
10. Roof Gardens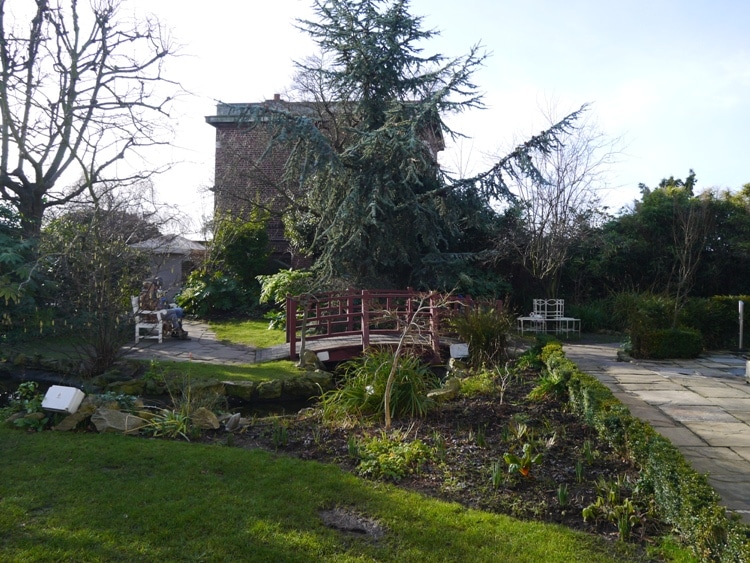 There is a beautiful roof garden on a building in High Street Kensington that most people walk right passed without realizing that it's there. It's open to the public and entry is free. It also has an amazing restaurant next to the garden. See The Roof Gardens.
11. Wrong Way Road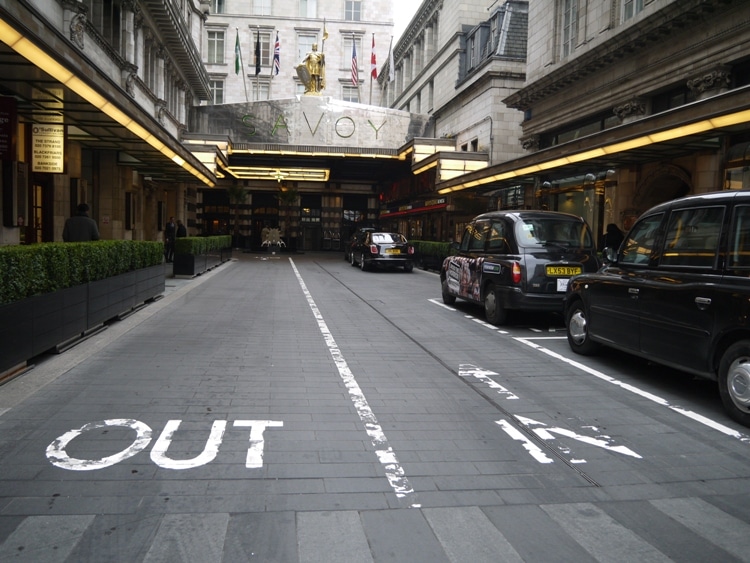 In the UK we drive on the left hand side of the road. But did you know that there's a place in London where people drive on the right side of the road? It's at the Savoy Hotel. Amazing, but true.
12. Bonus – The Tree Stump Chair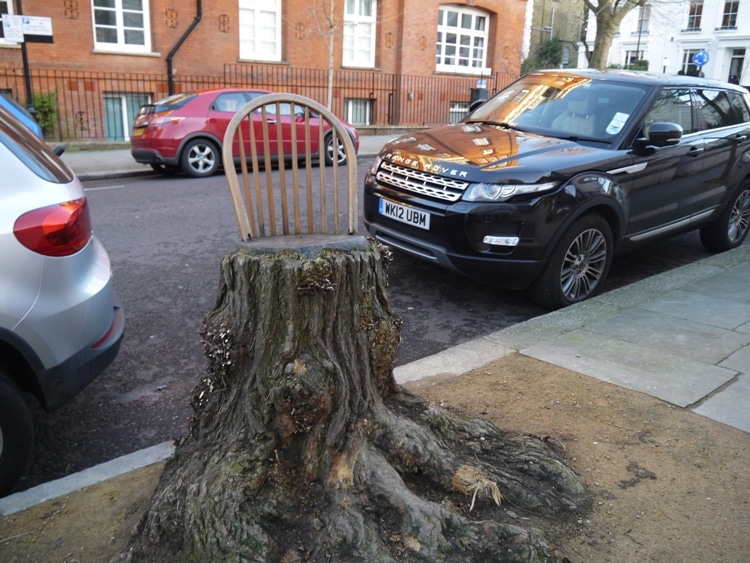 We cam across this tree stump that thinks it's a chair in Notting Hill this afternoon. So you lucky people get 12 weird attractions for the price of 11.
Hotels In London
London is one of the world's greatest cities and has some amazing hotels. We usually book our hotels with Agoda, as they have a fantastic selection and also a price match guarantee. Check out Agoda London to see what's on offer.
For our first three nights in London we stayed at 73 Suites, which is an aparthotel in Bayswater. You can see our review at 73 Suites Aparthotel, London.