Nearly everyone that comes to Thailand visits at least one temple, and mostly likely lots of temples. But there are some truly remarkable temples that are completely off the beaten track that not many people get to see. On such temple is Wat Lan Khuat in Khun Han, Isaan, which is in the north east of Thailand. The temple is known locally as the Beer Bottle Temple or the Million Bottle Temple.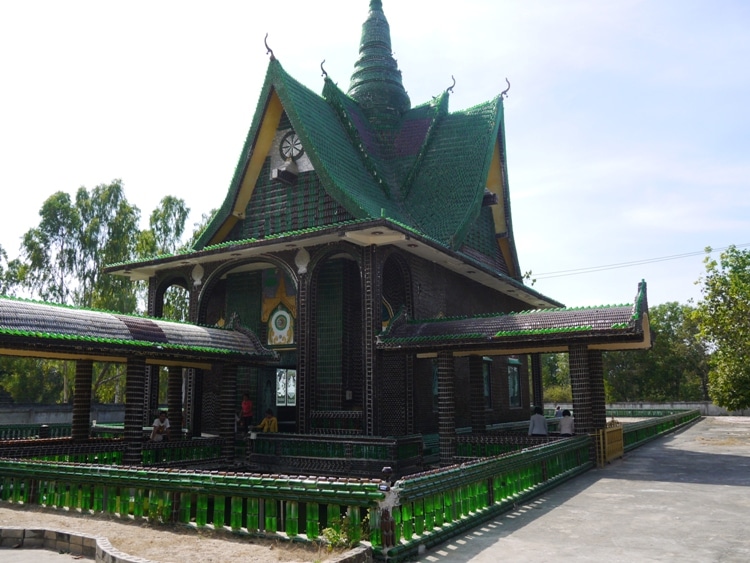 The above image might look like a normal Thai temple at first glance, but look closely and you'll see that it's made from empty bottles.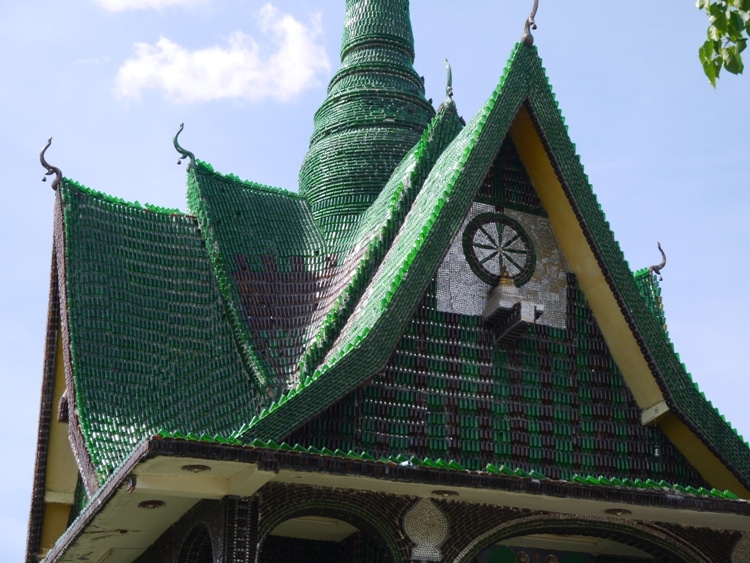 Look closely at the roof and you can see the individual bottles.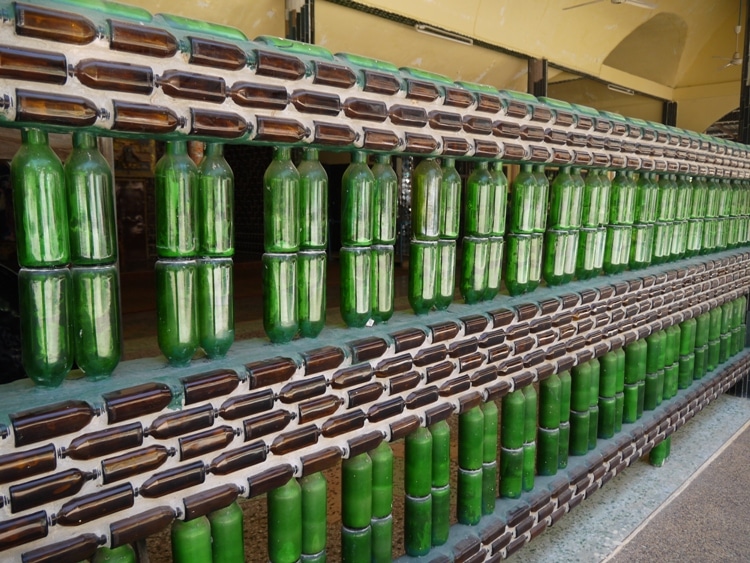 Get up close to the temple and other buildings and you'll be truly amazed.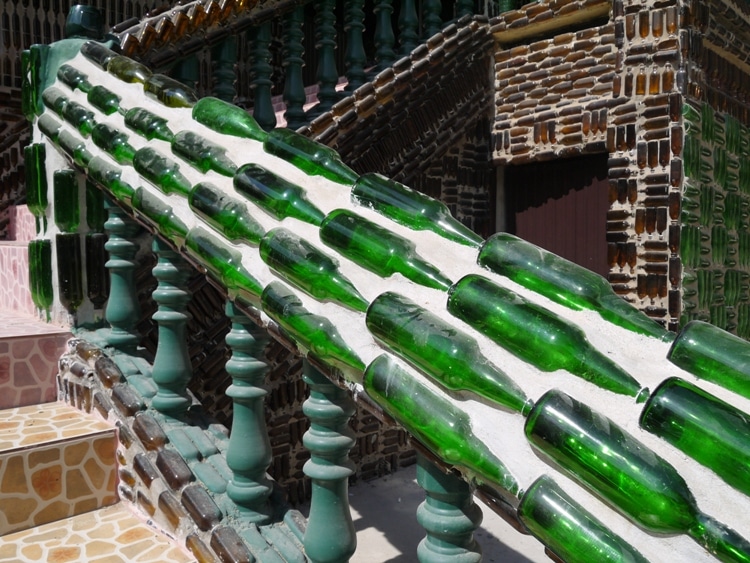 An incredible amount of work has gone into these buildings. All the bottles need to be washed and have their labels taken off before they are used in the building work.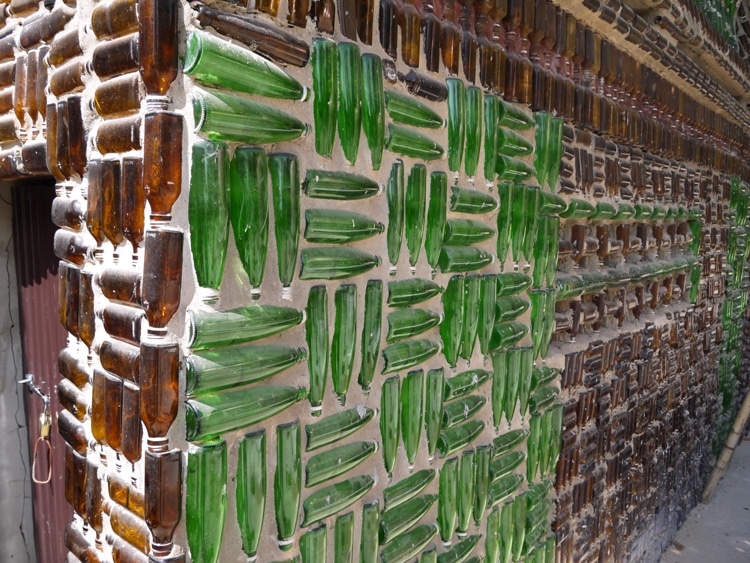 Above you can see green beer bottles and brown energy drink bottles.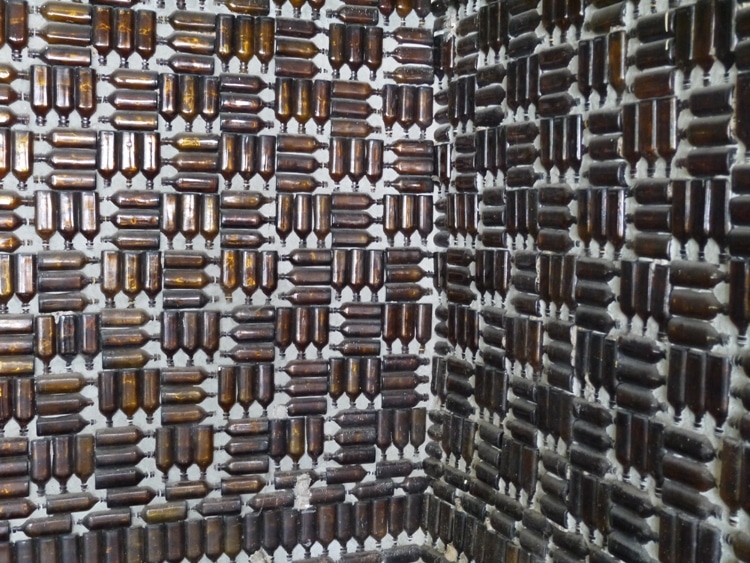 It's amazing to see whole walls made from empty energy drink bottles.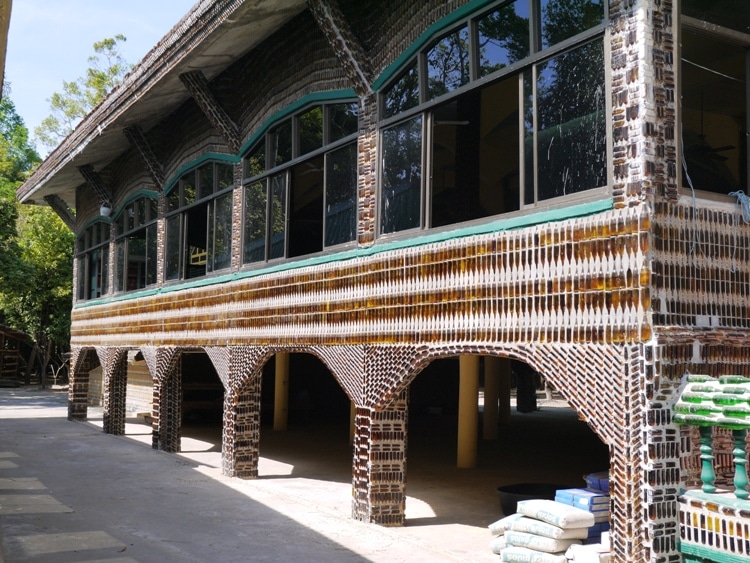 You can clearly see the empty brown and green bottles all over the building above.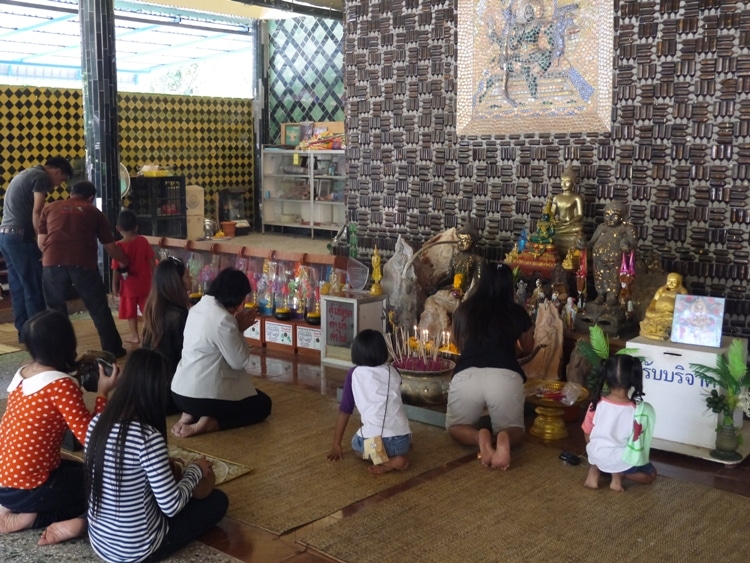 This is a real working temple where Thai people come to pray every day, and not just some kind of tourist attraction. In fact you likely won't see any tourists here at all, because it's well off the usual tourists trail.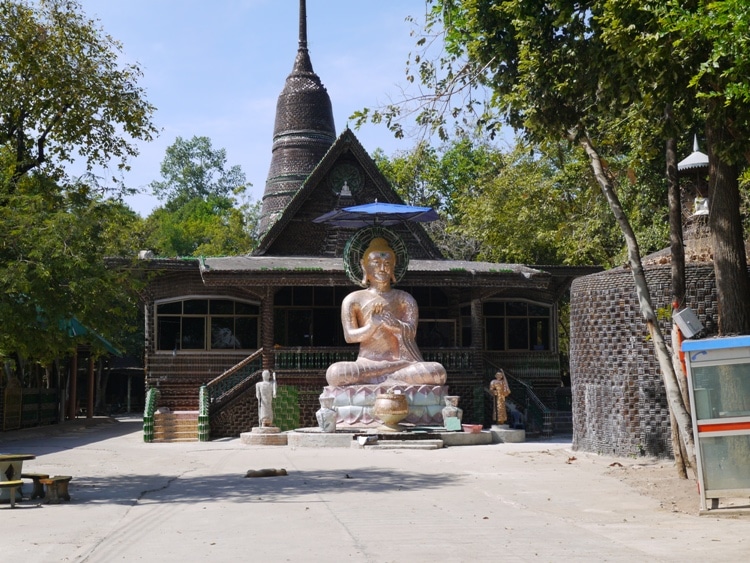 And it's not just one temple. There are three separate temples, plus another 4 or 5 buildings build of bottles. Many of the bottles are Heineken beer bottles, but there are also a lot of Thai Red Bull bottles. I suppose they needed the extra energy to get the job done.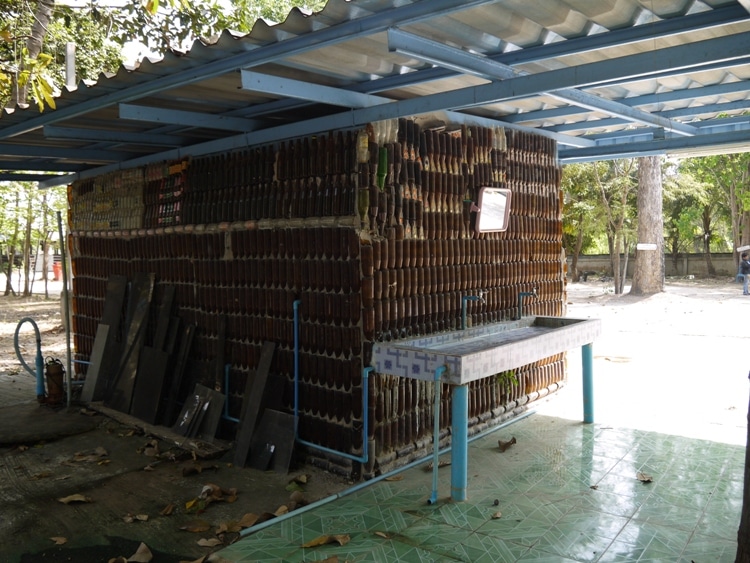 As you can see above, even the toilets are made from beer bottles.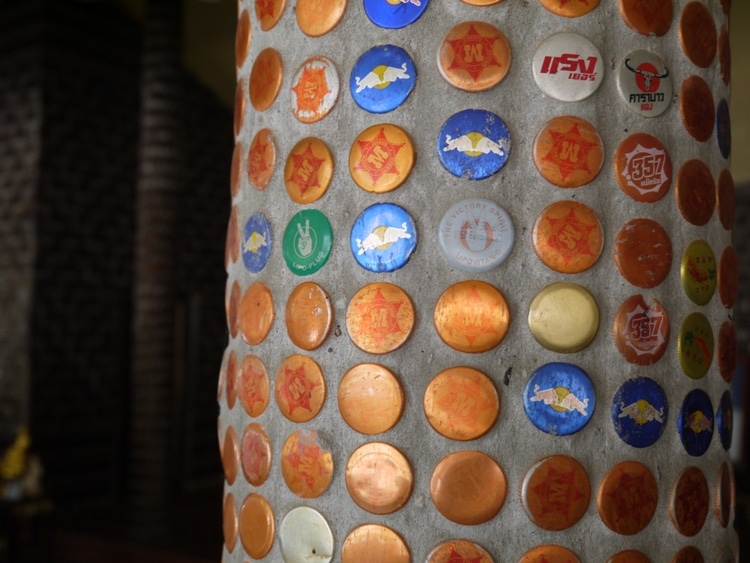 Not even the bottle tops have been wasted, as they have been used for decoration around the temple.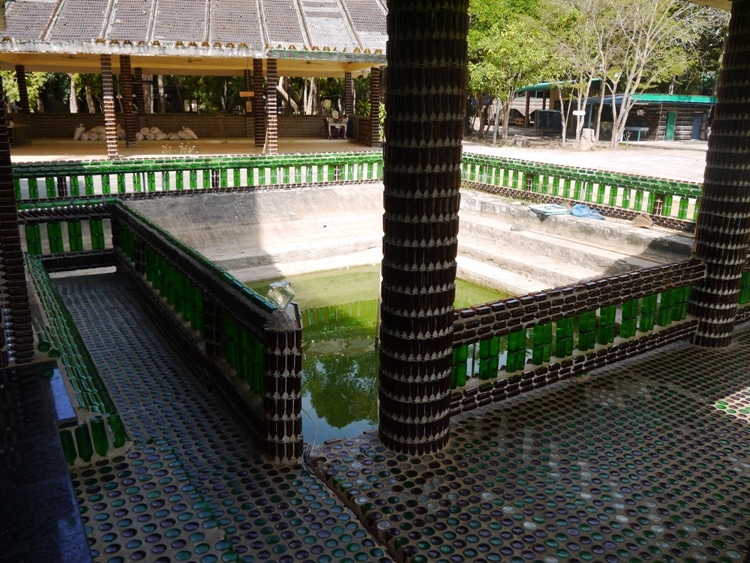 Even the temple floors are mostly made of recycled bottles.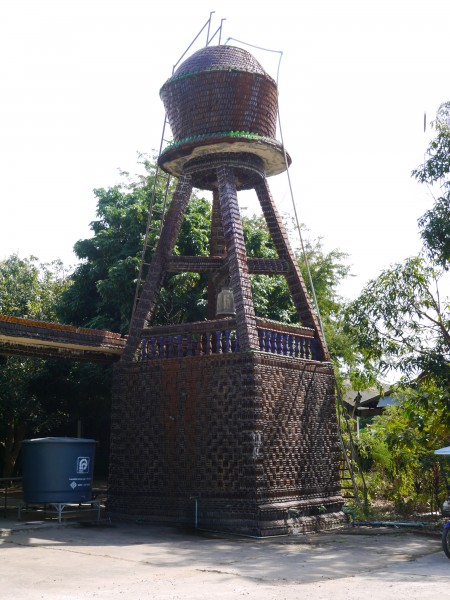 And if that isn't enough, take a look at the water tower above – also made from bottles. In fact there are well over a million bottles that make up these buildings. This is an awesome way to recycle bottles.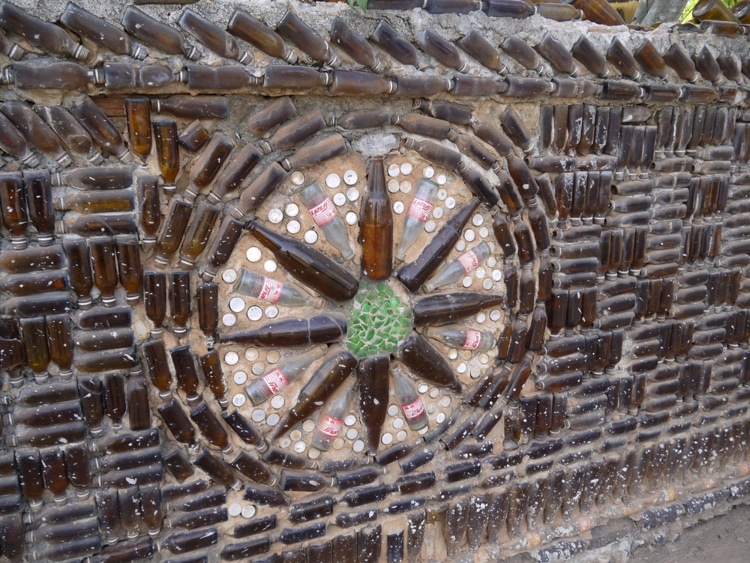 If you're in the area, you have just got to visit this temple. I've never seen anything like this anywhere else in the world. There are more interesting quirky and weird temples to visit in Thailand.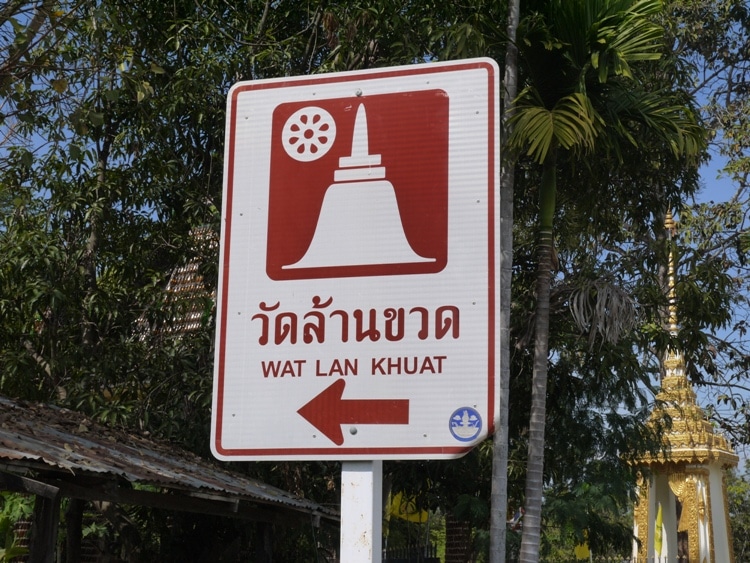 Video Of The Beer Bottle Temple
How To Get To Khun Han from Bangkok
We traveled by car, but it's also possible to get a bus from Bangkok to Khun Han. I know that Thaiticket Major sell bus tickets for 439 baht ($15, £9) first class, and 342 baht ($11, £7) second class. You could also get a bus from Mo Chit 2 Bus Terminal to Sissaket, and get a local bus from there to Khun Han. If you prefer to travel by train, then get a train to Surin, and then a bus from there.
Hotels In Sisaket Province
There aren't many hotels in this area, but you'll find a few at Agoda Sisaket Province. This part of Thailand is well worth visiting, as you'll get to see the real Thailand without the tourists.