Many articles have been written about the cost of living in Bangkok, with many of them claiming you can live a life of luxury for under $500 a month. But is that really true? The fact is that many locals in Bangkok earn under $500 a month, so of course it's possible to live here for that amount. But I don't think that any of them would consider themselves be living a life of luxury. Most locals earning $500 a month live in the suburbs, not in central Bangkok. And they don't live in modern, spacious condos that most Westerners seem to prefer. If you're planning to visit Bangkok, be sure to check out the great range of hotels at Agoda. You can also check out our in depth Bangkok travel guide that can help you in your travel.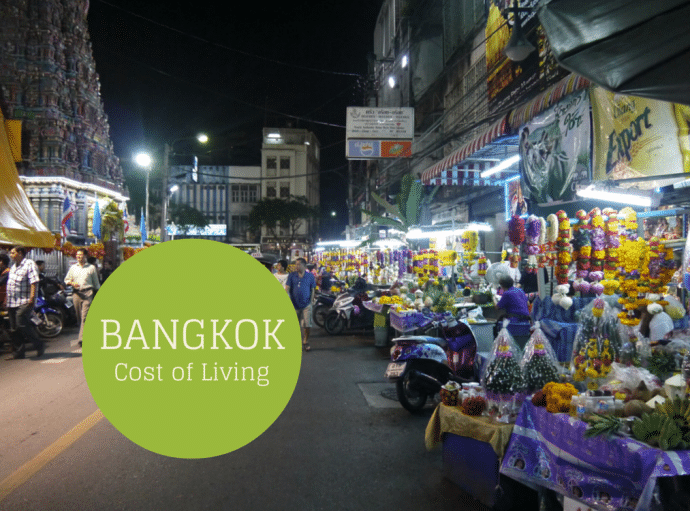 Asking how much it costs to live in Bangkok is a bit like asking how long a piece of string is. You can live here for next to nothing or spend $10,000 a month or more, depending on what standard of living you expect. So in this article I'm going to give you an idea of how much it costs us as a couple to live a good life in central Bangkok.
Accommodation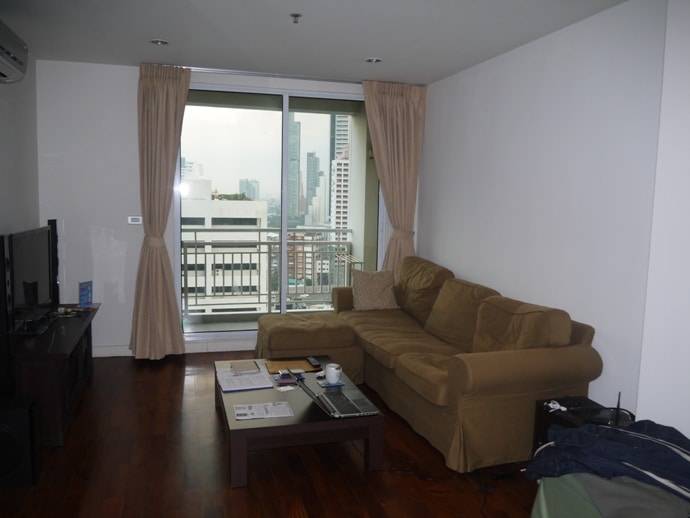 Accommodation is usually one of the biggest costs of living for most people, and it takes a big chunk of our monthly income. As we're a couple, a 1-bed condo is the perfect size for us. The one we rent at the moment is 54 sqm (581 sqft) and costs us 25,000 baht ($780) per month. This is a pretty standard price for 1-bed condo of this size in the Silom area where we live. You might be able to find one for a little less if you spend more time looking, but you'll also see similar condos available for up to 35,000 ($1,100).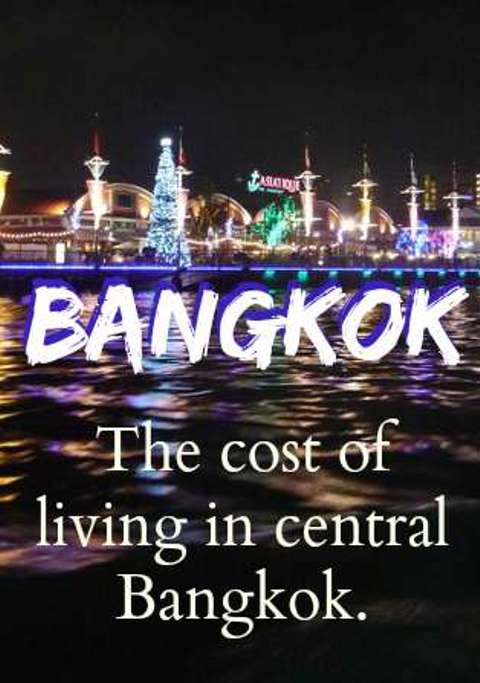 If you have a Pinterest account, can you please pin the above image. It helps us to keep creating great content for you.
Much depends on location and facilities available. But most condos will have a swimming people and fitness room available for your use. So if you only have $500, or even $1,000, a month in total, a condo like this will be out of the question for you. If you're single and don't mind a smaller studio condo of around 30 sqm you may be able to get one in this area for 18,000 baht ($560) or so. Prices drop as you get further from the center, with modern studio apartments costing from around 8,000 baht ($250) per month if you live near the end of the BTS system. But don't forget to figure in the extra transport costs if you choose a condo that's a little out of the way.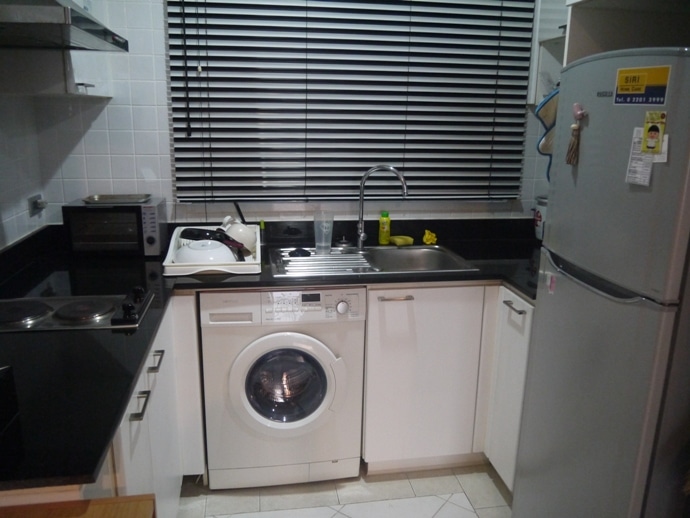 Our condo has a large living area with separate, well-equipped kitchen, a separate bedroom and a bathroom. It is fully furnished with a large TV in both the living room and bedroom. It has everything we need and we haven't had to buy any additional equipment. It has a swimming pool, fitness room and meeting room on the 5th floor, and another meeting room on the ground floor. There is 24/7 security, and it's just a 3-4 minute walk to the nearest BTS station, Surasak. There are plenty of restaurants and cafes within a few minutes' walk and also two Tops Market supermarkets in the area. It's a 10-minute walk to Sathorn Pier, from where we can take a boat to Chinatown and other places. There is a fresh market a few minutes' walk away and some excellent street food around the area. So this condo is just about perfect for us. Condos like this usually have a minimum rental period of 6 or 12 months, but we managed to negotiate a 4-month lease, as we're off traveling again very soon.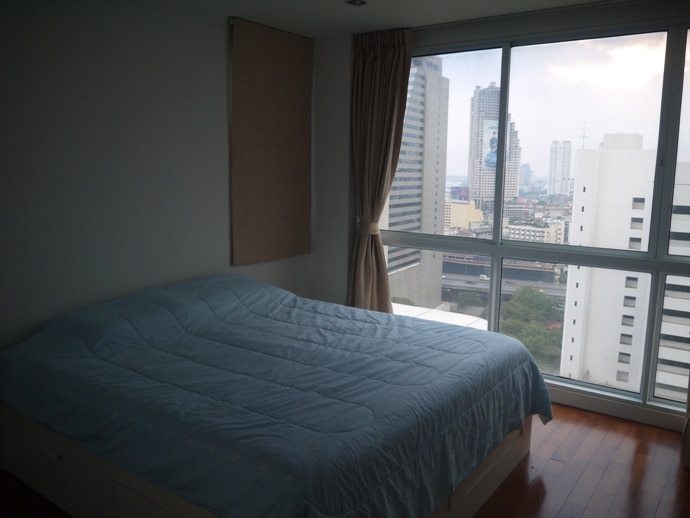 As well as paying for rent, we also have to pay for the internet, electricity and water. We use True internet that the landlord had already installed in addition to a Virtual Private Network of "VPN". This costs 640 baht ($20) per month for a 10 Mbps connection. Usually you'd need to sign up for this yourself, although the cost would be the same. There is a 12-month minimum contract term with True, although you're allowed to cancel early if you pay a 2,000 cancellation fee. The electricity costs us around 2,000 baht per month ($62) – we use the aircon quite a lot. Water costs just 120 baht ($4) a month.
Our current condo is in the same building as a condo we lived in a couple of years ago. See Our Bangkok Condo for more of what's available in this building.
So our total costs for accommodation are 27,760 baht ($868).
Food
We generally eat out every day at lunchtime, but mostly eat at home in the evening, so our costs are a little variable. We stick to local shophouse type eating places at lunchtime where a meal for two will cost us from 80-140 baht ($2.50-$4.40) for the two of us. I think an average is probably around 120 baht ($3.75) per day, so that's around 3,600 baht ($113) per month just for lunch. We also spend around 60 baht per day minimum on cut fruit from street vendors and also shop at local markets and Tops Market (local supermarket) for our other food. I think we probably spend 1,500 baht ($47) per month at the local market and maybe 5,000 baht ($156) at Tops Market. So that adds up as follows:
Lunch: 3,600 baht
Cut fruit: 1,800 baht
Local market: 1,500 baht
Tops Market: 5,000 baht
So that's a grand total of 11,900 baht ($372) for our monthly food bill.
Coffee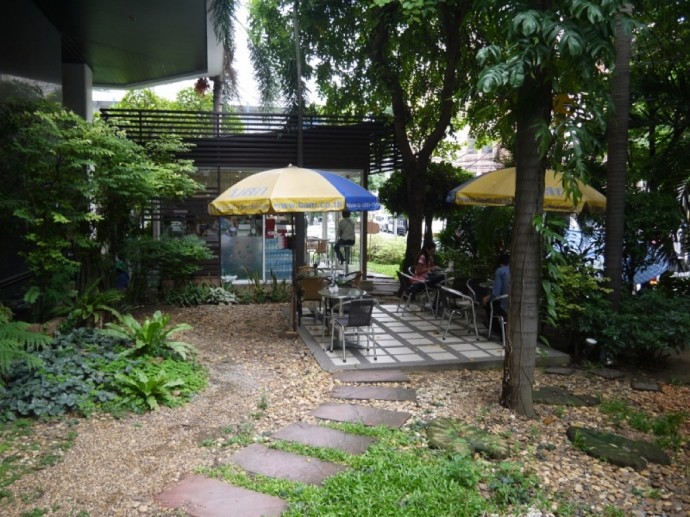 If you don't drink coffee, this is somewhere that you could make a big saving compared to us. We drink at one of the many local cafes every day, and probably spend an average of 150 baht ($4.70) per day.
So total cost of our coffee drinking is 4,500 baht ($140) per month.
Massage
We usually have a Thai massage or foot massage once a week. This usually costs 800 baht including tips for the two of us.
Total massage costs are 3,200 baht ($100) per month.
Miscellaneous Items
Miscellaneous items include cosmetics (for Miu not me), toiletries, cleaning products, and other household odds and ends. I haven't tracked this specifically, but came up with a rough estimate of 2,000 baht ($62.50) per month.
Total miscellaneous items cost 2,000 baht ($62.50) per month.
Clothing
Everyone needs clothes and this is something that is missing from almost every cost of living list I see. This is a little harder to estimate but a conservative guess would be that we spend 2,000 baht ($62.50) per month on average, maybe a lot more. While it's true that you can buy t-shirts from market stalls for 100 baht, that's not really our style. A good shirt from a department store will usually cost 600-1000 baht ($19-31) or more. Jeans can cost anything from 2,000 baht to 15,000 baht. It all adds up.
So I'll go with a conservative monthly spend of 2,000 baht ($62.50).
Entertainment
Neither of us drinks much, but we do head out for the occasional drink, cinema visit or nice restaurant. I'd estimate we spend 3,000 baht ($94) on this.
Total entertainment costs are 3,000 baht ($94) per months
Total Monthly Cost Of Living In Central Bangkok
Accommodation: 27,760 baht
Food: 11,900 baht
Coffee: 4,500 baht
Massage: 3,200 baht
Miscellaneous items: 2,000 baht
Clothing: 2,000 baht
Entertainment: 3,000 baht
Total: 54,360 baht ($1,700) per month
But Wait, There's More
Most Bangkok cost of living articles I've read don't include all of the above items, and that's what they manage to keep their costs so low. I'm not convinced that most of the people actually spend as little as they say. They probably do on a day to day basis, but they decide not to count other expenses of living in Bangkok. So what else do we spend our money on?
Annual Health Check-Up: 120,00 baht ($3,750). We take our health seriously and get regular annual check-ups at a good hospital. This might seem like a place where you could save money, but how much extra will it cost you in the long-run if you don't discover any health issues while they are still small and easy to deal with? Health is the most precious thing we have. Without it nothing else matters.
Electronics: In the last year we've both bought new laptops. We sold the old ones, so the net cost to us was around 50,000 baht ($2,200). Hopefully they'll last us a few years, but it's still an expense. We'll both need new phones at some point as well. And maybe a new camera, a new Kindle and other odds and ends. These are all costs of living, although most people conveniently ignore them.
Visas: I have to renew my visa annually at a cost of 1,900 baht ($60). There's also some extra costs like transport to the immigration office and back, and also 1,000 baht ($31) for a re-entry permit every time I want to leave the country.
Trips Away: We visit Miu's parents in the northeast of Thailand a few times a year and also visit other towns in Thailand. This all cost money and is an expense.
You could argue that many of these additional items aren't really related to living in Bangkok. You could be right in some ways, but if you come here with the bare minimum to spend, what will you do when your laptop breaks down or when you need to see a doctor. Those things will happen and other expenses will also appear. Do you really want to live in Bangkok and never be able to afford to travel to another city for a few days? Take a look at some other cost of living articles and notice how many essentials they omit.
Our grand total above came to just under 55,000 baht. The extras mentioned above would add around 200,00 baht annually or 16,500 baht monthly. So that would take the monthly cost up from 55,000 baht to around 72,000 baht ($2,250).
So the real monthly grand total is 72,000 baht ($2,250).
I think that's roughly what you need to live like we do. We don't really want for anything but we don't live an extravagant life either. I'm sure there are some items I've missed from the above list, so maybe the real total is a little higher.
The cost of the above in London, where I'm from, would probably cost a minimum of $6,000 per month, so living in Bangkok is pretty cheap in comparison, and is one of the reasons I moved here. So for sure, Bangkok is fairly cheap compared to many Western cities, but I think people that suggest you can live here in luxury for under $500 a month aren't telling you the whole truth.
This is meant to be a general overview, but I plan to write other articles that will break down the costs further. If there's anything you'd like to know, just ask. I'll give a brief answer below and also maybe write a more detailed article as a reply, depending on your question. I'll also be writing further articles on way to cut your costs while living in Bangkok.
Hotels In Bangkok
If you're planning to come to Bangkok, be sure to check out the great range of hotels at Agoda.