There are a few different options for getting around Hua Hin, and we cover them all in this post. If you stay near the center it's possible to walk to most places. We stayed at Thor Huahin57 Hotel for three nights. It's an excellent hotel in a great location, so easy get around town on foot. If you're a little further out or want to explore further afield, then you can use the songthaews, tuk tuks, motorcycle taxis, tricycles or minivans. Check out Hua Hin Insider Travel Guide for more information on your visit.
Tuk Tuk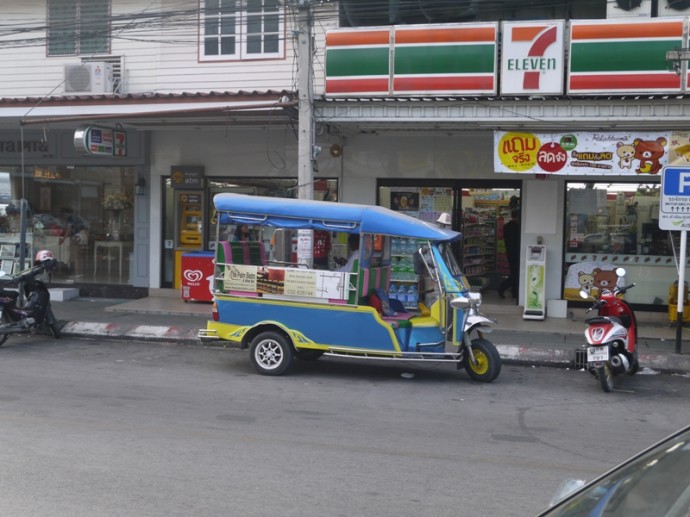 We used a tuk tuk twice and found them to be very expensive. For a very short journey of 1 km we were charged 100 baht ($3.35), which they claimed was the minimum fare. Locals told us that they were just for tourists, hence the high prices. An aircon taxi in Bangkok would cost around 35 baht ($1.15) for the same distance. You will find tuk tuks parked around the city. We only used them when we needed to transport our luggage.
Motorcycle Taxi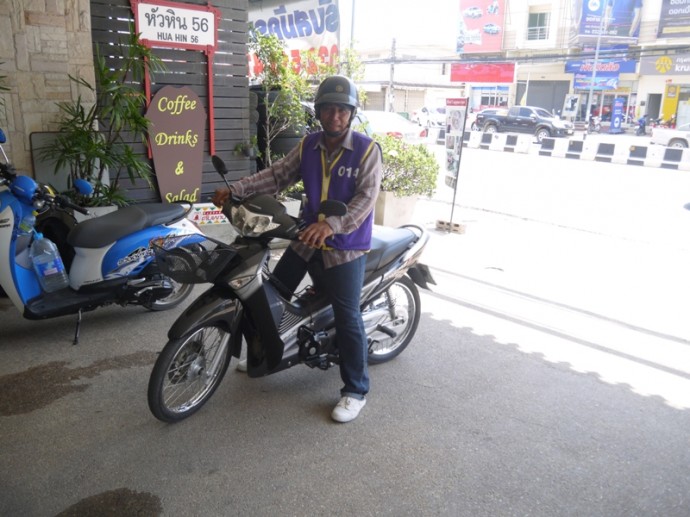 These are more reasonably priced, starting at 20 baht per person. From the train station to the night market costs 30 baht ($1), as does a trip from the night market to the beach. You'll see motorcycle taxis on many street corners, with the drivers wearing mainly orange or purple jackets with numbers on the back and front. Negotiate the price beforehand.
Tricycle
These are similar in price to motorcycle taxis. They are a much slower way to travel, which can be good if you want to take in your surroundings while you travel.
Songthaew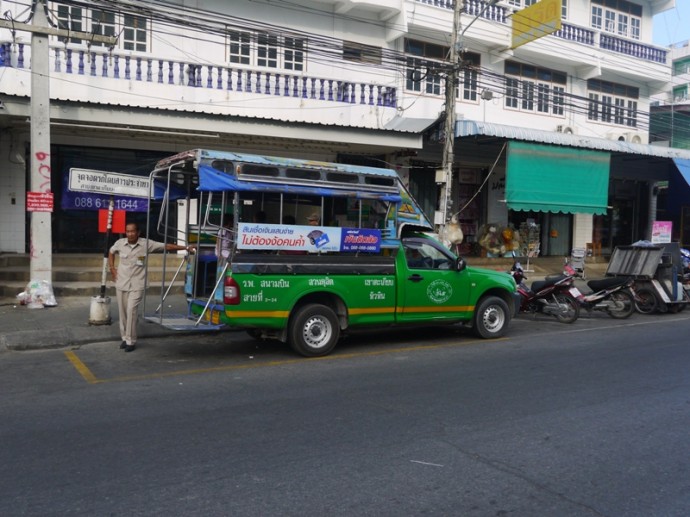 A songthaew is a pick up truck with two rows of seats in the back, and is one of he cheapest ways to get around the city, with prices starting at just 10 baht ($0.35). The songthaews operate along four fixed routes, with different colored songthaews operating each one. There are green, orange and white songthaews. The green ones cover Hua Hin Airport and Khao Takiab (10-20 baht), the orange ones cover Maegep, Market Village and Makro (10-20 baht), and the two white ones cover Hua Hin to Mongkol Temple (10-40 baht) and Hua Hin City (10 baht). Green songthaews operate 06:20-21:00, orange 06:00-22:00, and white 08:00-18:00 (Hua Hin to Mongkol Temple) and 07:00-22:00 (Hua Hin City). Just get on and off anywhere along the route.
Motorcycle Rental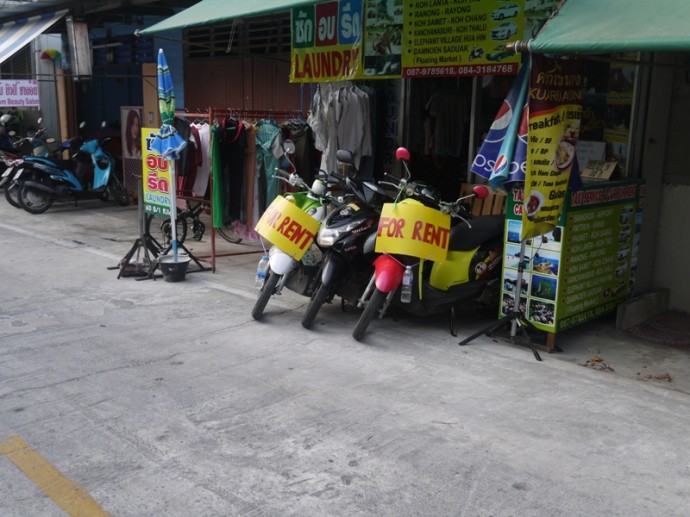 If you want more flexibility or want to travel to lots of places, you can rent a motorcycle for around 150-200 baht ($5-7) per day. You'll see rental shops around the city, or just ask at your hotel.
Minivans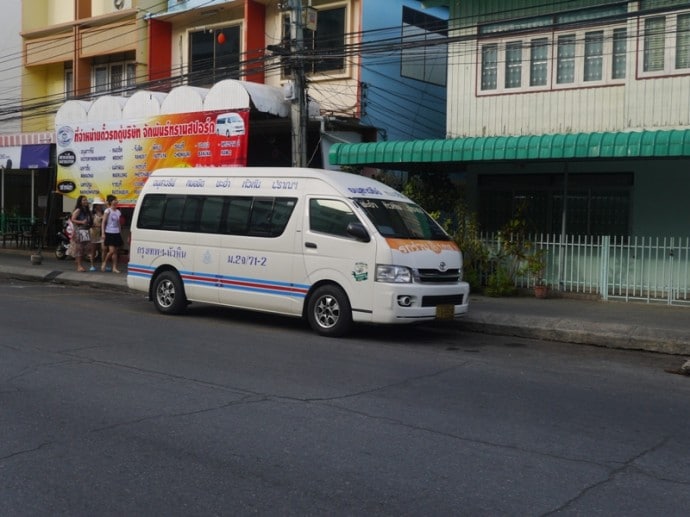 These generally travel longer distances, with a journey to Cha Am (around 25 km away) costing around 40 baht ($1.35).
Walk
This is my favorite way of getting around. And best of all, it's free. You also get to stop wherever you want, take whatever route you want, and discover more of the city.
Hotels In Hua Hin
For our first few nights in Hua Hin, we stayed at Thor HuaHin57 Hotel. The location is very central, with the night market being about 2 minutes' walk away. To book this or any other hotel in Hua Hin, check out Agoda Hua Hin.