We love to travel by train in Thailand, and this is certainly one of the best ways to get from Bangkok to Chiang Mai. You can also fly there, but you'll have a more interesting journey if you travel to Chiang Mai by train. Here's the complete lowdown of what tickets are available, how to buy them and what to expect.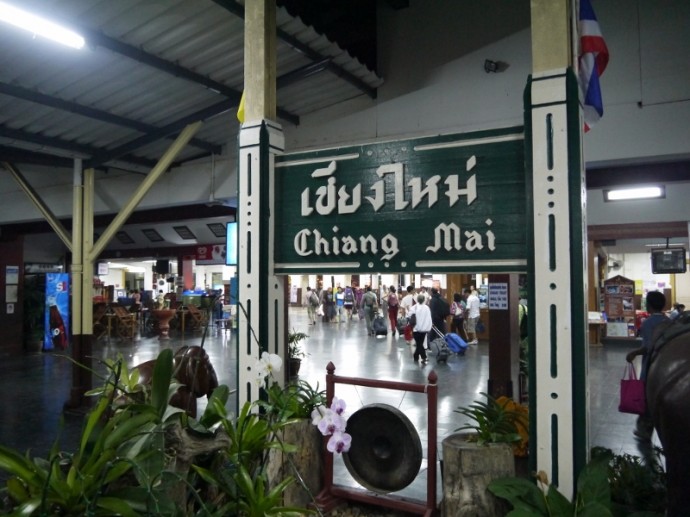 While you can buy tickets at the train station, it's usually easiest to purchase them online using a service like 12Go.Asia. There is a small fee, but you can save both time and the hassle of going to the train station twice (once to purchase the tickets and once to get on the train). If you're planning to buy your tickets at the station you'll probably need to buy them in advance. Many trains get sold out, so if you just turn up on the day you intend to travel you may not be able to get a ticket.
For more information on purchasing tickets, check out the RenegadeTravels complete guide to buying Thailand train tickets online.
How To Get To Hua Lamphong Train Station
Bangkok's Hua Lamphong train station is very easy to get to, as it has an MRT station (Hua Lamphong) right next to it. Most central areas are within walking distance of BTS and MRT stations, so this should be an easy journey. Depending on where you are staying, it might be easier to get a taxi to the station.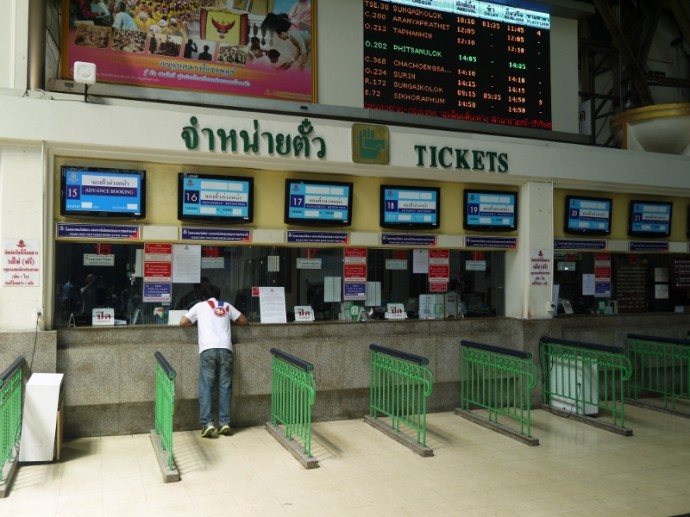 Once inside the station, head over to the ticket office to buy your tickets (if you haven't already done so online). Note that some ticket windows are for advance tickets and some for same day travel. Most staff can speak English, so buying a ticket should be easy.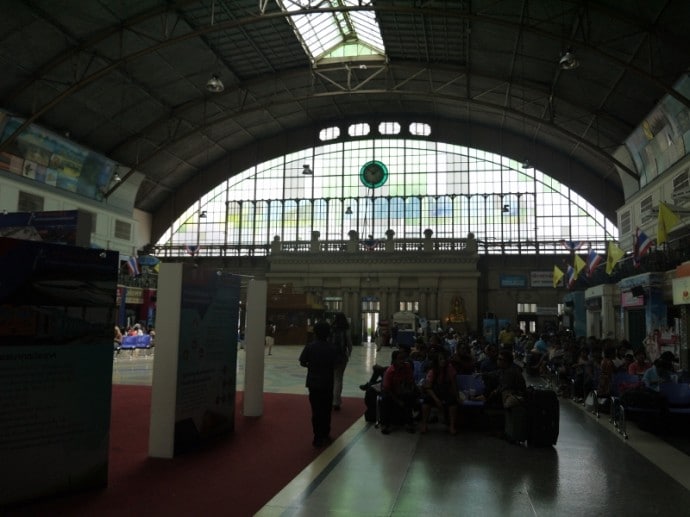 This train station is in a beautiful old building with plenty seats, restaurants and cafes. There are also ATM machines just inside the main entrance to the station.
When you arrive at the station to get your train, just wait in the main hall until the train is due to arrive, then go to the platform, which will be the other side of the entrance shown above.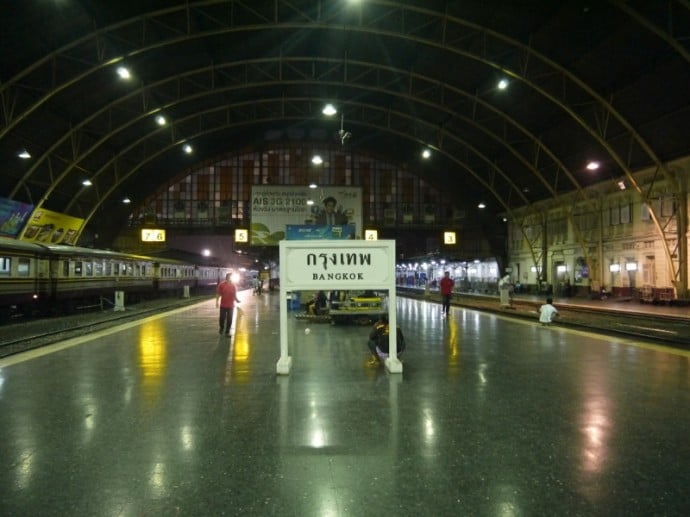 What Types Of Tickets Are Available?
There are five trains that run between Bangkok and Chiang Mai each day, and each has different types of tickets available. These are the five trains that operate daily.
Train 9 (08:30-20:30): If you plan to travel during the daytime, as we did, then this is the train to get. It's a great way to see the countryside. Tickets cost:
Aircon Diesel Car (Meal Included): 641 baht
If you prefer to get an overnight train, you have four choices, as follows:
Train 109 (12:45-04:05): This train has 2nd and 3rd class seats and 2nd class sleeper (no aircon). Tickets cost:
2nd Class Lower Sleeper: 491 baht
2nd Class Upper Sleeper: 541 baht
2nd Class Seat: 391 baht
3rd Class Seat: 231 baht
Train 1 (18:10-08:15) & Train 13 (19:35-09:55): These trains have 1st and 2nd class sleeper compartments, both with aircon. Tickets cost:
1st Class Upper Sleeper: 1,253 baht
1st Class Lower Sleeper: 1,453 baht
1st Class Room: 1,953 baht (entire compartment for person traveling alone)
2nd Class Upper Sleeper: 791 baht
2nd Class Lower Sleeper: 881 baht
Train 51 (22:00-13:05): This train has 2nd class sleepers (aircon and non-aircon) and 2nd and 3rd class seats. Tickets cost:
2nd Class Upper Sleeper (Aircon): 751 baht
2nd Class Lower Sleeper (Aircon): 821 baht
2nd Class Upper Sleeper (No Aircon): 531 baht
2nd Class Lower Sleeper (No Aircon): 581 baht
2nd Class Seats (Aircon): 541 baht
2nd Class Seats (No Aircon): 431 baht
3rd Class Seats: 271 baht
You can find up to date train times and ticket prices at 12Go.Asia.
What Are The Trains Like?
We got the daytime train and had 2nd class seats in an aircon carriage. The aircon on these trains tends to be set to a very low temperature and most people wear jackets. It's a long journey and can get very cold if you just wear a t-shirt and shorts.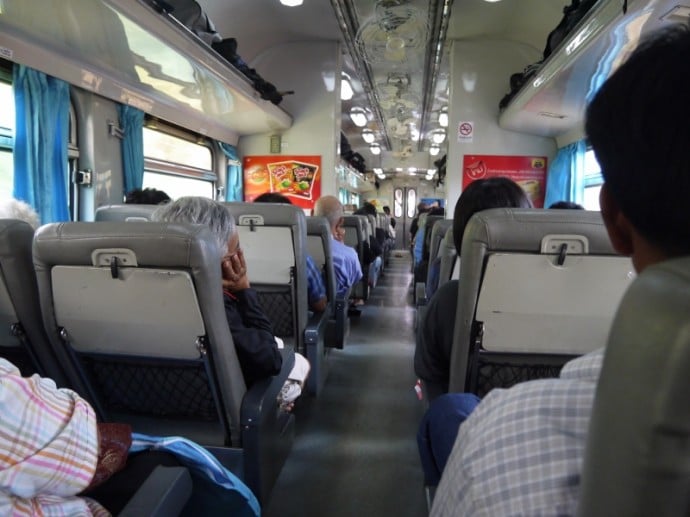 Food was also included in the ticket prices, but I didn't see any vegetarian food.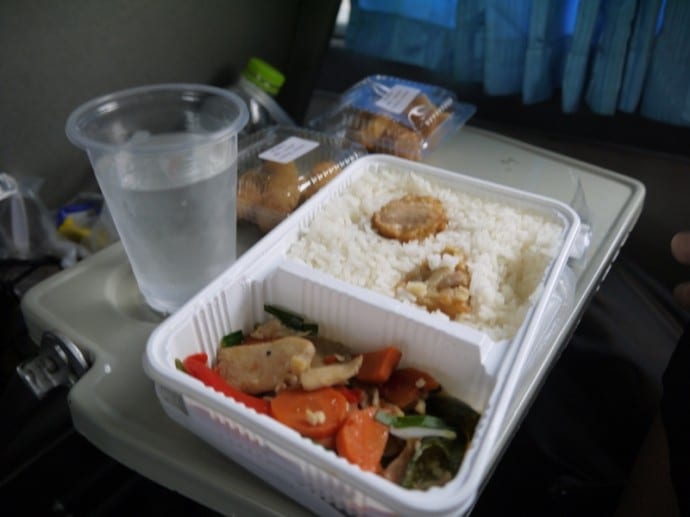 Hotels In Chiang Mai
You can book some great hotels at great prices with Agoda. They also have  a price-match guarantee.
For our time in Chiang Mai we stayed at Smith Residence.