Getting from Nong Khai to Vientiane is pretty straightforward, and involves getting across the Thai-Lao Friendship Bridge. First of all you need to get to the Thai side of the bridge and this usually involves getting a tuk tuk. We paid 80 baht ($2.70) for the journey from our hotel, The Rim Riverside Hotel.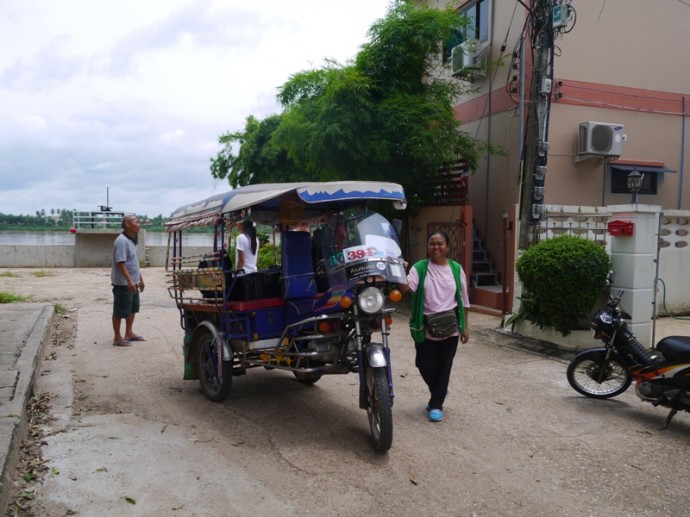 The Friendship Bridge is only a few kms from Nong Khai town center, so it only took us 5-10 minutes to get there.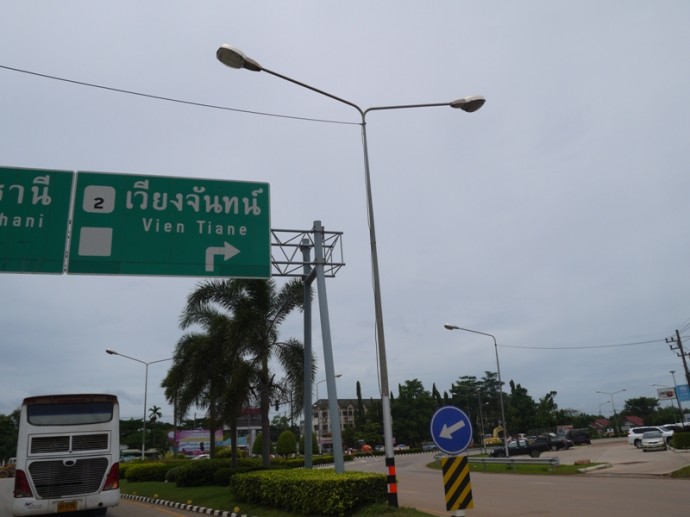 Most tuk tuk drivers that take you to the Friendship Bridge will try to persuade you to buy a visa in advance. I had read that these cost 1,500 baht ($50), while a Visa On Arrival only costs $35 for most nationalities who need it. But if you don't have any $USD, then you'll likely still have to pay 1,500 baht at Laos Immigration. I'm always wary of scams at border crossings so prefer getting everything done via the correct officials.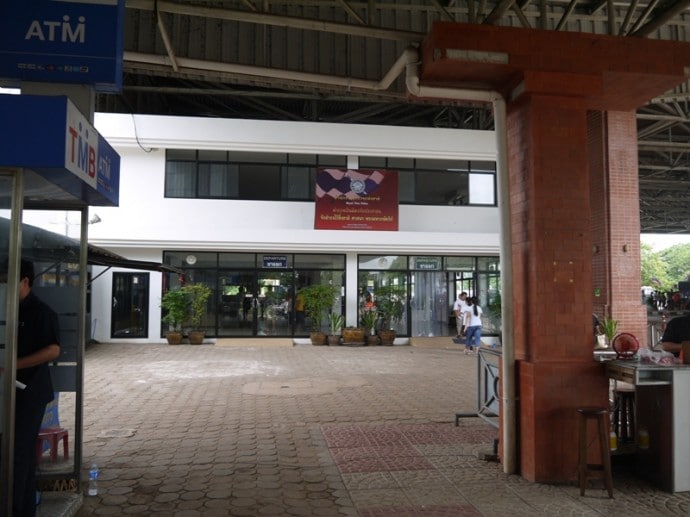 Once at the bridge you'll need to pass through Thai immigration. This only took us a few minutes and just involved being stamped out of the country.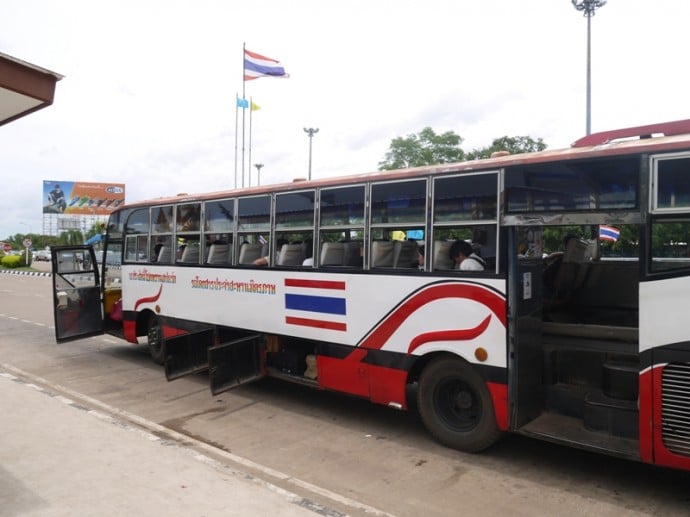 Once through Thai Immigration you'll see a bus ticket counter on your right just as you exit the doors. Buy a ticket for 20 baht ($0.65) and get on the bus.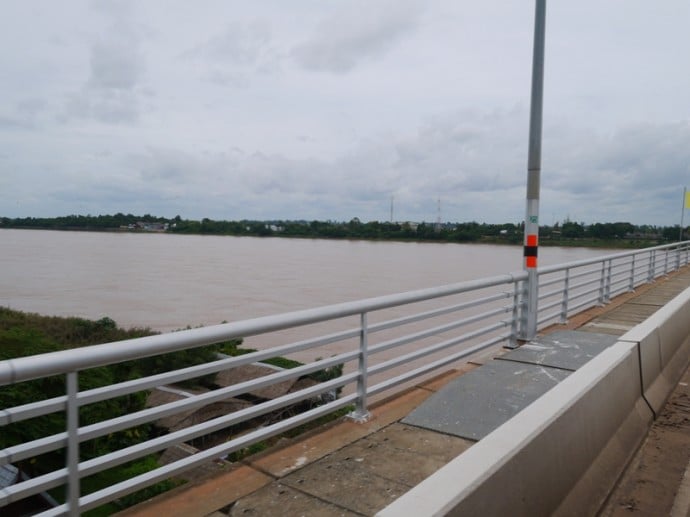 It's only a few minutes' drive across the bridge.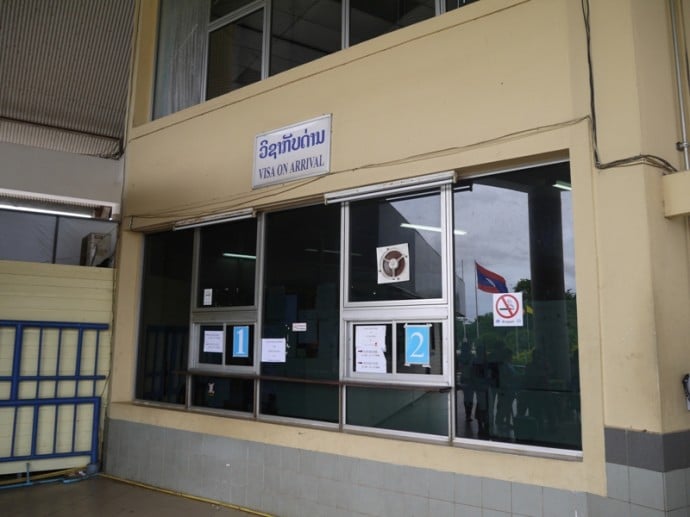 Once the bus stops at Laos Immigration, head for the Visa On Arrival office. The windows were closed when I was there, so I just knocked and slid them open. You'll be given two forms to complete, which you need to hand in with your passport, photo and fee. It cost me $35, plus $1 for a border pass. Thai passport holders also needed to purchase a border pass. I only had to wait a few minutes to get my passport and visa back.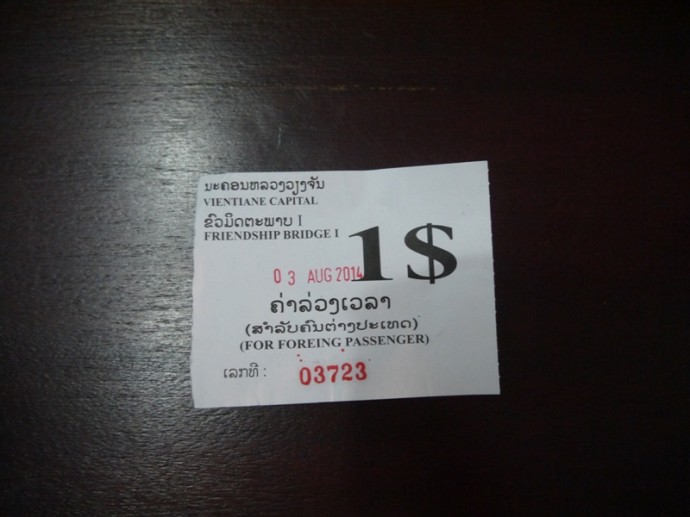 I don't know what the purpose of the border pass is. Once through immigration you are confronted with a set of gates into which you put your border pass. Mine was a paper ticket, although Thais were give plastic tickets to insert into the ticket machine.
Once through Laos Immigration we were confronted with lots of tuk tuk, van and taxi drivers. We paid 300 baht ($10) for a van (minibus) to ourselves for the 20 km journey into central Vientiane. I had read that you could get a better deal, but as we were the only passengers it didn't seem so bad. There is a green bus that departs fairly regularly and costs 20 baht, but we didn't see it until we were already in the van. But that would have only taken us to the bus station and we'd have needed to get a tuk tuk from there. It would have saved us some money, but sometimes it's just nice to pay the extra and travel in comfort directly to your hotel.
The Thai-Laos Friendship Bridge is open from 06:00-22:00.
Hotels In Nong Khai
While In Nong Khai we stayed at The Rim Riverside Hotel. This is a great hotel with rooms overlooking the Mekong River. It also gets great reviews on Agoda. For other hotels is Nong Khai, check out Agoda Nong Khai.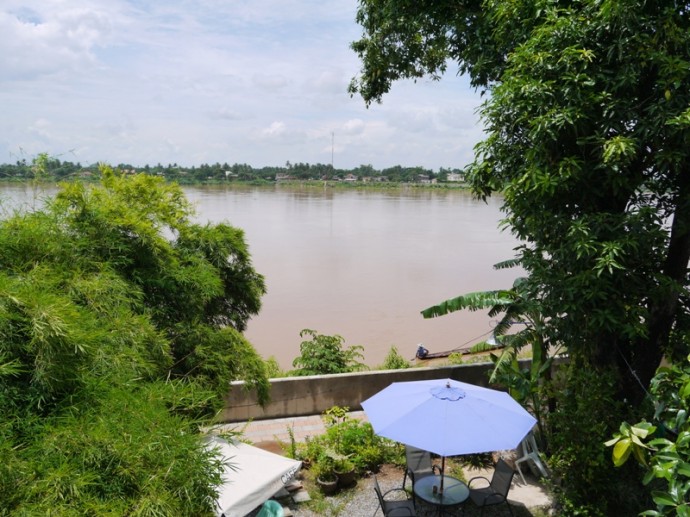 Hotels In Vientiane
For our first few days in Laos we stayed at the excellent AV Hotel. We chose the Executive Suite, which is 45 sqm, and were very happy with our stay there. For other hotels is Vientiane, check out Agoda Vientiane Hotels.