We spent a few days in Nong Khai before crossing the border to Laos and managed to find three vegetarian restaurant. We also ate at one non-vegetarian restaurant that had a decent vegetarian menu. We also passed a few non-vegetarian restaurants that had vegetarian menus but didn't eat at them. You should be able to find vegetarian food here easily enough, especially in the main part of town.
Mi Chai Alley Vegetarian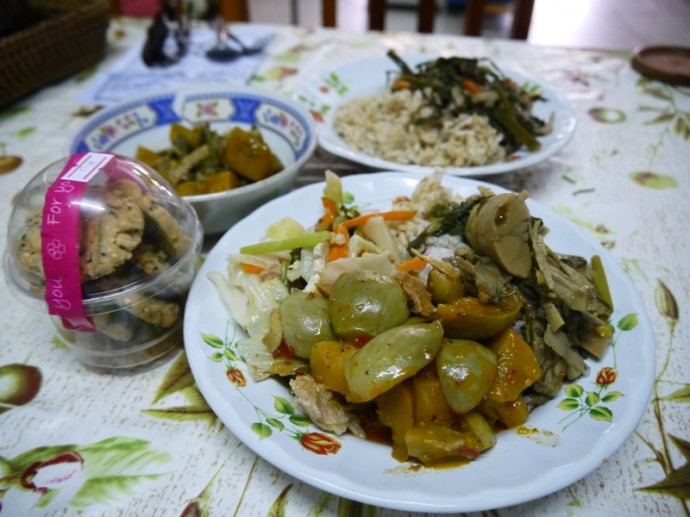 This is the main place we ate at while in Nong Khai. It's on Mi Chai Alley, near Chaiyaporn Market, just passed the junction with Talad Chaiyaporn Alley. The food above cost 130 baht ($4).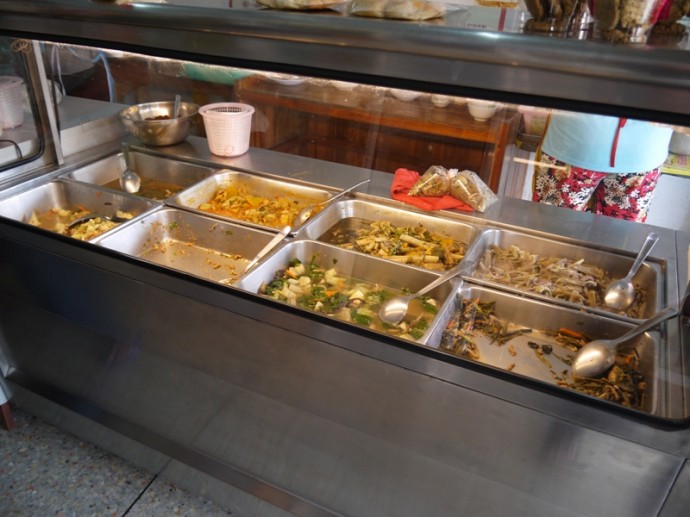 This place usually has a selection of around 8 hot dishes that are served with brown or white rice. They also have a selection of fake meats and a separate noodle menu. The food here is very good, and they also sometimes serve fresh bamboo, which you don't see very often in Thailand.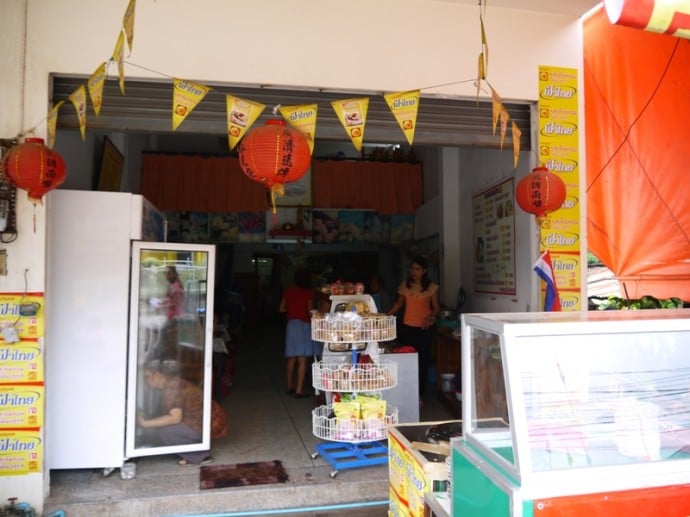 The shop has plenty of seating, but it does get very busy. The best selection of food is available earlier in the day, so don't arrive too late. Noodles dishes are available all day though, as they are made to order.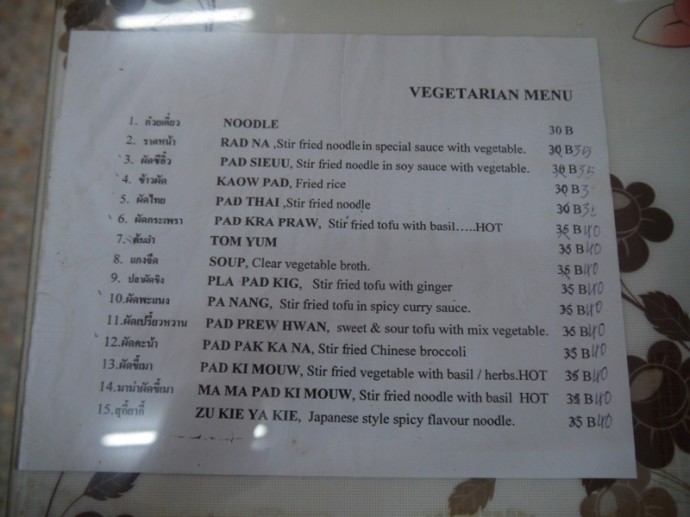 They also have an English menu on some tables with cook-to-order meals.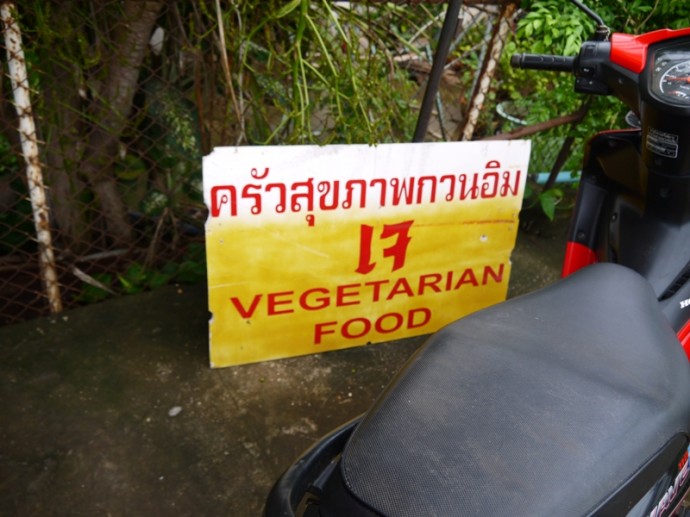 You'll easily spot the shop by it's bright yellow signs and flags.
Mi Chai Alley Vegetarian Details
Address: 1044/9 Mi Chai Alley (near junction with Talad Chaiyaporn Alley)
Opening Hours: Sun-Sat 06:00-18:00
Prajak Sillapakhom Vegetarian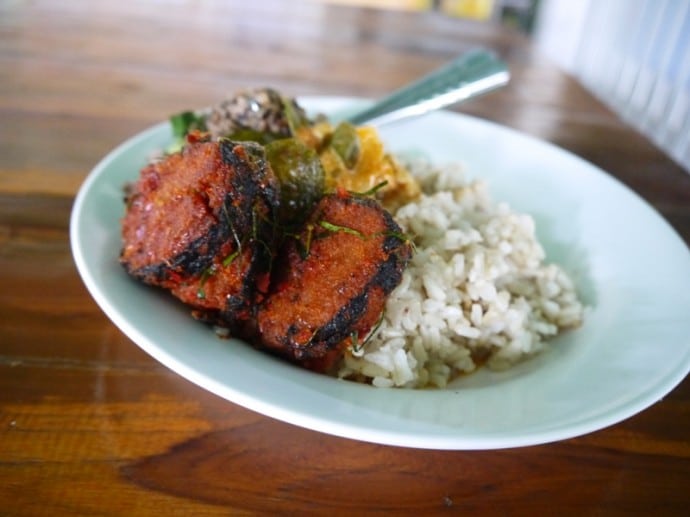 This is only a few minutes's walk from Mi Chai Alley Vegetarian, mentioned above. We didn't find this until the last day because it had recently moved from it's original location. It shuts at 4 pm and when we ate there at around 3 pm, there wasn't much food left. The meal above of rice and two hot dishes cost 30 baht ($1).
This pace is very easy to find, as it's almost next door to the huge read and white TOT telecom tower, which you can see for miles around. Just head in that direction and you'll find the restaurant on Prajak Sillapakhom Alley, near the junction with Soi Hua Pon.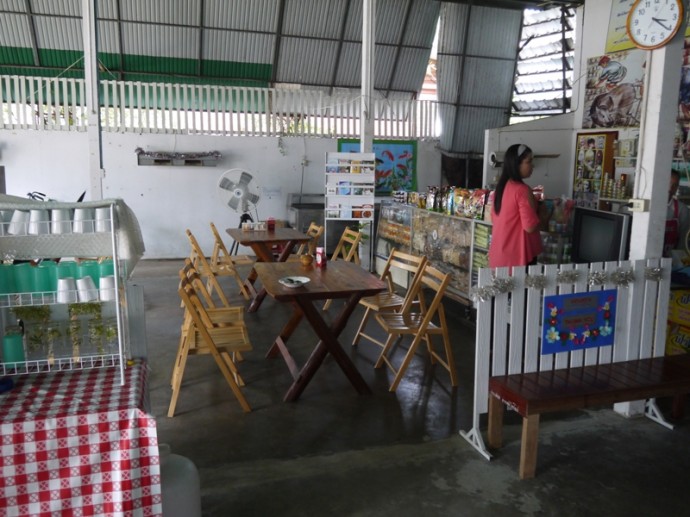 The restaurant has plenty of seating and has a light and airy atmosphere.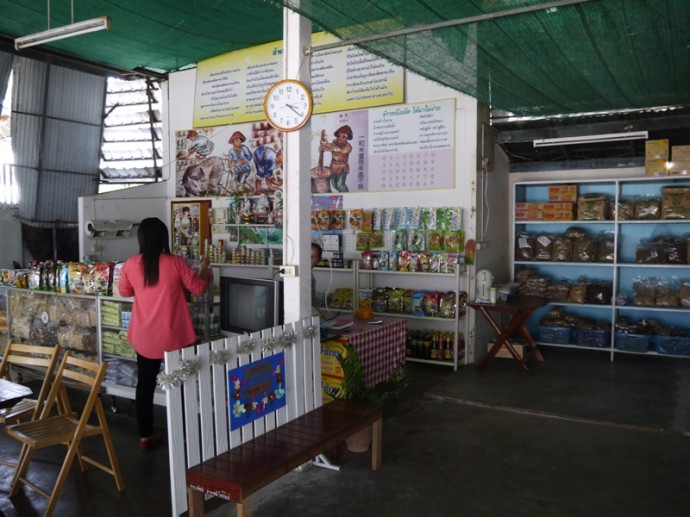 There's also a shop inside the restaurant that sells a range of vegetarian goods.
Prajak Sillapakhom Vegetarian Details
Address: Prajak Sillapakhom Alley (near junction with Soi Hua Pon – look for the big red and white TOT telecom mast)
Opening Hours: Sun-Sat early-16:00
Mittraphap Road Vegetarian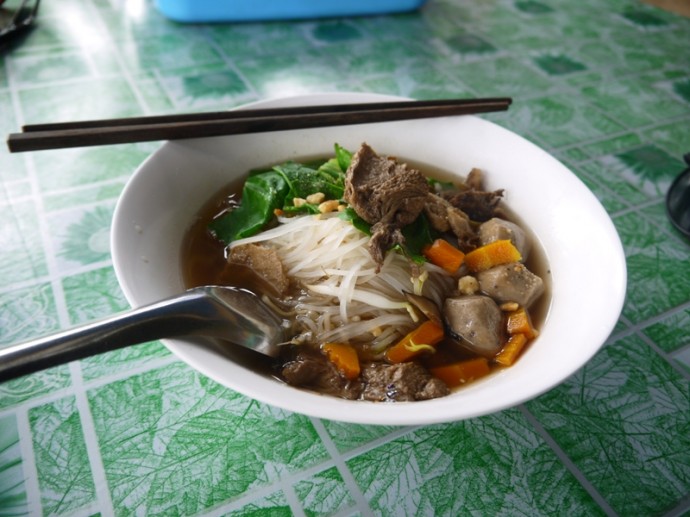 We only ate here once and actually arrived before the food was ready. We were told that they cooked three main dishes a day that are served with white rice. As we would have had to wait over an hour for the man dishes, we opted for noodle soup and somtum, which are both quick and easy to make. Both were delicious.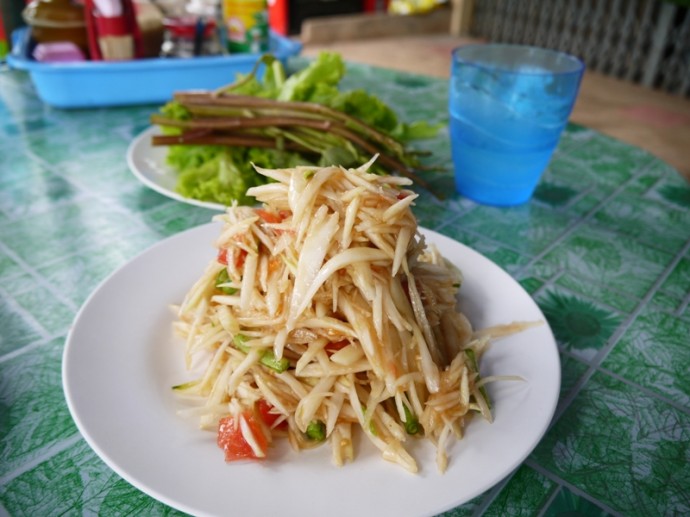 The somtum and noodle soup were 40 baht ($1.30) each. The shop is easy to find as it's a few doors away from the entrance to Assawan Shopping Complex, where Tesco Lotus is located. If you stand facing the entrance to the shopping complex, the vegetarian restaurant will be a few doors to your left.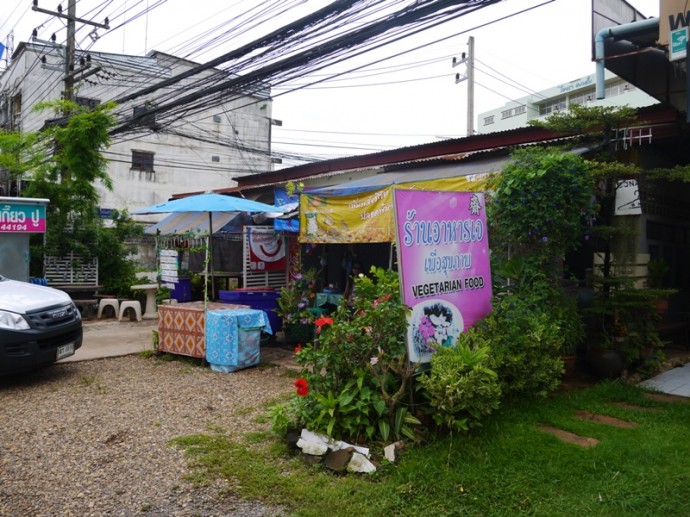 The restaurant has a big Vegetarian Food sign outside, so you can't miss it.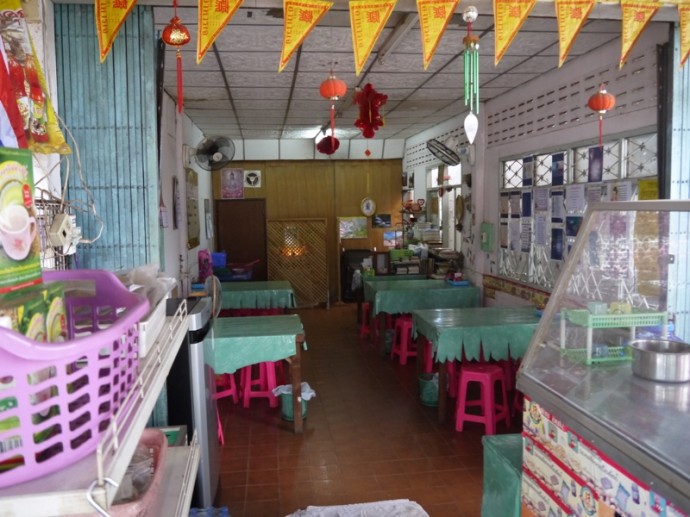 No English is spoken here, so you'll just have to point at what you want if you can't speak Thai.
Mittaphap Road Vegetarian Details
Address: 184/2 Mittraphap Road (in front of main Tesco Lotus)
Opening Hours: Sun-Sat 10:00-20:00 (may sometimes open later or close earlier)
Mut Mee Guesthouse (Non-Vegetarian)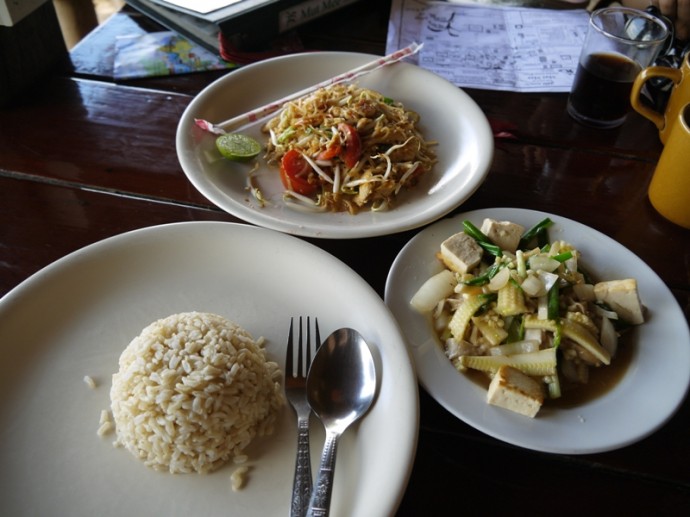 Mut Mee isn't a vegetarian restaurant, but they have a good selection of vegetarian and vegan food, and you get a view of the Mekong River while you eat.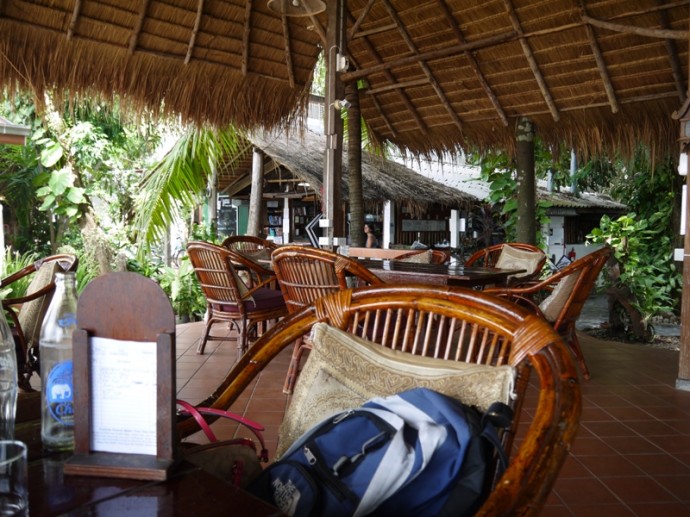 This restaurant is part of the Mut Mee Guesthouse, which a a popular place for tourists to stay while in Nong Khai. As well as a range of rooms in different houses, they have a restaurant and a beautiful garden. Massage, bicycle hire and tours are also available. The have also just opened a secondhand bookshop.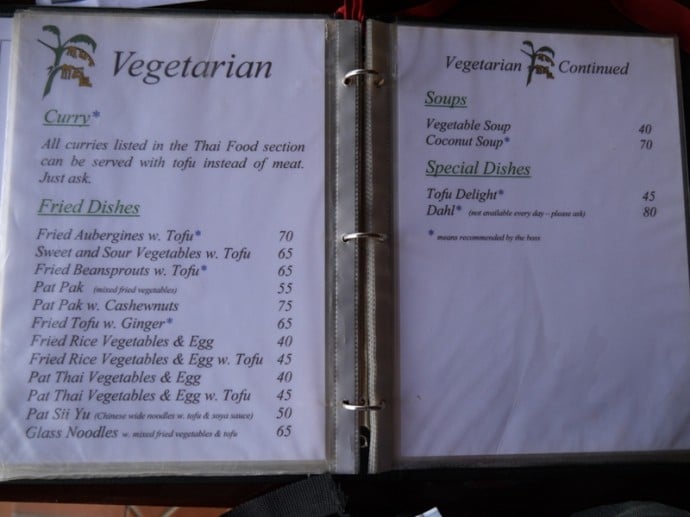 The one strange things about this place is that you have to write down your order yourself and leave it on the kitchen table. The staff will then make your food and bring it to you. Some items, such as cold drinks, tea, etc. are self-service, so you have to get/make them yourself. When you've finished your meal you pay at the reception on the way out. Prices are quite high compared to other places though. We usually paid 300-360 baht ($10-12) for a meal for two. This compares to a meal for two costing around 130 baht ($4) at Mi Chai Alley Vegetarian.
Mut Mee Guesthouse Details
Address: 1111/4 Koaw Woravut Alley
Opening Hours: Sun-Sat early-21:00
Hotels In Nong Khai
While In Nong Khai we stayed at The Rim Riverside Hotel. This is a great hotel with rooms overlooking the Mekong River. It also gets great reviews on Agoda.
For other hotels is Nong Khai, check out Agoda Nong Khai.