We recently spent a few days in Khon Kaen in Northeast Thailand and found three great vegetarian restaurants there. Two are located in the city center so are fairly easy to walk to, while the third is a little further away. We stayed at Phanthipha Residence while we were in Khon Kaen. Click here to book a room at Phanthipha Residence.
Tawanthong Vegetarian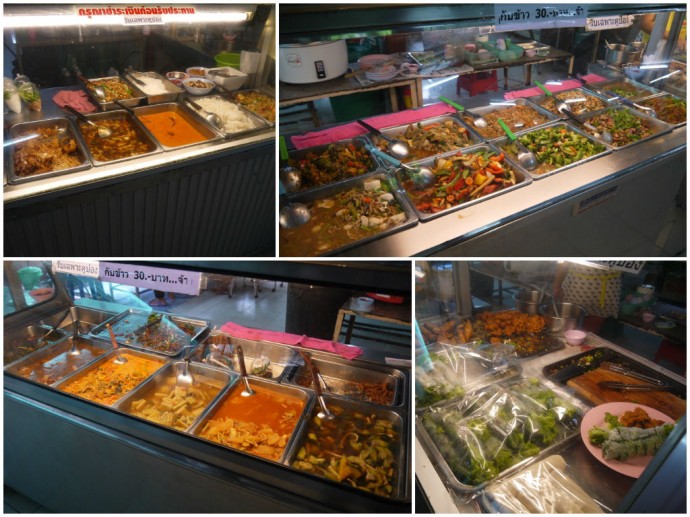 Tawanthong was probably our favorite vegetarian restaurant in Khon Kaen, although it was the furthest from our hotel. They have a huge choice of food, with around 35-40 dishes available. That's most of them in the image above. The only problem here is deciding what to eat.
As well as a large choice of food, they also have a large choice of seating. This place can probably seat 50+ people, and was very busy when we ate there. There is also a large shop next to restaurant that sells edible and non-edible goods.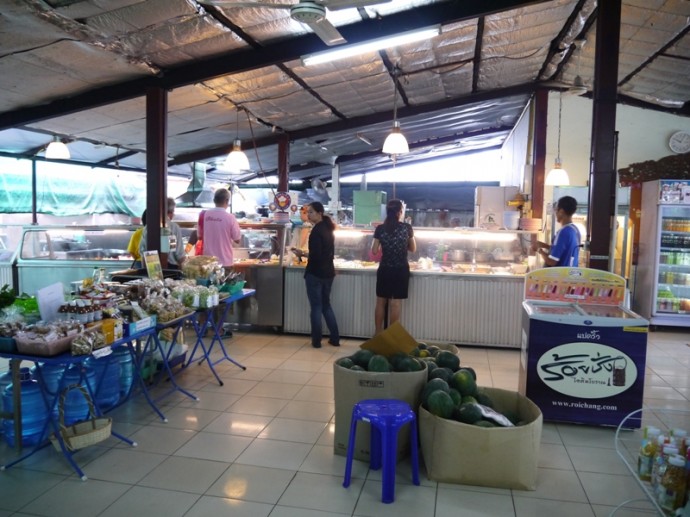 This restaurant is off the main road at the back of some shops, but there's a huge sign at the entrance so you should be able to find it easily enough.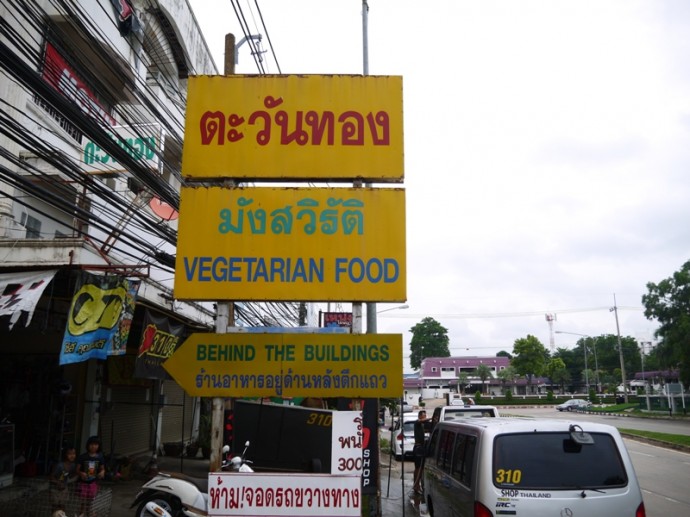 You'll probably need a taxi or tuk tuk to get here. It's opposite Khon Kaen Museum and near the junction of Lang Soon Rachakarn Road and Kasikorn Thungsang Road.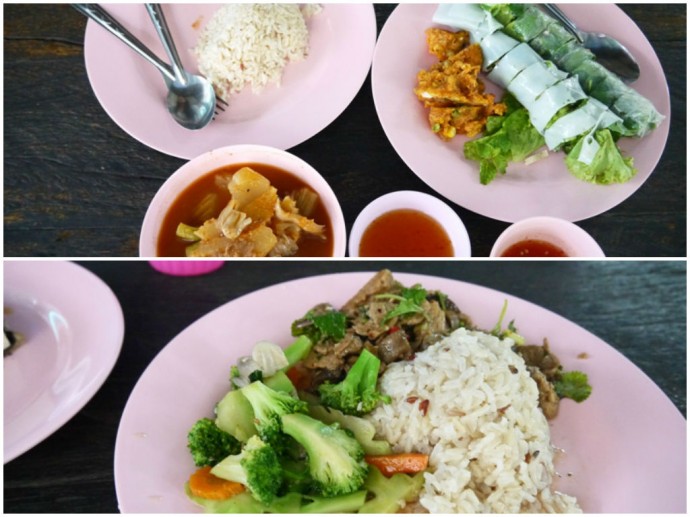 The restaurant is open from 06:00 to 14:30, but it's best to arrive before noon to get the best choice of food. The shop is open from 06:00-18:00.
Tawanthong Vegetarian Details
Address: 227/129 Lang Soon Rachakarn Road (near junction with Kasikorn Thungsang Road, and opposite Khon Kaen Museum)
Opening Hours: Restaurant – Sun-Sat 06:00-14:30; Shop – Sun-Sat 06:00-18:00
Ruen Thai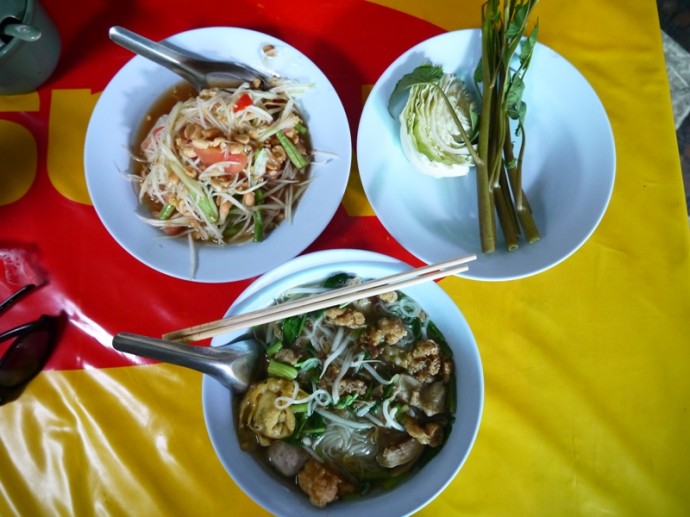 This place was only around 2-3 minutes' walk from our hotel and the food there was very good. As with most Thai veggie places, you have a choice of hot dishes that are served with rice, or a choice of a few noodles dishes. Ruen Thai also served Somtum (Pappaya Salad), which is quite popular in Thailand but usually not vegetarian due to the use of fish sauce.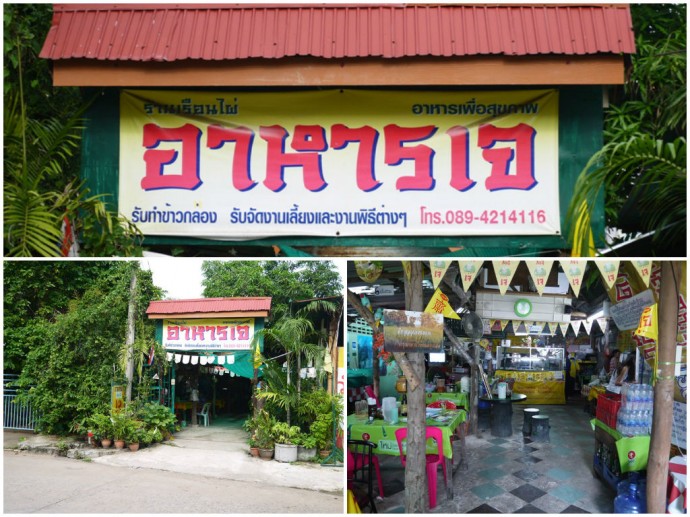 This is another fairly large restaurant with plenty of seating. It's open from 08:00-17:00 every day, although the owner told us that it sometimes closes if he goes away for a few days. So maybe call ahead to make sure they're open.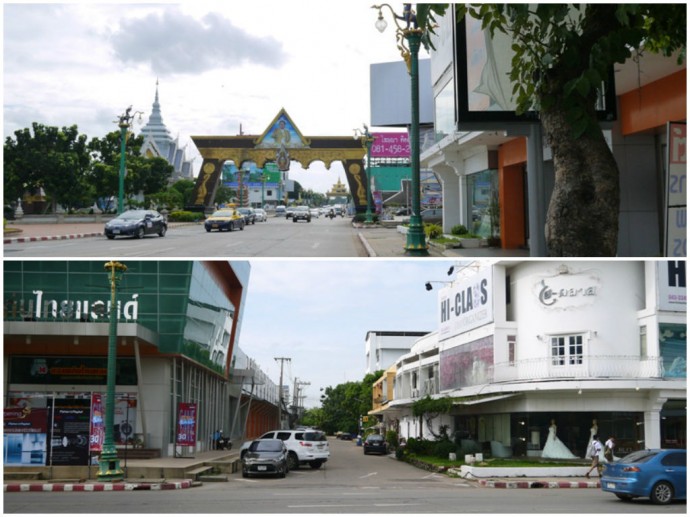 The road that Ruen Thai is on doesn't have a street sign and doesn't have a name on Google Maps either, so I've included some images above to help you find it. It's on a small road that runs between Sri Chant and Thepharak 5 Alley, and is almost directly opposite the City Pillar Shrine. In the top image above you'll see the City Pillar Shrine on the left and a bridge-like structure crossing the road. Take the road to the right that's just in front of it. The lower image is looking down that road. Ruen Thai is next to the yellow building that you can see down the road on the right.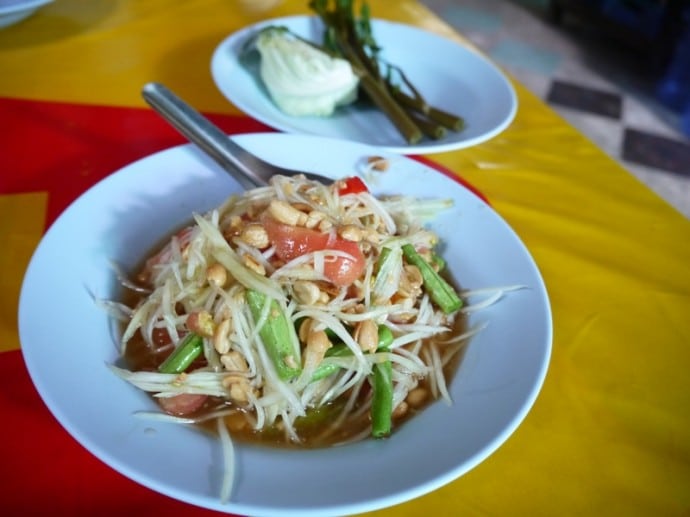 Ruen Thai Details
Address:  Small road between Sri Chant and Thepharak 5 Alley (small road opposite City Pillar Shrine)
Telephone: 089-421-4116
Opening Hours: Sun-Sat 08:00-17:00; May be closed some days if owner is away
Jay Pa Lek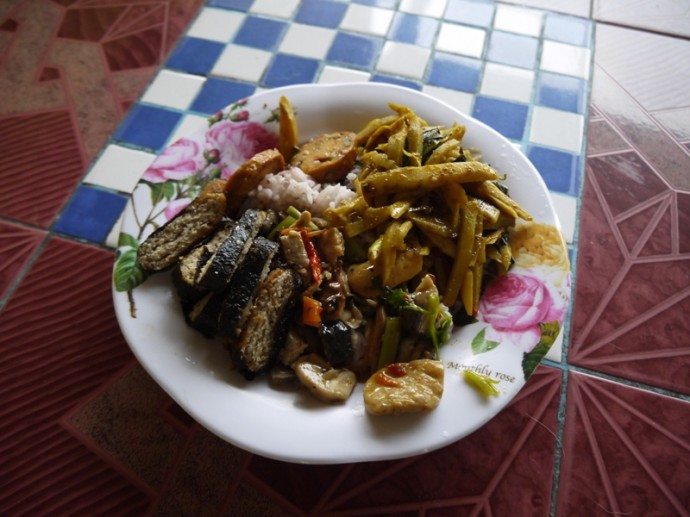 Jay Pa Lek was around 10 minutes' walk from our hotel and is a typical shophouse-style restaurant. The restaurant has been open for 16 years; 10 years at another location and 6 years at this location. It's open every day from 06:30 to 19:00, so it's a good place to have an early dinner, as well as lunch.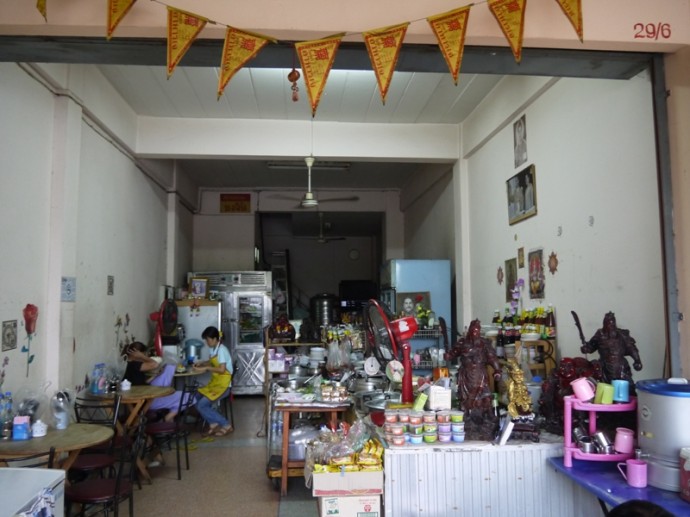 This is only a small shop so there isn't much seating, but we got a seat easily enough when we ate here. There is a choice of around 6-10 dishes that are served with rice.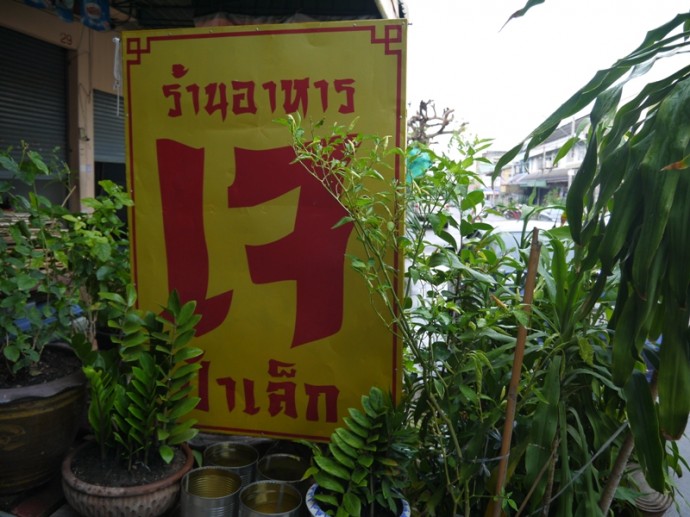 It's not often I find vegetarian Massaman Curry in Thailand, but they had it on one of the days we ate there, so I was very happy indeed.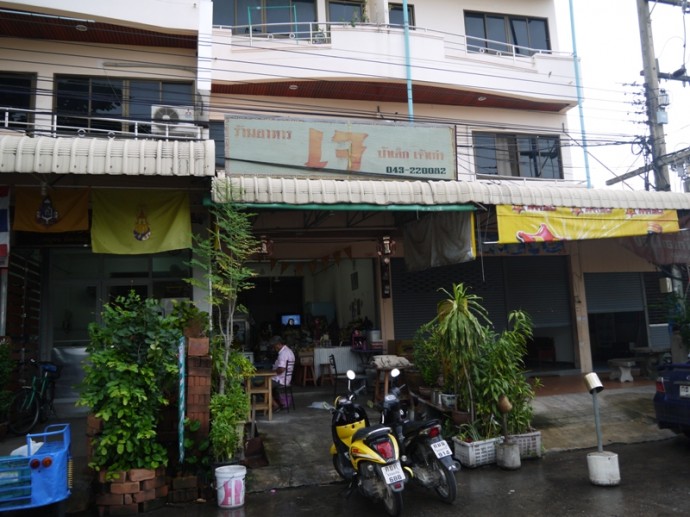 Jay is the Thai word for vegetarian, Pa means aunty and Lek means small and is the owner's name. So, Jay Pa Lek means Aunty Lek's Vegetarian.
Jay Pa Lek Details
Address: 29/6 Chi Tha Khon Road (between Lang Mueang and Chainarong Alley) – Road signs show name as Cheethakhon Road, but Google Maps shows it as Chi Tha Khon Road.
Telephone: 043-220-082
Opening Hours: 06:30-19:00
Hotels In Khon Kaen
While in Khon Kaen we stayed at Phanthipha Residence which we highly recommend. It's a great location in the city center and within easy walk of shops, restaurants and nightlife. It's also reasonably priced, with large and clean rooms, fast internet and kettle and cups for making tea and coffee. It also has a small fridge, large wardrobe and very good aircon. See our review of Phanthipha Residence.
For other hotels is Khon Kaen, check out Agoda Khon Kaen.