Wat Phu Tok is one of Thailand's true wonders. This giant sandstone outcrop, which can be seen from miles around, is accessed via a series of mainly wooden steps. It consists of seven levels, which represent the seven factors of Buddhist enlightenment. Monks come here to meditate, so you need to be quiet when visiting.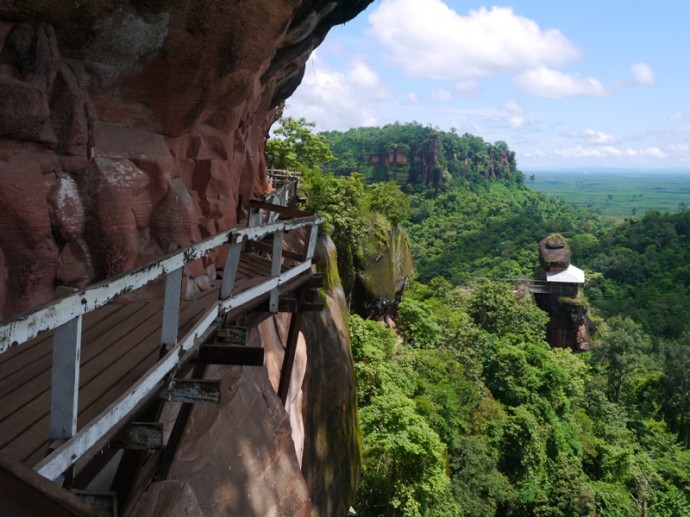 Levels 1 to 4 are not really very interesting, but there are some good views. But once you get to level 5 you'll be blown away by the breathtaking beauty of the surrounding countryside, Level 6 has the best views of all. To get to level 7 at the summit requires you to climb through tree roots and maybe some mud. Most visitors only get as far as level 6. The photo above was taken from level 6.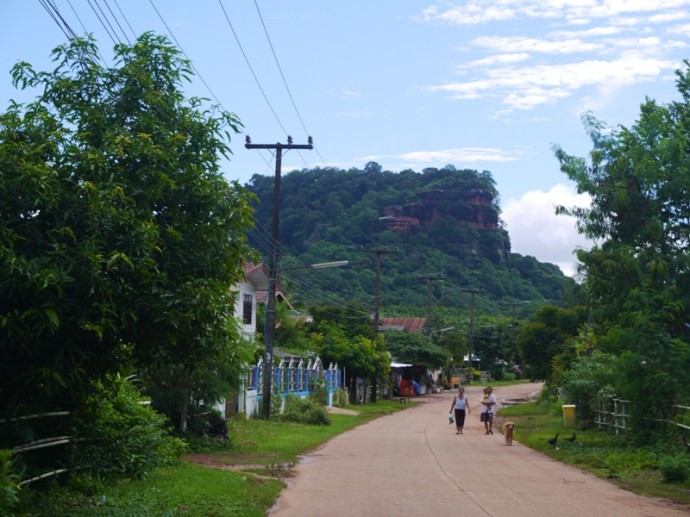 As you approach Wat Phu Tok you'll be greeted by the view above. Your aim is to get right to the top of the sandstone outcrop that is facing you. It looks a daunting task.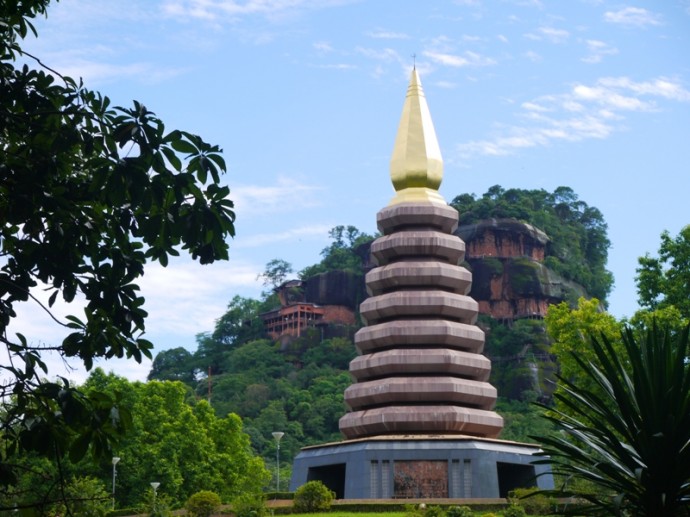 Once you enter the grounds of Wat Phu Tok you'll see a large marble chedi. This contains some bone relics from Ajahn Juan, the monk whose vision and dedication made the building of all the wooden staircases and walkways possible. Sadly, he was killed in a plane crash in 1980.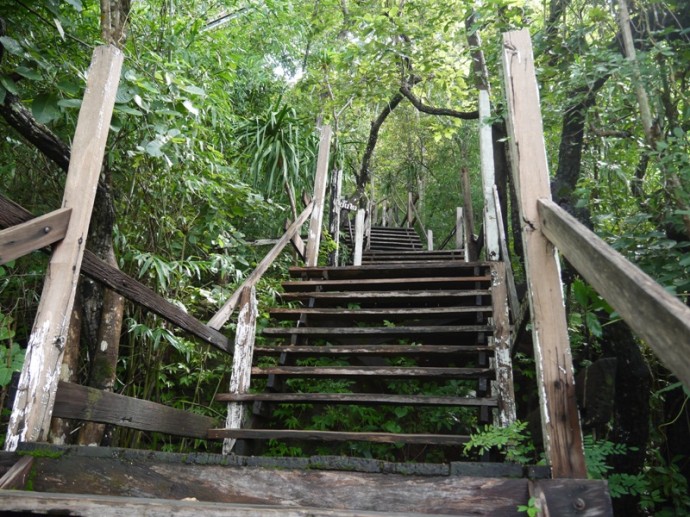 The start of the ascent is pretty easy, with some well-maintained wooden stairs leading the way.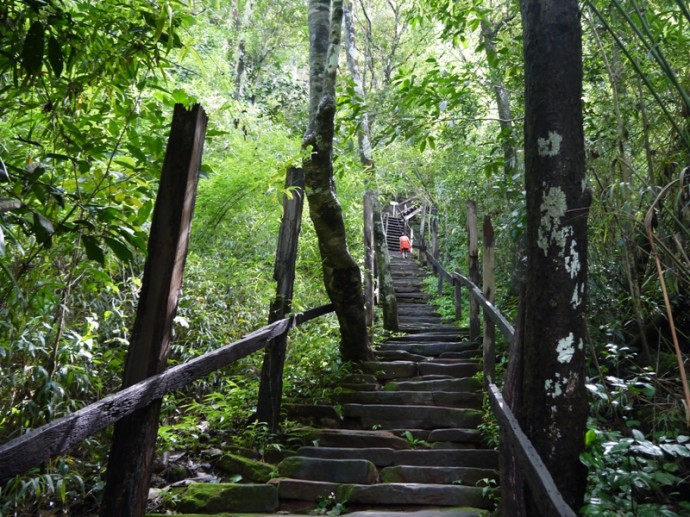 Next up we have some stone steps. You need to be careful here, as they can be quite slippery during the rainy season, which is when we were there.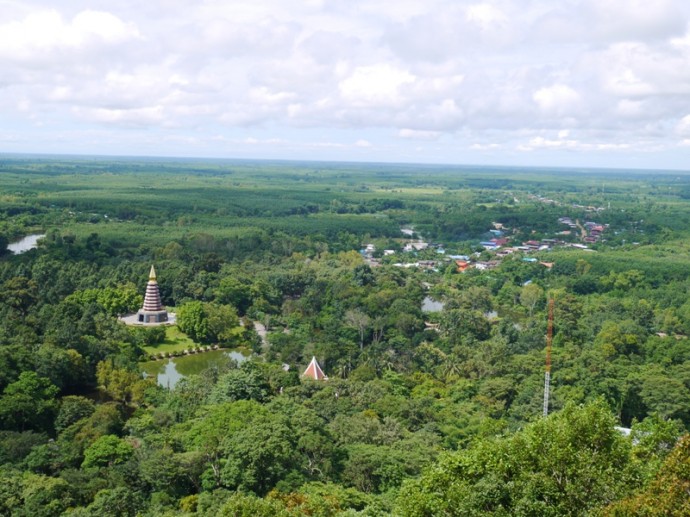 It's at this point that you'll start to see some fantastic views of the surrounding countryside. Above you can see the marble chedi and the nearby village. They are already starting to look a long way away.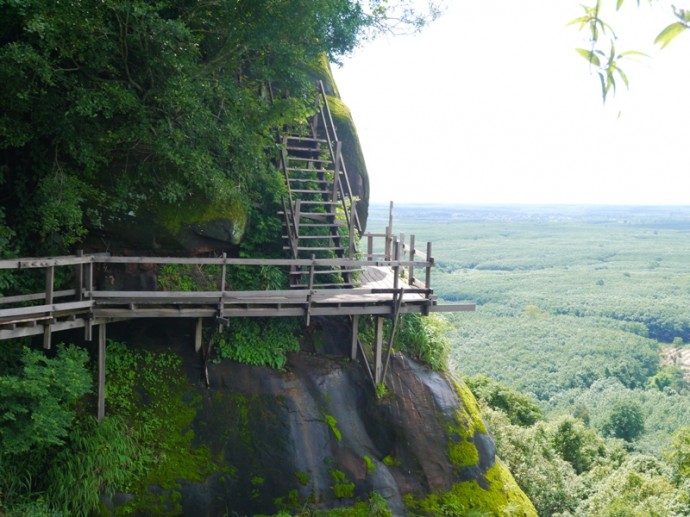 Above you can see how the wooden walkways are built into the sandstone rock. They are safer than they look.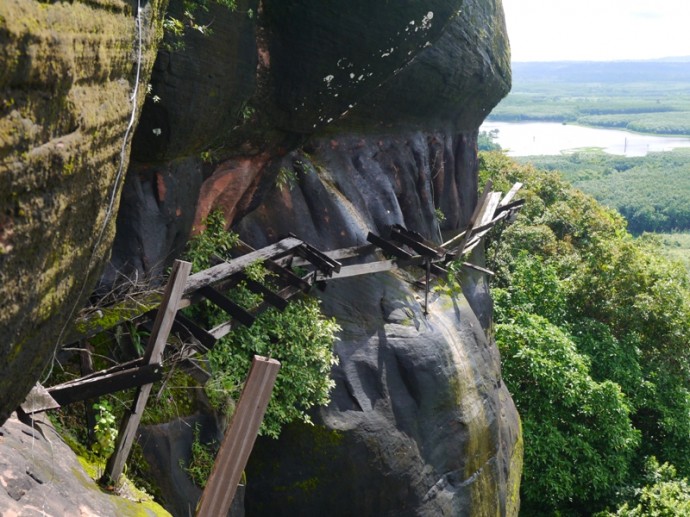 At some of the lower levels the walkways have fallen into disrepair and some have collapsed entirely.
At level 5 you can walk around the outside of the sandstone outcrop and see fantastic views in every direction.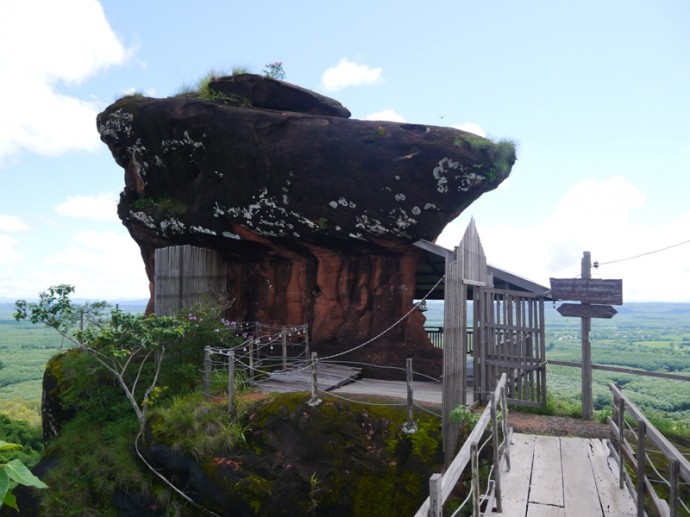 From level 5 you'll also be able to access this small temple area which is slightly separated from the main sandstone outcrop.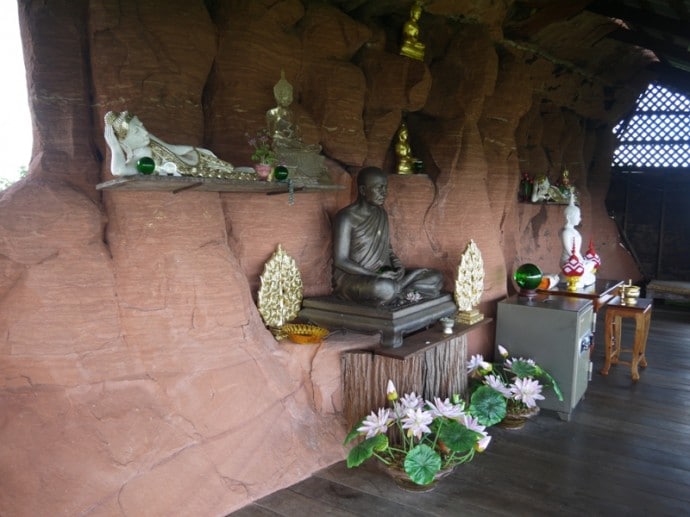 Most Thais will stop and pray here for a few minutes, so be quiet and respectful and remove your shoes when entering.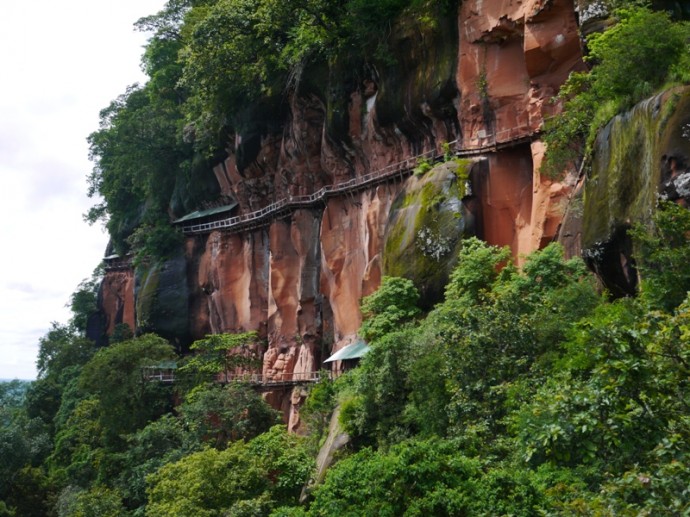 It's from this area that you'll get the best views of the walkways that cling to the side of the rock. That is what you will have walked across to get to this area.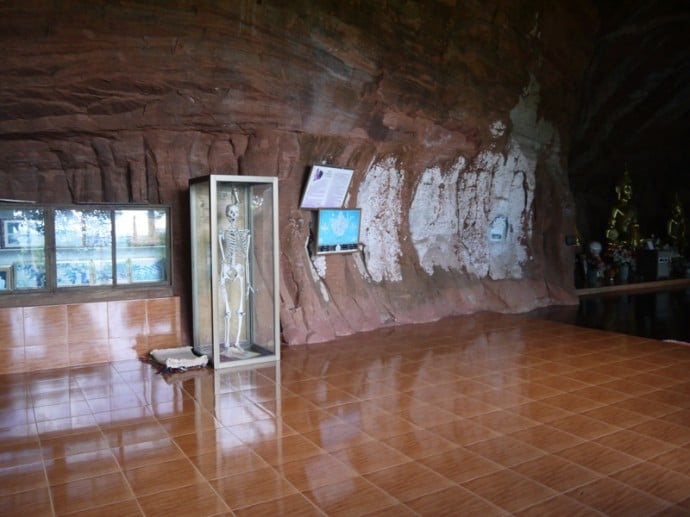 At level 5 you can also see the skeleton of a 20-year old man that is believed to have died of cancer. It's not known why the skeleton is here.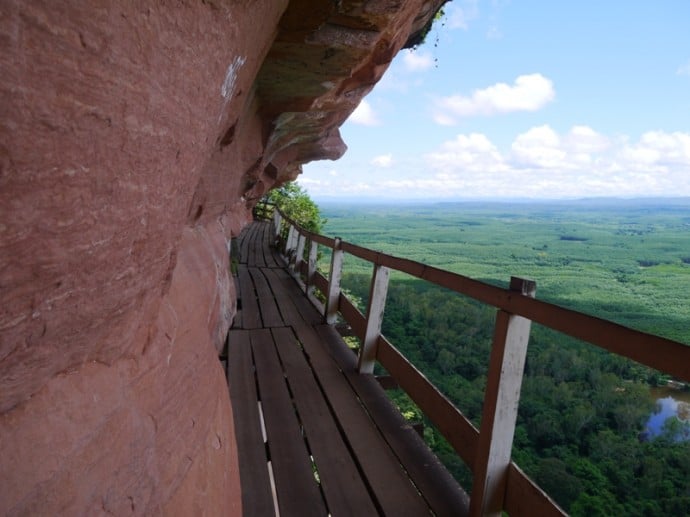 The level 5 and 6 walkways are quite well maintained. They can get slippery if it's been raining, so be very careful, as it's a long way down to the bottom. Also beware of falling rocks.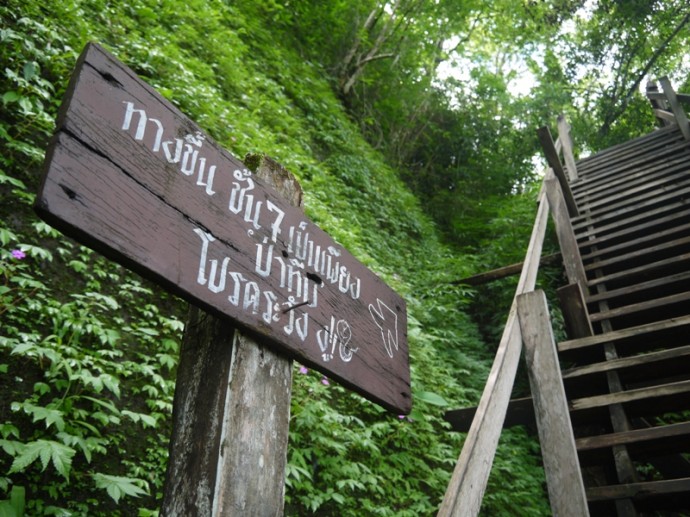 The above sign is pointing the way to level 7 and says that the final level is just a wooded area. It also says to beware of snakes. You can see a little snake image at the bottom right of the sign.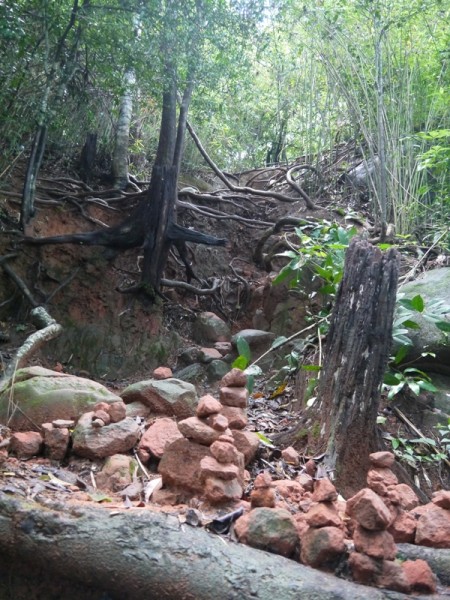 Once up the steps shown above, there is an extra climb that's needed to get to level 7. This involves climbing through tree roots, some undergrowth and some mud. This is why most people don't make it to level 7.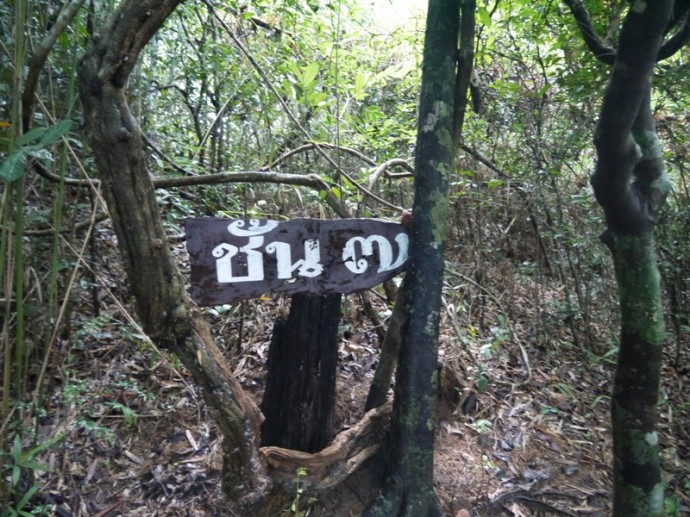 The above sign says Level 7 in Thai. You have now reached the summit. Many people find this to be quite disappointing, as there is nothing there but trees, bushes and other plants. And of course, snakes. We didn't see any though.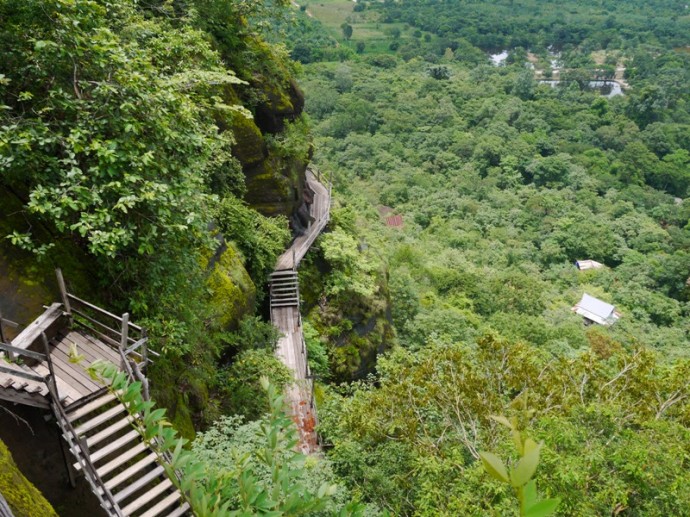 When you start your descent, you'll see views like the one above.
We thoroughly enjoyed our day out at Wat Phu Tok and would definitely go again. This is one of the real highlights of my time in Thailand. We were told that in winter the rocky outcrop is surrounded my mist and clouds and looks magical from the top. So we may return to see that.
It took us about two hours to explore Wat Phu Tok, but we could easily have spent longer. Be sure to take enough water with you, as it can get very hot climbing all those stairs. I'd suggest visiting as early in the day as possible, as it will be a little cooler at that time.
Wat Phu Tok Essentials
Opening Hours: 06:30-17:00 (Closed 10-16 April; May also be closed if stairs and walkways are too slippery)
How To Get To Wat Phu Tok
We stayed a night in Bueng Kan and then hired a driver to take us to Wat Phu Tok and back. It costs us 1,200 baht ($40). It's also possible to get a tuk tuk from Bueng Kan town center, and this could cost anything from 600-900 baht ($20-$30). Wat Phu Tok is around 30 kms from Bueng Kan, so a tuk tuk may not be the best way to get there. Some of the roads are very bumpy, so a 4-wheel drive will be more comfortable. You'll also appreciate the aircon on the way home.
It's also possible to make a day trip from Nong Khai. But this involves a drive of around 4 hours each way, so it will be a very long day.
There are minibuses that go from Nong Khai to Bueng Kan that cost 150 baht ($5).
Videos Of Wat Phu Tok
Hotels In Bueng Kan
For our short stay in Bueng Kan, we chose to stay at BK Place Hotel in the town center. Click here to book a room at BK Place.
Click here for all hotels in Bueng Kan.