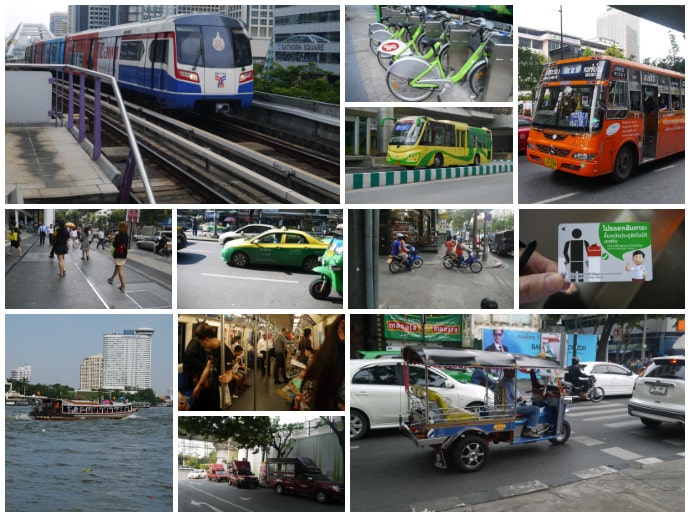 Bangkok is known as being one of the best cities in the world to visit, but what many don't realize is what such a large range of public transport options are available. We explore 11 ways to get around the city. You can also check out our in depth Bangkok travel guide that can help you in your travel.
1.BTS (Skytrain)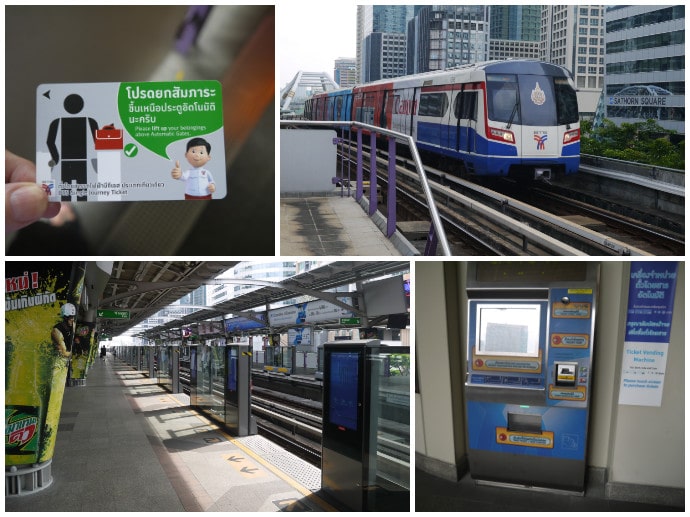 Bangkok's BTS is one of the most popular ways to get around the city, and the trains are always busy. At rush hour they are packed, and you sometimes have to wait for another train. There are two lines on the BTS system – the Silom Line that runs between National Stadium and Talat Phlu (extending to Bang Wa soon), and the Sukhumvit line that runs between Mo Chit and Bearing. You can change from one line to the other at Siam station, which is considered the main shopping district of Bangkok. A single journey tickets costs between 15 and 42 baht ($0.50-$1.40). A 1-day pass costs 130 baht ($4.35). You can connect to the Airport Rail Link at Phaya Thai station. See BTS for maps and further information.
2. MRT (Underground)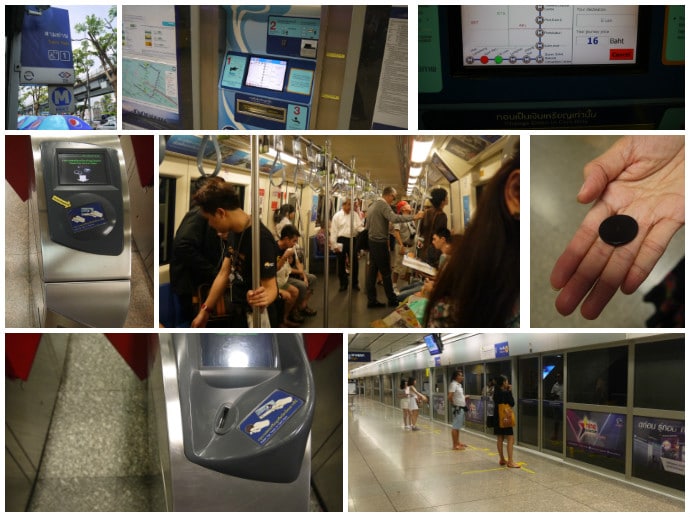 Bangkok's MRT system is very modern and very efficient. The MRT line runs from Hua Lamphong station to Bang Sue, with a single journey ticket costing between 16 and 40 baht ($0.50-$1.35). The BTS/MRT systems connect at Sala Daeng/Si Lom, Asoke/Sukhumvit, and Mo Chit/Chatuchak Park. Whether you use the BTS or MRT depends on where you want to travel to and from. For further details, see Bangkok MRT.
3. BRT (Bus Rapid Transit)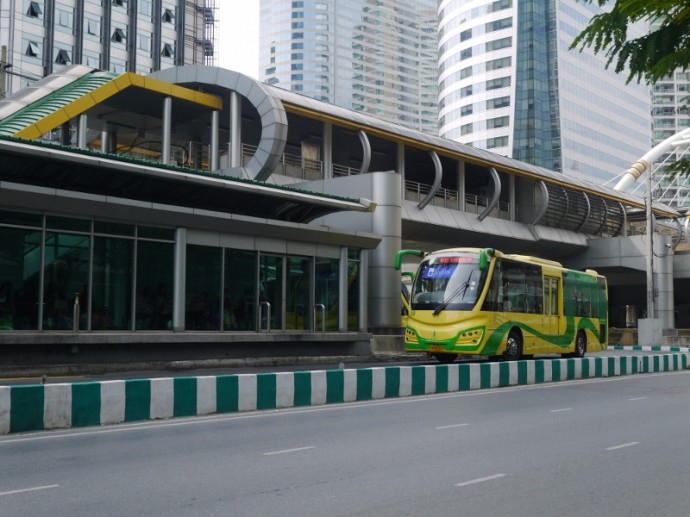 The BRT only started operating in 2010, and currently only has one route – from Sathorn to Ratchapruek. Sathorn station is connected by walkway to Chong Nonsi BTS Station. The modern and air-conditioned buses have a dedicated lane so don't get caught up in traffic jams. The buses run from 6 am until midnight and cost 5 baht ($0.15) per journey. They run every 5 minutes during peak times and every 10 minutes at off-peak times.
4. Taxi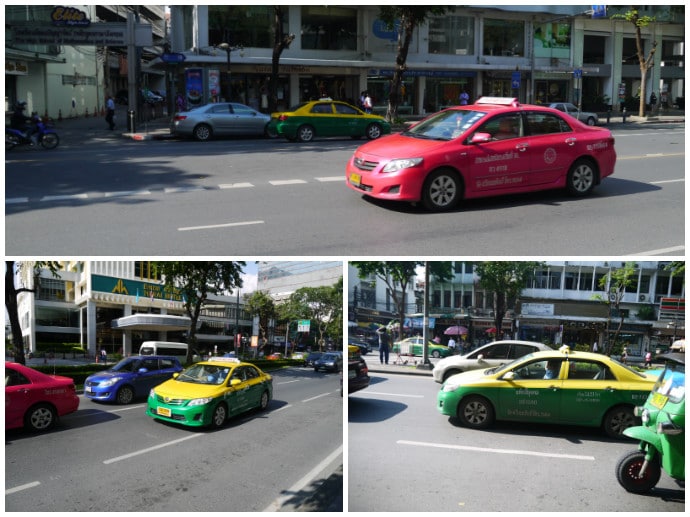 As long as you don't get stuck in traffic jams, taxis are a good way to get around the city. They are very cheap, with the starting price being just 35 baht ($1.20). You can get most places in the central area for well under 100 baht ($3.35). All taxis are equipped with meters, and the drivers are supposed to use them at all times. You hear many stories though of drivers charging fixed fares far in excess of what the metered fare would be. In my experience the most unreliable ones are the ones that hang around the tourist areas. I never have problems with any I flag down, as they all put their meters on. I wouldn't use a taxi that was parked outside a hotel or tourist attraction, as these seem to be the ones that get the most complaints. Just walk further away and flag one down. Most taxi drivers are honest though. I've seen a couple of stories recently about passengers that left large amounts of money behind in the taxi, and the taxi driver tracked them down and returned it.
5. Tuk Tuk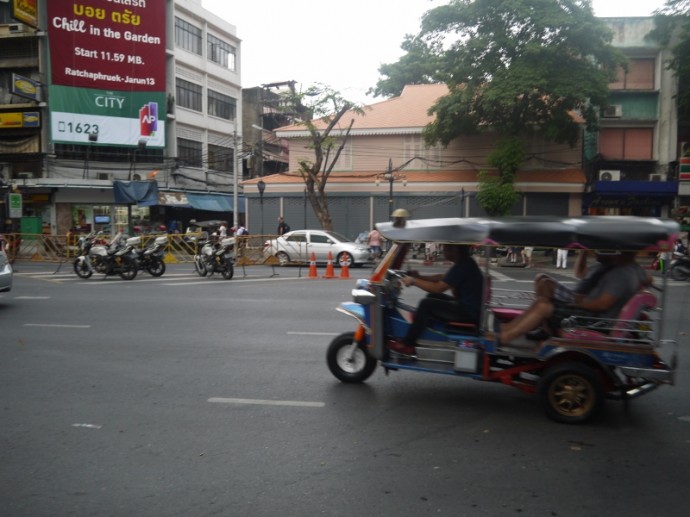 Tuk tuks seem to be the form at transport that first time tourists love the most, and it's also one of the most expensive forms of transport. A tuk tuk ride is something that almost every tourist likes to experience at least once, but getting around the city this way can quickly end up costing quite a lot. The only time I use a tuk tuk is a last resort. Stories abound of tourists being ripped off, but agree the price up front and you shouldn't have any problems. The thing to watch out for though is that many seem to want to take you to gem shops, suit shops and certain restaurants. They get a commission for taking you, but if it's somewhere you want to go anyway you could have a very cheap, or even free, tuk tuk ride.
6. Bus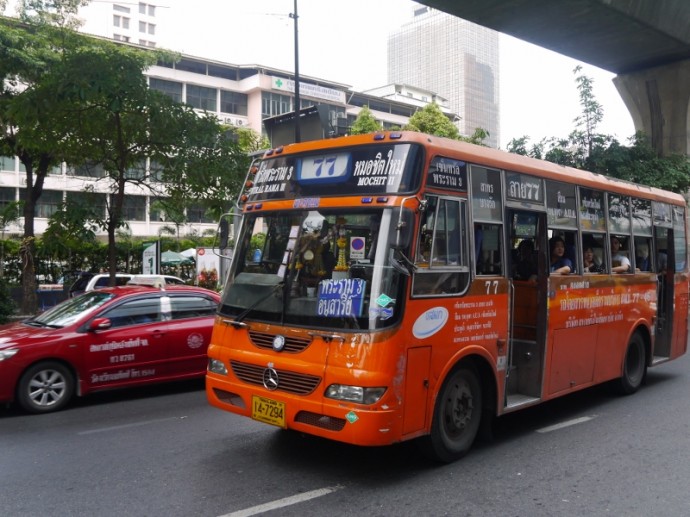 The buses in Bangkok are operated by the Bangkok Mass Transit Authority (BMTA), and cover Bangkok and the surrounding provinces. Buses are among the cheapest forms of transport in Bangkok, with prices ranging from 6.5-23 baht ($0.22-$0.77). Some buses are flat fare, while others charge depending on distance traveled. According to the BMTA website, there are almost 5,000 buses operating on over 100 routes. See BMTA for further details.
7. Songthaew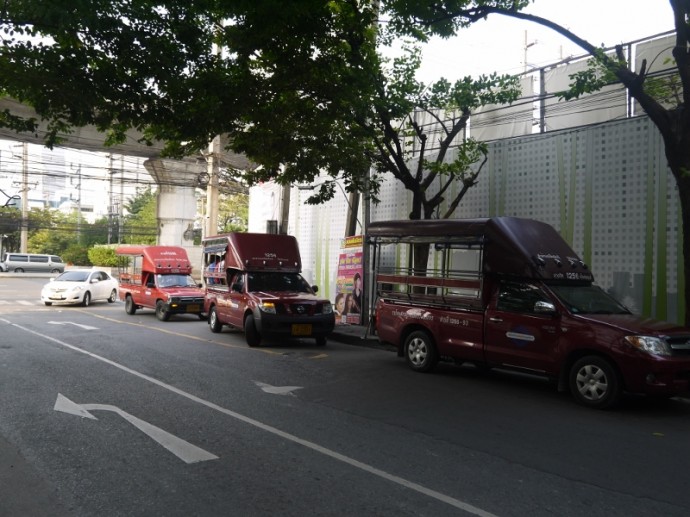 Songthaews are very popular in Chiang Mai, but you don't see too many of them in the central areas of Bangkok. They tend to travel routes that other public transport doesn't and are mostly used by locals. You probably won't need to use them unless you're going slightly off the beaten track, but it's good to know that they're available if you need them. I only use them very occasionally. They usually only cost around 5-20 baht ($0.17-$0.70).
8. Motorbike Taxi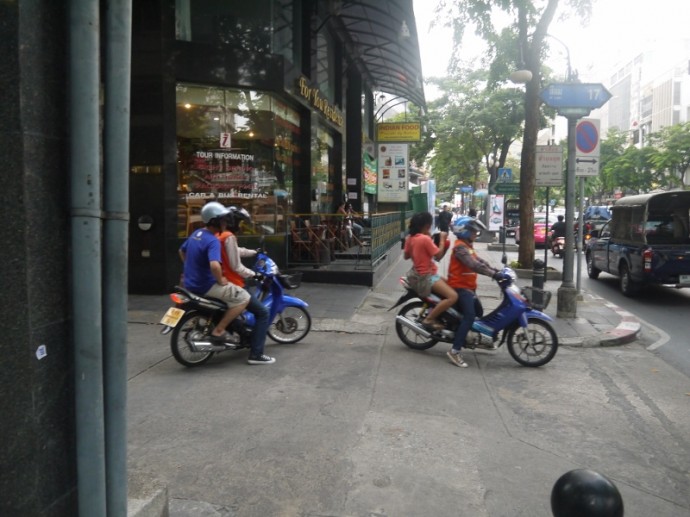 Motorbike taxis are great for very short journeys. People tend to get them to travel down the long sois (side roads) that run off the main roads. You'll see motorbike taxis all over the city, mostly outside BTS and MRT stations, and on the corner of busy sois. They usually cost 10 baht ($0.35) for a few hundred meters, and 20 baht for a longer journey. They are almost always used just for short journeys. Passengers don't normally wear a helmet, but you can be fined if you get caught without one.
9. Boat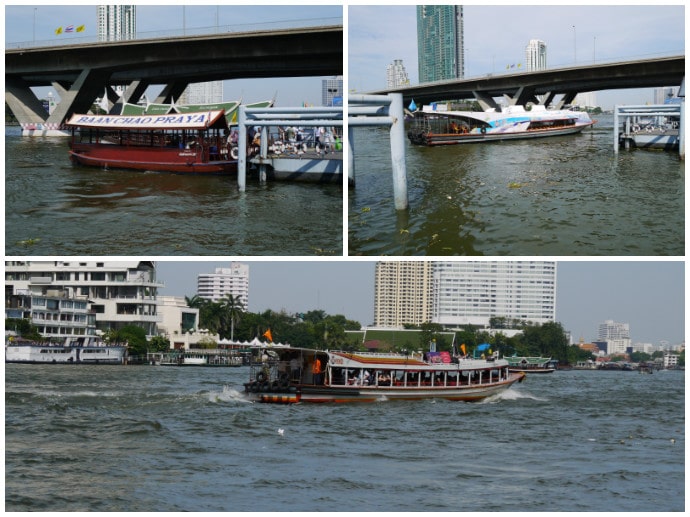 This is probably one of the most relaxing ways to get around the areas of Bangkok that are near the river. One of my favorite trips is from Sathorn Central Pier to Chinatown on the Orange Flag Boat. As well as the various commuter boats, there is also a tourist boat and quite a few free hotel boats. There's also a free boat to Asiatique. The commuter boats cost from around 10-30 baht ($0.35-$1). To find your way around by boat, check out Chao Phraya River Boat Routes.
10. Bike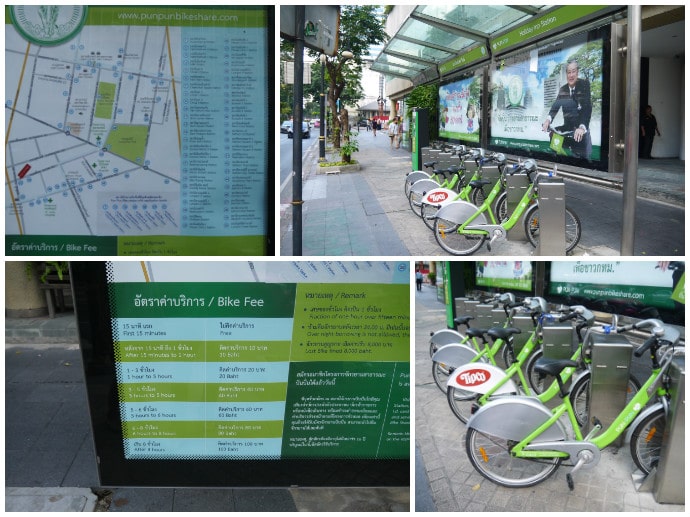 Like numerous other cities around the world, Bangkok has also introduced a bike share program that covers most central areas of the city. It's incredibly cheap to join (around $10), and the first 15 minutes of each ride is free. This is an ideal option if you make lots of short journeys around the center of Bangkok. See Bangkok Bike Share for full details.
11. On Foot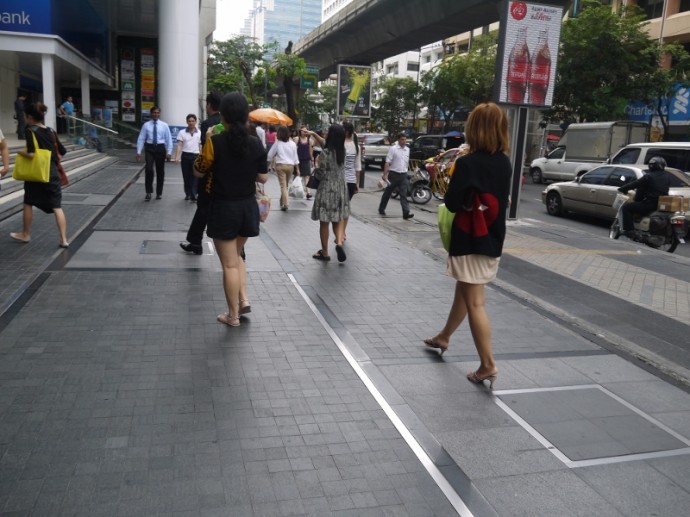 My favorite way to explore the city is on foot. It means you get to see more of the city, especially all the interesting street activity that you'd miss if you traveled by some other form of transport. Bangkok is a big, crazy and often chaotic city, and that's part of its charm. And the only way to get close to this ordered chaos is on foot. You'll discover hidden markets, hidden shops, hidden temples, and all sorts of other things that it would be a shame to miss out on. Walking is also great exercise, and it's free.
What's your favorite way to get around the city? Check out our Bangkok travel guide for more helpful information.
Hotels In Bangkok
If you're planning to visit Bangkok, then check out Agoda.com for some great hotel deals.