Bangkok's BTS (skytrain) system is the best way to travel around Bangkok. The trains are very clean, efficient, have superb aircon and the tickets are very cheap. This is our favorite mode of transport in Bangkok and we use it many times a week. The system has two lines – the Silom line which runs south to west from Bang Wa to National Stadium, and the Sukumvit line which runs north to west from Mo Chit to Bearing. The interchange station is Siam, which is considered to be the center of Bangkok, and where most of the best shopping malls are located. See best shopping along the BTS route. The trains run from 06:00 to 24:00 every day, although the last trains from some stations will be as early as 23:30.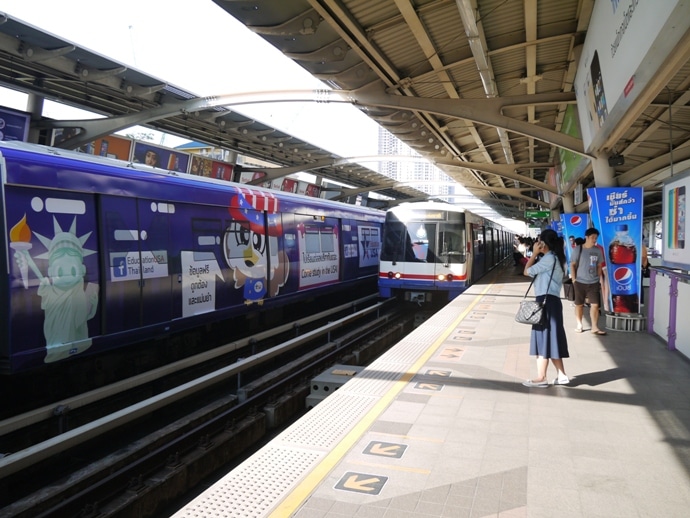 The BTS system connects with the Airport Rail Link at Phaya Thai station, and to the MRT (underground) system at Mo Chit, Asok and Sala Daeng stations.
Buying Tickets For The BTS
There are four main types of tickets available for the BTS – a single journey ticket, a one-day pass, a Rabbit stored value card or a Rabbit 30-day pass.
Single Journey Tickets
Single journey tickets are very popular, and as the name suggests they are valid for a single journey. Prices range from 15 baht to 52 baht, depending on how many stops you travel. You buy these tickets from the ticket machines at the station. A few stations have ticket machines that accept bank notes, but the vast majority only accept 1, 5 and 10 baht coins. You can get change at the ticket office. There are huge crowds at some stations during rush hour, so it's best to make sure you have enough change before arriving at the station, as the queues for change can get very long indeed. And after you've queued for change you'll have to queue again for the ticket machine.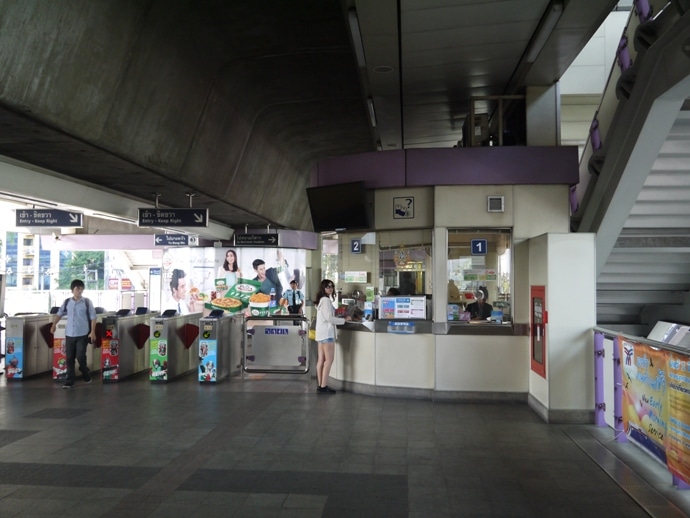 Most ticket offices at BTS stations look just like the one above, with the office to the right hand side of the ticket gates. This is where you can get change for the ticket machines. You can't buy single-journey tickets from this office.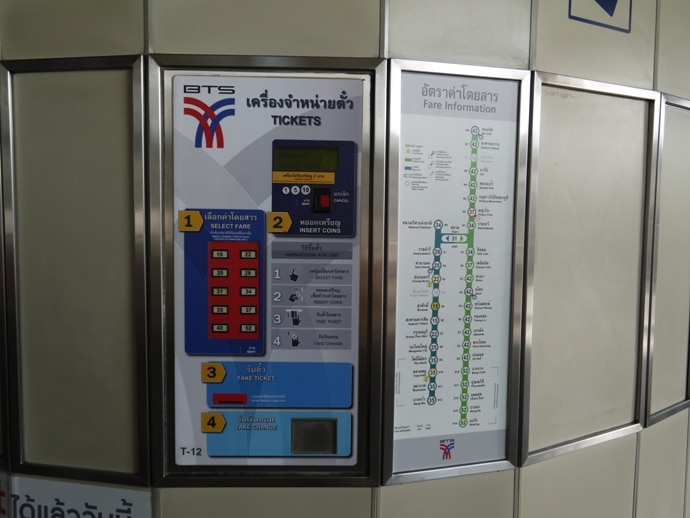 Once you have enough change, you head to the ticket machine, see above. First you check the Fare Information chart on the right to find out the cost of your ticket. Suppose you're going from Surasak to Siam. You look up Siam station and see that the ticket costs 31 baht. You then press the button that show "31" on the ticket machine and it will light up. You then insert your money and your ticket will come out of the slot at the bottom. You'll also get change if you put in more than the ticket cost. So you don't need the exact change. The ticket machines are very easy to use. Once you have your ticket, just head through the ticket gates and walk up the stairs to the platform.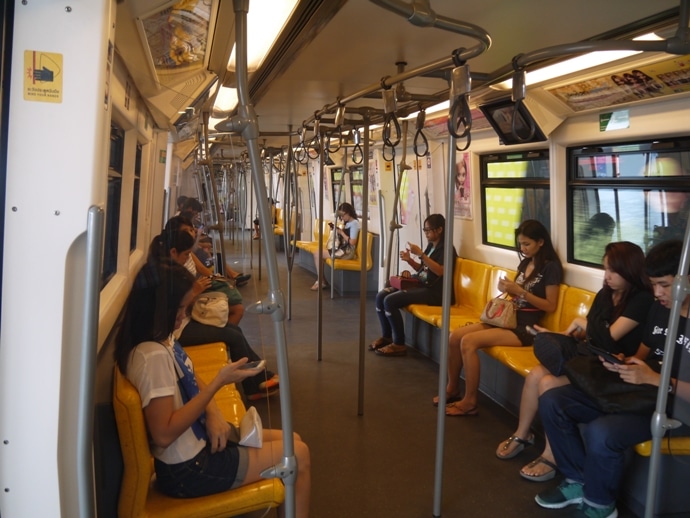 One-Day Pass
The one-day pass is great value for money and only costs 130 baht for a whole day. If you're traveling around a lot during the day this will really save you a heap of money. You get this ticket from the ticket office, not the machine.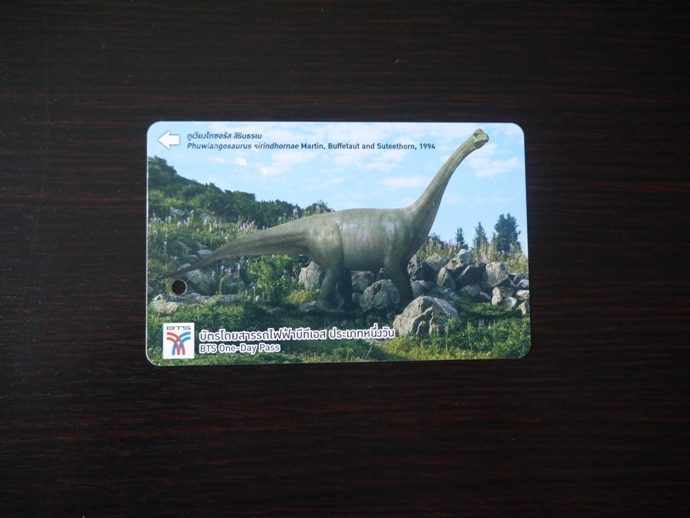 Rabbit Stored Value Card
First of all you need to purchase a Rabbit card from the ticket office, for which there is a 50 baht issuing fee and a 50 baht refundable deposit. You can then add between 100 and 4,000 baht to the card. Every time you use the card it will automatically deduct the cost of the journey from the card. This is a great card to have if you are planning to stay in Bangkok long-term. It means you don't have to keep buying tickets for single journeys and queuing up for change. All you have to do is top up the card from time to time.
Rabbit 30-Day Trips Card
This is the same Rabbit card as mentioned above, but instead of loading the card with cash you can buy a certain number of trips (journeys). These can be bought in amounts of 15 (315 baht, 21 baht per journey), 25 (475 baht, 19 baht per journey), 40 (680 baht, 17 baht per journey), and 50 (800 baht, 16 baht per journey). These have to be used within 30 days of the first journey. If not used they expire and you don't get a refund. You can also use them for travel on the original 25 stations and not the recent BTS extensions. The recent BTS extensions run from Bang Chak to Bearing on the Sukhumvit line, and from Pho Nimit to Bang Wa on the Silom line. The 30-Day trips are great for people that use the BTS system on a daily basis and know in advance roughly how many journeys they'll make. It's exceptional value for money if you make long journeys every day, as you can get a journey that normally costs 52 baht for as low as 16 baht.
If you need any further info you can call the BTS Hotline on 02-617-7300, or inquire at any BTS station. You can also check out our in depth Bangkok travel guide that can help you in your travel.
Hotels In Bangkok
If you're planning to come to Bangkok, be sure to check out the great range of hotels at Agoda.
Bangkok BTS Map