What is the best way to travel to/from the Suvarnabhumi Bangkok Airport? For most travelers, you'll want to get to and from the Suvarnabhumi Bangkok airport by train. There are two trains that run along that route. The Airport Link Express Service train runs between Makkasan (connects to MRT trains) and Suvarnabhumi airport, costs 150 baht ($5) and takes 15 minutes.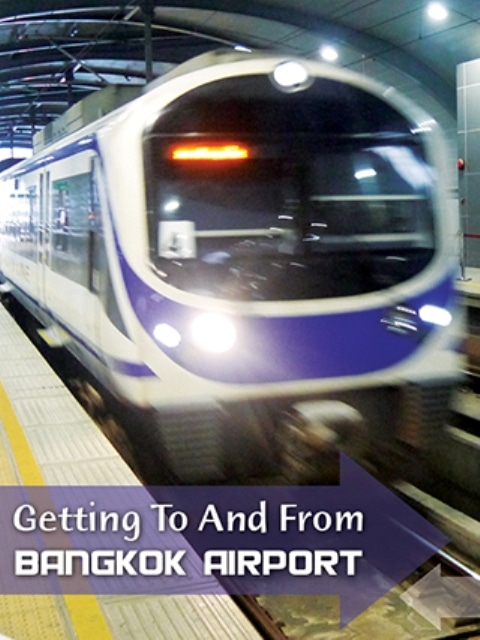 The City Line operates between Phaya Thai (where you can connect to the BTS Skytrain system) and Suvarnabhumi airport, with stops at Ratchaprarop, Makkasan, Asoke, Ramkhamhaeng, Hua Mak, Ban Thap Chang, and Lat Krabang stations. This costs 45 baht ($1.50) and takes 30 minutes.
IMPORTANT: We're talking about the Suvarnabhumi Bangkok airport, not the Don Mueang airport (see my separate guide for trains to/from Don Mueang airport). These airports are both serviced by trains, but they are on opposite sides of the city. If you're flying internationally into Bangkok on a major airline, chances are you're landing at Suvarnabhumi.
Below I'm going to give you a visual walk-through of both of these Bangkok airport train options. I hope you find it helpful!
How to Travel Suvarnabhumi Airport To Bangkok City Center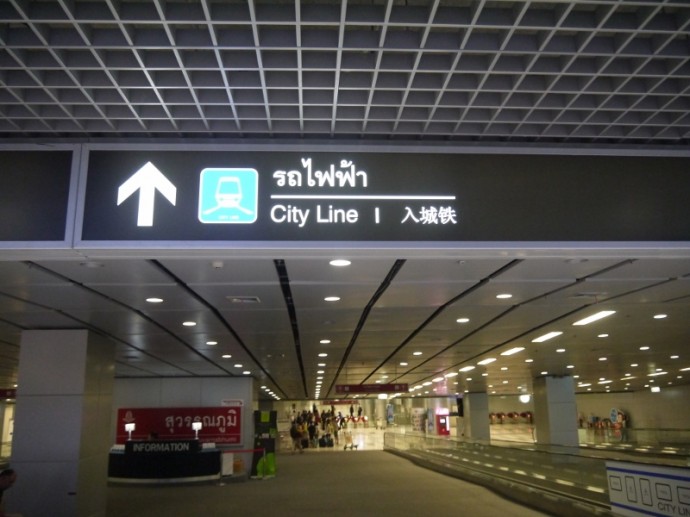 City Line Train At Suvarnabhumi Airport, Bangkok
If you are coming to or from somewhere on the BTS system, it's easiest and cheapest to use the City Line train. If you use the Express train you'll need to get off at Makkasan and change onto the City Line.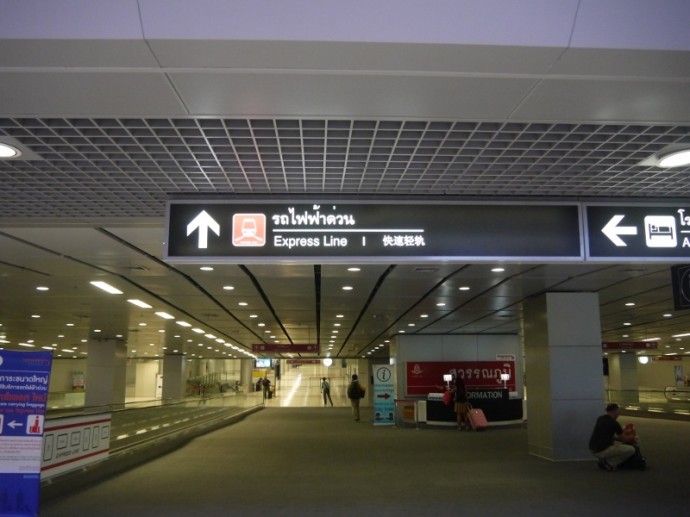 Express Line Train At Suvarnabhumi Airport, Bangkok
The Express Line and City Line trains are both at level B at Suvarnabhumi Bangkok Airport. If you're arriving at the airport, you'll be at level 2, while departures are from level 4. The taxis are at level 1, and the restaurants and cafes on level 3.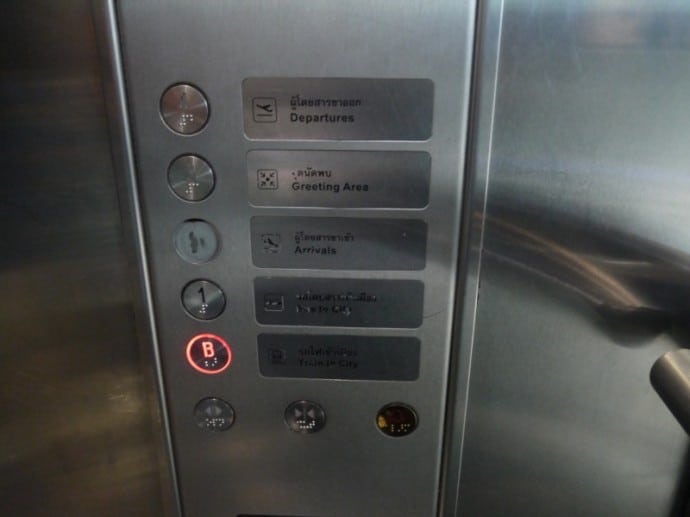 The Trains Run From Level B At Suvarnabhumi Airport, Bangkok
Once you get to the trains at the airport, you'll need to buy a ticket from one of the ticketing machines. These are located at the entrance to the station as you can see here.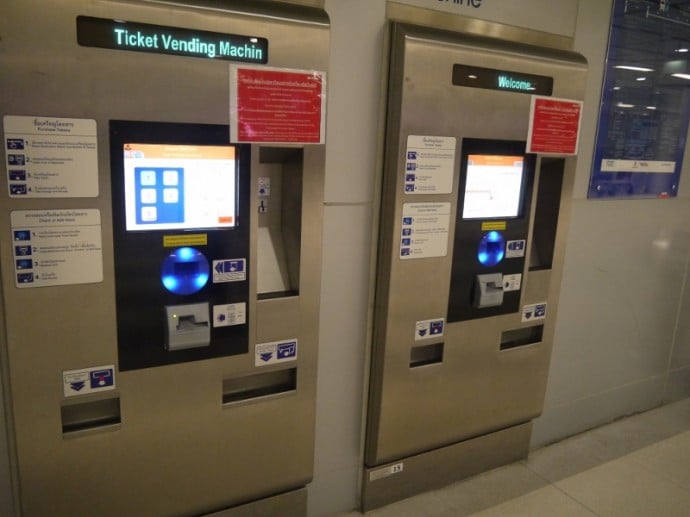 Ticket Machines at Suvarnabhumi Airport Train Station
The ticket machines are easy to use. Just select English language, click the station you want to travel to, and insert the required amount of money. Hopefully you will have remembered to exchange your home currency to Thai baht when you landed.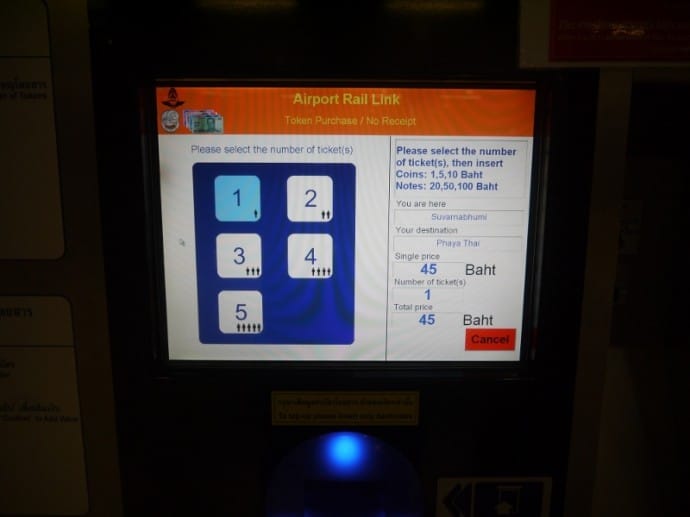 Ticket Machine Showing Suvarnabhumi Airport To Phaya Thai
Hopefully you will have checked with your hotel to see which station you need to get off at. If you need to connect to the underground MRT system, then get off at Makkasan. If you need to connect to Bangkok's BTS skytrain system, then get off at Phaya Thai.

Orange Train Token
You'll get an orange token like the one above for the train. This is similar to the tokens used on the MRT system.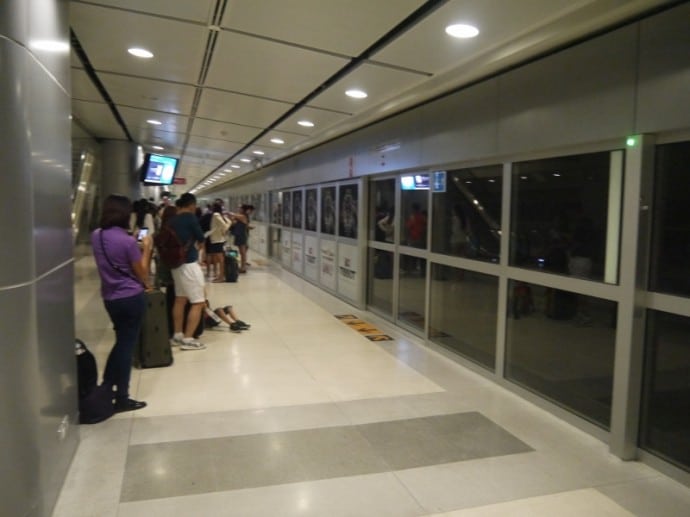 Suvarnabhumi Airport Train Platform
The platforms at the stations are very spacious, but the trains get quite full.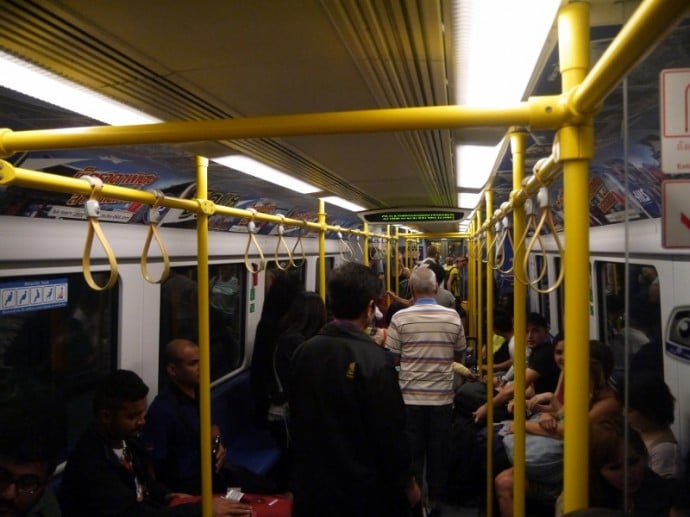 City Line Train From Suvarnabhumi Airport To Phaya Thai
The City Line train is also a commuter train, which is why it gets quite full.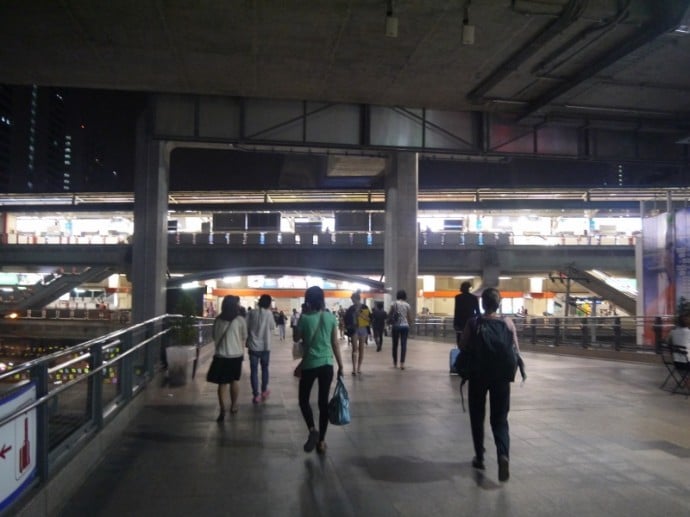 Arriving At Phaya Thai With Direct Connection To BTS Skytrain
Travel From Bangkok City Center To Suvarnabhumi Airport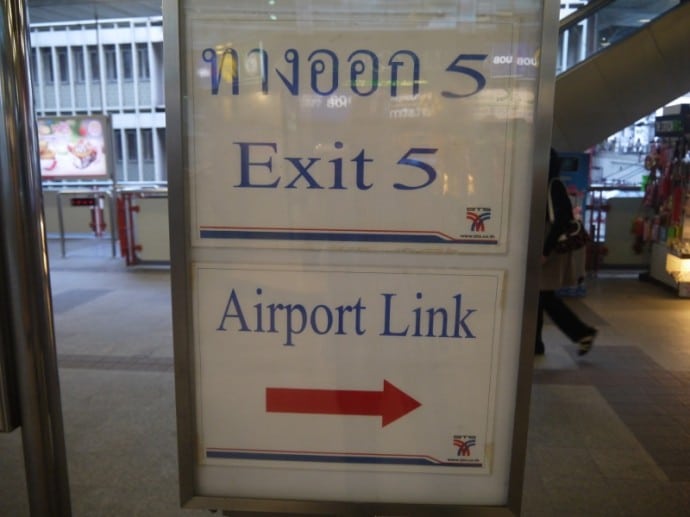 Take Exit 5 From Phaya Thai BTS Station
Getting from the city center to the airport is just a matter of doing the above in reverse. From Phaya Thai BTS station, take exit 5 for the Airport Link.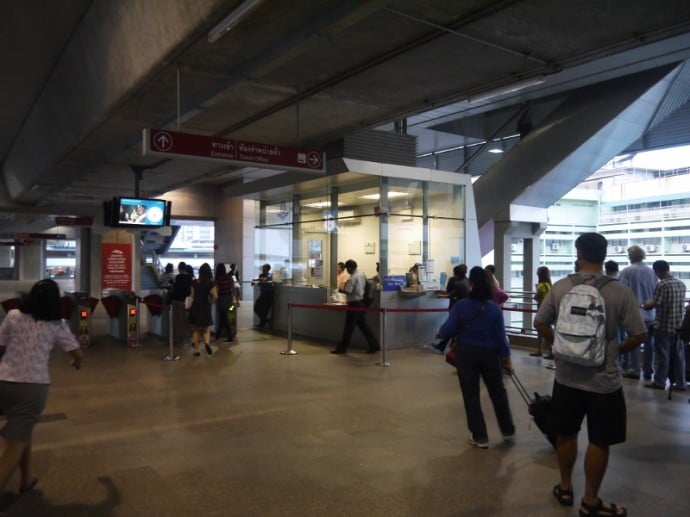 Phaya Thai Airport Link Ticket Office
You can buy tickets are either the ticket office or the ticket machines.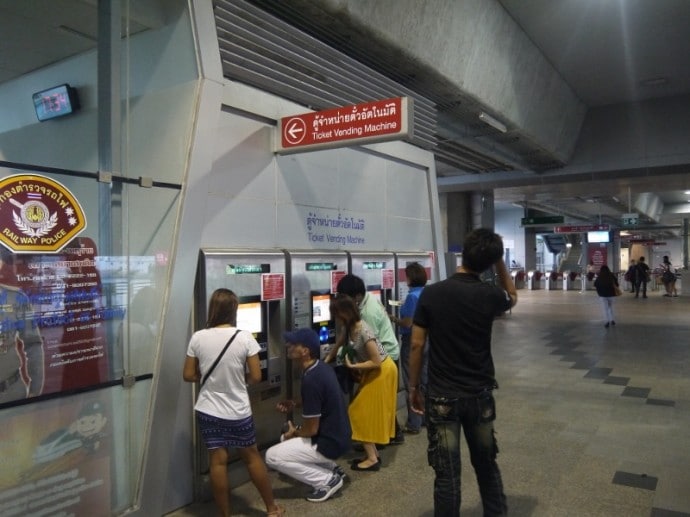 Ticket Machines At Phaya Thai Airport Link Station
Buy your ticket and then just wait for the train. Simple.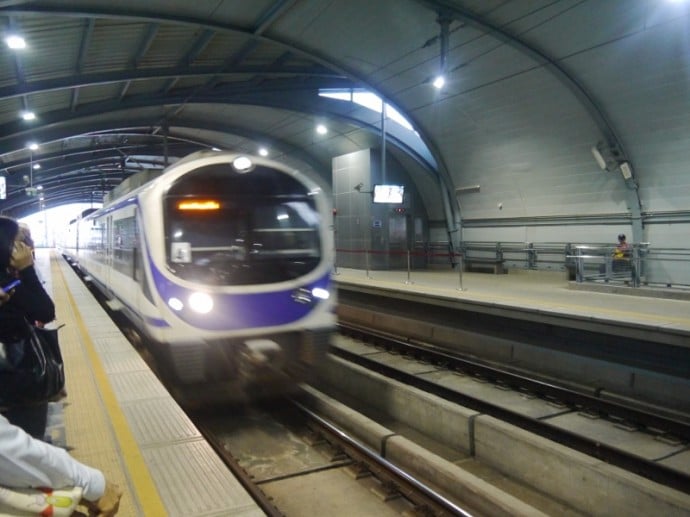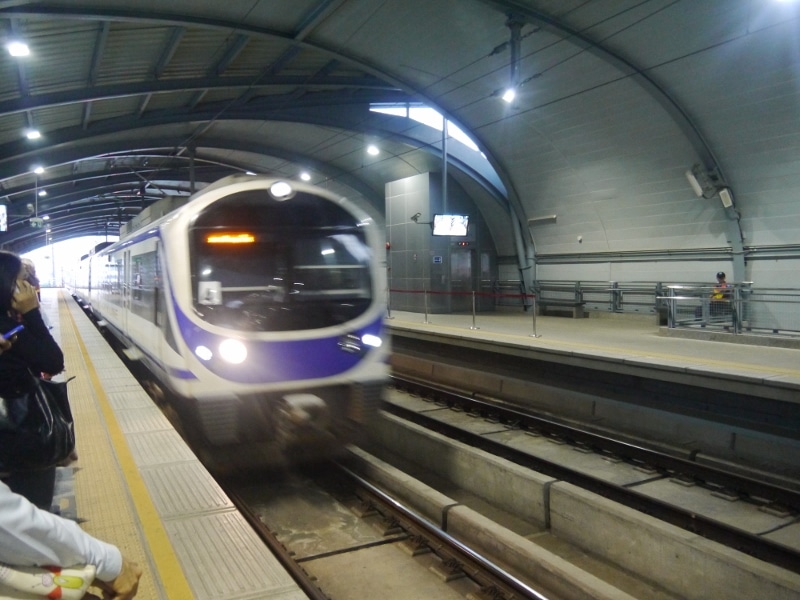 City Line Train Arriving At Phaya Thai Station
Final Thoughts | Bangkok Airport by Train
As you can see, Thailand is extremely traveler-friendly. Most of the signs are in English and the trains are very easy to use. Make sure you've converted some money to use and then determine exactly where you want to go before choosing how to get to the city center from the Bangkok airport by train.
If you have any questions, please leave them in the comments below. Also, as you're planning to visit Thailand's capital of Bangkok, I recommend you book a hotel via my favorite booking site, Agoda.com. Thank you for your support!
[do action="agoda-bangkok"/]