After over six months traveling around SE Asia, we finally arrived back in Bangkok, where we'll be based for the next few months while we plan our travels around Europe for early next year. We got an Air Asia flight from Jakarta, so landed at Don Mueang Airport. Once you're through immigration and collected your bags, head out of the airport, and you'll probably see some taxi desks. Just walk passed these and follow the signs that say Public Taxis. You'll then see a taxi desk at which you book your taxi. There wasn't a queue at all when we arrived at around 21:00 on a Sunday night, but in the past we've had to queue for almost an hour. Tell the person at the desk where you're going and they'll give you a slip of paper to give the taxi driver.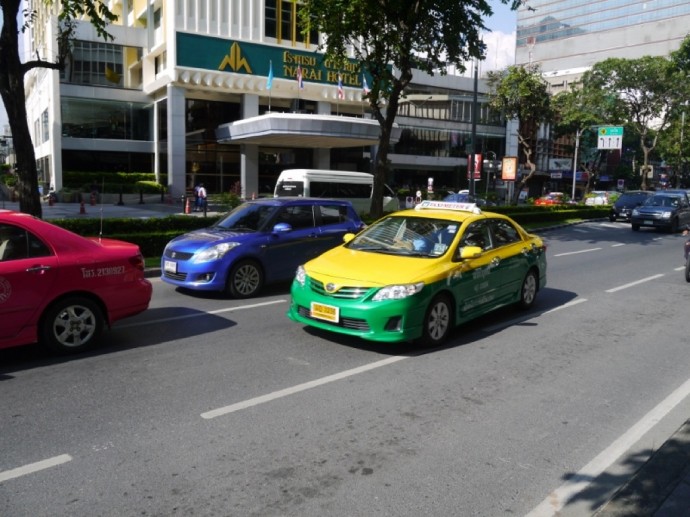 When you arrive at your destination you'll need to pay whatever the taxi meter says plus a 50 baht ($1.60) airport surcharge. You'll also need to pay any toll charges. Our toll charges came to around 90 baht ($2.90). Our fare to Silom was 200 baht ($6.40). So that's a total of 340 baht ($11) plus tips.
If your hotel is near a BTS or MRT station, a cheaper way could be to get a taxi from the airport to Mo Chit BTS/MRT station, and then get a train from there.
Hotels In Silom Bangkok
After arriving in Bangkok, we stayed at a few different hotels – iCheck Inn, Baan Silom Soi 3 Boutique Hotel and Marvin Suites. These are all hotels that we'd be happy to stay at again.
Click here to book a room at iCheck Inn via Agoda.
Click here to book Baan Silom Soi 3 Boutique Hotel via Agoda.
Click here to book a room at Marvin Suites via Agoda.