What is the best way to travel from Bangkok to Kanchanaburi? Hands down, the train is the best mode of transportation. If you're planning to make this trip, you'll enjoy this step-by-step travel guide.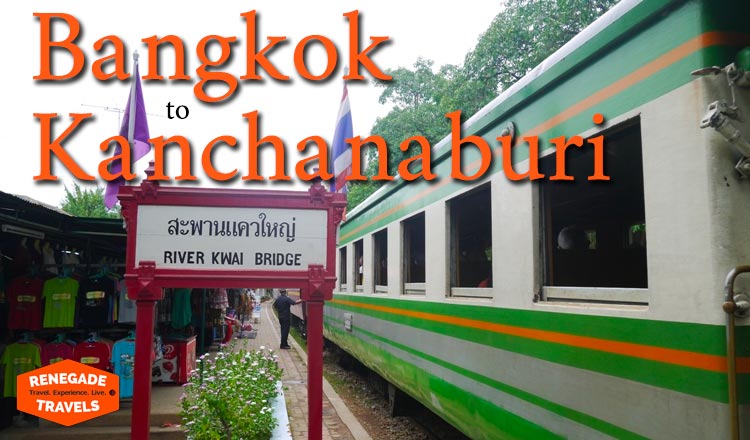 First things first: let's quickly discuss how to purchase train tickets for the Bangkok to Kanchanaburi train. The fastest (and best) method is to just purchase the tickets when you arrive at the train station.
I realize for some travelers that might be nerve-wracking, but when it comes to taking the train in Thailand, it's really quite common. There's almost always a seat available. If you'd like to search for some alternative ways to take this trip, use the form below to see what's available.
The trains from Bangkok to Kanchanaburi leave from Thonburi station and not from the central station at Hua Lamphong, where most trains leave from.
There are two trains a day and both travel all the way to Nam Tok, where you can get a taxi to Hellfire Pass. The train also passes over the River Kwai Bridge and the famous Wampo Viaduct.
Click to Pin It!
The distance from Bangkok to Kanchanaburi is around 135 km. Click here to book a great hotel in Kanchanaburi.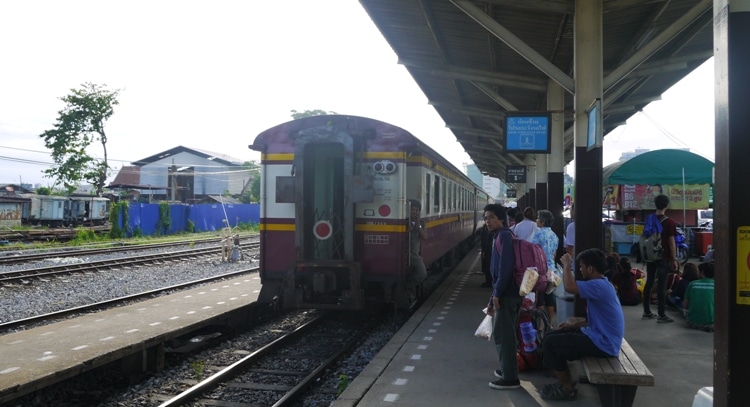 Bangkok Thonburi To Kanchanaburi Train Times
There are two trains per day along this route.
07:50 train from Thonburi arrives in Kanchanaburi at 10:25, then at River Kwai Bridge at 10:42 and Nam Tok at 12:35.
13:55 train from Thonburi arrives in Kanchanaburi at 16:24, then at River Kwai Bridge at 16:32 and Nam Tok at 18:30.
If you want to go straight to Hellfire Pass and the museum, just get a ticket to Nam Tok.
Note that for Kanchanaburi you can get off at either Kanchanaburi station or the River Kwai Bridge station. Check with your hotel to see which is the closest station.
However, you can get a tuk tuk from either station, so it's no big deal if you don't know which stop to get off at.
RELATED: Read 10 Things to Do in Kanchanaburi!
If you stay on the train all the way to Nam Tok you'll cross the River Kwai Bridge and get to see the Wampo Viaduct, which the train also crosses. We didn't do this journey this time, as we'd already done it a couple of years ago. See Death Railway and Hellfire Pass for more details of our last visit.
Kanchanaburi To Bangkok Thonburi Train Times
There are two trains per day along this route.
07:19 train from Kanchanaburi arrives in Bangkok Thonburi at 10:25. The train leaves Nam Tok at 5.20 and leaves River Kwai Bridge at 07:12.
14:48 train from Kanchanaburi arrives in Bangkok Thonburi at 17:40. The train leaves Nam Tok at 12:55 and leaves River Kwai Bridge at 14:40.
How To Get To Thonburi Station in Bangkok, Thailand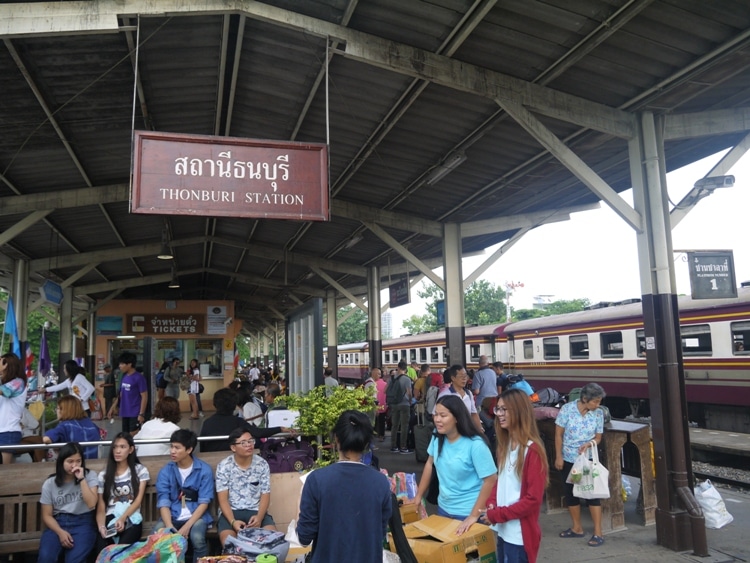 To get to Bangkok Thonburi station by public transport, first take Bangkok's BTS (skytrain) to Saphan Taksin station, which is next to the Chao Phraya River. Then follow the signs for the short walk to the pier.
Then get the orange flag Chao Phraya Express Boat, from Tha Sathorn (central pier) to Wang Lang (pier N10). From there you'll need to get a taxi. This is the way we got to the station last time.
This time we took a taxi, but left at 6:30 in order to avoid the notorious Bangkok traffic jams. We still encountered quite a lot of traffic, so I'd suggest you either use public transport or make sure you leave early enough if getting a taxi. A taxi from Silom cost approximately 140 baht.
The Train Journey | Bangkok to Kanchanaburi
We arrived at Thonburi station around 30 minutes before our train was due to leave. As I said earlier, it's quite easy to purchase tickets at the station on the day of departure. Our tickets cost 100 baht ($3) each.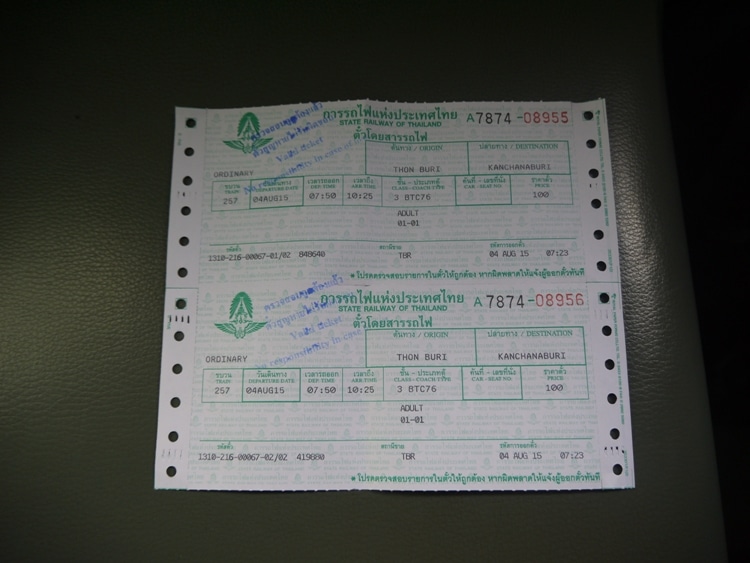 Only ten trains a day leave from this station, but don't expect that to mean that the trains will be on time. The two trains that left before ours were both very late leaving, and ours left 30 minutes late.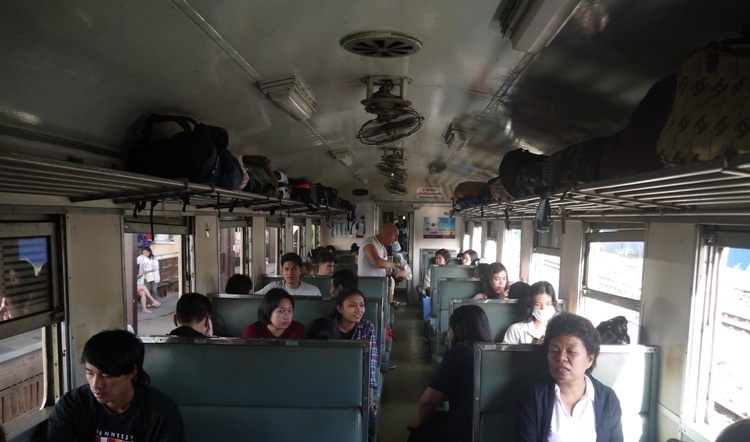 Our train was made up of six carriages, with some having wooden seats and others having padded seats. We had a carriage with padded seats for no other reason than that's the one that stopped where we were standing on the platform. There were lots of people waiting for this train, and the train was quite full.
One of the things I really like about traveling on Thai trains is seeing the food sellers come around constantly. Above is a woman that was selling a range of fruit, nuts and eggs on our train.
Other sellers sold cold drinks, dried pork, rice dishes, noodles dishes, and a few other things. The atmosphere was very relaxed on the train and everyone seemed to be having a fun time.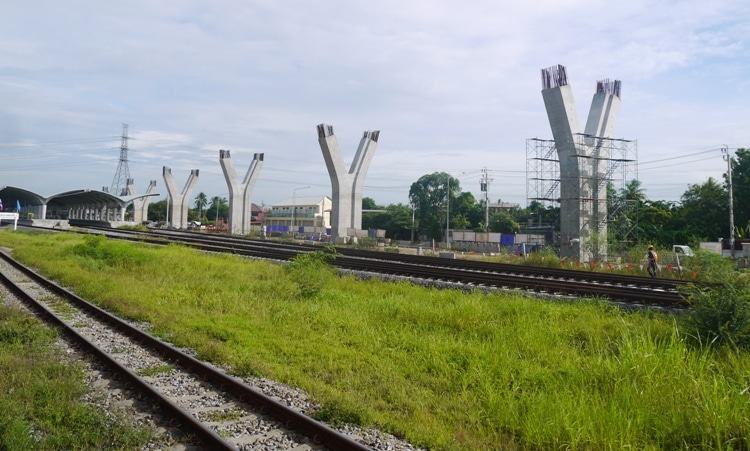 I'd guess that around 90% of people on the train were Thai, many of who were students on a day out. Thai trains tend to travel quite slowly, so you get to have a proper look at the scenery along the way.
For the first 10 km or so after leaving the station we saw huge amounts of work going on building new train tracks and also elevated sections for the BTS extension and other lines. Big changes are planned for the railway system over the coming years. We won't be able to get a quaint train like this one for much longer.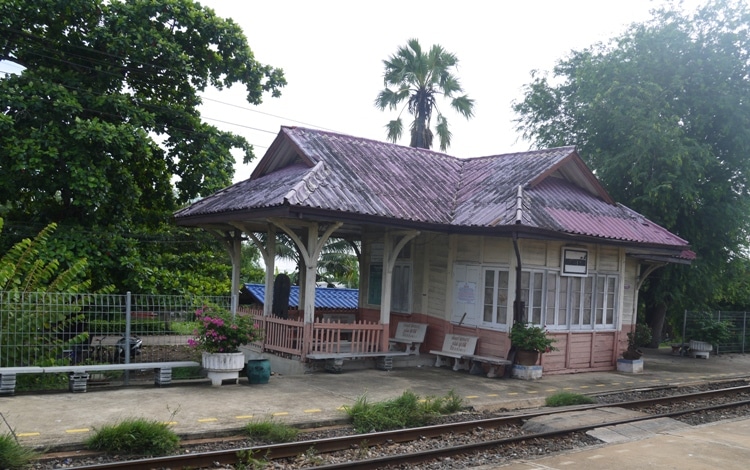 The train stopped at numerous stations along the way, with no-one getting on or off at some of them. Some, like the one above, seemed semi-closed, but the train still stopped.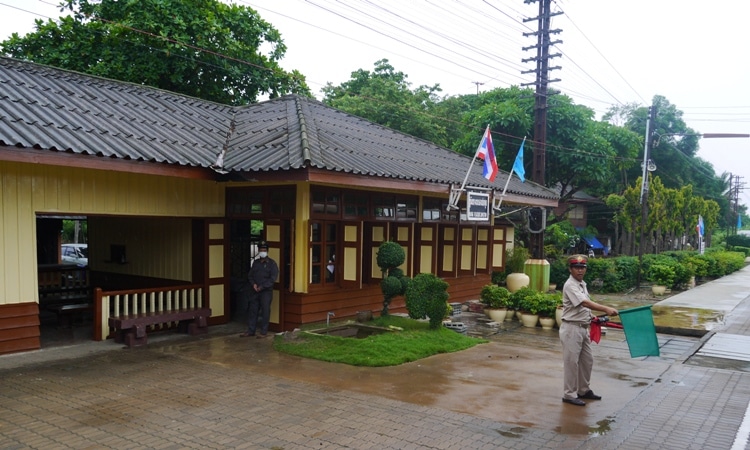 At every station we saw a well-dressed railway official with red and green flags that are used to tell the train when to stop and when to go. During World War II the above station, Nong Pladuk, became the starting point of the Death Railway that ran all the way to Thanbyuzayat in Burma.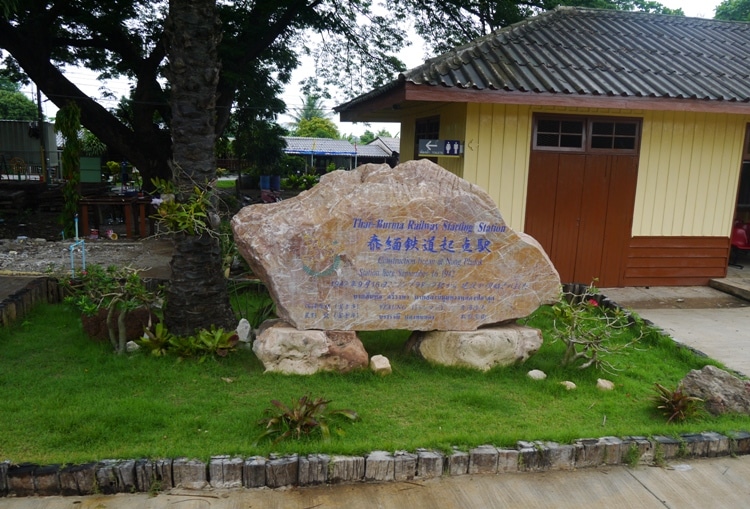 Much of the route between Bangkok and Kanchanaburi is made up of rice fields and fruit farms.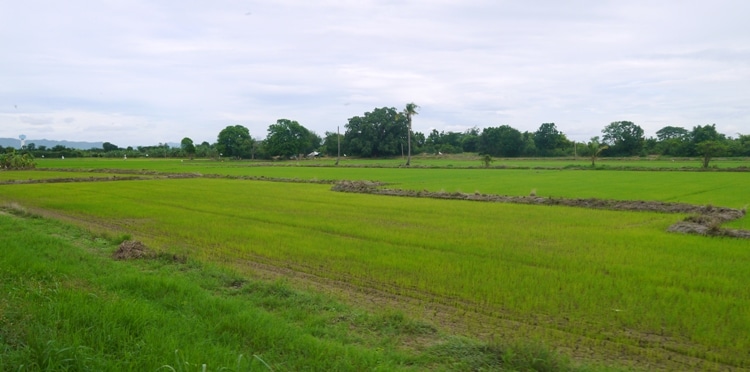 All the way the land is pretty flat, but you'll know when you're getting near to Kanchanaburi because you'll start to see hills and mountains in the distance.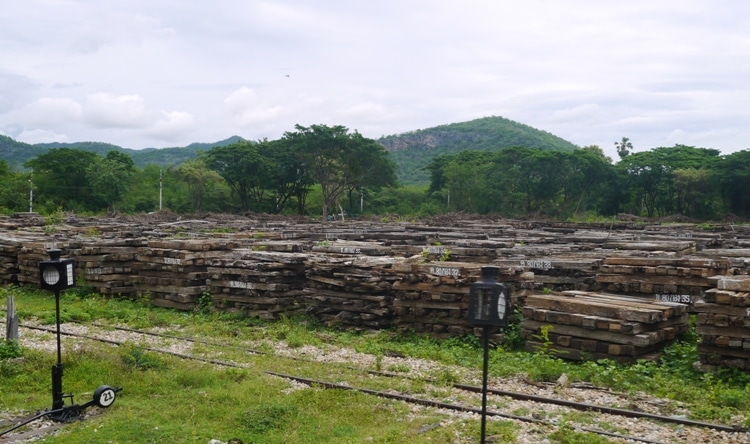 As mentioned above, there are two train stations in Kanchanaburi. We got off at the second stop which is River Kwai Bridge, as this was the closest one to our hotel.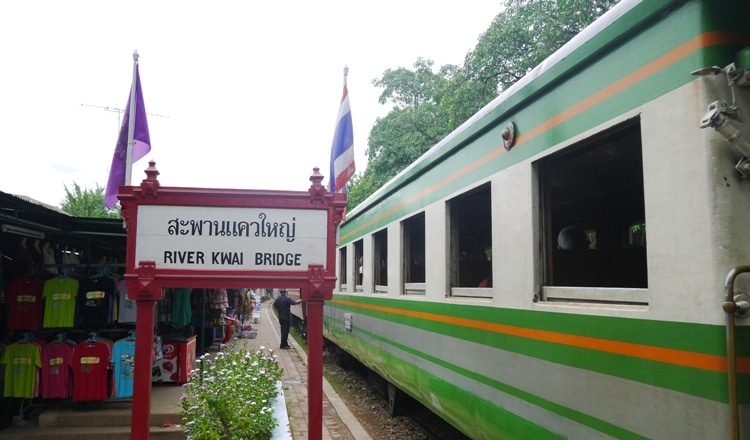 Our train was 30 minutes late leaving Bangkok and also 30 minutes late arriving at River Kwai Bridge. There are lots of souvenir and craft stalls at the station, but if you give these a miss and walk straight to the bridge you'll get to see the train crossing the famous River Kwai Bridge.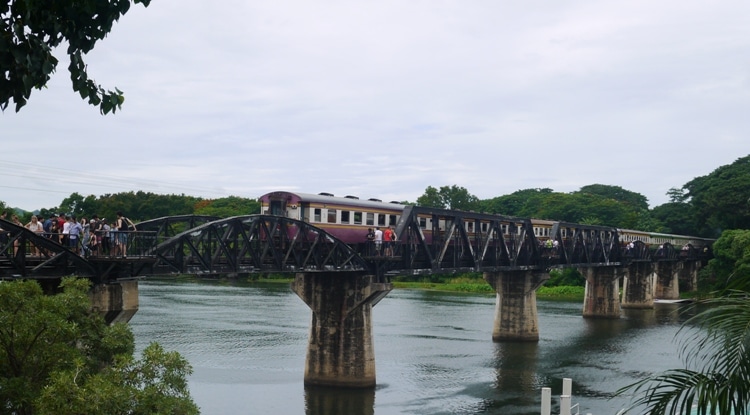 Hotels In Kanchanaburi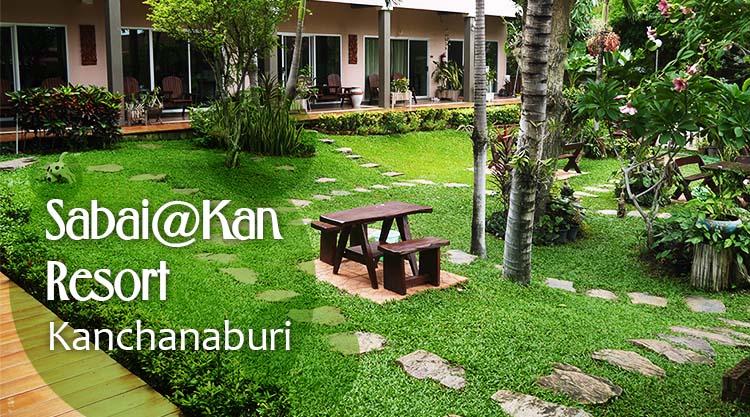 For our two days in Kanchanaburi we stayed at the excellent Sabai @ Kan Resort. We stayed there on our previous visit and had such a great time that we decided to stay there again. Click here for other great hotels in Kanchanaburi.
---