Where do I find the best street food in Bangkok? That's a great question. While it isn't difficult to find street food in Bangkok – you can hardly turn around any corner without bumping into a vendor – not all is made equal. In this guide to the best Bangkok street food, we'll share not only what you should eat, but also the best places to go to find it.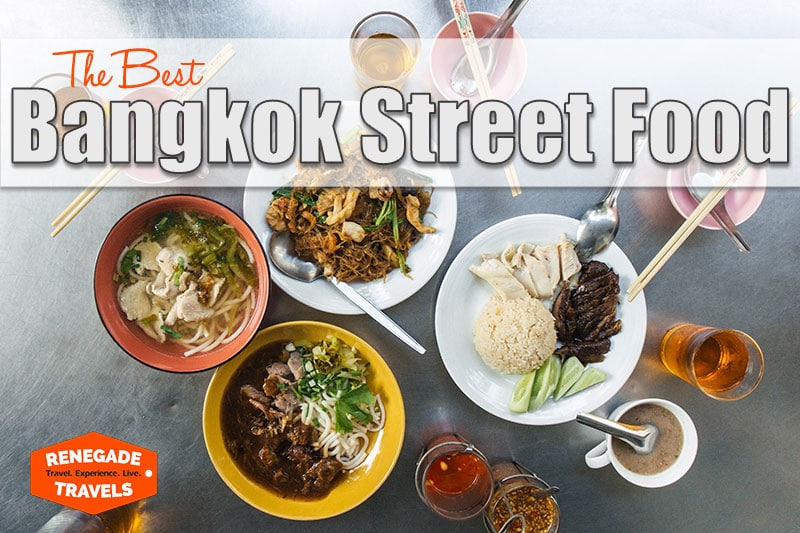 If you're a newbie to Thailand – and specifically to the capital city of Bangkok – you're in for a real treat. This is an amazing country full of vibrant culture and delicious foods.
As you travel here, you'll likely want to experience what Thai cuisine is all about. If that's the case, make a dash for one of these districts described below. You're taste buds will thank you for it.
Yaowarat | Best Bangkok Street Food
Few foreigners new to the city are aware of Bangkok's close ties with China. Over the centuries, millions of Chinese immigrated to Thailand bringing their culture, language and, most importantly, their cuisine.
Yaowarat, also known as "Bangkok's Chinatown", is one of the best places to find street food in the Thai capital.
Here, you can gorge on things like old-style steamed shrimp noodles, hearty bowls of peppery kway chap soup and fresh spring rolls filled with cured sausage and crab meat.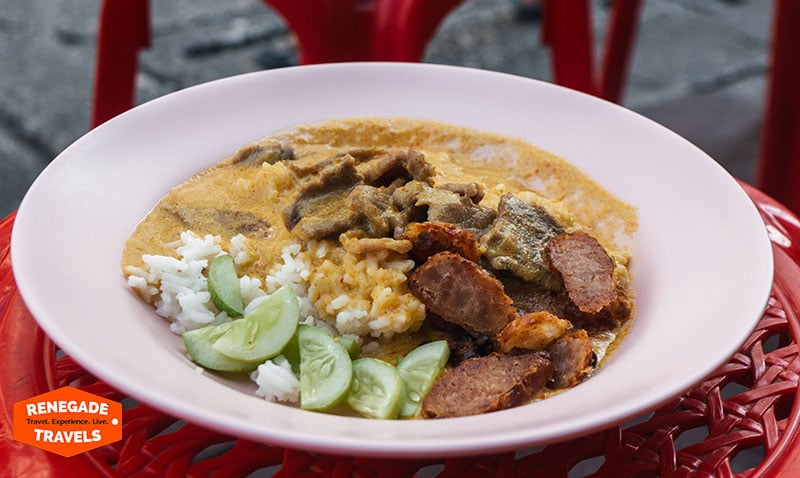 If you're exploring the neighborhood by yourself, don't just stick to the main neon-lit drag. The tiny backstreets and alleys are where you'll find some of Yaowarat's best and oldest street eats.
How to Get There: The easiest way to reach Yaowarat is by taking the MRT to Hua Lamphong station and catching a 5-minute taxi or tuk tuk from the rank just outside.
Don't Miss! Don't miss trying the Michelin-recommended Pa Thong Ko Chinese doughnuts dipped in pandan custard from the stall that sets up every evening at the start of Yaowarat Road.
Guided Tour: If you're interested in a guided tour through the backstreets of Yaowarat, check out this tour by A Chef's Tour.
Victory Monument | Best Bangkok Street Food
It's the same the world over – wherever there's a transport hub, you'll find good food. Bangkok's Victory Monument is no exception.
Every day, an almost never-ending swarm of locals and foreigners jump on and off buses headed across the capital and throughout the rest of Thailand.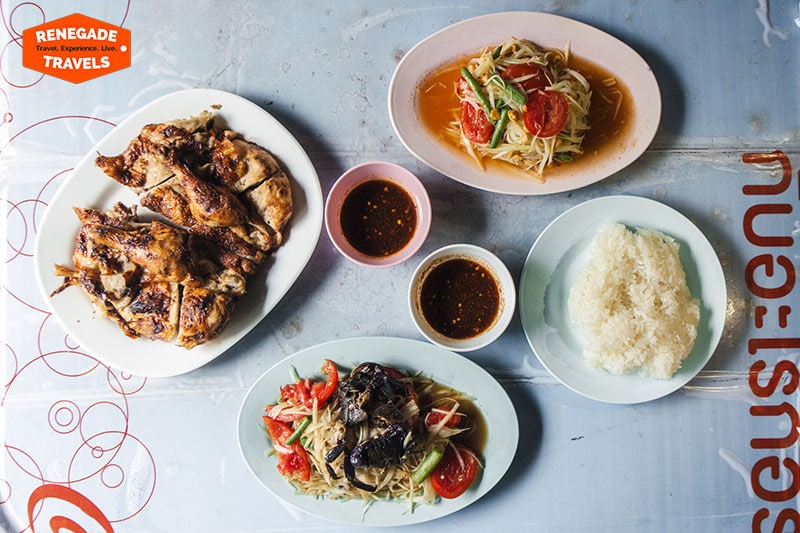 It's not hard to find places to eat from Isaan joints serving up zingy som tum papaya salads and gai yang barbecued chicken to the district's famous kuay teow reua – small bowls of rich noodle broths called boat noodles.
How to Get There: Hop aboard the Bangkok BTS Skytrain to the station of the same name which lies right next to the central roundabout. The food district is centred along a huge roundabout near the city center. If you're in doubt, simply walk around its peripheral to find some of the best street eats in the city.
Don't Miss: Try the famous Kuay Teow Reua – a delicious bowl of specialty noodles.
RELATED: The best shopping in Bangkok along the BTS Skytrain system
Talat Phlu | Best Bangkok Street Food
This foodie hangout on the western side of the Chao Phraya River is well worth the effort to reach. The district lies along the edge of the railway tracks on their way out of the city and teems with street food stalls, shophouse eateries and a bustling market.
It's easier to list what you can't find than can, but some firm favorites include poh pia sod fresh spring rolls, ped palo braised duck, and pla neung manow steamed seabass with a zingy lime dressing.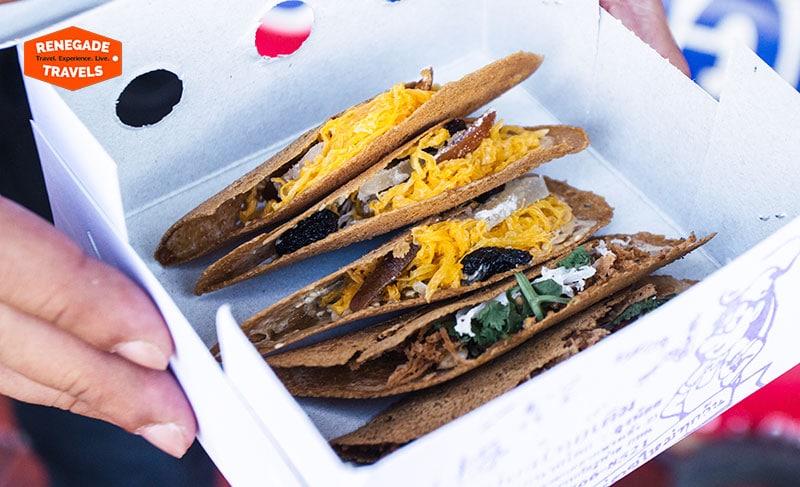 Remember to leave enough room to try the award-winning stall selling khanom buang! It's a type of crispy, Thai crepe filled with creamy uncooked meringue and sweetened duck egg yolk.
How to Get There: Talat Phlu is best reached on the subway. Just hop off at Wutthakat BTS station and either walk or take a taxi or tuk tuk from just outside.
Don't Miss: Don't miss the khanom buang (pictured above)!
Nang Loeng | Best Bangkok Street Food
Nang Loeng is, arguably, Bangkok's best kept foodie secret. This market in the heart of the old town has been serving up hungry customers since 1899.
Try to visit for breakfast and lunch when the market is at its best. You shouldn't miss the famous Khao Gaeng Ruttana shophouse which sells a dazingly selection of curries and stir-fries served over rice.
If you're lucky, you might even be able to try their yam makua yao eggplant salad, a specialty of the house.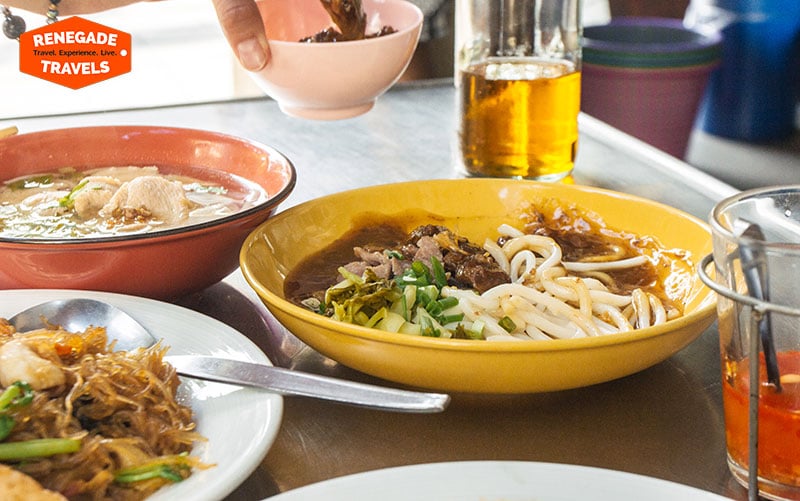 The market is also known for its ho mok, freshwater fish steamed curried topped with creamy coconut milk and their selection of Thai desserts, most of which are made locally.
While you're there, take a minute to admire the remnants of Bangkok's oldest silent cinema. Though it's no longer in use, there's talk of it be renovated in the coming years.
How to Get There: Nang Loeng is surprisingly close to Khao San Road, the main backpacker area. That said, there's no nearby public transport. The most convenient way to reach the market is by taxi or tuk tuk.
Don't Miss: The mouth-watering curries and stir fries at the Khao Gaeng Ruttana shophouse.
Silom | Best Bangkok Street Food
Bangkok's built up central district of Silom might be packed with high-rises and glassy skyscrapers, but at ground level it's a foodie paradise. All those hungry office workers need to place to eat! They're picky about where they spend their money, which weeds out the mediocre.
The best place to find street food in Silom is Soi 20. A dizzying number of street food stalls serve up everything from khao mok gai and Thai chicken biriyani. There's punchy Isaan dishes like som tum papaya salad and moo ping, marinated pork skewers cooked over charcoal barbecues.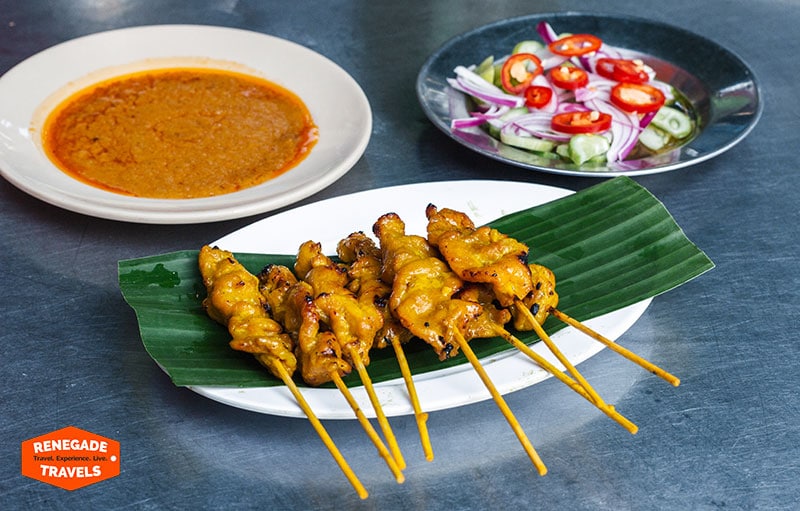 The best time to visit is for breakfast and lunch. Be warned, though: you'll likely have to queue for the best food. It's so worth the wait though.
How to Get There: To reach Silom, follow the morning office workers on the subway. Hop off at Silom MRT station. When you exit, simply follow your nose.
Don't Miss: You have to try the marinated pork skewers (pictured above).
Final Thoughts | Discover New Thai Foods
If you're mouth isn't watering at this point, I don't think you have tastebuds!
There is great food to be found all across Thailand! Since you'll more than likely spend some time in the capital, it's worth knowing where to find the best Bangkok street food. Seek out these 5 districts in the city and sample their specialties.
Better yet, take the worry out of finding these districts and ordering the right food by joining a Bangkok food tour by A Chef's Tour. Enjoy a 4-hour guided tour where you not only taste the food but also learn about history and culture behind it.
What has been your experience with Bangkok street food? Leave a comment below and let us know!
---