One of the things I love most about Bangkok is the sheer quirkiness of the place. All over the city you come across fascinating sights that you just won't find in any other city around the world. Here is just a small selection of what we've seen recently. If you're planning to visit Bangkok, check out our Bangkok insiders Travel Guide and be sure to check out the great range of hotels at Agoda.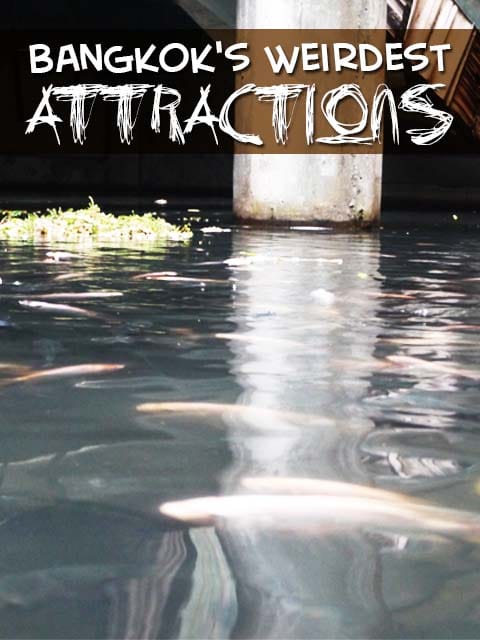 The Penis Shrine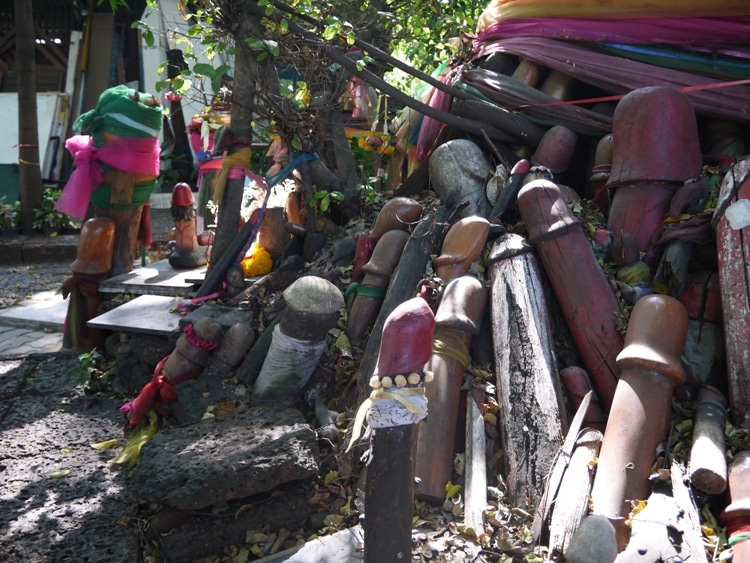 Only a few minutes' walk from Bangkok's Phloenchit BTS station there exists a weird shrine that the vast majority of visitors and locals have no idea about. Tucked away behind the Swissotel Nai Lert Park Hotel is what's known as the Penis Shrine, Phallic Shrine or Chao Mae Tuptim Shrine. It consists of hundreds of phallic symbols, when of which are 5-6 feet tall. Some Thai people come here with offerings that they hope will boost their fertility.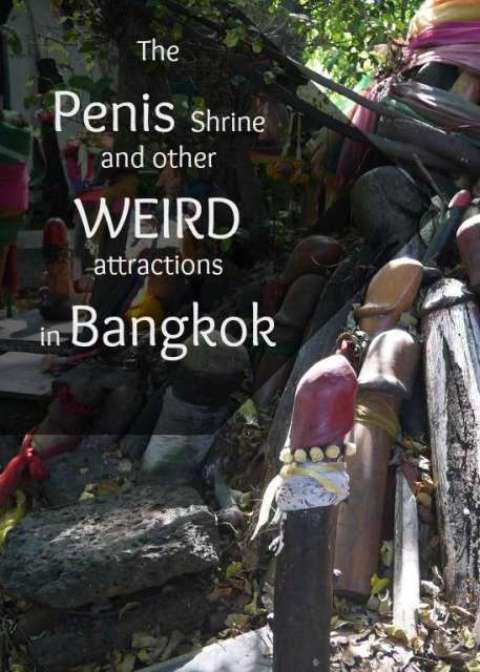 An Abandoned 747 Airplane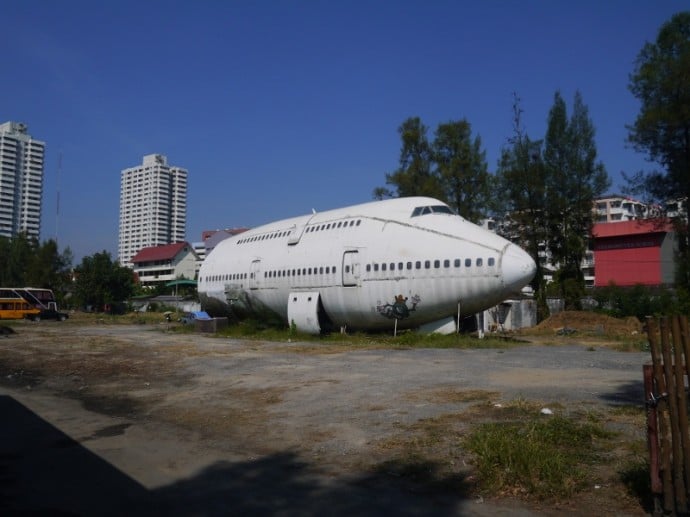 It's not often you come across an abandoned 747 in a city suburb, but that's exactly the sort of thing you can expect to see in Bangkok. This plane is on Ramkhamhaeng Road in the Bang Kapi district of Bangkok. It's only a short taxi ride from the city center. For further pics and details of how to get there, see Abandoned 747 Airplane In Bangkok.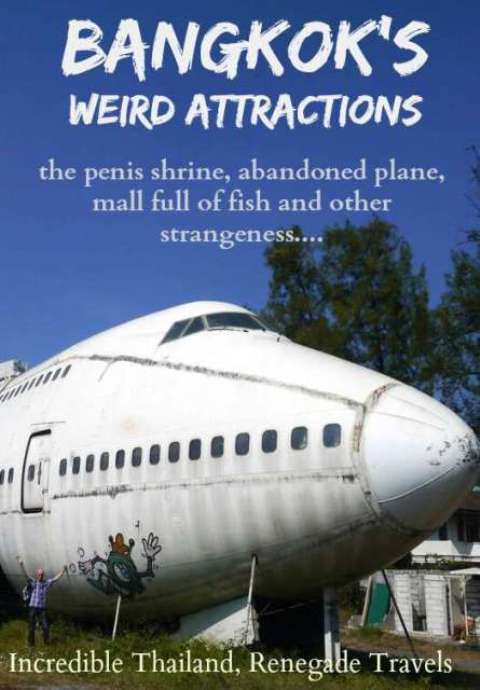 Help spread the word by pinning the above image to Pinterest. Thanks.
Exotic Fish In An Abandoned Shopping Mall Basement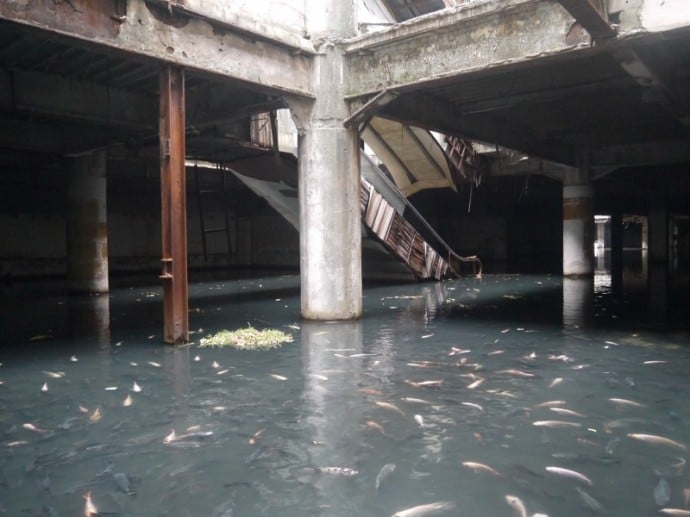 This is the old New World shopping mall that was abandoned around 15 years ago. The basement filled with water, and this attracted mosquitoes. So the locals put in a few fish so that they'd eat the mosquito eggs, in an attempt to stop them breeding. Now, years later, there are 1000s of exotic fish. The building is very dangerous, so enter at your own risk. See Exotic Fish Take Over Abandoned Bangkok Mall for more photos and details of how to get there. Our photos from this mall will be featured on BBC2's Nature's Weirdest Events in either January or February 2015.
Forensic Medicine Museum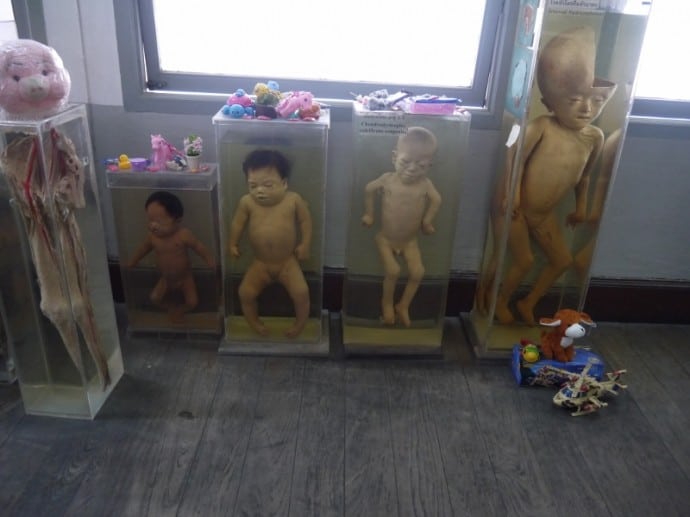 I've never seen a museum quite like this anywhere else in the world.  This is actually a series of five different museums, with the Anatomical Museum and the Forensic Medicine Museum be the best two. You can see mummified bodies of rapists and murderers, the organs and skeletons of accident and murder victims, and a whole lot more. This is a great day out an easily accessible by boat. See Forensic Medicine Museum for further details.
Corrections Museum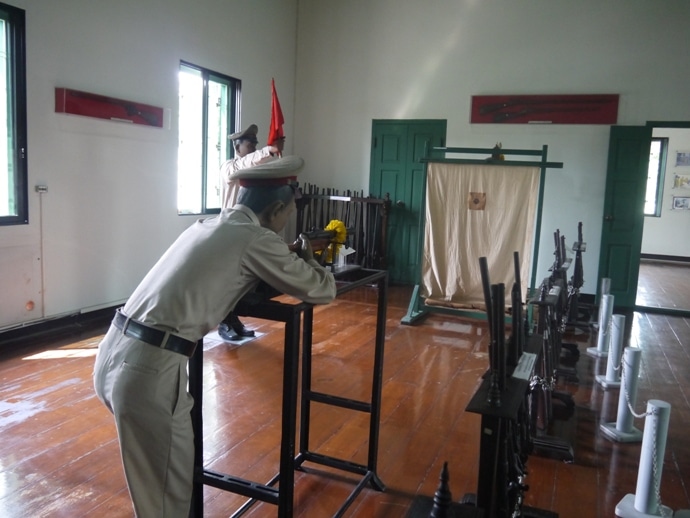 If you love the weird, bizarre, quirky or just plain gruesome, then a visit to Bangkok's Corrections Museum will be on your must-see list. It shows how prisoners were tortured and executed in days gone by. It's definitely not for the squeamish. The museum is currently closed for renovations with no opening date available.
The Robot Building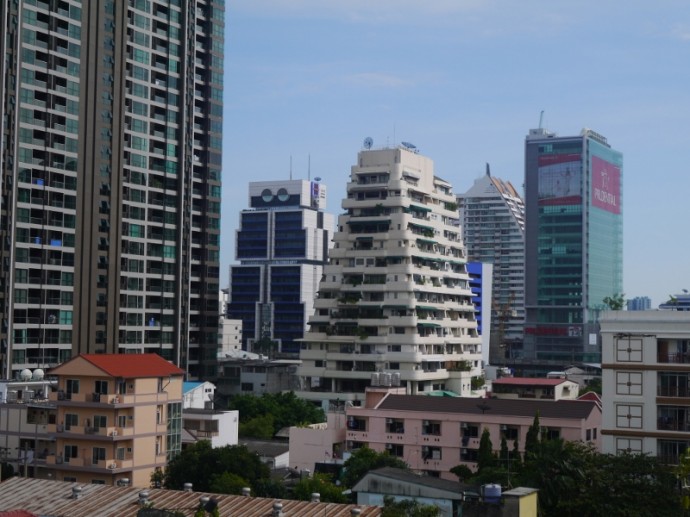 We can see the Robot Building from our condo, so we see it every day. It's on Sathorn Road between Chong Nonsi and Surasak BTS stations. The Robot Building is the HQ of UOB Bank.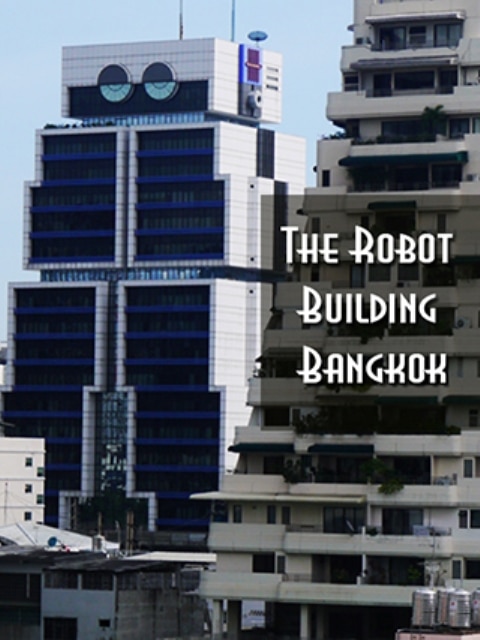 There's a great coffee shop at the ground floor of the Prudential building nearby – Cafe De Golfio – See Silom Cafe Reviews for more details.
Abandoned Skyscrapers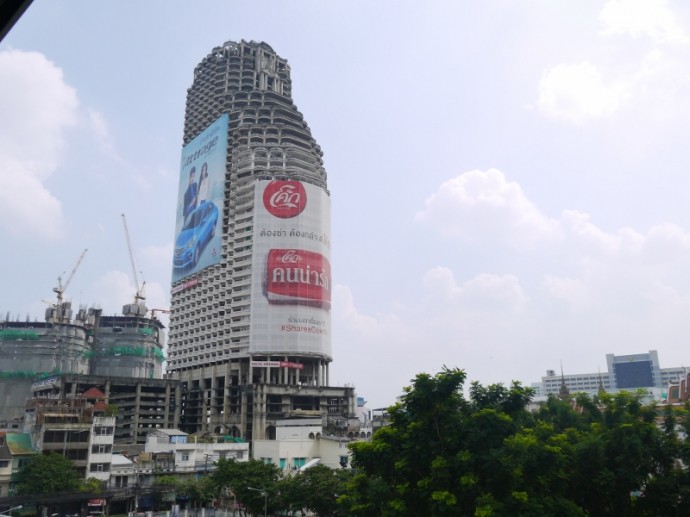 There are a few abandoned skyscrapers around Bangkok, but Sathorn Unique is about 10 minutes' walk from our condo. It's very close to Saphan Taksin BTS station. The photo above was shot from the station platform.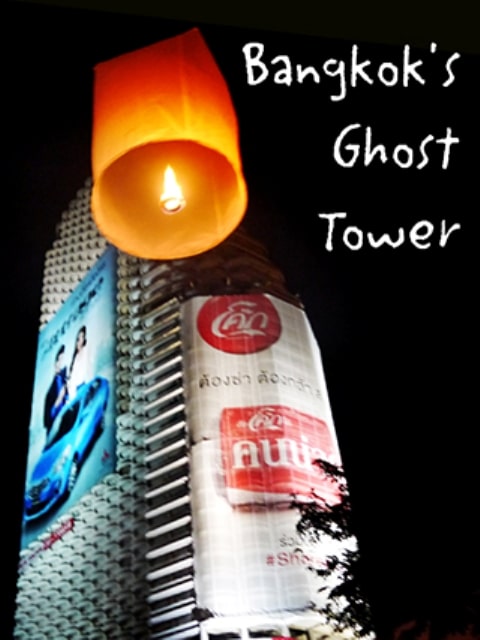 This building was abandoned during the 1997-99 Asian Financial Crisis. It's a very similar design to the nearby State Tower, where you will find Lebua Hotel – made famous by the rooftop scene in the film The Hangover Part II.
The Elephant Building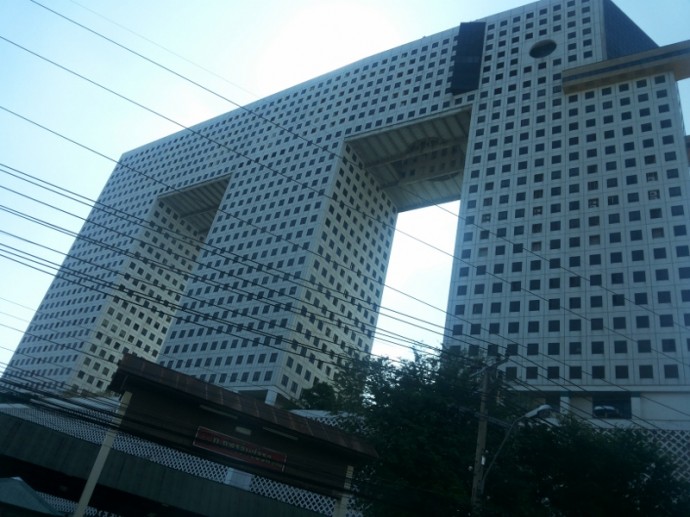 Not content with the Robot Building, Bangkok also has an Elephant Building. This building is located on Paholyothin Road & Ratchadaphisek Road. It can be seen from miles around and is one of the most famous buildings in Bangkok.
Hotels In Bangkok
If you're planning to come to Bangkok to see these amazing sights, check out some great hotel deals at Agoda Bangkok.