As you probably already know, we bought Eurail and InterRail global passes so that we could travel Europe by train. Due to the nature of the tickets, we did most of our train journeys around the major cities in one month. This post is ideal if you're planning a similar journey as it shows what can be achieved in one month. During the month from 23 February to 22 March we visited 8 countries and 9 cities. Read on to see where we went and how we got there.
Paris, France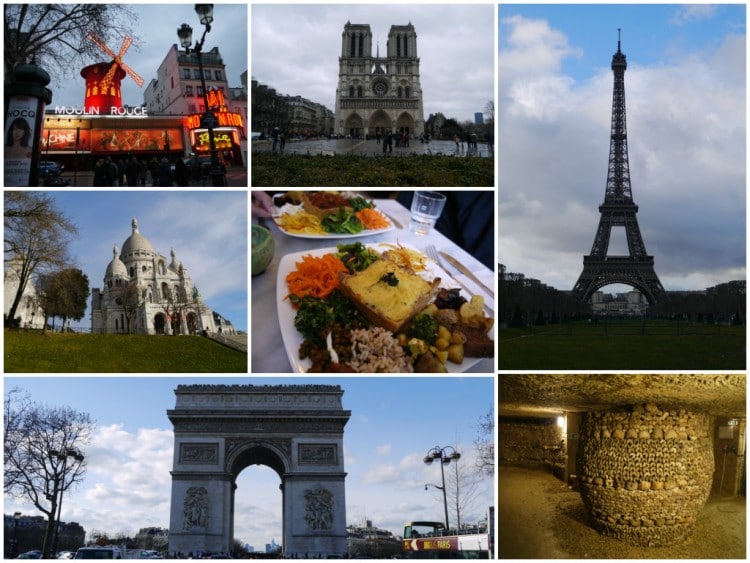 We had traveled by Eurostar from London to Paris and it was after a few days in Paris that we started using our Eurail and InterRail passes. We had a great time in Paris and have a post on a suggested 2-day itinerary. See Paris 2-Day Itinerary For First-Time Visitors. If you're looking for great vegetarian food, then check out Vegetarian Paris. We stayed at the excellent Hotel Darcet, which is near the Moulin Rouge and only 2-minute walk from Metro Place de Clichy. For details of our train to Paris, see London To Paris By Eurostar.
Amsterdam, Netherlands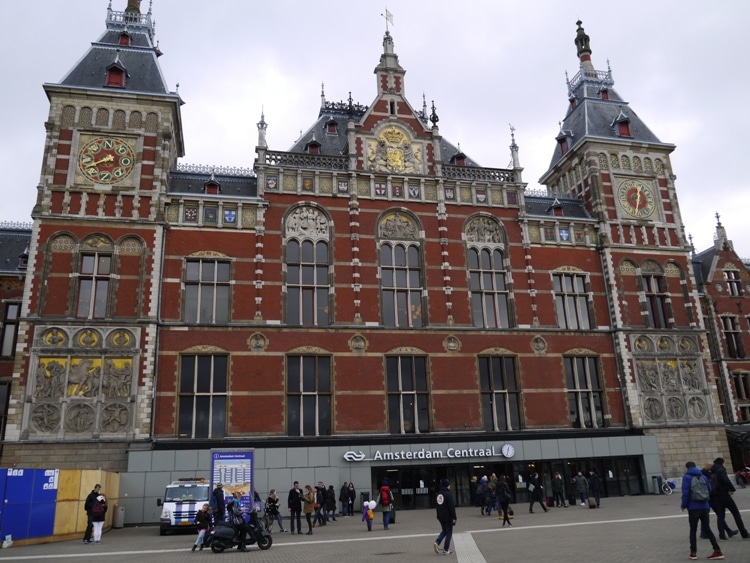 We only spent two whole days in Amsterdam and didn't get up to much apart from walking around the city, eating and drinking tea and coffee. Amsterdam has plenty of cafes, so we used the time to re-charge before heading to Berlin for five days. We stayed Hotel Allure and were pleasantly surprised by the high standard of the hotel. We'd definitely stay there again. The hotel was just three stops on the Metro from Centraal station, so was very easy to get to. Our journey to Amsterdam involved getting five trains. We found a great vegan cafe near Dam Square that we'd suggest you visit. See how we did it at Paris To Amsterdam By Train.
Berlin, Germany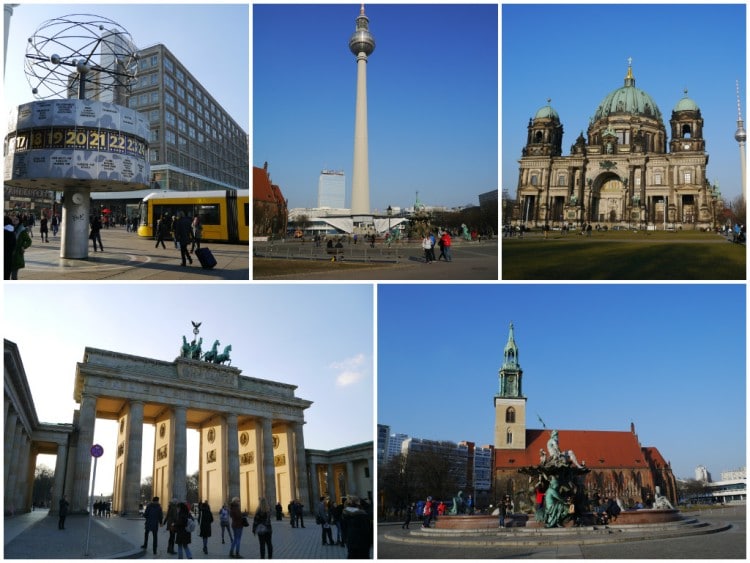 We spent five nights in Berlin and had a great time. There is plenty to see and do, great vegetarian and vegan food and wonderful cafes for getting our daily coffee fix. We spent the first three nights at an Airbnb apartment with two resident cats and the next two nights at Park Inn by Radisson on Alexanderplatz. Getting to Berlin from Amsterdam was very easy, as we got a direct train that took just over 6 hours. See Amsterdam to Berlin by Train. For things to do, take a look at our 2-Day Berlin Itinerary.
Prague, Czech Republic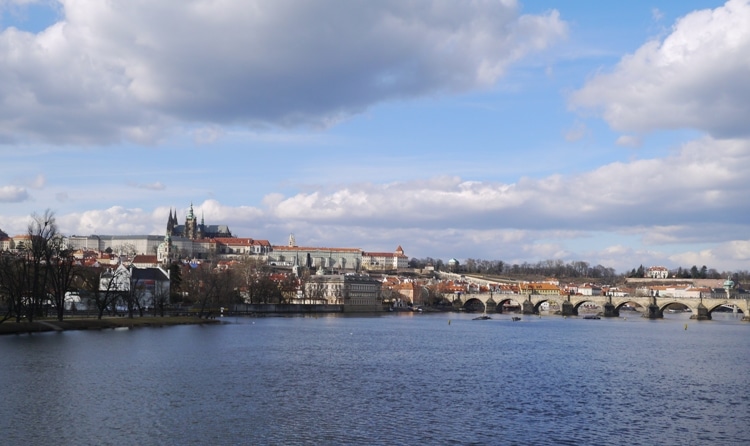 We spent three nights in Prague, but I felt that the center was far too touristy and I don't think I'll ever go back. It's just not my kind of place. We stayed at an Airbnb apartment that was spacious and clean, we found two great veggie restaurants and we had a fantastic time. We got here by train from Berlin along a very scenic stretch of line. See Berlin to Prague by train for some images and video of the wonderful scenery.
Vienna, Austria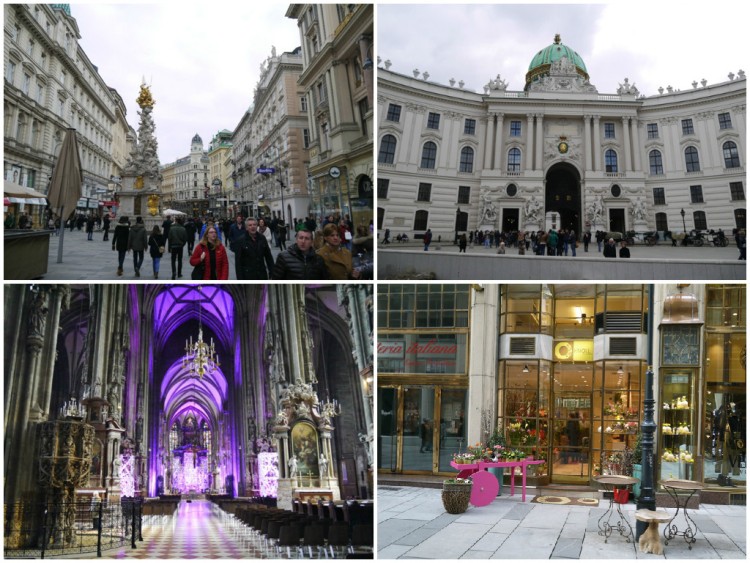 We spent three nights in Vienna and only did a little sightseeing. Apart from that, we drank coffee, ate at two great vegan Loving Hut restaurants and just chilled out before heading for Budapest. For our journey on the ultra-modern Railjet train, see Prague to Vienna by train. For getting around Vienna, see How To Get Around Vienna. We stayed at an Airbnb apartment.
Budapest, Hungary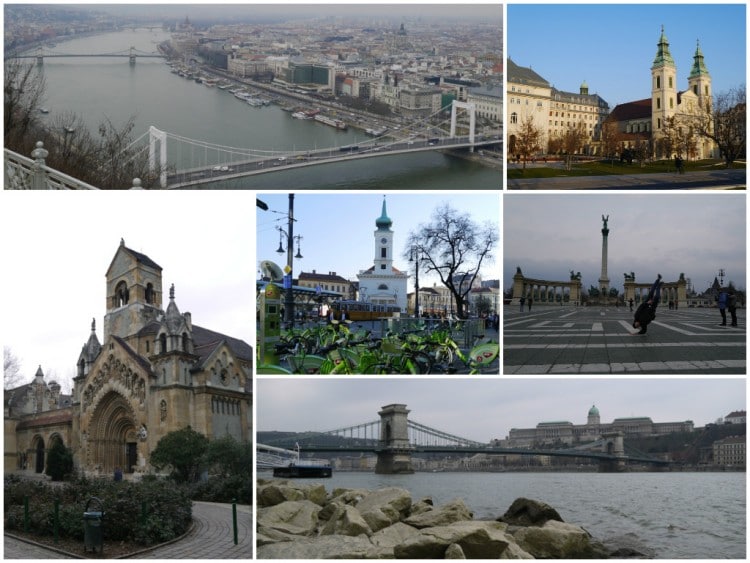 We loved Budapest and ended up staying for seven nights instead of the three that we'd originally booked. Part of the attraction was that we stayed at an excellent apartment with fast wifi. This was in the city center and there were lots of interesting cafes and restaurants nearby. But even staying a week didn't seem long enough to see everything that the city has to offer. If you're visiting for the first time, head up to Gellert Hill on your first day. Then look out for Budapest's Weird side. You might also want to try some veggie food and check out our Budapest Photo Diary. For our train journey to Budapest, see Vienna to Budapest by train.
Ljubljana, Slovenia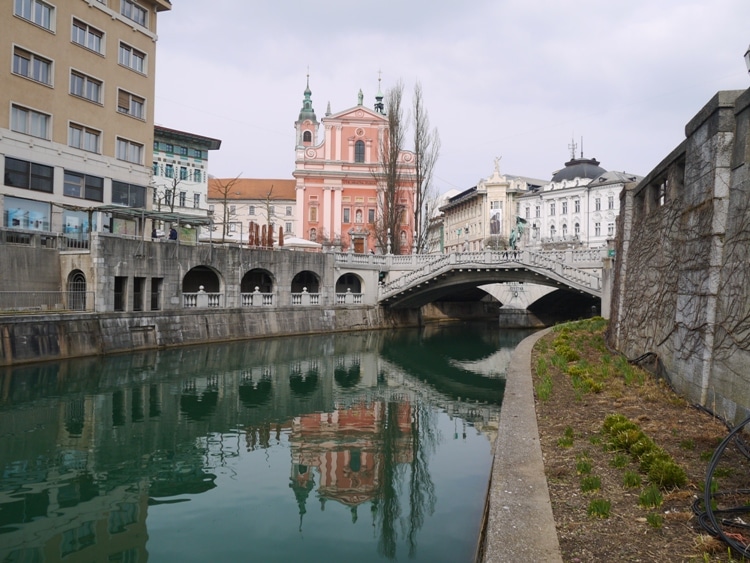 Ljubljana was another great city that was better than we were expecting it to be. We couldn't stay any longer though because my 1-month InterRail pass was about to run out and we needed to get to Split in Croatia before it did. While there, we stayed at the excellent Galeria Rooms. Ljubljana is a beautiful city, as you can see in out Ljubljana Photo Diary. We found some great vegetarian food in Ljubljana. For details of how we got there, see Budapest to Ljubljana by train. We passed through some spectacular mountain scenery in Austria and saw our first snow in Europe.
Zagreb, Croatia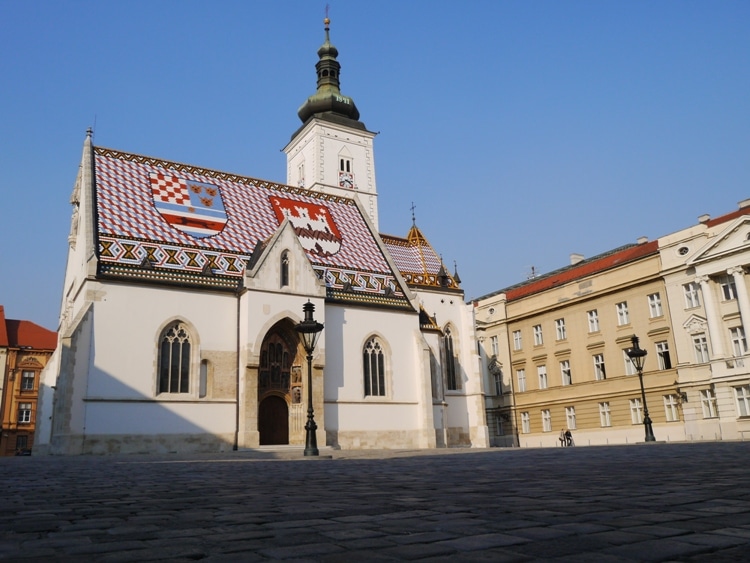 I'd been to Croatia many times, but this was my first visit to the capital city Zagreb. It was also Miu's first visit, and we were both impressed. We particularly loved the cafe culture of the city, where you'll see literally 100s of people sitting outside drinking coffee. It's a much more relaxed atmosphere than you get in most cities. For a flavor of what to expect, check out our Zagreb Photo Diary and Zagreb Vegetarian Food. We arrived by train, so you can see all about that at Ljubljana To Zagreb By Train. While in Zagreb we stayed for one night at Zagreb Center Apartments and for two nights at Main Square Apartments. Both were excellent.
Split, Croatia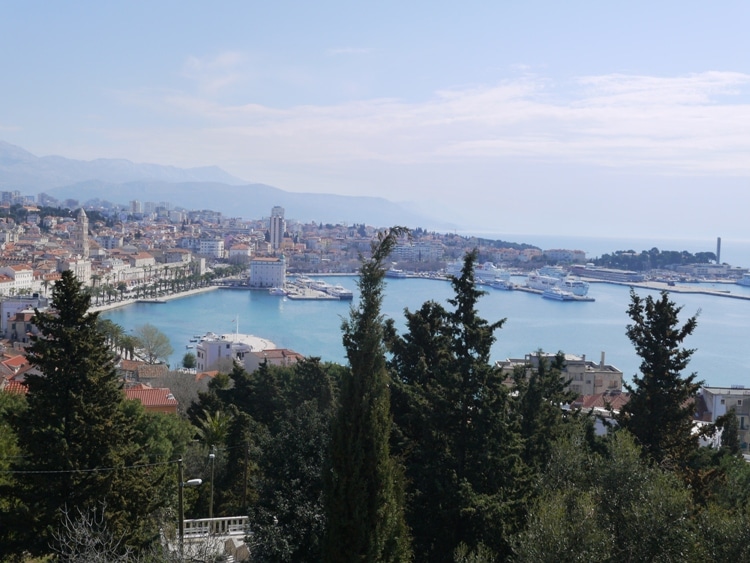 This was Miu's first visit to Split, but was my 6th or 7th visit. It's one of my favorite European cities and has the advantage of having a number of island nearby that you can visit by ferry. See Split To Brac By Ferry, which includes videos of the trip. There are two fantastic vegetarian restaurants in Split, and I'd suggest trying them even if you're not veggie. We arrived by train from Zagreb and saw lots of snow as we passed over the mountains. See Zagreb To Split By Train. While in Split we stayed at two great studio apartments, Divota Apartment Hotel, and Dosud Apartments.
Where To Buy Your Global Pass
You can buy a Eurail global pass at the Eurail website, and an InterRail global pass at the InterRail website. If you're heading to Europe I highly recommend getting one.
Hotels In Europe
If you're planning to travel to Europe, we suggest checking out the fantastic range of hotels at our favorite hotel booking website, Agoda.com. Don't forget to sign up for free points, as we have had numerous free hotel stays with the points we've collected.