Bangkok's BTS (skytrain) is one of the most convenient ways to get around the city, so it's no surprise that some of the best shopping in Bangkok is located right next to the BTS stations. Most malls along the route also have walkways directly from the stations into the malls, so you can travel and shop in comfort. This short guide is meant to help you find the best Bangkok shopping along BTS system.
The stations covered for this Bangkok, Thailand guide are Mo Chit, National Stadium, Chit Lom, Phloen Chit, Asok, Phrom Phong, Sala Daeng, Chong Nonsi, Surasak and Saphan Taksin. There are many other smaller malls and markets along the route, but the ones covered here are what most people would consider to be the best shopping along the BTS system.
Most of these malls are open 10:00-22:00 every day of the year. Click here for an awesome BTS map that shows all the shopping malls and markets.
Mo Chit BTS Station
Mo Chit is the most northern BTS station and is where you'll find the massive Chatuchak Weekend Market.
Chatuchak Weekend Market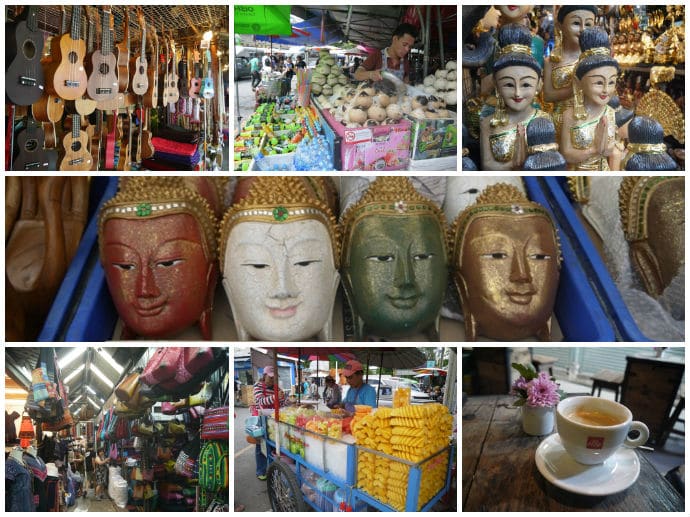 Chatuchak Weekend Market is spread over 35 acres, has over 9,000 shops and attracts over 200,000 shoppers on the weekend. This is a favorite among both locals and visitors. See our Quick Guide To Bangkok's Chatuchak Weekend Market.
National Stadium BTS Station
From the National Stadium station there are walkways to Tokyu, MBK and Siam Discovery shopping malls.
Tokyu Department Store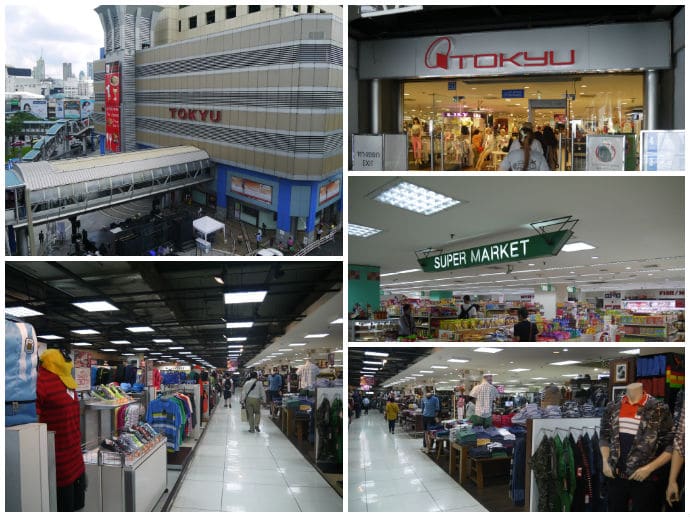 Tokyu Department Store is part of MBK Center and is a fairly standard department store that's always busy. Take exit 4 from National Stadium station and you'll enter the store on level 2. Many people just use it as a short cut to get the main MBK mall. Level 1 has cosmetics, swimwear, handbags and luggage, as well us the customer service and information areas.
Level 2 is dedicated women's and children's clothes, with men's clothes on level 3. Level 4 has electrical appliances. a supermarket and restaurants.
MBK (Mahboonkrong)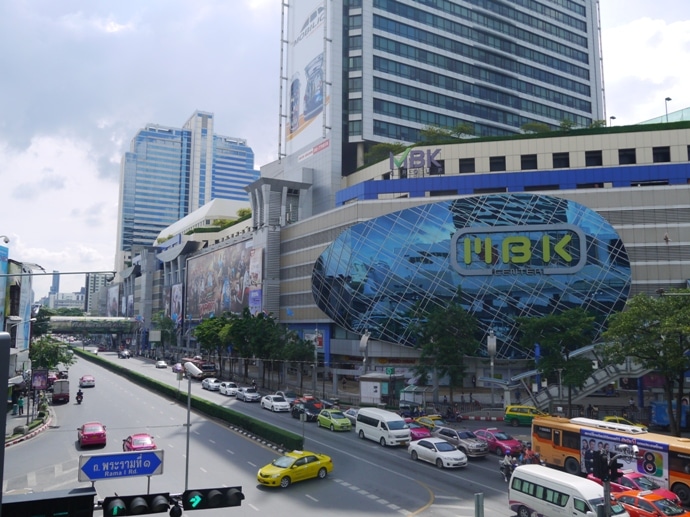 This is one of Bangkok's oldest and most popular shopping malls. It's been around since 1986 and isn't considered as modern as some of the newer malls nearby, but it's incredibly popular with both locals and tourists. If you're looking for a bargain, then you should be able to find it here.
The mall is spread over 8 floors and sells almost everything you can think of. It's particularly well-known for electronics (mobile phones, cameras, laptops), clothes, cosmetics, DVDs, handbags and luggage.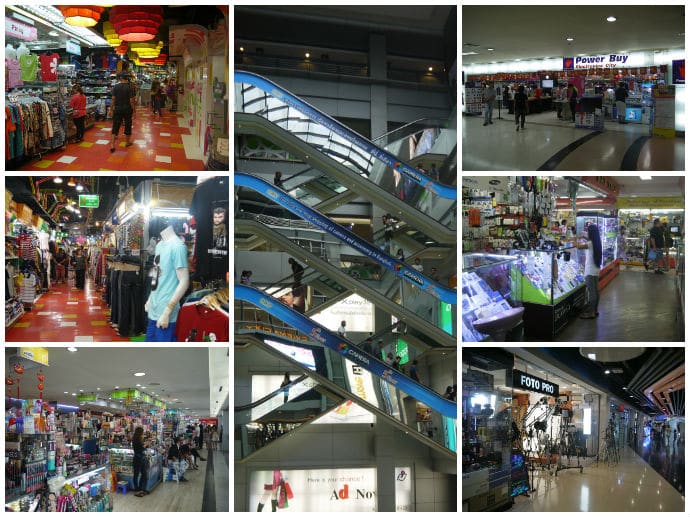 MBK has a cinema on the top floor as well as a range of restaurants. It also has a very popular food court that also serves vegetarian food. MBK connects to National Stadium BTS station via a walkway from exit 4. You can also take a short-cut through Tokyu Department Store.
Siam Discovery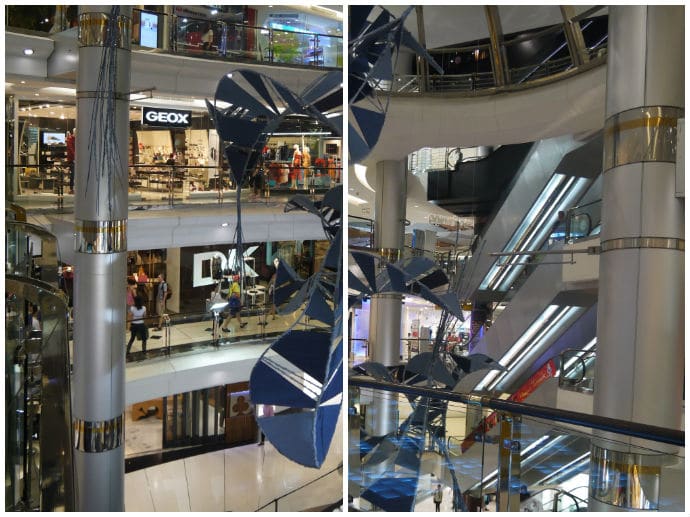 Siam Discovery attracts hip youngsters and families to what is billed as a lifestyle mall. There are many global brand fashion stores here and also a number of home decor stores. There is a walkway that connects it to Siam Center, which is next to it. It's can be accessed from the walkway from exit 3 of National Stadium station and also from Siam station.
Hotels Near National Stadium BTS
Hotels near these three malls include Pathumwan Princess Hotel (next to MBK), LiT Bangkok Hotel and Holiday Inn Express Bangkok Siam Hotel.
Siam BTS Station
Siam BTS station is considered to be the center of Bangkok and is where some of the city's top shopping malls are located. From this station you can access Siam Paragon, Siam Center, Siam Discovery, Siam Square One and Siam Square. This station is also the interchange between the two BTS lines and is one of the busiest stations on the network.
Siam Paragon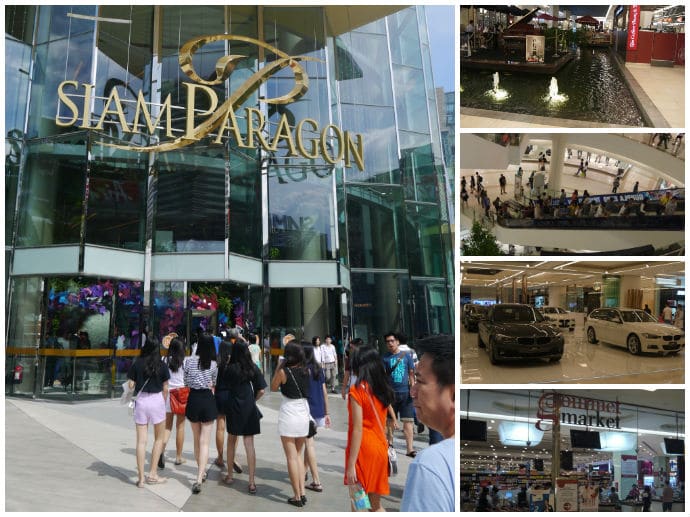 Siam Paragon is one of Bangkok's premier shopping malls and one of the most popular. It connects directly to Siam BTS and gets very full at weekends, especially the ground floor restaurant area that offers a range of Thai and international food.
Siam Paragon boasts a 16-screen cinema and the largest aquarium in southeast Asia. You won't find many bargains here, as all the shops are mainly high-end and cater to the more well-off locals as well as Western tourists.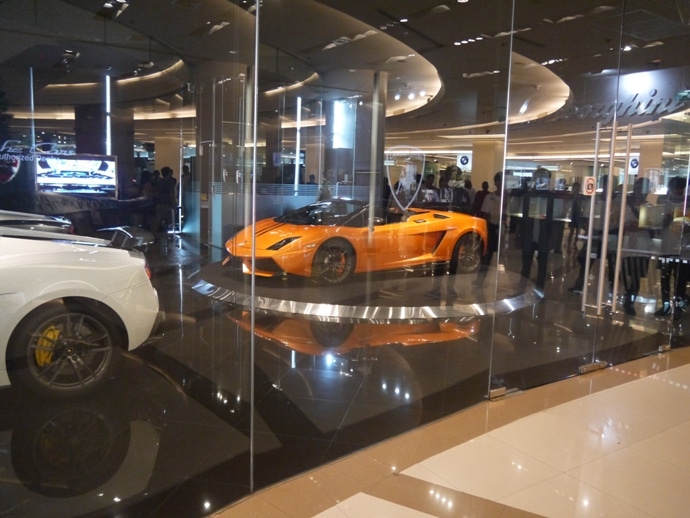 To give you an idea of how upmarket Siam Paragon is, consider the fact that it has a Lamborghini showroom. Not many shopping malls can boast that. The ground floor has what is probably the best, and most expensive, supermarket in Bangkok – Gourmet Market. This supermarket and the Bangkok food tour it provides is as good as any you'll find in USA or Europe.
This shopping mall is also home to my favorite book store in Bangkok – Kinokuniya. It has an extensive selection of English books – probably the best in Thailand. As well as around 250 shops, Siam Paragon has a huge department store that is quite good value for money.
Siam Center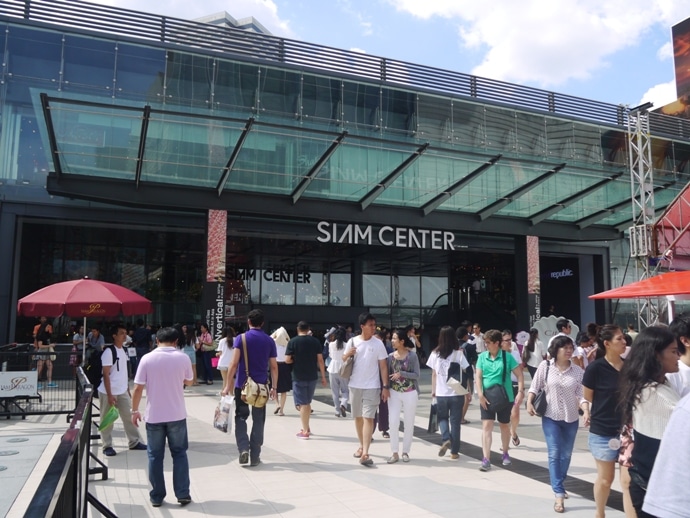 Siam Center is an ultra-cool mall that mostly attracts a young urban crowd. It is mainly a fashion mall that showcases both Thai and international designers. The mall was renovated last year and it now has a very cool look to it. There are lots of chill-our areas with comfortable seating where you can sit and chat to friends or take a break from shopping.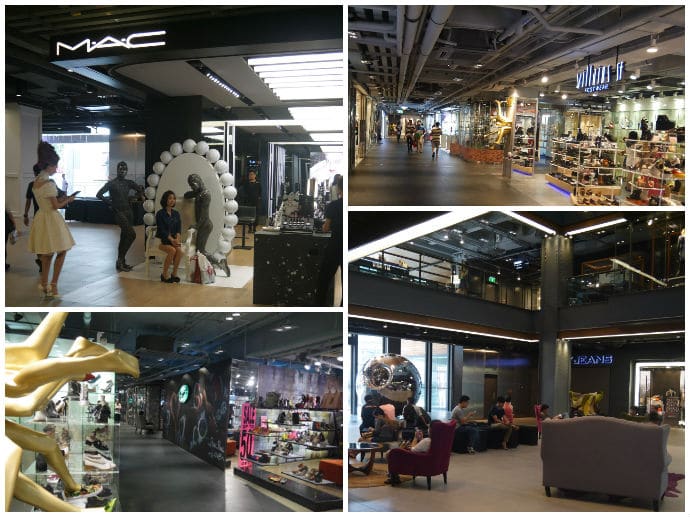 Siam Center is connected by a walkway to Siam Discovery on one side, and has Siam Paragon on the other side. It also has a walkway connecting it directly to Siam BTS station. Some of the brand names that you'll find here include Diesel, Superdry, Steve Madden, Nike and Levi.
Siam Square One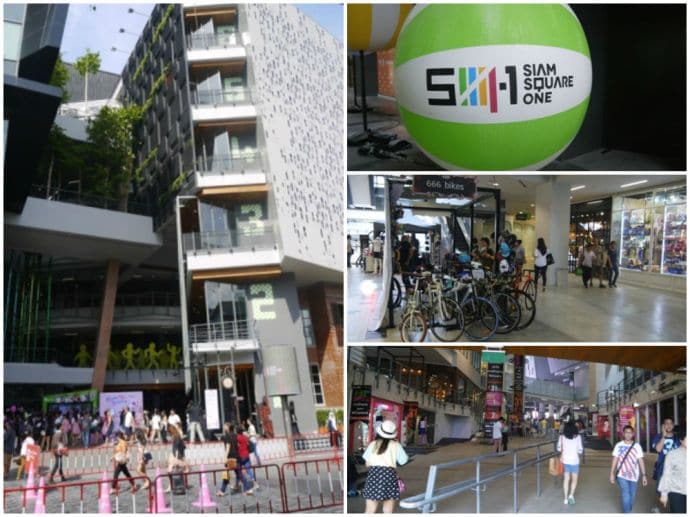 Siam Square One is Bangkok's newest mall and only opened last month (October 2014). It's mainly a fashion and lifestyle mall, but also has a range of restaurants on the upper floors. There are many young Thai designers selling here and it's a bit of a spillover from the fashionable Siam Square area. It's on the opposite site of the BTS from Siam Paragon. This mall will likely attract young and trendy shoppers.
Siam Square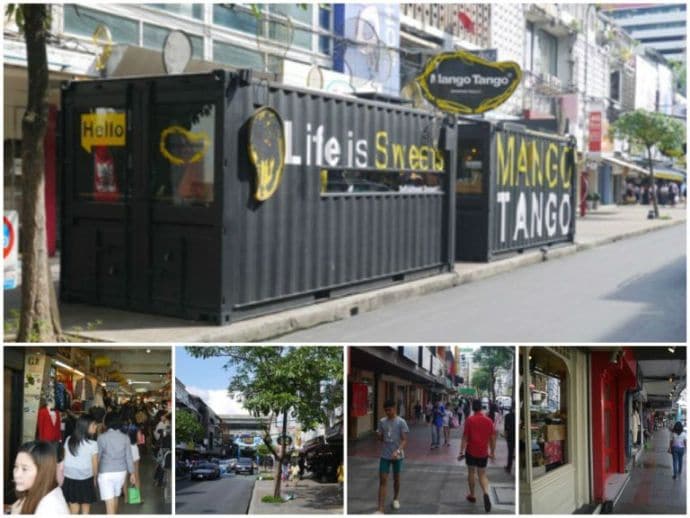 Siam Square is the area between Siam BTS station and Chulalongkorn University and so attracts a very young crowd. The area has many small fashion outlets with many young Thai designers. It's one of the most expensive areas in Bangkok but still manages to have a young and arty vibe about it. From Siam BTS station walk straight through Siam Square One mall and you'll end up in the heart of Siam Square.
Hotels Near Siam BTS
There are numerous good hotels in this area, including Novotel, Kempinski Hotel and Mercure Hotel. Click here for other hotels near Siam Square.
Chit Lom BTS Station
This is another station that is surrounded by numerous shopping malls, with the most well-known being Central World.
Central World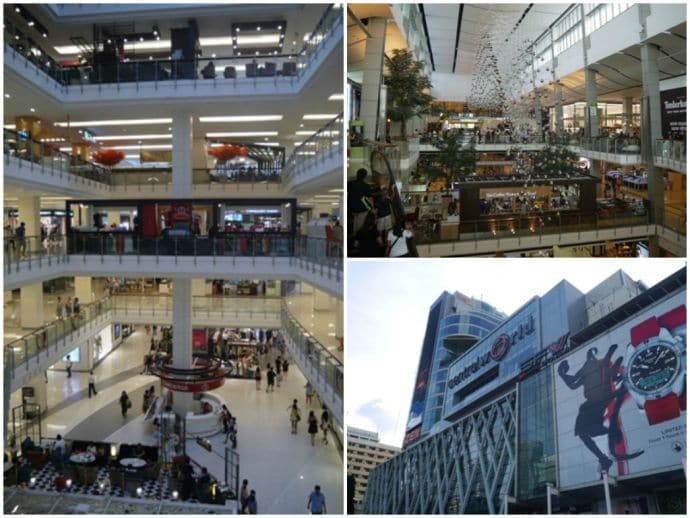 Central World is the biggest shopping mall in Thailand and the 6th largest in the world. As well as the shopping mall, there is also a massive office complex and Centara Grand Hotel above it. Central World has almost everything you could want in a shopping experience. It has brand name fashions, book stores, restaurants and cafes, electronic stores, designer furniture stores, supermarkets, a cinema and an ice skating rink. I find the layout of this mall quite confusing, but don't let that put you off. The main New Year celebrations in Bangkok take place right outside Central World. The mall can be accessed via walkways from both Chit Lom and Siam BTS stations.
Gaysorn
Gaysorn is an upmarket and luxurious shopping mall that sells high-end designer goods. This is probably one of Bangkok's most peaceful shopping malls, as it only seems to cater to the very well-off. It's connected via walkway to the Intercontinental Hotel. There is direct access to the mall by walkway from exit 6 of Chit Lom BTS station. It's just across the road from Central World and from the Erawan Shrine.
Erawan Bangkok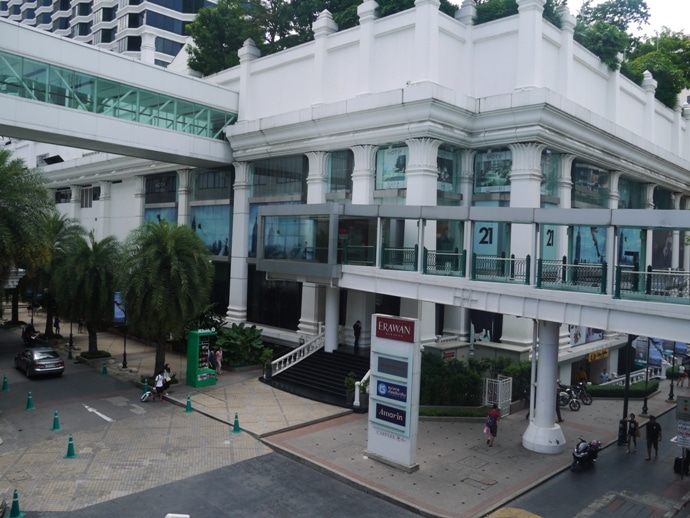 Erawan Bangkok is an exclusive boutique shopping mall that only showcases a select number of brands. The mall has direct access to the Grand Hyatt Erawan Hotel, which is one of Bangkok's most exclusive hotels. This mall also has direct access via walkway from exit 6 of Chit Lom station. It also has a skybridge that connects it to Amarin Plaza.
Amarin Plaza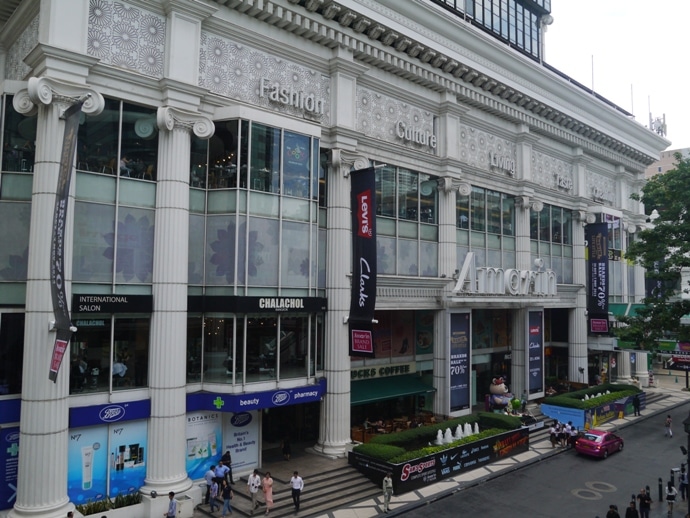 Amarin Plaza is connected via skybridge to Erawan Bangkok, and also has direct walkway access from exit 6 of Chit Lom station. This mall mainly attracts affluent Thais and foreign business travelers. Brand names include Valentino and Guy Laroche.
Central Chit Lom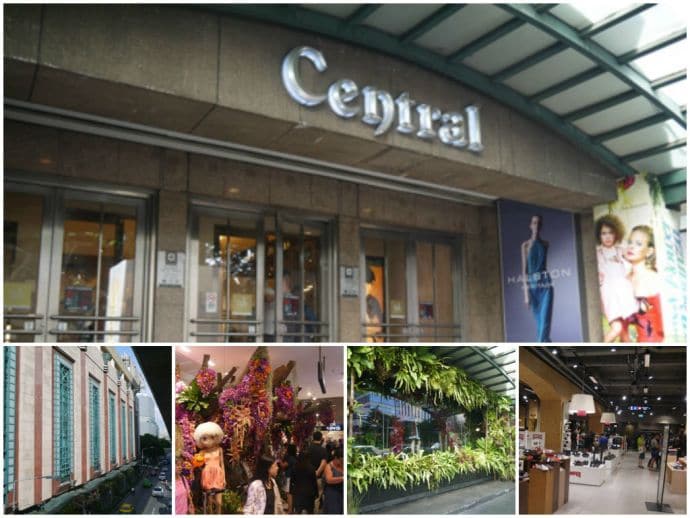 Central has many stores in Bangkok and elsewhere in Thailand, but the Chidlom store is considered to be their flagship store. It mostly attracts affluent Thais, expats and well-off tourists. It's a little more expensive than other Central stores but stocks a range of high-quality goods. It's a department store that offers the usual type of goods, such as designer clothing, electrical goods, groceries, home decor, books and much more. It can access by walkway from exit 5 of Chit Lom station.
Hotel Near Chit Lom BTS
As well as the hotels already mentioned above, other notable hotels in this area include Renaissance Bangkok Hotel and Holiday Inn Bangkok Hotel. Click here for other hotels near Chit Lom BTS.
Phloen Chit BTS Station
One of Bangkok's newest and most upmarket shopping malls has just opened near Phloen Chit BTS station – Central Embassy.
Central Embassy
Central Embassy is built in the former grounds of the British Embassy, hence the name. It's an ultra-luxury mall that has very high-end designer stores such as Vivienne Westwood and Moschino. It also has the most expensive cinema in Thailand, fine dining and a soon to open 6-star hotel. The mall has a very futuristic design and minimalist interior. It was pretty quiet when we visited. It can be accessed via walkway from exit 5 of Phloen Chit BTS station.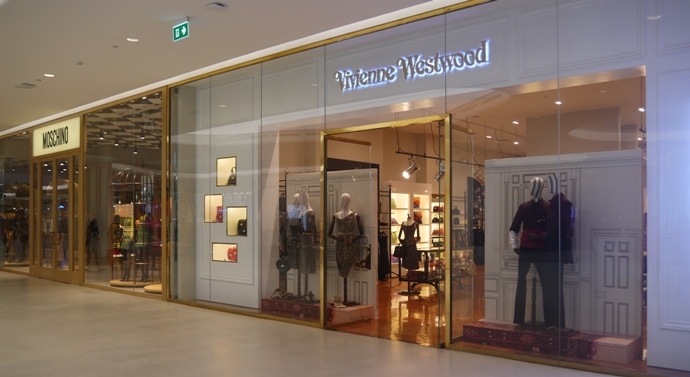 Hotels Near Phloen Chit BTS
There are many great hotels in this area, including The Okura Prestige Bangkok and Grande Centre Point Hotel Ploenchit. Click here for other great hotels near Phloen Chit BTS.
Asok BTS Station
Asok BTS station is in one of Bangkok's main business districts and is also where you'll find one of Bangkok's newest shopping malls, Terminal 21.
Terminal 21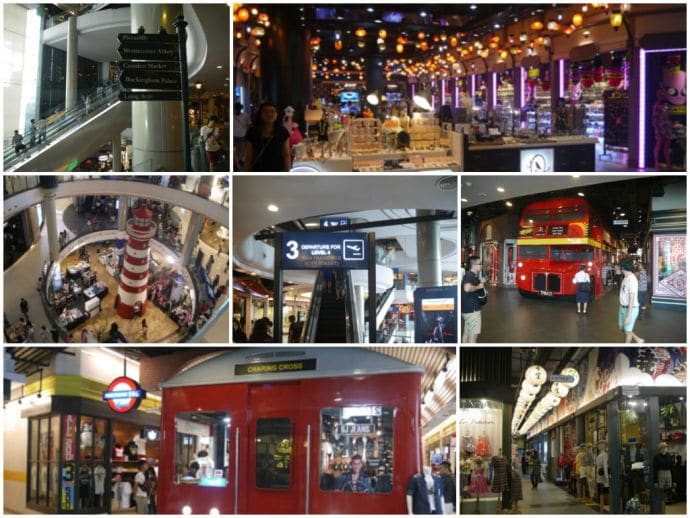 This shopping mall is quite different from most others in Bangkok, the reason being its airport theme – you'd usually find Terminal 21 at an airport. The escalators have signs showing the way to departure levels and there is an electronic "departure board" showing the latest offers. The different levels are also themed around different cities, such as London and Paris. In the London section there is a red double-decker bus and a London underground train. Another interesting point about Terminal 21 is that the information desk staff wear air hostess uniforms. Terminal 21 has nine floors and around 600 shops. There is also a cinema, a Gourmet Market and a food court. The mall is in the same building as Grande Centre Point Hotel. This mall attracts a mostly young, educated crowd. It's well worth a visit whatever age you are though, as it has something for everyone.
Hotels Near Asok BTS
Click here for a choice of great hotels near Asok BTS station.
Phrom Phong BTS Station
The only shopping mall near this BTS station is Emporium. Banjasiri Park is also just outside the station.
Emporium
Emporium is currently (Novemeber 2014) being extensively renovated and should be fully open again from the end of January 2015. It's still partly open but wasn't a great experience when we visited. It should be pretty good once the renovations are completed, so we'll update this section later.
Hotels Near Phrom Phong BTS
Click here for a selection of great hotels near Phrom Phong BTS station.
Sala Daeng BTS Station
The shopping around here isn't great compared to what we've covered above, but if you're in the area the following may be worth checking out.
Central Silom Complex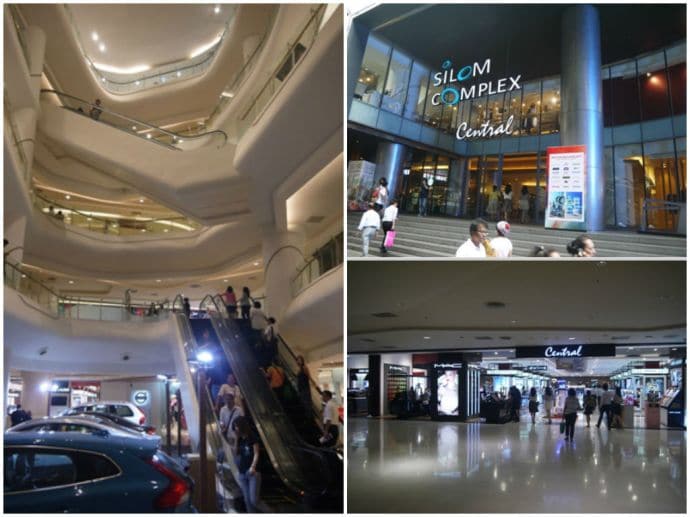 This shopping mall was extensively renovated this year and now looks ultra modern. It has a Central department store at the back, with range of different stores at the front. The side facing the Sala Daeng BTS station is mostly restaurants and cafes, so this is a good place to stop for some food. You can access the mall from exit 4 of the BTS station.
Thaniya Plaza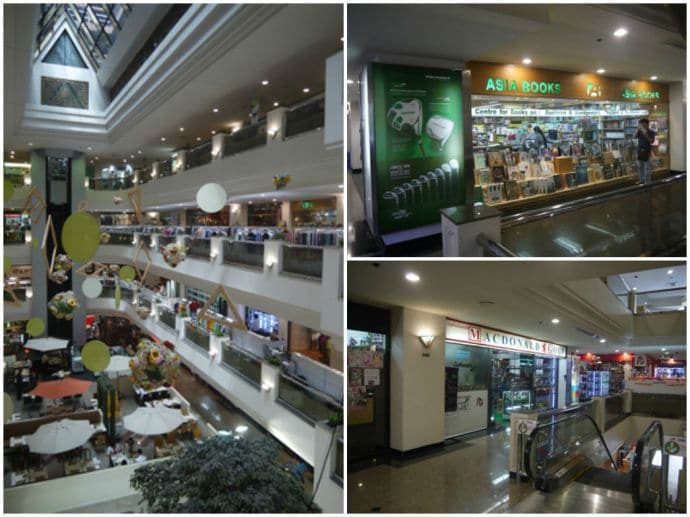 Thanita Plaza is a fairly old mall that's mostly dedicated to golf stores and is the biggest golf center in Bangkok. It also has a small Asia Books outlet that has a large selection of travel books. It can be accessed directly from Sala Daeng BTS via exit 1.
Patpong & Silom Road Markets
Patpong is one of Bangkok's three adult entertainment centers, so if you head to the market here you'll also be wandering among the go go bars that line the street. It has quite a seedy air about it and isn't really suitable for children. The market along Silom Road is child-friendly though. The goods on sale here are mostly tourist souvenirs and the area is very popular with tourists. It feels like a real tourist trap to me though.
Hotels Near Sala Daeng BTS
The most notable hotels near Sala Daeng BTS station are the excellent Dusit Thani Hotel and the Crowne Plaza Bangkok Lumpini Park Hotel. Click here for other great hotels near Sala Daeng BTS station.
Chong Nonsi BTS Station
The only shopping of note near this BTS station is Lalai Sap Market.
Lalai Sap Market
Lalai Sap Market is often described as a hidden gem. While the tourists head to Patpong, which is just down the road, all the locals come here. It's easy to walk passed the small entrance and not realize how big the market is. The nearest BTS is Chong Nonsi, but you can also walk from Sala Daeng BTS and turn into the market just to the right of the huge Bangkok Bank head office on Silom Road. The lane the market is on is Silom Soi 5. The market is open Monday to Friday from early until around 5 or 6 pm. It gets incredibly busy, especially at lunchtimes when all the local office workers descend on it. It sells mixture of women's clothing, cosmetics, food and other goods. It's has street stalls, shophouses and mini-malls with tiny stores. You wont find many touristy things on sale here. This is worth a visit just for an insight into how the locals shop. You can pick up some real bargains at this market. At the end of this market you'll find Villa Market, a supermarket that has a large selection of Western food, and also Trinity Mall, a small air-conditioned mall at the base of Trinity Complex. This is where I lived when I first moved to Bangkok almost five years ago. This is also where you'll find the excellent Glow Trinity Silom Hotel.
Hotels Near Chong Nonsi BTS
Other notable hotels in this area include the Heritage Silom Hotel, the FuramaXclusive Hotel and the newly opened Holiday Inn Express. Click here for other great hotels near Chong Nonsi BTS station.
Surasak BTS Station
The only shopping of note around this area is the Jewelry Trade Center, Bangkok Fashion Outlet and Bangkok Art Galleria, all of which are housed in the same building.
Jewelry Trade Center, Bangkok Fashion Outlet & Bangkok Art Galleria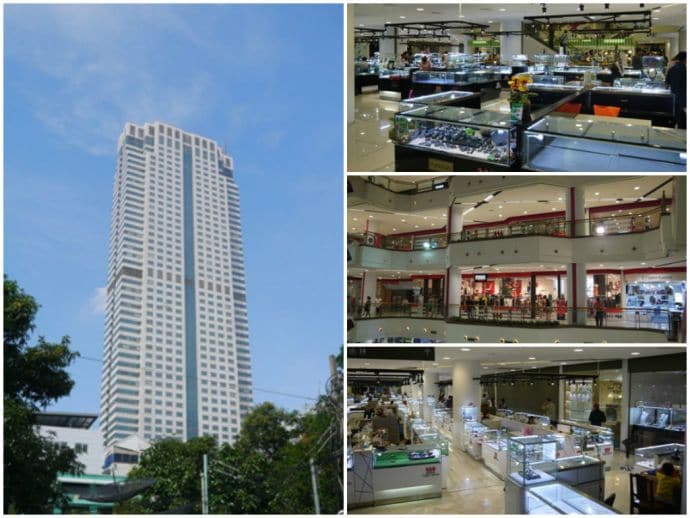 The Jewelry Trade Center is home to three different types of store. It's most well-known as the best place in Bangkok to buy jewelry, gems and precious stones. It opened more than 15 years ago and is still very popular. They have a guarantee and refund policy that means you can shop without worrying about whether the gems you bought are genuine or not. Also in this building is the newly opened Bangkok Fashion Outlet, which offers discounts of up to 90% on brand name fashions. It gets busy at lunchtimes with the office crowd, but is fairly quiet for the rest of the day. Finally we have Bangkok Art Galleria. This offers a huge range of contemporary artwork from many artists, painters and sculptors. There is a Post Office on the 5th floor and a market just outside. The market is also hugely popular with local office workers. The Jewelry Trade Center is about a 5-minute walk from Surasak BTS station. Leave the station via exit 1, then turn back at the bottom of the steps and walk towards the Honda showroom. Turn right at the junction and walk for around 300-400 meters and you'll see the Jewelry Trade Center on your right. It's a very tall building, so you can't miss it.
Hotels Near Surasak BTS
Right next to the Jewelry Trade Center is the Holiday Inn. Next to Surasak station there is the Eastin Grand Hotel, which has a walkway directly from the station into the hotel, and also the fairly new Mode Sathorn Hotel. Click here for other great hotels near Surasak BTS station.
Saphan Taksin BTS Station
Last, but not least, we have Saphan Taksin BTS station. There isn't too much by way of shopping around here, but there is a free boat that goes to Asiatique The Riverfront, so it's worth a visit. There is also a Robinson Department store nearby and the small Bangrak Night Market. Note that this station might be demolished sometime soon, as it only has one platform and is causing delays to the trains passing through it. If it gets demolished there are plans to build a moving walkway to the next station, Surasak.
Asiatique The Riverfront & Sky Wheel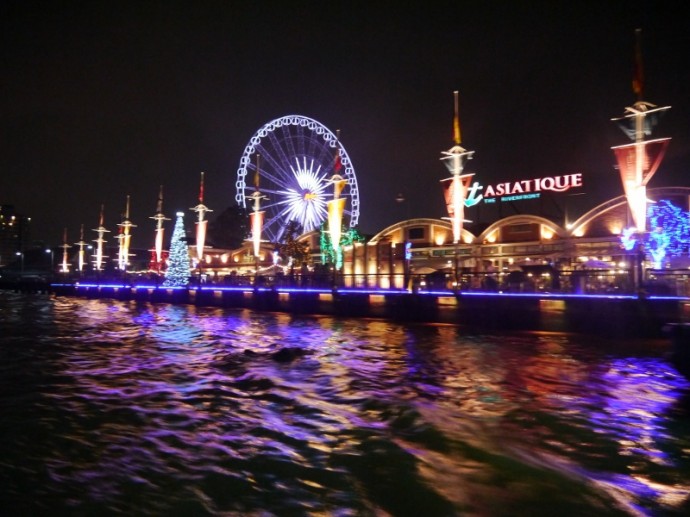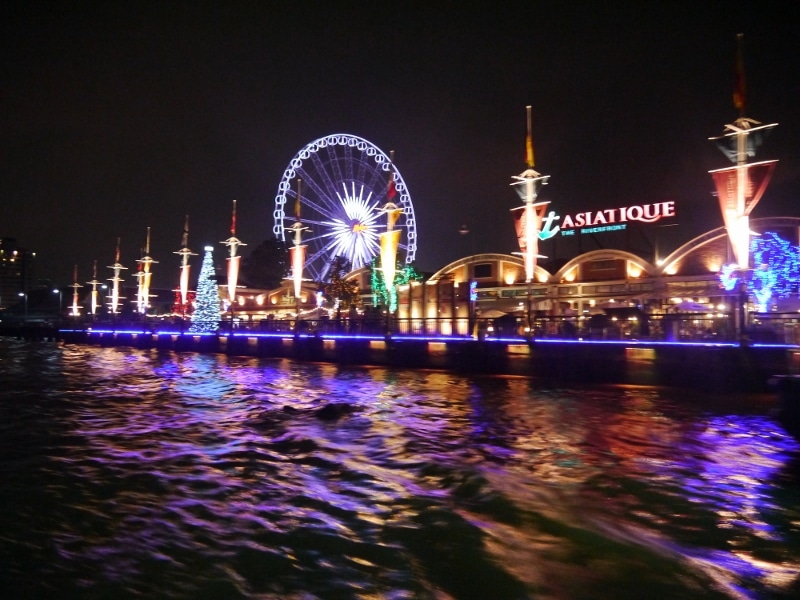 Asiatique is definitely worth a visit. We have a full post about this, so head over to Asiatique The Riverfront & Sky Wheel.
Robinson Department Store & Bangrak Bazaar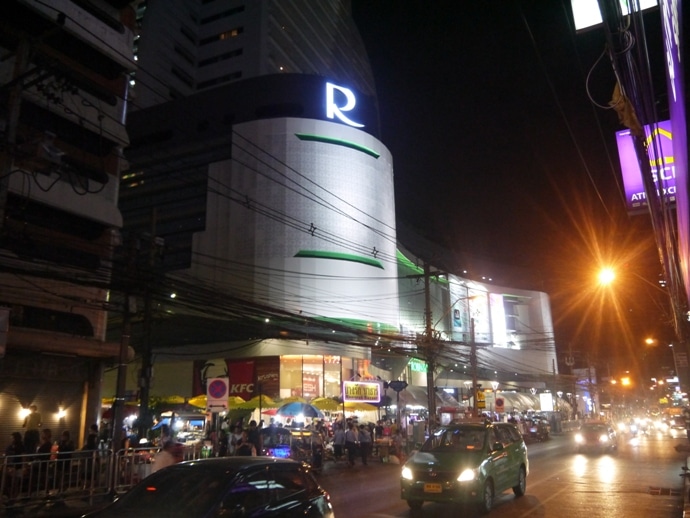 This Robinson department store is newly renovated and sells the standard type of goods you'd expect – clothing for men, women and children, household goods, electronic and electrical goods, books and more. It has a large Tops Market (supermarket) in the basement and also a wide range of restaurants and cafes.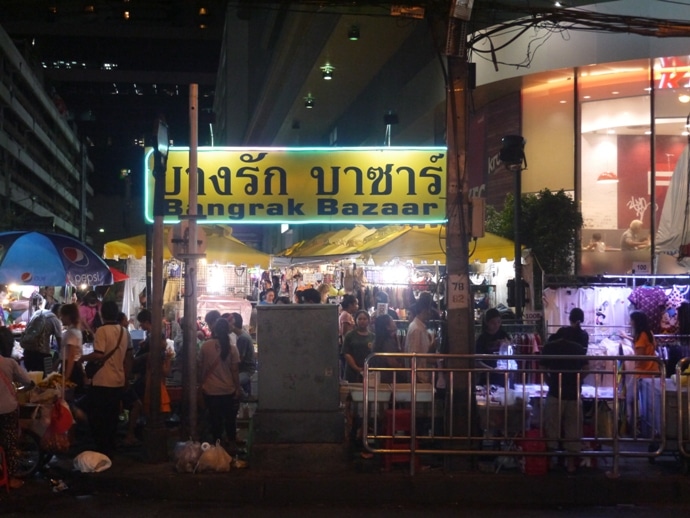 Directly outside and to the left is the small Bangrak Bazaar which is very popular with locals. It mostly sells women's fashion items and the prices are very reasonable.
Hotels Near Saphan Taksin BTS
Right above the Robinson Department Store is the Centre Point Silom Hotel and just down the road is the 5-star lebua at State Tower Hotel, where some scenes for the Hangover II film were shot. There is also the ever-popular Shangri-La Hotel that overlooks the mighty Chao Phraya River. Click here for other great hotels near Saphan Taksin BTS station. I hope that's given you lots of ideas for shopping in Bangkok and also some thoughts on places to stay. Let me know if you need any further info and I'll do my best to help.
Conclusion | Bangkok Shopping
If you're looking to do some shopping in Bangkok, Thailand, it's obvious there is plenty to keep you busy, from luxurious shopping malls to hidden local markets.
Thankfully, much of this can be accessed via the Bangkok BTS system, so you can spend your day hopping from one shopping mall to another. Don't forget that while you're here, you should also take some time to visit a few of Bangkok's best temples, Bangkok's best museums and – if you really want to explore – Bangkok's weirdest attractions.