Nong Khai is a small town in Thailand's Isaan region, right next to the Mekong River. From here you can cross the First Thai-Lao Friendship Bridge and travel the short journey to Vientiane, the capital of Laos. Nong Khai is quite a quiet town, but there's enough to do to keep you busy for a few days.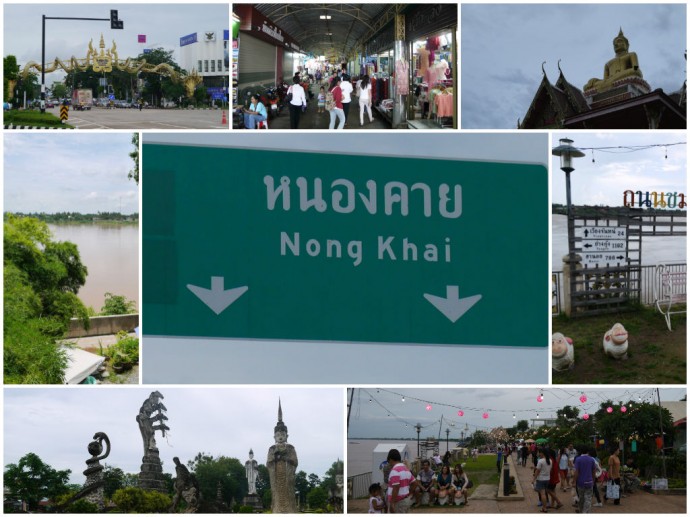 Sala Kaew Ku Sculpture Garden
This is the main attraction in Nong Khai, and many people visit it the town just to see the fantastic and weird concrete sculptures here. The sculptures are inspired by Buddhism and Hinduism, with some being up to 25 meters tall. See Sala Kaew Ku Sculpture Garden for more images and videos.
A Walk Along The Waterfront Promenade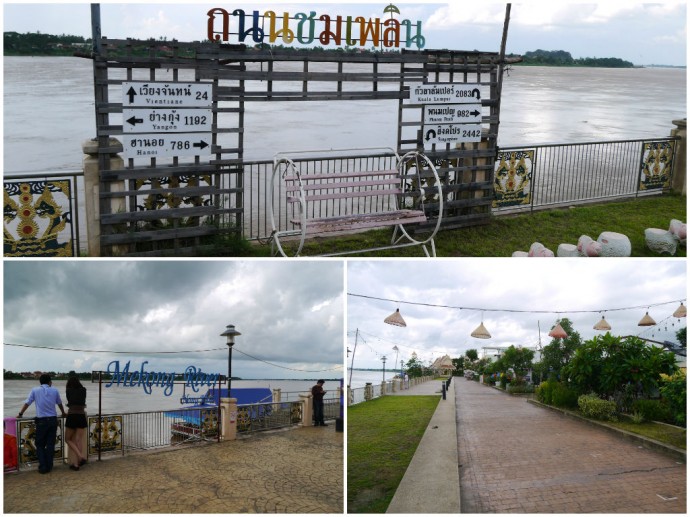 This is a pleasant place to take a walk and stop for a coffee or a bite to eat. On one side you have the Mekong River, and on the other you have a range of cafes, restaurants and bars. This is where the Saturday Walking Night Street Market takes place. At the end of the promenade is Tha Sadej Market.
Saturday Night Walking Street Market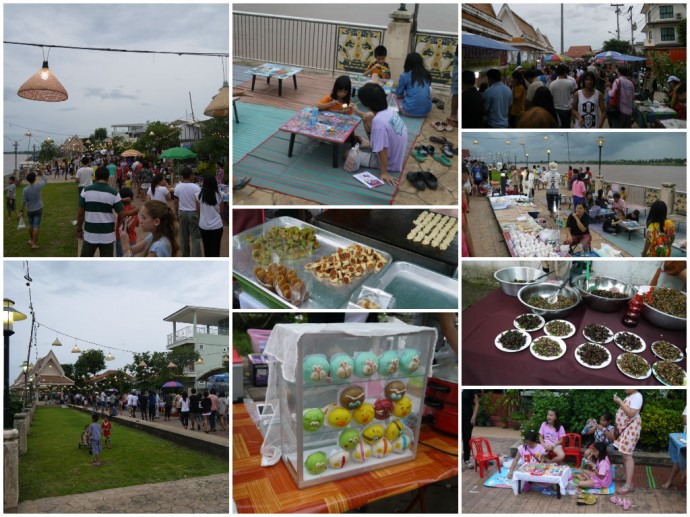 This market takes place on the Waterfront Promenade and is a very lively affair. At the start of the market there are lots of food stalls of all sorts, and then further along there are clothes, jewelry and other knick-knacks. There are quite a few stalls run by young children. It's a great way to spend a Saturday evening. Opens around 5 pm and closes late.
Tha Sadej Market (Indo-China Market)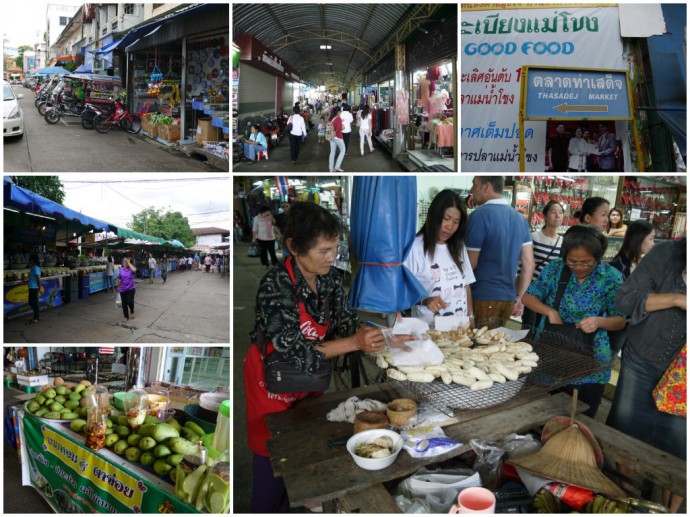 Tha Sadej Market is also know as the Indo-China Market and has a range of goods from Thailand, Laos, China, Vietnam and Russia. It's mostly covered and is spread over around 7 streets. It's located at the far end of the waterfront promenade.
Wat Lam Duan Temple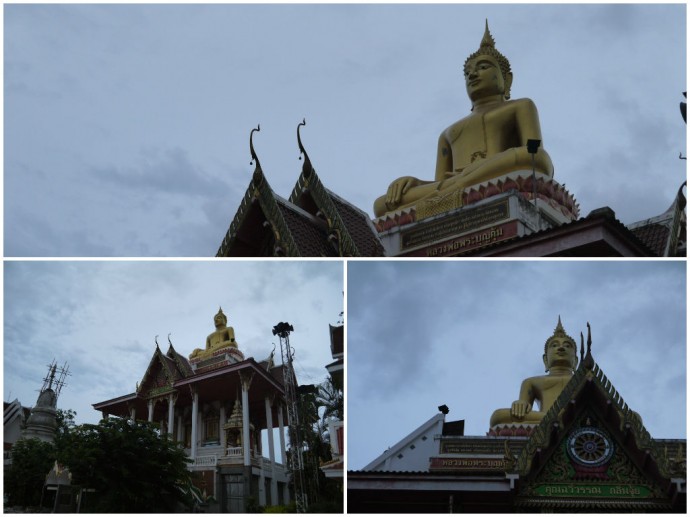 This temple is a little unusual because it has a golden Buddha statue on the roof. If you want, you can climb up onto the roof and admire the views overlooking the Mekong River. It's a bit further along than the end of the waterfront promenade and easy to spot because of the golden Buddha on the roof. There are numerous other temples in Nong Khai, and getting around them all could keep you busy for a few days.
The First Thai-Lao Friendship Bridge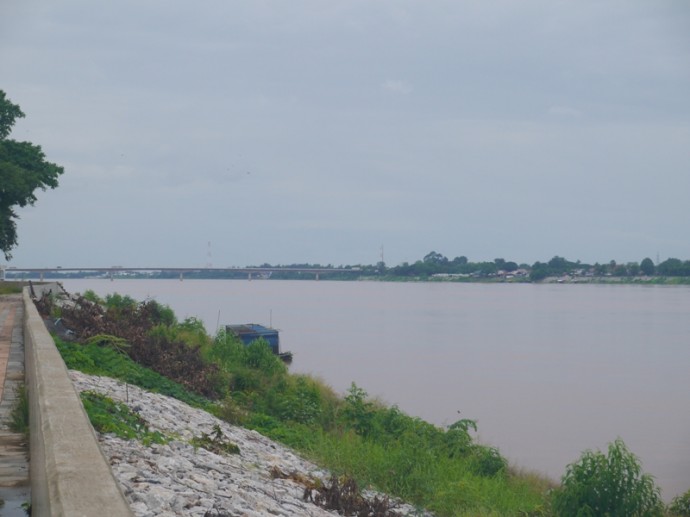 The Thai-Lao Friendship Bridge crosses the Mekong River and connects Nong Khai with Vientiane. The bridge was opened in 1994 and is 1,170 meters long. During the dry season there's a sandy beach below the bridge where many locals go to picnic and swim in the Mekong. The Second Thai-Lao Friendship Bridge is further south at Savannakhet.
How To Get Around Nong Khai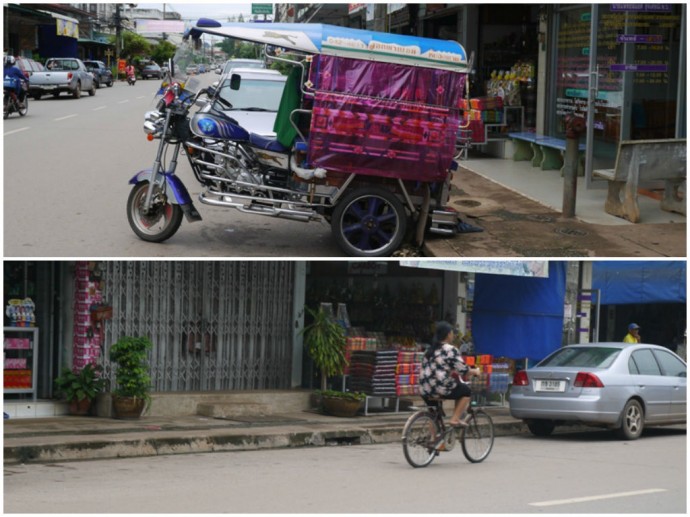 There are basically just two ways to get around Nong Khai. The first is by tuk tuk, with prices being fairly reasonable. A short journey should cost 30-40 baht. We paid 80 baht to get from the train station to our hotel and 300 baht to get to Sala Kaew Ku Sculpture Garden and back. The second way is to hire a bicycle and cycle around the city. Bicycle hire costs around 50 baht per day, with discounts for renting weekly or monthly. It's also possible to walk to many places in the center.
Day Trips Further Away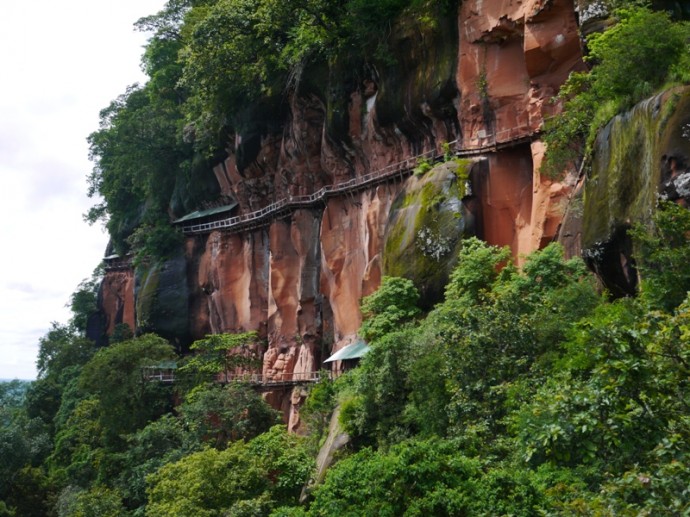 Wat Phu Tok is my personal favorite of all the places we visited in Isaan, and quite possibly my favorite in the whole of Thailand. This should be top of your list of things to see in Thailand, as it's a really magical place. It's in Bueng Kan, which used to be part of Nong Khai province until 2011, and it's possible to get to there and back again in the same day. Highly recommended.
Hotels In Nong Khai
While In Nong Khai we stayed at The Rim Riverside Hotel, This is a great hotel with rooms overlooking the Mekong River. It also gets great reviews on Agoda. For other hotels is Nong Khai, check out Agoda Nong Khai.