Having spent over three years in Thailand, the question I'm asked most often is what the best places to visit are. This depends to some extent on what you like to do while on holiday, but Thailand is such a big country with so much to see and do that it would be a waste to just stick to one place. For a more detailed look at what to do in Thailand, check out this excellent Thailand travel guide.
Here are my top six picks of places you might want to consider visiting.
Krabi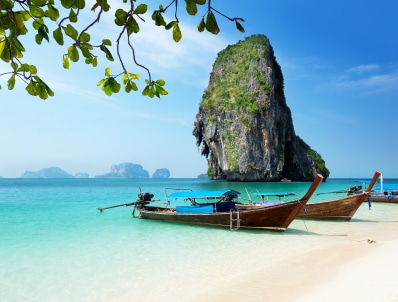 Krabi  is a small town on the west coast of Thailand facing the Andaman Sea, with the area having some of the best islands and beaches in the world. Krabi attracts travelers that love adventure, and there are plenty of activities available to satisfy their needs. One of the most popular of those attractions is rock climbing on the Railay Peninsula. Some of the best climbers in the world come here, but the climbing is also suitable for children as young as 5 year old. So this is something that the whole family can do.
If climbing's not your thing, then you might enjoy the white water rafting, kayaking or scuba diving. But if you prefer a more relaxing time, then you can take a boat around the area or just sit on the beach. Krabi really does have something for everyone.
Where To Stay: The excellent 4-star Villa Thalanena would be a great choice for a stay in Krabi.
Koh Phi Phi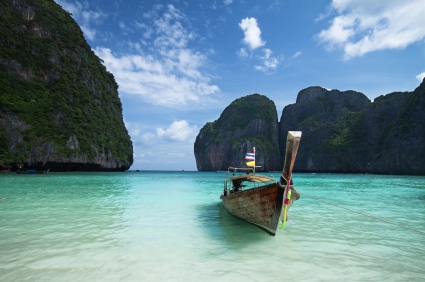 Just off the coast of Krabi are the world famous Phi Phi islands. These are the islands that were made famous by the film The Beach, which was released in 2000. A few decades ago the islands just had a few bamboo huts on the beach, but these days it's one of the most desirable holiday destinations in the world.
The largest islands are Phi Phi Don and Phi Phi Le, and are the only ones that are populated. This is a great place to snorkel, as the coral reefs are very close to the beach. You should also pay a visit to Maya Bay, which is where The Beach was filmed. It really is one of the most beautiful beaches you'll ever see. You can visit Phi Phi islands as a day trip from Krabi.
Where To Stay: For you stay on Koh Phi Phi, you won't find much better than Phi Phi Island Village Beach Resort.
Phuket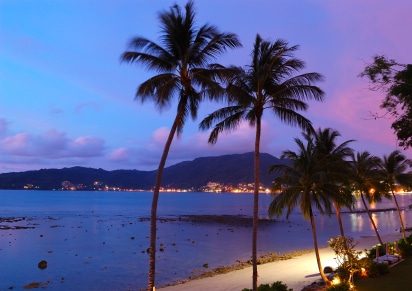 Phuket is also in the Andaman Sea, so you can visit this either before or after Krabi. It is a large island with a population of around 500,000, so you'll find plenty to keep you busy there. One of things you must do while there is visit Phang Nga Bay, the most distinctive feature of which are the sheer limestone cliffs that jut out of the sea. This is also where you'll find James Bond Island, as featured in the film The Man With The Golden Gun.
Old Town Phuket is a great place to spend a day, as there are plenty of quirky shops, stunning architecture and some excellent restaurants. And for those that love to party there's Bangla Road on Patong Beach. You can also take in a Muay Thai match, visit a cabaret or just hang out on the beach.
Where To Stay: The Naka Phuket Villa is a 5-star resort that will really impress you.
Koh Samui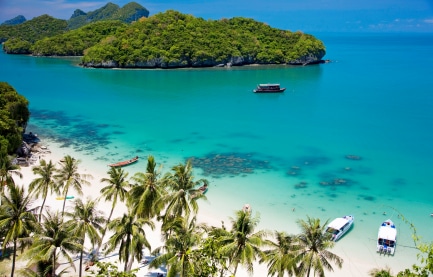 After three places on the Andaman Sea side, it's now time to discover the east coast. And this is where you'll find the beautiful Koh Samui in the Gulf of Thailand. This is another place where there is plenty to see and do. One of Samui's most well-know landmarks is a 12 meter high Buddha that can be seen from several miles away.
Another popular attraction is the rock formations know as Hin Ta and Hin Yai Rocks (The Grandpa and Grandma Rocks), which resemble male and female genitalia. It's amazing what nature produces.
You should also visit Ang Thong National Park, which is shown in the image above. This is an archipelago of 42 islands that features white sand beaches, limsestone rocks, jungle, waterfalls and hidden coves.
As if that wasn't enough, you can also see a mummified monk, ladyboy shows and a visit a snake farm.
Where To Stay: At around $1,000 per night, you won't find much better than the Banyan Tree Samui.
Chiang Mai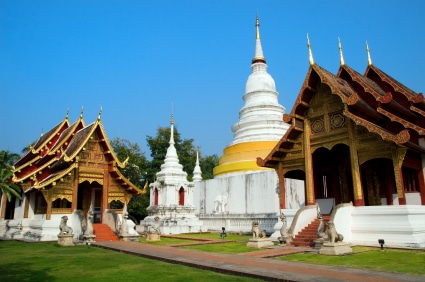 Next we head to the far north, where you'll find the laid back town Chiang Mai. Chiang Mai is a mixture of culture and nature. While the town is fairly small, it's also quite busy with lots going on. This is such a great place that many travelers spend a few months here, as we did. It's incredibly cheap, with a good hotel costing as little as $300 for a whole month.
One of the most popular attractions is Doi Suthep, and there is a Thai saying that goes along the lines of… if you haven't seen Doi Suthep then you haven't seen Chiang Mai. Doi is Thai for mountain, and at the top of Doi Suthep you'll find the stunning Wat Phra That Doi Suthep, one of the most important temples in Thailand. There are a huge number of other temples in Chiang Mai and you'll see them everywhere if you just walk around.
As well as the temples, you can take in a night safari, visit the hill tribe people, go to an elephant camp and visit Doi Inthanon, Thailand highest peak, which is 2,565 meters above sea level.
Where To Stay: The Dhara Dhevi Hotel made the Conde Nast 2015 Gold List of the world's top hotels. You can't ask for much better than that.
Bangkok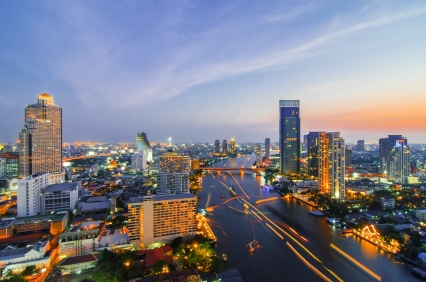 And that brings us to our final destination, which is Bangkok, often voted one of the best cities to visit in the whole world. When I first arrived in Bangkok it seemed crazy and chaotic, but that is part of its charm. Just walk around the streets and you can feel the energy of the place. If you're a city person, then you'll probably love Bangkok. And if it's a crazy nightlife scene that you want, then Bangkok is where you'll find it.
Many backpackers hang out in the Kao San Road area, which is known as Party Central. The area is busy every day of the week, and is the place to head to if you want to party. The Sukhumvit Road area is also awash with bars and clubs and offers a different vibe to the backpacker area of Kao San Road.
As well as nightlife, Bangkok has plenty of culture on offer. It has some of the world's best temples, and most visitors will want to check a few of those out. There's also the bustling Chinatown to see, which is one of the biggest in the world. The morning flower there market is particularly worth seeing.
Where To Stay: The Mandarin Oriental Hotel is considered to be Bangkok's top hotel and is a great place to stay next to the river. You might also want to have a look at Bangkok's best riverside hotels.
I hope this has given you a good overview of what Thailand has to offer. These are my top 6 picks, but there is so much more to Thailand.