For many people, a hotel next to the river makes for an ideal holiday. And that is especially so in Bangkok. The temperature in the hot season can be in the high 30s, so a gentle breeze from the city's Chao Phraya River is a welcome relief. Staying at a hotel along the river also means you can take advantage of one of the best ways to see many of the city's top attractions – by boat.
All the following attractions are accessible by boat – Asiatique, Holy Rosary Church, Chinatown, Santa Cruz Church, Grand Palace, Temple of the Reclining Buddha, Temple of Dawn, Forensic Medicine Museum, Thonburi train station (for trains to River Kwai Bridge), National Museum of Royal Barges, Rattanakosin Island, Khao San Road and Thewet Flower Market. See Bangkok Riverside Attractions for further details.
For a comprehensive guide to getting around by river boat, see Bangkok's Chao Phraya River Boat Routes. You can also check out our in depth Bangkok travel guide that can help you in your travel.
So let's take a look at what hotels are available along Bangkok's Chao Phraya River.
Anantara Bangkok Riverside Resort And Spa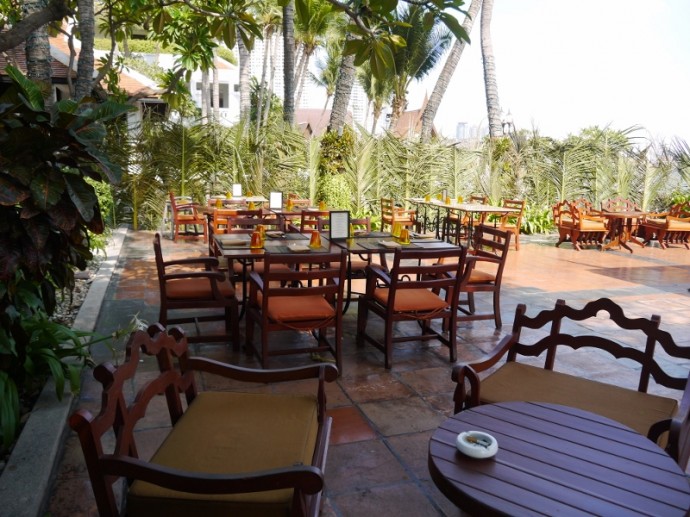 This 5-star hotel is located on the west bank of the Chao Phraya River, and as well as being accessible by road, you can get there from Sathorn Central Pier using the hotel's free shuttle boat. Sathorn Central Pier connects to Bangkok's BTS Skytrain system, so the whole city is easy to get to. There are more images of this hotel, including the boat ride, at Anantara Bangkok Riverside Hotel.
Click here to book a room at Anantara via Agoda.
Chatrium Hotel Riverside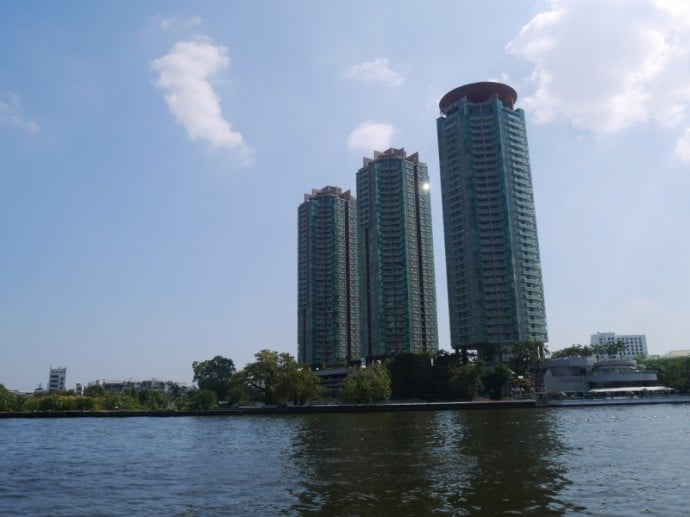 This is another excellent 5-star hotel on Bangkok's Chao Phraya River. It's one of the closest hotels to Bangkok's newest riverside attraction – Asiatique. At Asiatique you'll find countless stalls selling Thai crafts, clothes and other items, along with an excellent choice of restaurants. You can also take a ride on the Sky Wheel.
Click here to book a room at Chatrium Hotel via Agoda.
Shangri-La Hotel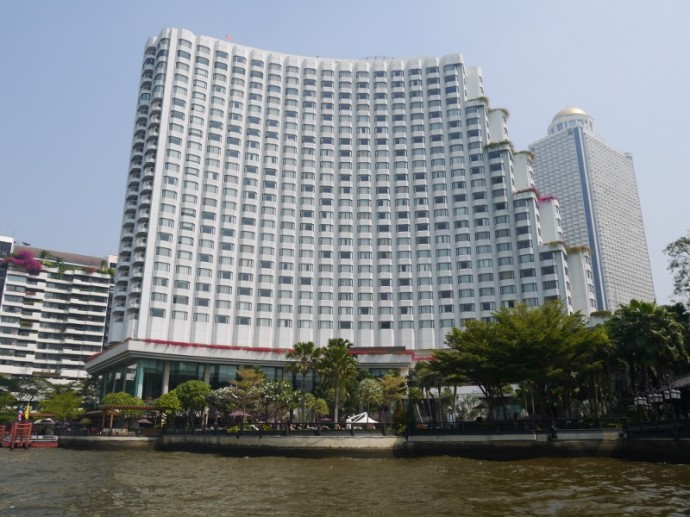 This hotel is probably one of the most well-known of Bangkok's riverside hotels and is located right next to Saphan Taksin BTS Skytrain station and Sathorn Central Pier. This makes it easy to explore the city by either river or train. It's also right next to the newly renovated Robinson department store and near numerous street food stalls.
Click here to book a room at Shangri-La Hotel via Agoda.
Peninsula Hotel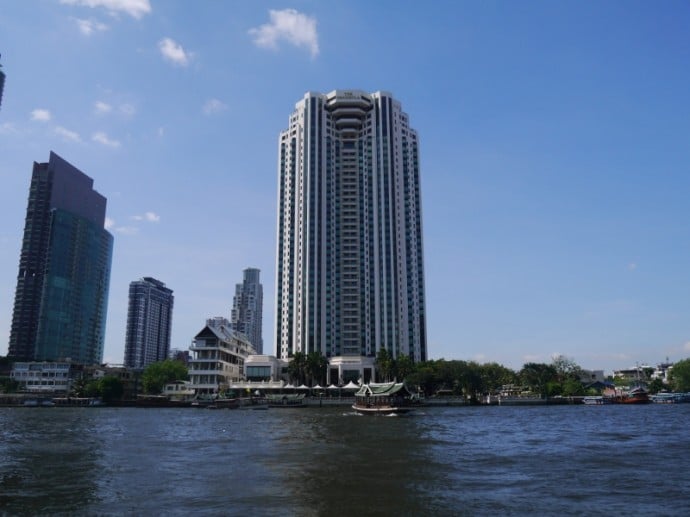 This hotel has won many awards, including Best Hotel in Bangkok and Asia's Best City Hotel. It's located on the west bank of the river and every room in the hotel has amazing river views. One of the major features of this hotel is that it has a private helipad on the roof. This means that you can get a helicopter from either of Bangkok's airports directly to the hotel. As if that isn't enough, you can also hire a chauffeur driven Rolls Royce or BMW limousines from the hotel. If you're after luxury and have the money to spare, then this is certainly the hotel for you.
Click here to book a room at Peninsula Hotel via Agoda.
Millennium Hilton Hotel – Riverside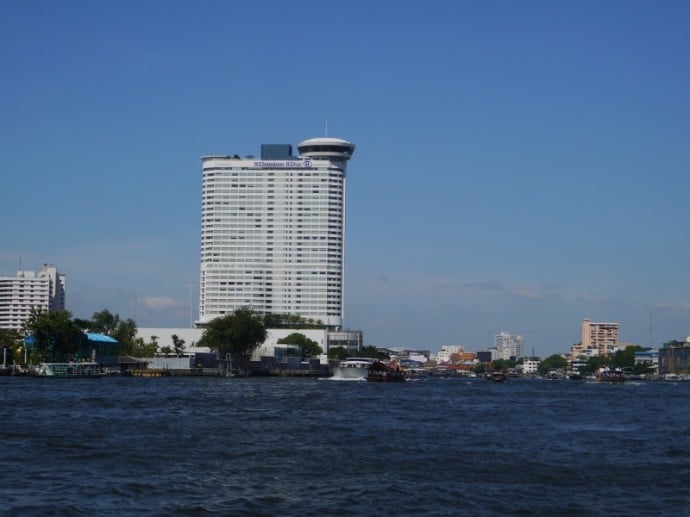 This hotel has breathtaking views of the city skyline from every room – and there are 533 of them. As well as award-winning restaurants, you can also use the rooftop bar that has 360-degree views of Bangkok. It was awarded Best Luxury Rooftop View Hotel in Asia at the 2013 World Luxury Hotel Awards.
Click here to book a room at Millennium Hilton Hotel via Agoda.
Royal Orchid Sheraton Hotel & Towers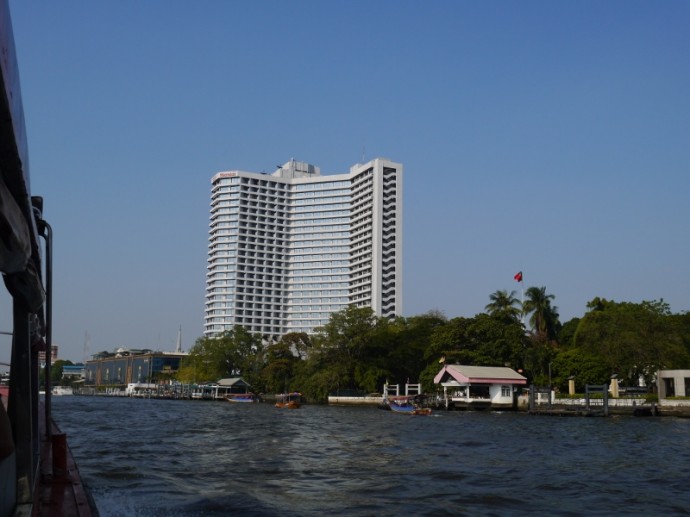 All 726 room at this hotel have unobstructed Chao Phraya river views. Guests can take advantage of the exclusive lounge on the 27th floor that has breathtaking views over the city and river. For business travelers there is also a 28,000 square feet conference facility. This hotel is one of Bangkok's most elegant and exclusive.
Click here to book a room at Royal Orchid Sheraton Hotel & Towers via Agoda.
Mandarin Oriental Hotel
The Mandarin Oriental Hotel is among the best in the world, and is located on the east bank of the Chao Phraya River. This hotel was originally built over 130 years ago and was one of Thailand's first hotels. It has a reputation for luxurious service. This is a hotel that has had many celebrity guests over the years, including Neil Armstrong, George HW Bush, Sean Connery, Mel Gibson, Diana, Princess of Wales, and Michael Jackson. If it's good enough for celebrities, then it should be good enough for you.
Click here to book a room at Mandarin Oriental Hotel via Agoda.
Ramada Plaza Bangkok Menam Riverside
This hotel is away from the hustle and bustle of the city, so is a great place to be able to relax. But at the same time, it's still close enough to everything to make exploring the city very easy. This is a 5-star hotel and offers all the usual luxuries. It has an outdoor pool, five international restaurants and over 20 meeting and banqueting rooms.
Click here to book a room at Ramada Plaza Hotel via Agoda.
Lebua At State Tower Hotel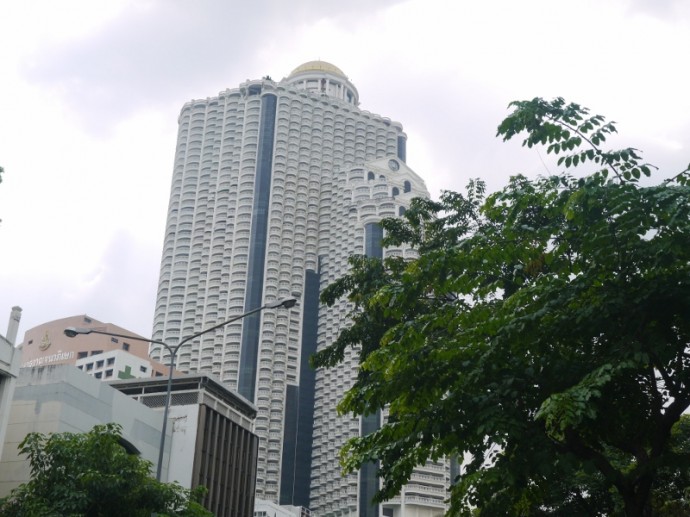 This hotel is a little back from the river, but I've included it here because it has awesome river and city views and was featured in the film Hangover Part 2. Many will remember the scene filmed at the hotel's rooftop bar. This is one of the most famous bars in Bangkok. You can visit the bar without staying at the hotel, but many guests want to stay just because of the film.
Click here to book a room at Lebua Hotel via Agoda.