Nakhon Ratchasima (also known as Korat) has many vegetarian restaurants. Near Ya Mo statue area we found three vegetarian restaurants, and a vegetarian street stall selling deep fried foods. No too far from the train station we found a very interesting vegetarian restaurant in a petrol station. It turned out to be our favorite.
Jguanjin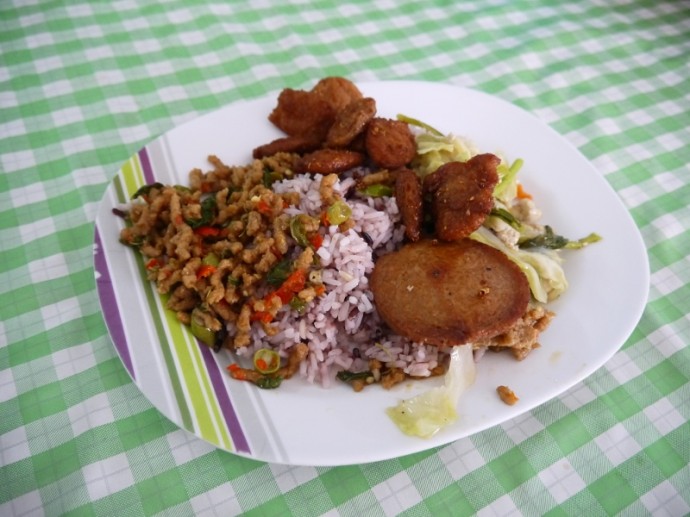 The name of this restaurant is pronounced Jay Guanjin, with Jay being the Thai word for vegetarian. This was the first one we ate at and we ended up coming back again, as the food was very good. They have a wide selection of hot dishes that are served with brown rice, and also have a choice of noodle dishes. The meal above, which has four hot dishes plus rice only cost 45 baht ($1.50). A noodle dish costs $1. All the food we had there was delicious.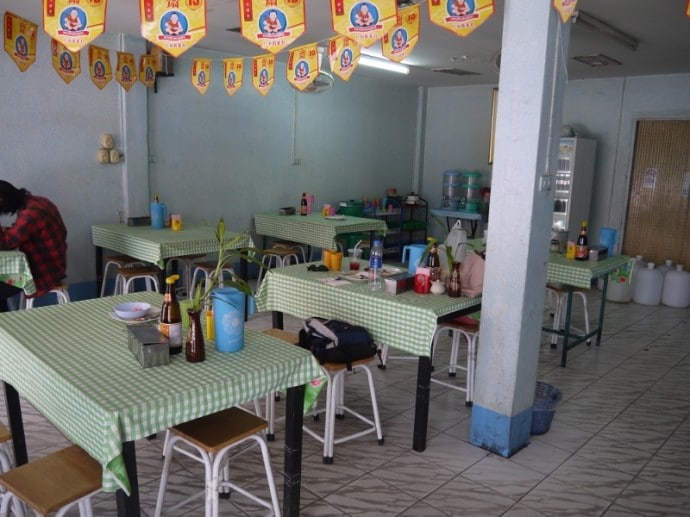 The restaurant has six tables with four seats for each one, so seats a total of 24 people. It gets very full early in the morning, as is common with many Thai restaurants such as this.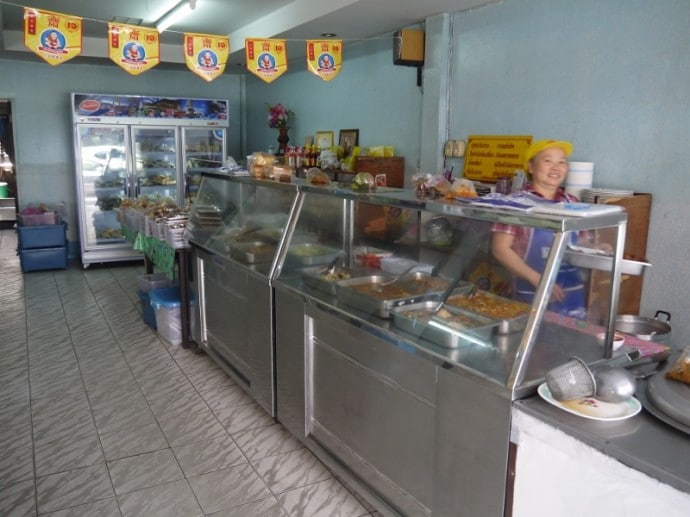 As well as the hot dishes that you can see on display in the above image, they also sell lots of fake meat type foods that can be cooked at home. They are on display towards the back of the restaurant.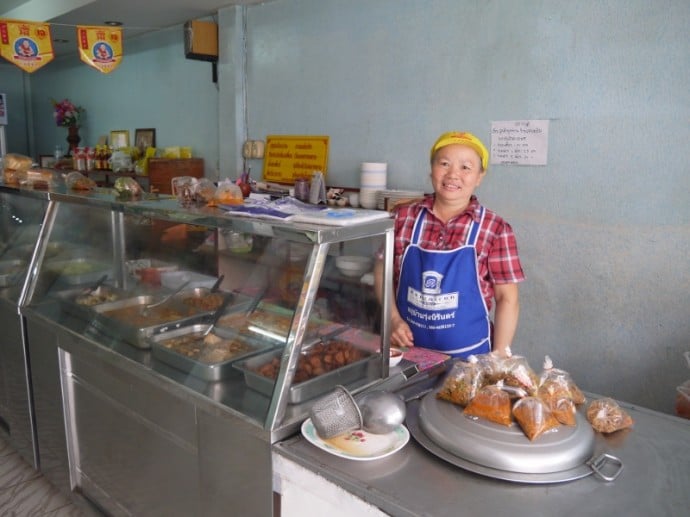 The owner of the restaurant is a very friendly person, although she doesn't speak any English. But it's easy enough to just point to what you want.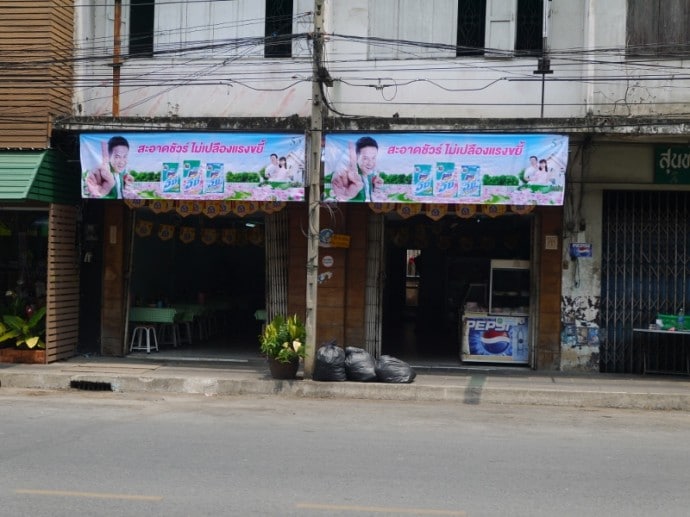 The restaurant is on Nong Buarong Road, between Suranaree Road and Phoklang Road. It's about 3-4 minutes' walk from Ya Mo statue. From the statue, walk down Phoklang Road, then turn left into Nong Buarong Road. You'll see it on your right a few shops in.
Jguanjin Details
Address: 41-43 Nong Buarong Road (near junction with Phoklang Road)
Opening Hours: 06:30-18:00 every day (only noodle dishes are available nearer closing time)
Tel: 044-253997
Ming Ter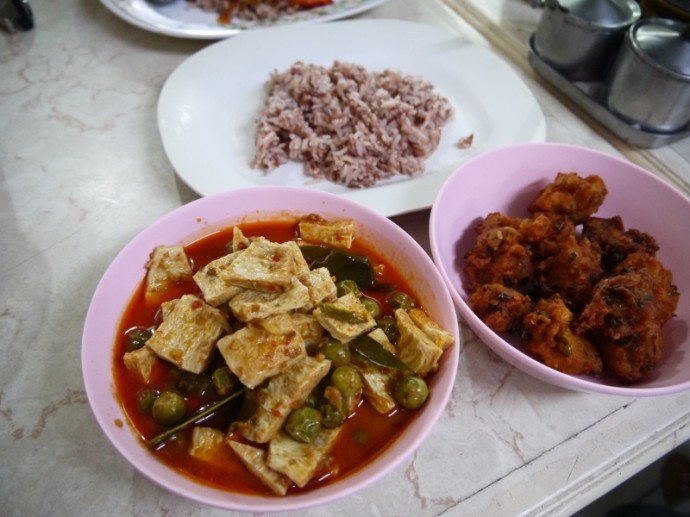 This is another very popular vegetarian restaurant in Korat that's been open for over 20 years. It's just across the road from the famous Ya Mo statue (Thao Suranari Monument), so is very centrally located.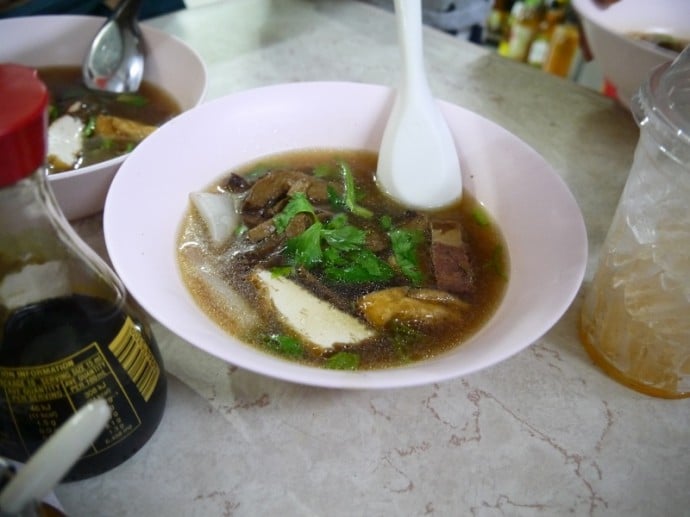 You can either choose rice and a selection of hot dishes from the front of the shop or a noodle dish. As many customers buy food to take away, most of the dishes are individually wrapped, so just choose what you want and they open them and bring to your table. They also have a selection of fake meats.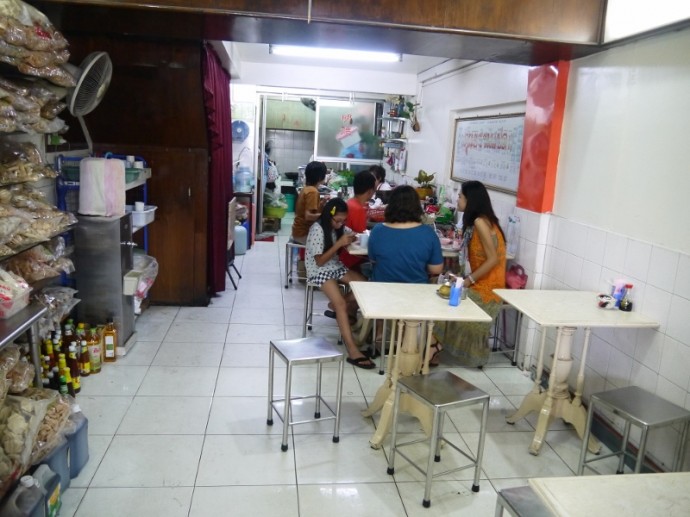 The restaurant is fairly small and also has a shop area that sells things like dried soy products. It's very reasonably priced – we paid a total of 260 baht ($8.50) for five people.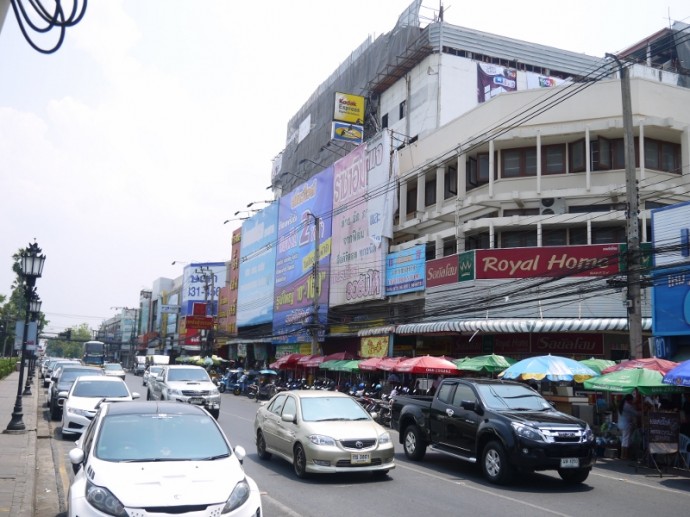 The restaurant is very easy to find. Just stand with your back toward Ya Mo statue and look down the road to your left. The restaurant is directly below the Kodak sign that you can see high up on the building in the above image.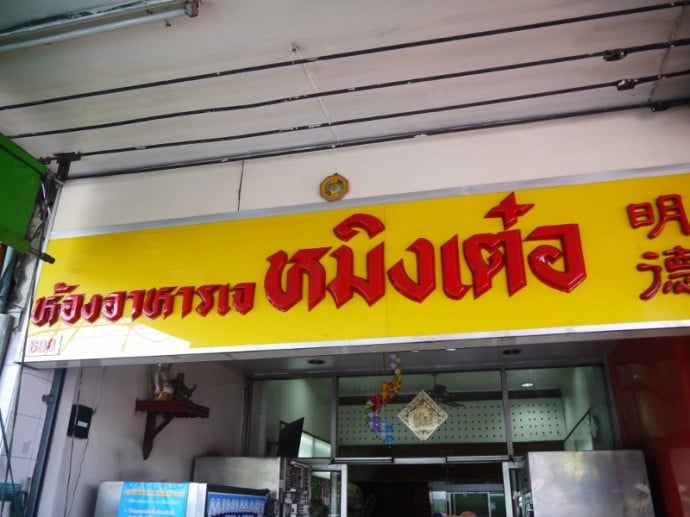 Look out for the big yellow and red sign above the restaurant.
Ming Ter Details
Address: 693 Rajadamnern Road (near Ya Mo statue)
Opening Hours: 07:30-18:00 every day
No Name Vegetarian (Suranaree Road)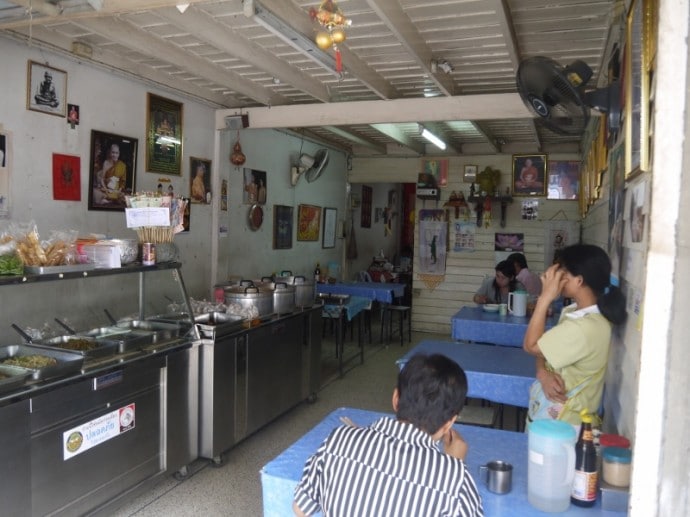 We found this vegetarian restaurant on our last day in Korat, but didn't get a chance to eat there, as we'd already had lunch. We did speak to the owner though, who told us it had been open for over 20 years. It's one of three restaurants that we found near the Ya Mo statue area, and is about 100 meters from Jguanjin that's mentioned above. From Jguanjin, turn right and walk to the junction with Suranaree Road. Turn left and you'll see this restaurant across the road. It's very close to the junction.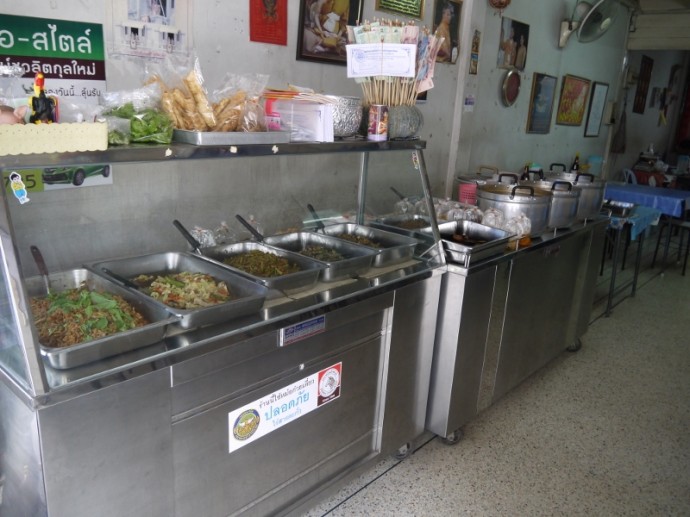 Take a look at the image below – the restaurant is the one with the cart outside. The shop doesn't have a name, doesn't have a sign and doesn't even show anywhere that's it's vegetarian. But it's quite easy to find.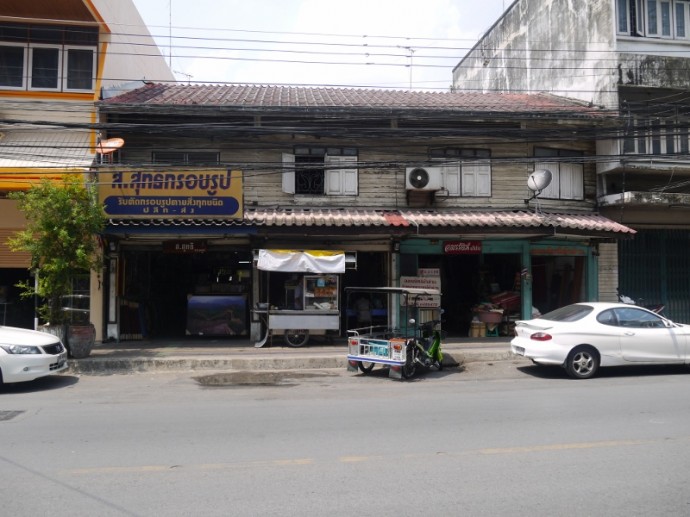 No Name Vegetarian (Suranaree Road) Details
Address: 56 Suranaree Road
Opening Hours: 08:30-19:30 every day
Vegetarian Street Stall
We didn't eat here, but passed it as we walked down Phoklang Road. It's about 200 meters from Ya Mo statue, on the right hand side, just outside the market.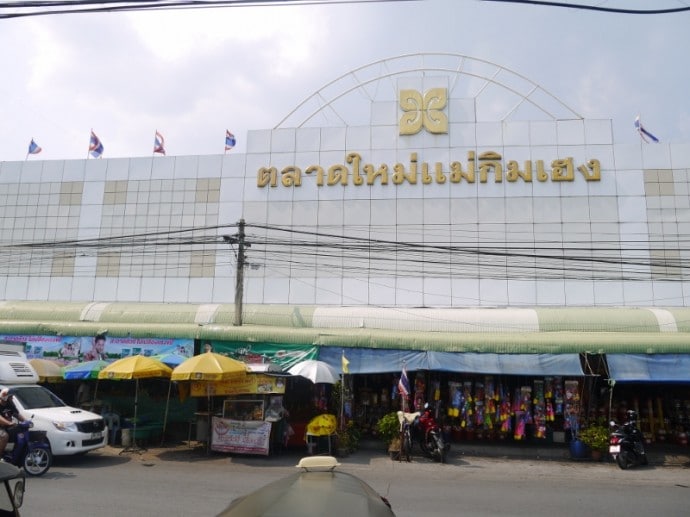 As you walk down Phoklang Road you'll see the above market that goes all the way through to Suranaree Road on the other side. You can see the yellow sign of the veggie stall in the images above.
Vegetarian Street Stall Details
Address: Phoklang Road – outside the market
Opening Hours: Probably early until late every day
Seven Steps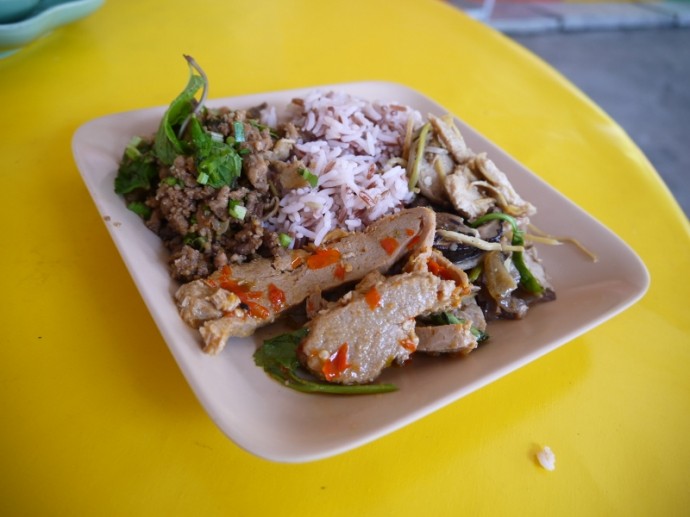 This restaurant is less than 1 km from the train station and was our favorite veggie place that we ate at. It's a little unusual, as it's in a petrol station, but it really is worth visiting. From the train station, turn right and keep walking until you come to the 5-road junction. Turn right across the railway onto Pibool La-lad Alley and you'll see a PTT petrol station around 200 meters ahead on your left.
The above meal of brown rice and three hot dishes cost 35 baht (just over $1).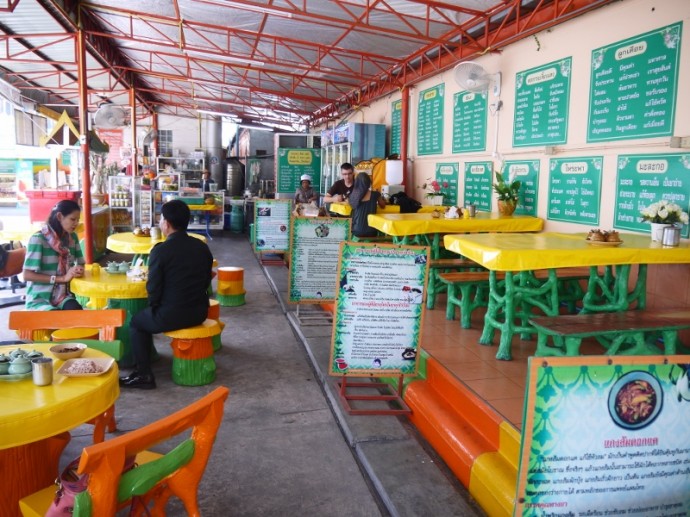 This is a very colorful restaurant that has great food and friendly staff. You can choose from the hot dishes on display, or get a meal made to order. This is also one of the few places that serves vegetarian somtum (papaya salad).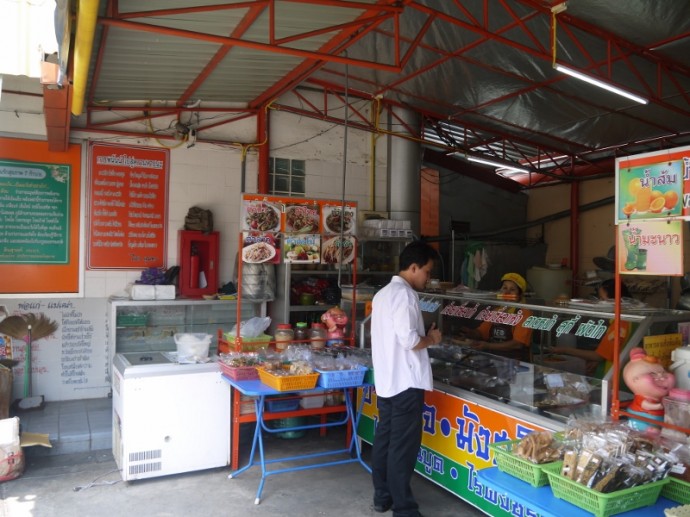 This restaurant also sells a range of vegetarian foods to take away. You can find them near the front and in the fridge at the rear.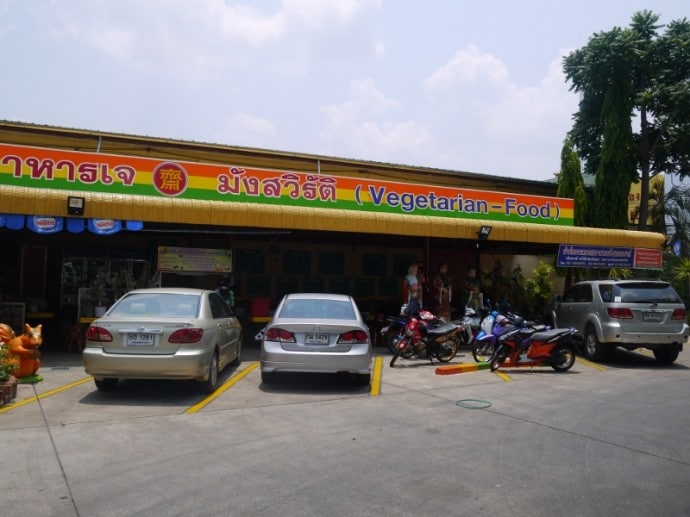 Once you find the PTT petrol station, you'll easily spot the restaurant due to its very colorful sign and Chinese statues.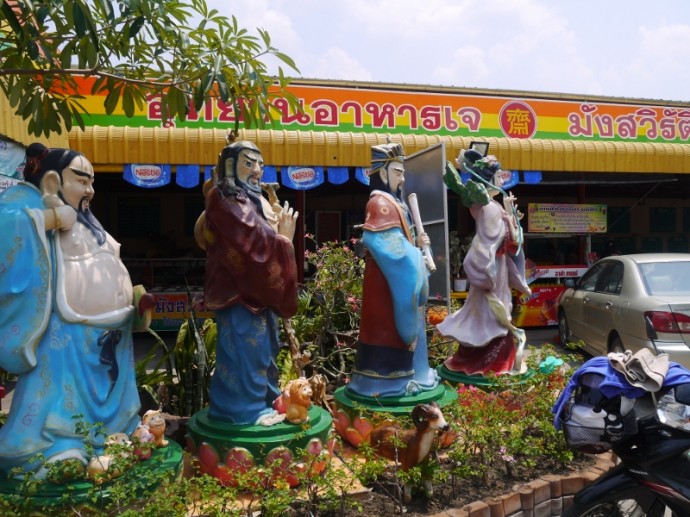 I highly recommend this restaurant, so be sure to check it out if you visit Korat.
Seven Steps Details
Address: 175/1 Pibool La-lad Alley (inside PTT petrol station)
Opening Hours: 07:30-16:00 every day
Tel: 044-275687
Yogini Shop
We found out about this one just before we left Korat, so didn't have a chance to check it out. Hopefully we'll get to eat there next time we visit Korat.
Yogini Shop Details
Address: 1581 Mukkamontri Road
Hotels In Nakhon Ratchasima (Korat), Thailand
While in Korat, we stay at City Park Hotel and Sawairiang Place Hotel, both of which we liked.
Click here to book a room at Sawairiang Place Hotel.
For other hotels in Korat, see Agoda Korat.