If you love traveling by train in Thailand, then the Bangkok to Singapore by train route will make for a very interesting journey. The journey can't be made on a single train, so you'll need to break up your journey into at least two parts. There are lots of interesting places to stop along the way though, so I'd suggest staying a few days at any place that takes your fancy. We've traveled this route and are happy to share our experience for you to learn from!
In short, if you want to take the most direct trains with the least changes, then you need to get the Bangkok to Butterworth train, stay in Butterworth (or George Town) overnight, and then get the train from Butterworth to Singapore.
Bangkok To Butterworth | Thailand Trains
There is only one train a day between Bangkok and Butterworth – No. 35. It leaves Bangkok's Hua Lamphong station at 14:45 and is due to arrive in Butterworth at 13:30 the next day, so that's almost a whole days' travel. We took this train from Bangkok to Hua Hin a few days ago, and would suggest getting a 2nd class aircon sleeper if you're planning to take the train all the way to Butterworth.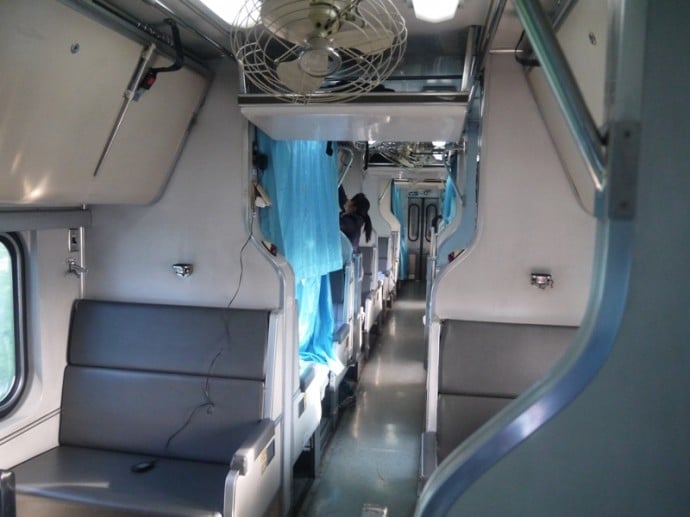 The above image shows a typical sleep carriage on the Bangkok to Butterworth route. If you're only traveling a short distance during the day, then you'll have seating like above. But the seats fold down and can be converted to beds. Blue curtains are also put up to give you some privacy. If you've booked an overnight journey the beds will already be made up for you.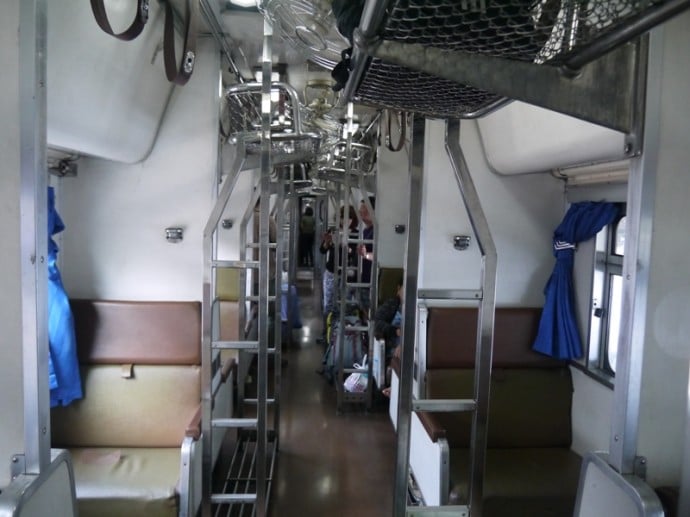 Some carriages have narrower seats/beds, as shown in the image above. This means that your luggage is then stored on the luggage racks next to your bed.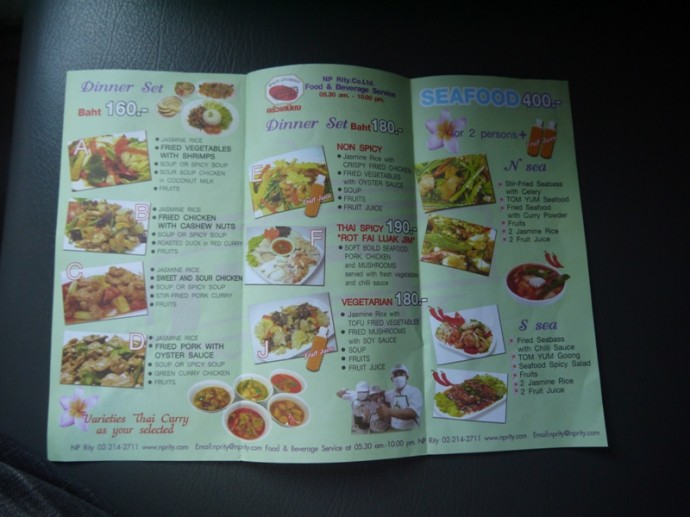 This train has a restaurant car, so you can either eat there or order from one of the restaurant car staff that will come around from time to time. They have a fairly extensive menu that's available in English. They also have a vegetarian option available.
As well as the restaurant, you can by food and drink from the numerous vendors that get on the train along the way. The sell main meals, fruit, snacks, sausages, and all sorts of drinks.
Ticket Prices For Bangkok To Butterworth
Tickets can be bought from train stations and travel agents. Tickets cost around $35.
There's also the option to purchase all of your Thailand train tickets online. There's a small fee involved, but it saves a lot of time and hassle when you can have the tickets sent by mail to your hotel instead of having to purchase them days in advance at the station. Search for available tickets below:
Notable Stops Along The Way
If you want to stop and explore along the way you'll need to buy separate tickets for each leg of your journey. Notable stops along the way include Nakhon Pathom, Hua Hin, Chumpon (ferry to Koh Tao), Surat Thani (for Koh Tao & Ko Samui), Hat Yai (for bus to Phuket & Krabi), Padang Besar, Arau (for Kuala Perlis & Langkawi), Alor Setar (for Kuala Kedah & Langkawi), and finally, Butterworth. From Butterworth you can take the ferry to George Town, Penang.
Butterworth To Singapore
The second part of the journey is from Butterworth to Singapore, via Kuala Lumpur. You have a coupe of choices here, depending on whether you want to continue the journey or spend some time in Penang.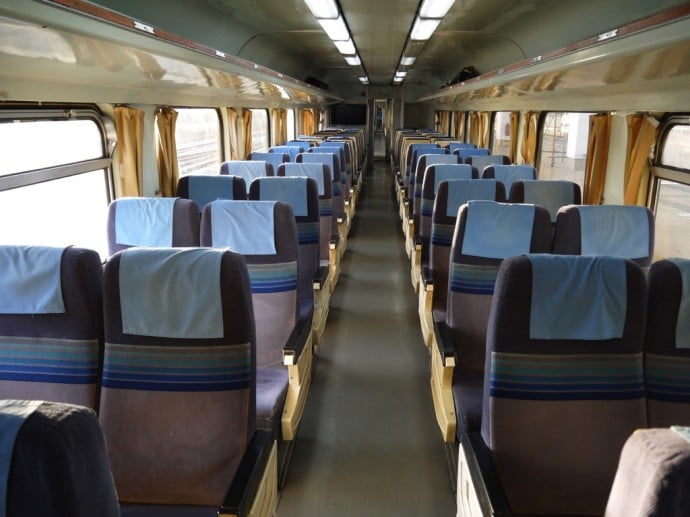 If you want to continue your journey the same day, you can get the No. 21 train that leaves Butterworth at 22:28 and arrives in Kuala Lumpur at 06:30. You can then get the No. 13 train at 08:30 from Kuala Lumpur to Singapore. The No. 21 train starts in Hat Yai, so you could travel from Bangkok to Hat Yai (arrive 07:00) and then get the train from Hat Yai at 16:00.
If you prefer to rest overnight or stay a few days, you can get the No. 1 train that leaves Butterworth at 08:00 and arrives in Singapore at 22:00.
We traveled this route late last year. See How To Get From Penang to Singapore By Train. We got the 08:00 train but stayed in Johor Bahru overnight, as we didn't want to arrive in Singapore too late.
We also traveled from Kuala Lumpur to Butterworth on an overnight train – see Kuala Lumpur to Penang for further details.
Ticket Prices For Butterworth To Singapore
We paid around $38 for our 1st class tickets. 2nd class tickets cost around $18. Again, it is possible to conveniently purchase these tickets online for a small fee. Check availability below:
Hotels in Thailand & Singapore
If you're look for a great hotel in any of the places mentioned above, then try booking via Agoda, as they are one of he main hotel booking sites in this region.