As part of our 5-month travels in Europe, we're spending the next month traveling by train using our Eurail and InterRail passes. What we didn't realize until a couple of days ago was how difficult and expensive it is to reserve seats for trains in some countries. Apparently it's advisable to book seats two months in advance for trains in France, as they don't keep many seats for Eurail and InterRail pass holders.
There weren't any seat reservations left for any of the direct trains for the day we wanted to travel from Paris to Amsterdam and we were quoted a seat reservation fee of EUR 80 ($90) each if we only wanted to change trains once. If we'd realized it was this difficult and expensive to reserve seats for trains in France we would have just bought single tickets and used our Eurail and InterRail passes from Amsterdam onwards.
We ended up having to take five trains and spent almost 10 hours getting from Paris to Amsterdam. But the journey wasn't too bad, as we had time to stop for coffee and some snacks at Amiens and Rotterdam.
Paris Gare du Nord To Amiens (11:50-13:02)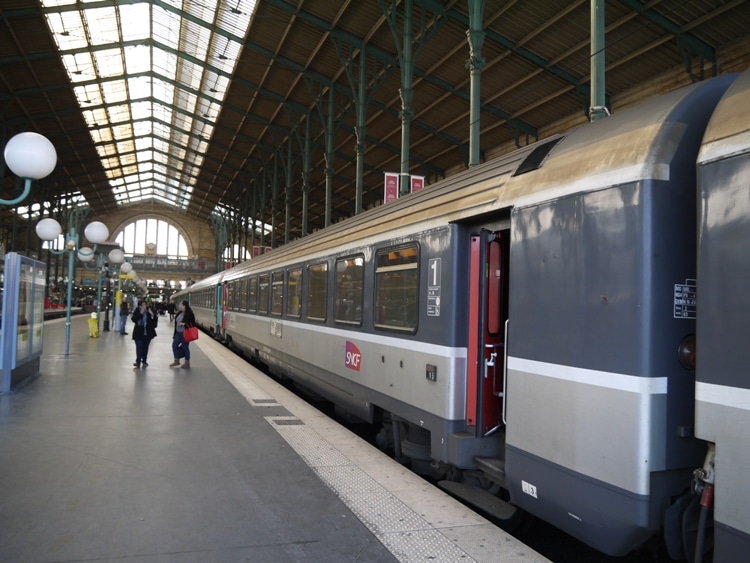 Our train departed from Paris Gare du Nord on time and arrived in Amiens on time. Total journey time was an hour and 12 minutes.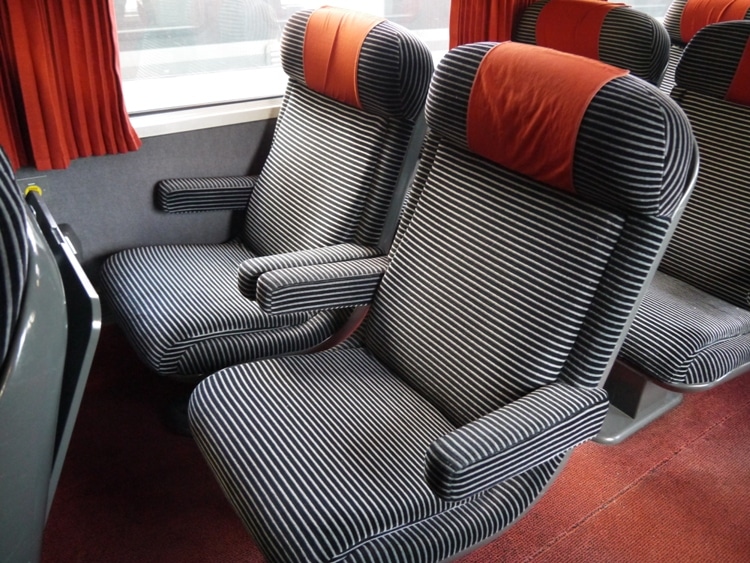 The seats in the First Class carriage were very comfortable and had plenty of leg space.
The First Class carriage was less than a quarter full, and the rest of the train didn't seem to be any fuller. This was a straightforward journey. The ticket collectors on the train were very polite and friendly.
We had a wait of over an hour and a half at Amiens, but found a great cafe called French Coffee Shop outside the station. The cafe had free wifi, and that is where I'm updating this post. Leave the main station entrance and you'll see cafes to your right and left. French Coffee Shop is to your left.
Amiens To Lille Flandres (14:38-15:58)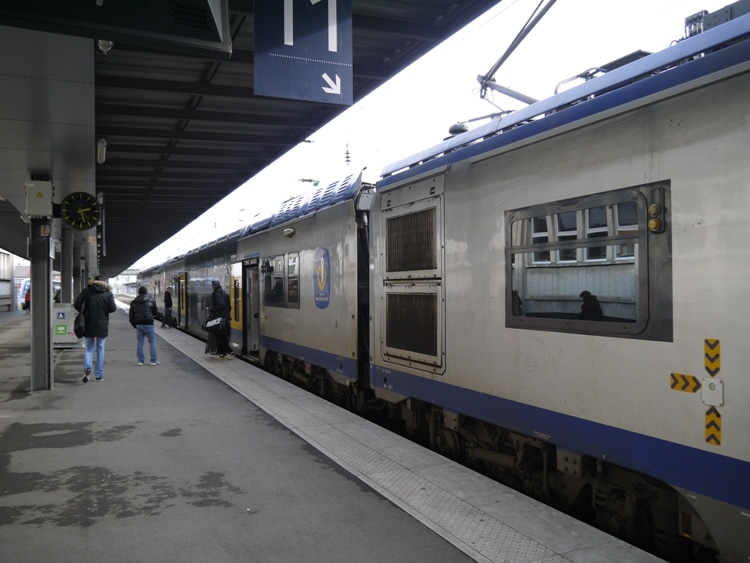 This was a double decker train, and the first one that either of us has been on. It departed on time and arrived in Lille on time.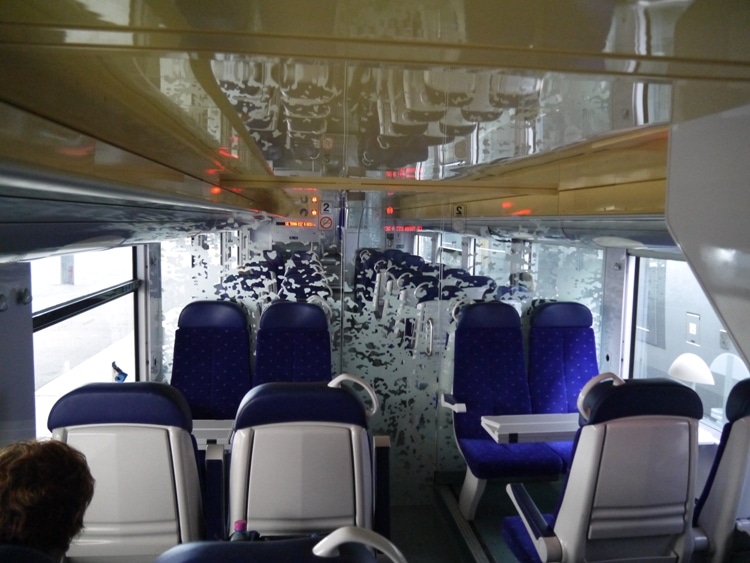 There wasn't a First Class carriage on this train but we had table seats, so it was pretty comfortable.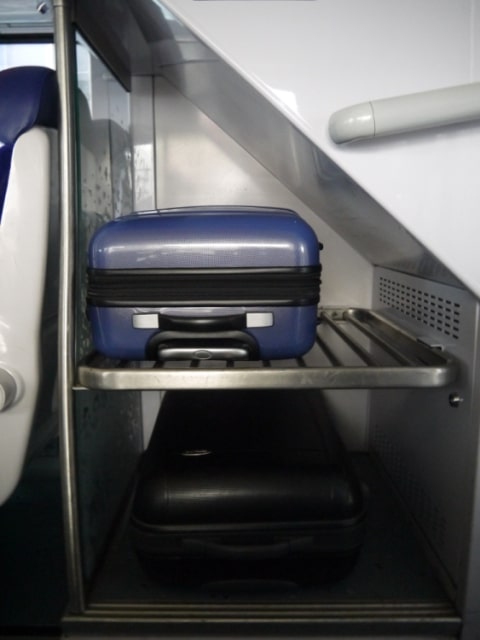 There wasn't much luggage space on this train and we had to check a couple of carriages before finding some space. Sitting upstairs on a train gives you a better view of the countryside, so that was a plus point.
Lille Flandres To Anvers-Berchem (16:08-18:17)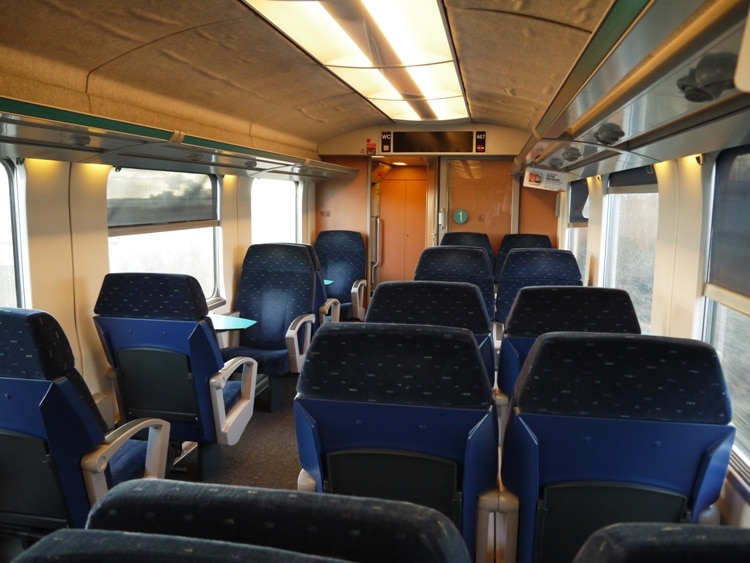 This train was also on time departing and arriving, so all was going well. We didn't see any luggage space on this train so had to keep our suitcases next to our seats.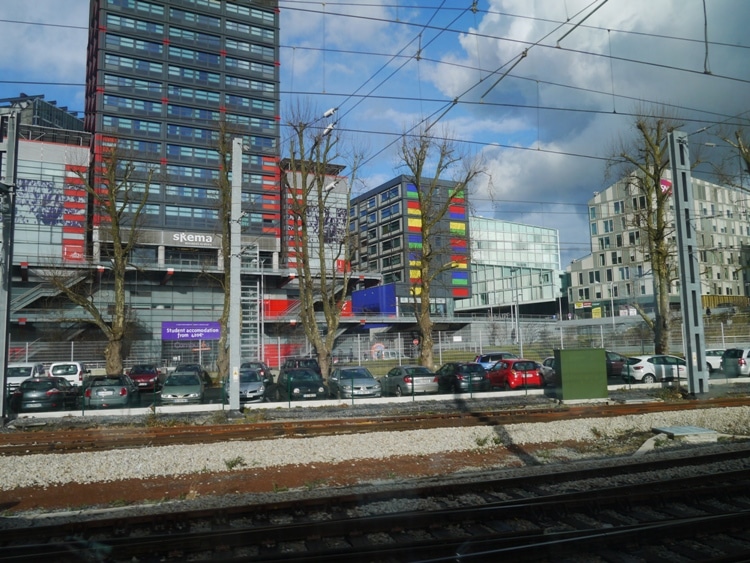 The buildings outside Lille station were quite colorful. Lille station was a little confusing though, because we got off the train from Amiens on platform 2 and the train to Anvers-Berchem was leaving from platform 13. But for platforms from 10 onwards you need to leave the station, turn right and enter through another door. It wasn't very well signposted.
Anvers-Berchem To Rotterdam Centraal (18:39-19:56)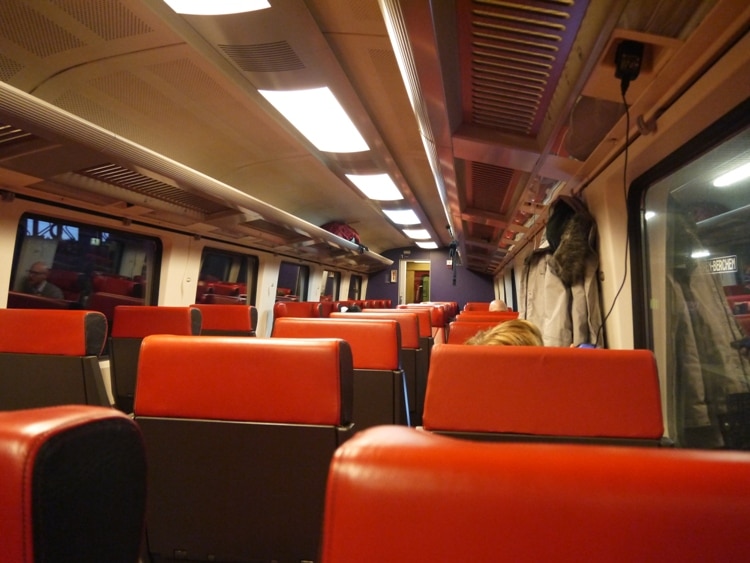 This train was supposed to be going to Amsterdam, but for some reason it only went as far as Rotterdam. That meant getting five trains instead of the four that we thought we were going to get.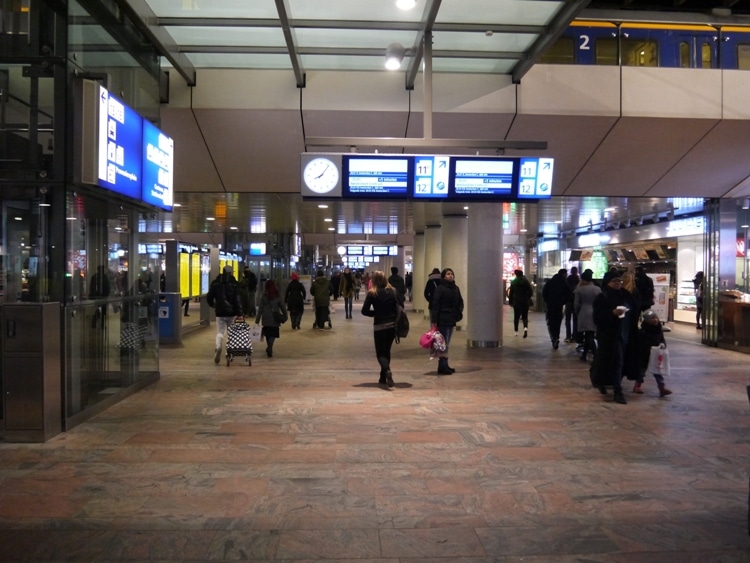 Rotterdam station is very modern and looks pretty new. The main concourse is under the platforms and is lined with cafes and restaurants, so it was a great place to grab a coffee and snack while we waited for our final train.
Rotterdam Centraal To Amsterdam Centraal (20:54-21:36)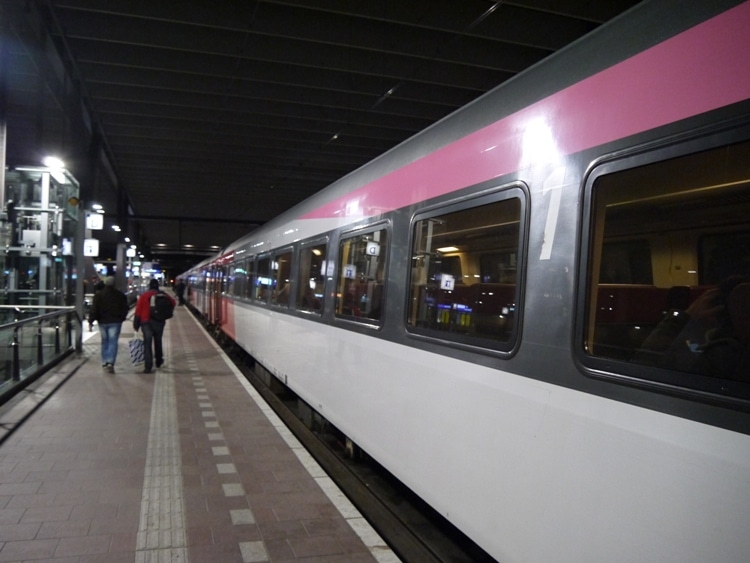 This train was similar to the last train, so no luggage space. But there was plenty of space to keep our luggage next to our seats.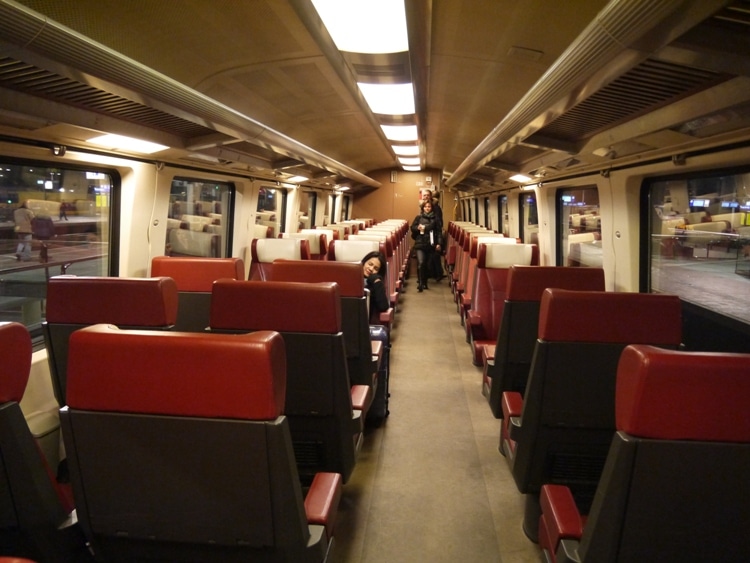 Our carriage on this train was practically empty.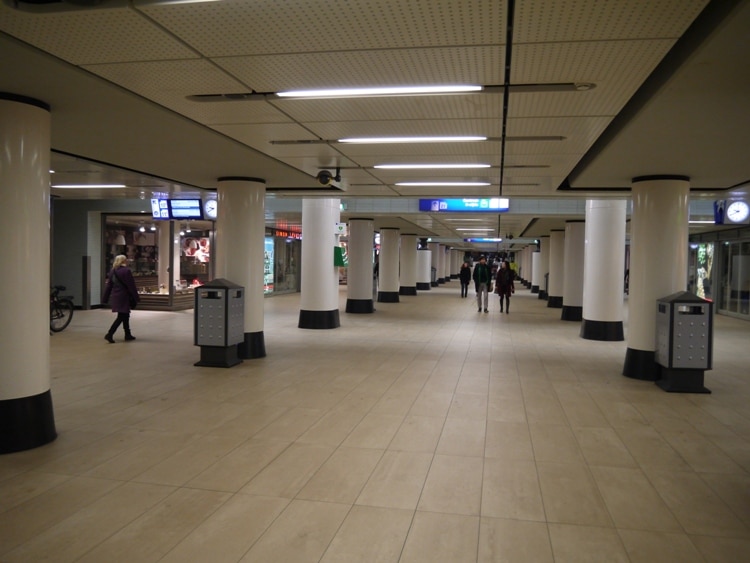 We finally arrived at Amsterdam Centraal after 9 hours 46 minutes of travel. Amsterdam station seems to have been recently renovated and looks very similar to Rotterdam station.
Map Of Journey
This map shows the route by car, as Google doesn't seem to be able to map multiple train journeys.
Ticket Cost
We traveled on Eurail and InterRail passes, but I checked the ticket prices for this journey to give you an idea of the cost. An Economy Class ticket was $161 for the direct train from Paris to Amsterdam and a First Class ticket was $243.
For our journey the cost would have been as follows if we bought separate tickets. Of course, they would likely have been cheaper if you bought one ticket, but pricing these journeys is not easy unless you check at a station.
Paris Gare du Nord to Amiens – $28 Economy, $42 First
Amiens to Lille Flandres – $28 Economy
Lille Flandres to Anvers-Berchem – $32 Economy, $49 First
Anvers-Berchem to Amsterdam Centraal – $87 Economy, $115 First
So that's a total of $174 Economy or $234 First.
Where To Buy Your Global Pass
You can buy a Eurail global pass at the Eurail website, and an InterRail global pass at the InterRail website. If you're heading to Europe I highly recommend getting one.
Hotels In Amsterdam
While in Amsterdam we spent three nights at Hotel Allure. It's a reasonably priced family-run hotel just three stops on the metro from Centraal Station. We chose this hotel mainly because of the great wifi, after having not so good wifi at our hotels in London and Paris. For more great hotels in Amsterdam, head on over to Agoda Amsterdam.